Autumn Tablescape | Warm and Cozy
A lovely, yet simple autumn tablescape that is perfect for Thanksgiving. With a mix of patterns, the use of color, and different textures, this tablescape is perfectly warm and inviting. Set the scene with music and candles and striving to make your guests feel welcome should be your goal while entertaining this season.
Be sure to sign up for my email to get
new recipes and creative ideas
sent right to your inbox!
Autumn Entertaining
Do you enjoy having dinner guests or entertaining? Of course, anyone can have guests and entertain. However, we all have a unique style in doing that. Some prefer paper plates and ordering pizza while others prefer buffet style or going all out with a tablescape and more.
I've often wondered where our style of entertainment comes from? Maybe it's related to our upbringing. For example, I was raised in a pastors home. Our home practically had a revolving door. Nevertheless, my mom always set a nice table with candles, tablecloths, napkin rings, and more for dinner guests. I'm guessing my mom inspired me.
I remember one year my mom let my sister and I stay home from school to help her prepare for a big dinner. The church board members were all coming to the house for dinner. So, we got to help in the kitchen and with setting the table. We thought we were the coolest. Haha.
So, therefore, I think that's why I love to entertain. Now I can't say that I've had the number of guests my parents used to have, but I enjoy entertaining nonetheless.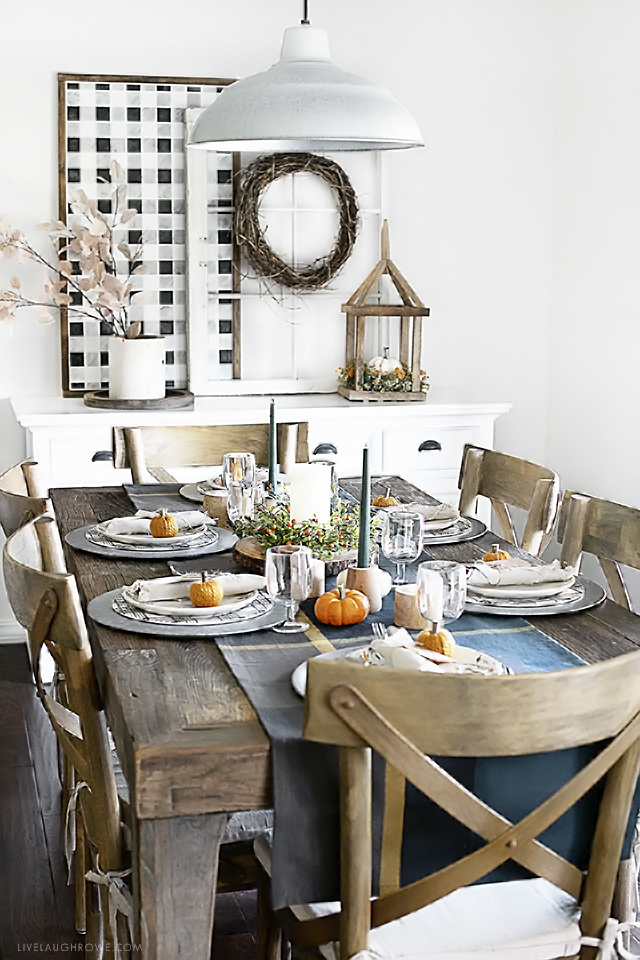 From planning the perfect meal to setting a warm and welcoming autumn tablescape, I love the process. Also, if I can have a favor (or small gift) for my guests that's always a bonus. For me, a simple and inviting table can allow your guests to feel special and it can set the mood. What do you think?
"October gave a party;
The leaves by hundreds came —
The Ashes, Oaks and Maples,
And leaves of every name.
The sunshine spread a carpet,
And every thing was grand;
Miss Weather led the dancing;
Professor Wind, the band…"
George Cooper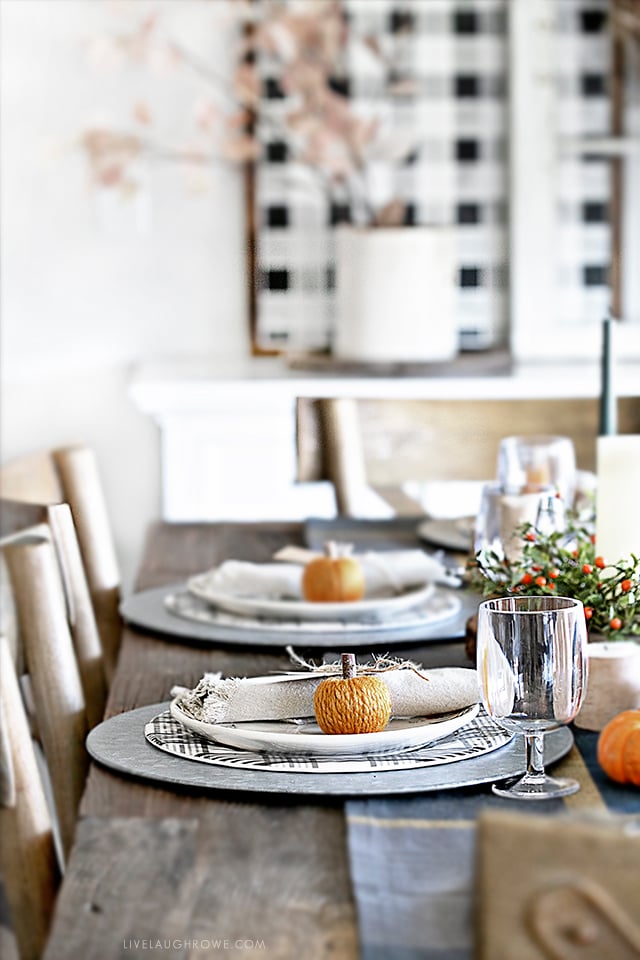 Obviously, 2020 hasn't presented too many opportunities to do much entertaining. But thanksgiving is approaching and I'm hosting this year. In other words, I'm super excited and thought I would share this simple and festive autumn tablescape with you.
I'm fairly certain I'll be using this autumn tablescape for our family Thanksgiving gathering this year. As you can see, I lean towards keeping the centerpieces a little more on the practical and simple side of things. For example, I steer away from pieces that are too tall or too big. Why? Well, I'd like all the guests to be able to see each other.
I saw a tablescape the other day with a rather large birdcage in the middle. While it was quite the show stopper, it's not practical (in my humble opinion). We all have our own preferences, so no judgment.
Other fall tablescapes:
Thanksgiving Tablescape for Two
Fall Tablescape with Printable Bookmark
Thanksgiving Tablescape (circa 2011)
Place Setting Ideas for Fall & Thanksgiving
My Process
When planning my autumn tablescape, I like to begin with the table covering. Deciding on whether I want to use something I currently own or something new is a great starting point. In addition, the table covering may or may not help in determining your color scheme too.
Luckily, I already had the table runner. I purchased it last year and it hadn't been used yet. Woop Woop.
Next up were the table settings. To clarify, you'll have to consider the new or used pieces again, while considering the following.
Do you need dinner plates, salad plates, soup bowls, etc?
Will you be using a charger or placemats?
Paper or cloth napkins?
Napkin rings? Place cards?
Earlier I said that I like to start with the table covering. However, I did know that I wanted to use this gift tag, Thankful Grateful Blessed from Nanticoke Lane. I've been wanting to use them for a while now.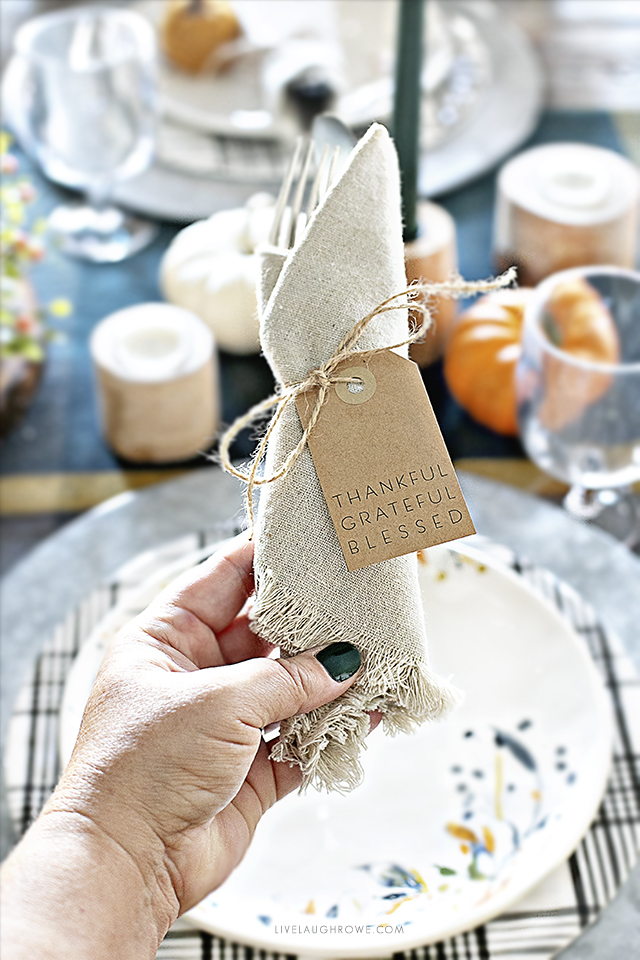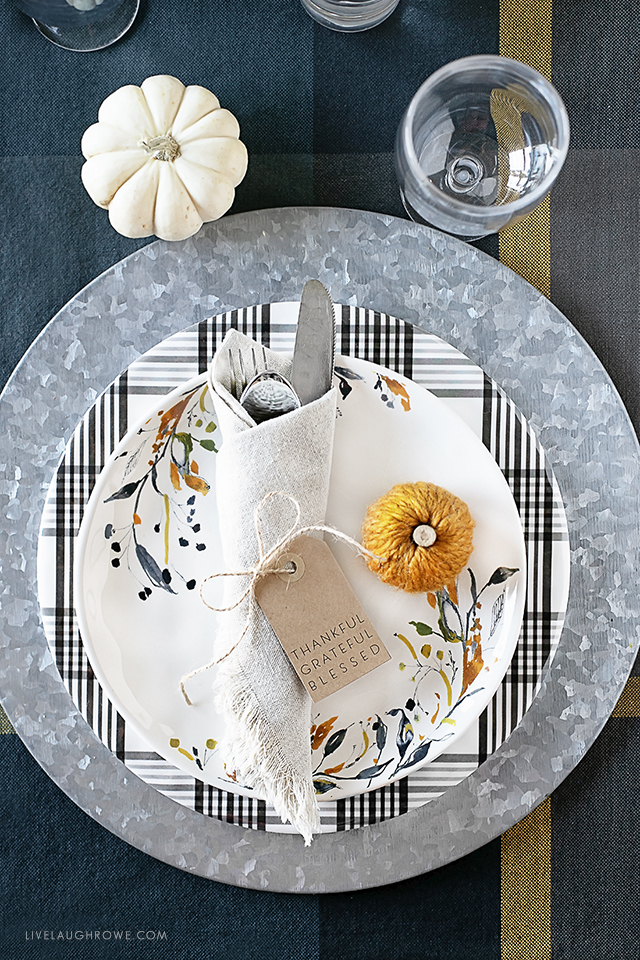 Actually, the only thing I bought new for this tablescape was the plaid dinner plates and the small pumpkins. Everything else I already owned or made. In short, I was pretty proud of myself. It's certainly helpful if you can shop your own linen closet and kitchen cabinets, it's a win-win.
Ironically, I was recently thinking about selling the harvest salad plates because I hadn't used them in a few years. Well, I'm glad I didn't. Although they'll probably find a new home soon. Wink-wink.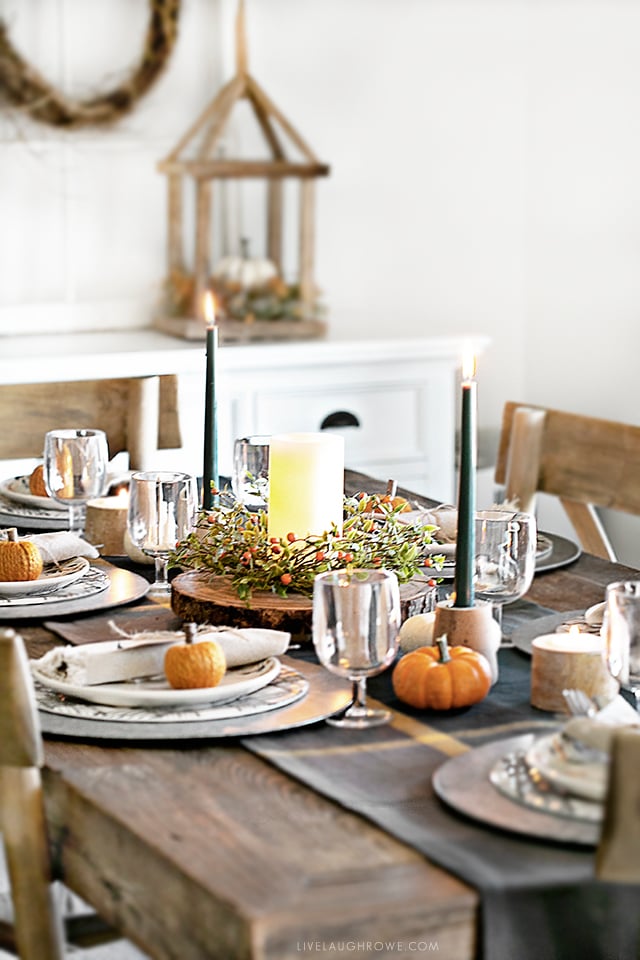 Once I have all the place setting pieces, I move on to the centerpiece. That usually takes a bit of trial and error. Often, I'll try to look through magazines or Pinterest for some inspiration. In addition, it'll spark some ideas or allows me to try to find a use for things I might already have. Nevertheless, due to trying this, then trying that, I end up with a pile of stuff that has to be put away.
Candles always add a warm glow — both during the day and night.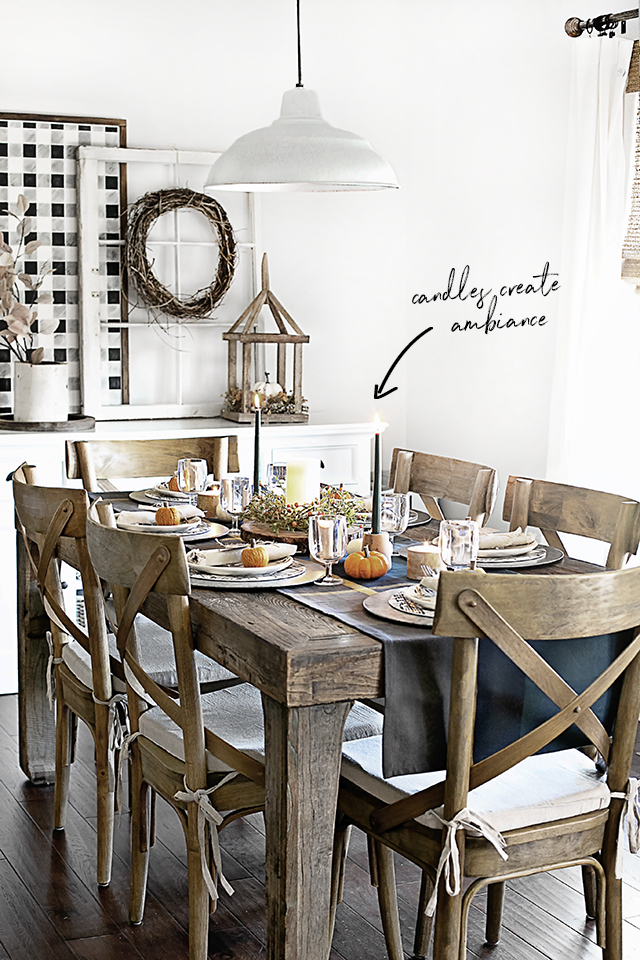 I loved how this autumn tablescape looked at dusk (see below). Doesn't that make you want to take a seat with some of your closest friends and family?
Resources for Autumn Tablescape:
Table Runner: Target, Hearth & Hand
Galvanized Chargers: Pottery Barn
Plaid Dinner Plates: Hobby Lobby
Harvest Salad Plates: World Market (no longer available)
Nanticoke Lane: Nanticoke Lane on Etsy
Acrylic Wine Glasses: Crate and Barrel
Yarn Pumpkins: Handmade
Birch Tealight Holders: Handmade
Wood Taper Candle Holder (similar): Crate and Barrel
Connect with Live Laugh Rowe!
Facebook | Instagram | Pinterest | Twitter
Hugs and Blessings!