Simple and Cozy Home Decor for Fall
Grab a cup of coffee or tea and join me for a glimpse into my simple cozy fall decor. With some deep, rich colors and layers, our living area is a warm and welcoming space. So, I hope you'll join me on a visual tour and you leave inspired.
Be sure to sign up for my email to get
new recipes and creative ideas
sent right to your inbox!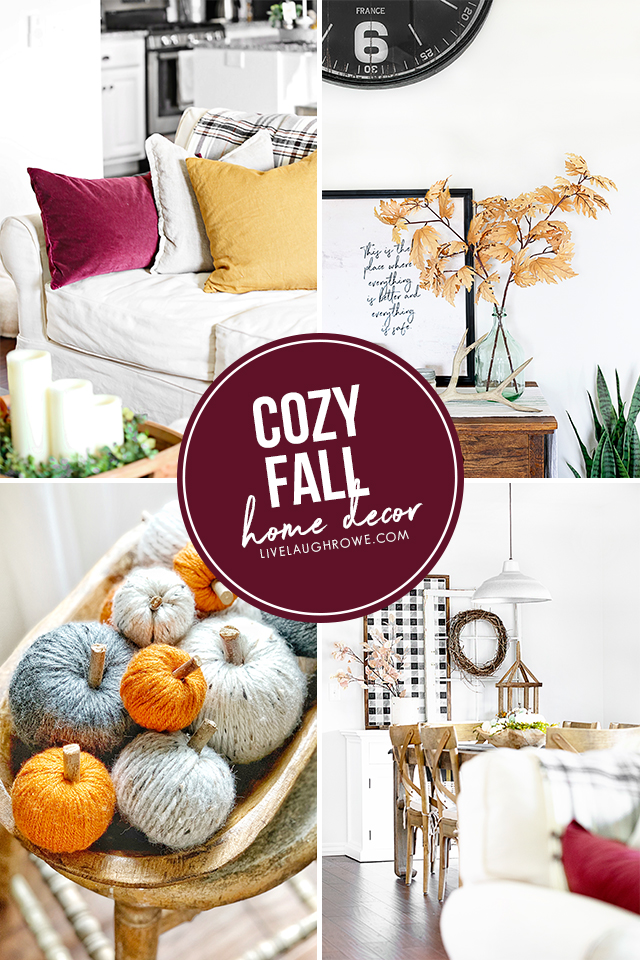 Earlier this week I shared a fall printable with some of the reasons we love fall… which included cozy blankets, imperfect pumpkins, etc. As a result, today I'm excited to share a few pics of how I incorporated some of my fall favorites into my fall decor. If I summed my fall decor up into one word, I'd say cozy.
Our common living space is very open, which I love. However, it also means having to keep things tidy and clutter-free. If I have a lot of work going on — clutter quickly accumulates and it's not ideal in an open space. Ha. Just keeping it real.
Nevertheless, it's a beautiful home with a beautiful layout. Steve and I actually think it's the perfect layout for us. And we have an abundance of natural light when the blinds/curtains and doors are open.
I'm learning that the older I get, the more I'm falling in love with the idea that less is more. My home is always a work in progress. In addition, I find myself to be falling somewhere in between boho decor and farmhouse right now. So, I've been making small changes here and there. I'm okay with slow and steady these days…
"Simplicity is the
ultimate sophistication."
Leonardo da Vinci
When it came to getting ready to decorate for fall, I wanted to keep things simple and create a welcoming cozy fall space. My goal was to make some changes using pillow covers, throw blankets, faux pumpkins, and foliage or floral stems. Most importantly, there is no reason to break the bank and stress.
This year I shopped my storage cabinets, used fall decor I already owned, and made an oversized buffalo check framed piece for my buffet. It all came together beautifully, in my humble opinion. I bought a few new pieces but worked hard on not going overboard.
How do I make my house cozy for fall?
To make your house cozy for fall, here are a few suggestions to change up your decor. Start simple. Add some texture and potential pops of color with these ideas:
Pillows or Pillow Covers.
Cozy Blankets.
Foliage Stems or Fall Florals
Dish of Seasonal Candy
Pumpkins
Candles (battery operated or season scents)
Layer decor (art, vase fillers, etc).
Let's take a look at how I implemented some of these suggestions into my own cozy fall decor.
Foyer
If I'm being honest, my foyer/entryway is the most neglected space. However, it is the first area any visitors see, so I try to do what I can. And as you can see, This is a classic case of simple cozy fall decor.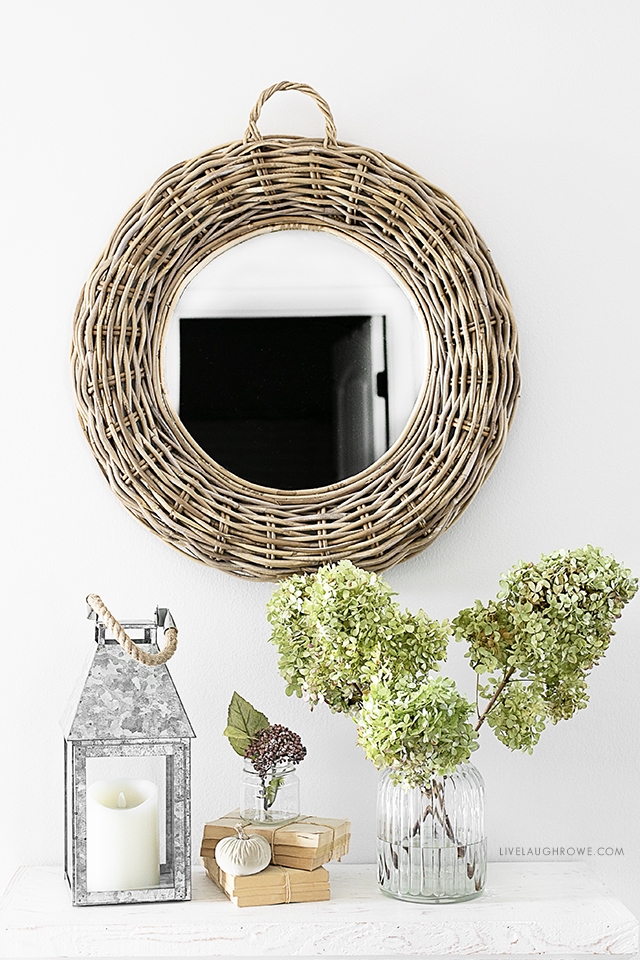 A couple of weeks ago I visited a fall outdoor market and picked up these hydrangea stems. To clarify, I am in the process of drying them out with the water process. They worked perfectly here with some wrapped books and a galvanized lantern.
Having a mirror in this space is always a must — so you can check your hair before answering the door (wink-wink). And this mirror has always been a favorite of mine (from Ballard Designs).
Dining Area
Our dining area is the most used space in our home. From crafting a project or two to entertaining friends and family, this is a high traffic space. It's certainly one of my favorite spaces.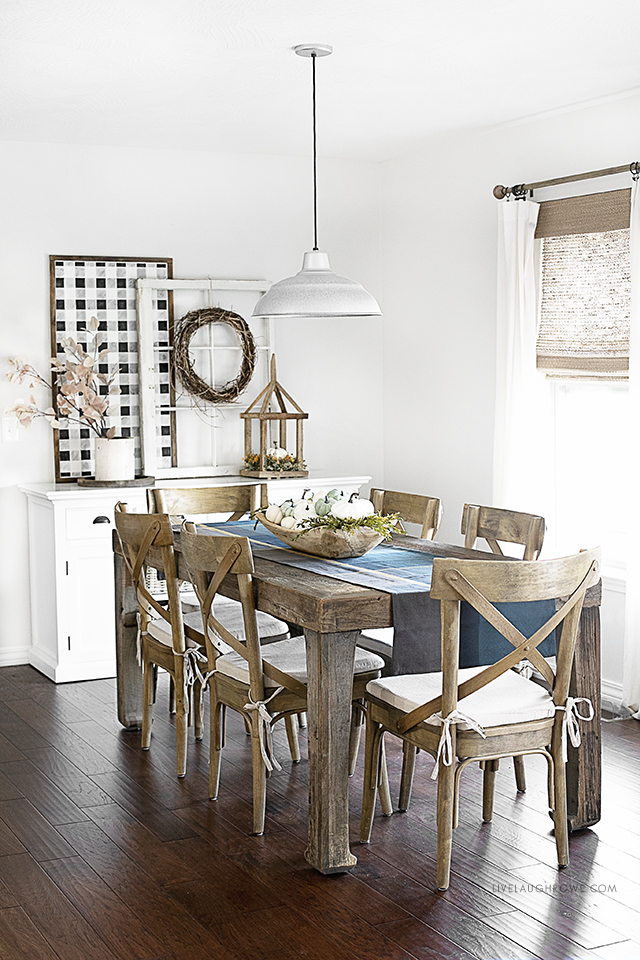 You'll always see a seasonal vignette on my buffet and I try to keep the centerpiece on the table festive too. This cozy fall decor was put together with many layers. From the buffalo check piece to the old window frame and adding some stems and pumpkins.
On the left side, you'll find a piece I picked up at a vintage store. Would you believe it's a hollow pillar that had been cut up? First I placed a jar inside and then I used marbles to help weigh the stems down. Believe it or not, I've had the piece sitting in my garage for over a year. Consequently, I was delighted to put it to good use this year.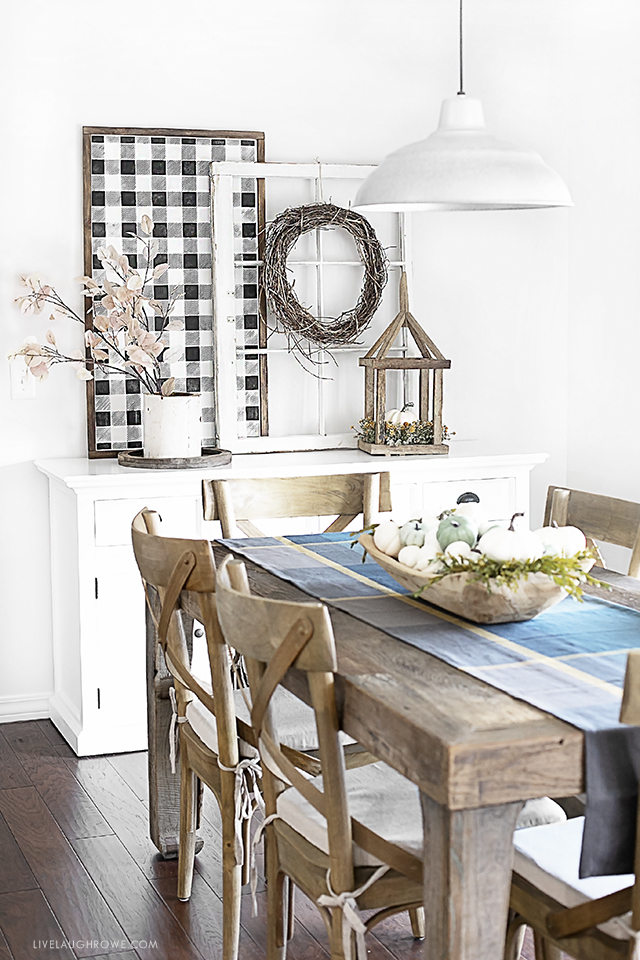 Our dining table is always a conversational piece. The raw wood is unique and beautiful. And on the other hand, these pieces were some of the best purchases I've ever made — and they survived the move from St. Louis. Woo-Hoo.
Here's a quick view (below) from the Living Room…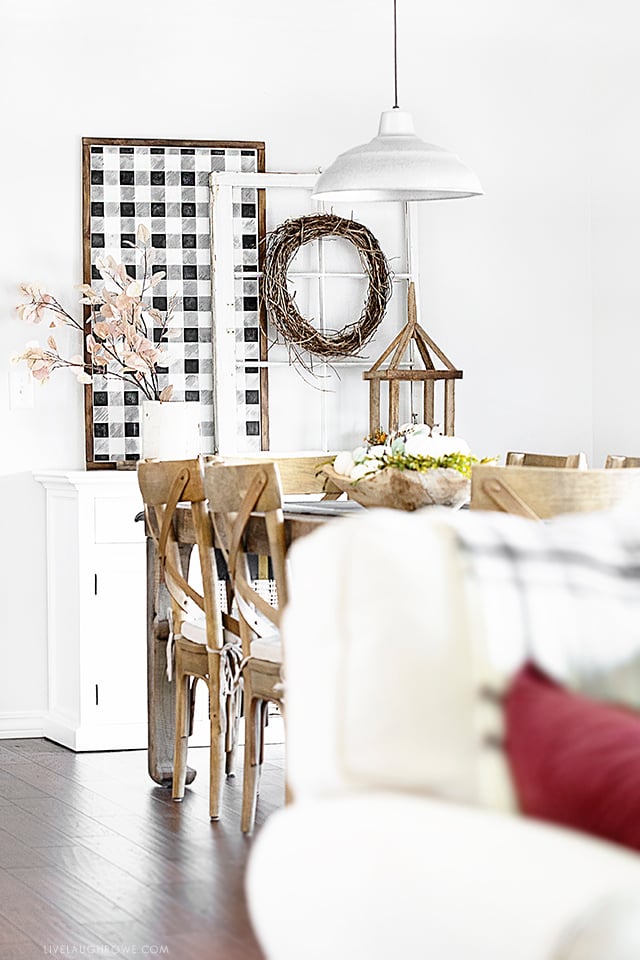 Living Room
I don't take many full room shots of our living room. So, I snapped a few different shots of vignettes/decor in the living room that captures the cozy fall decor.
We recently added a desk behind our couch. I work there quite a bit. Nevertheless, I placed these beautiful floral stems and a ceramic pumpkin on the corner. It adds a pop of color and festivity.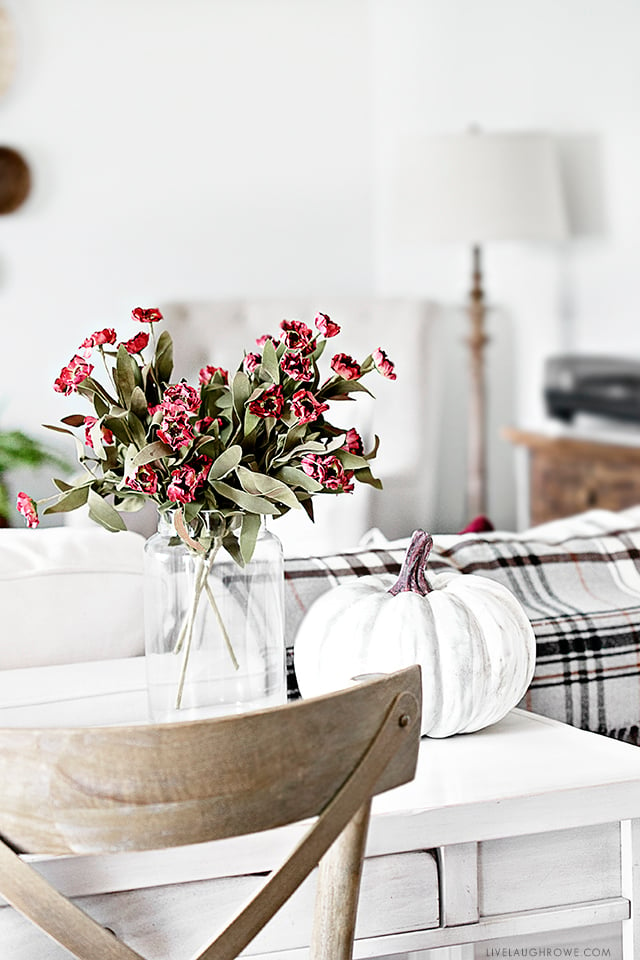 These foliage stems are my new favorite. They look so real. Placing them in the bottle next to my DIY canvas artwork was a perfect spot. I finished it with an antler I picked up at a vintage market.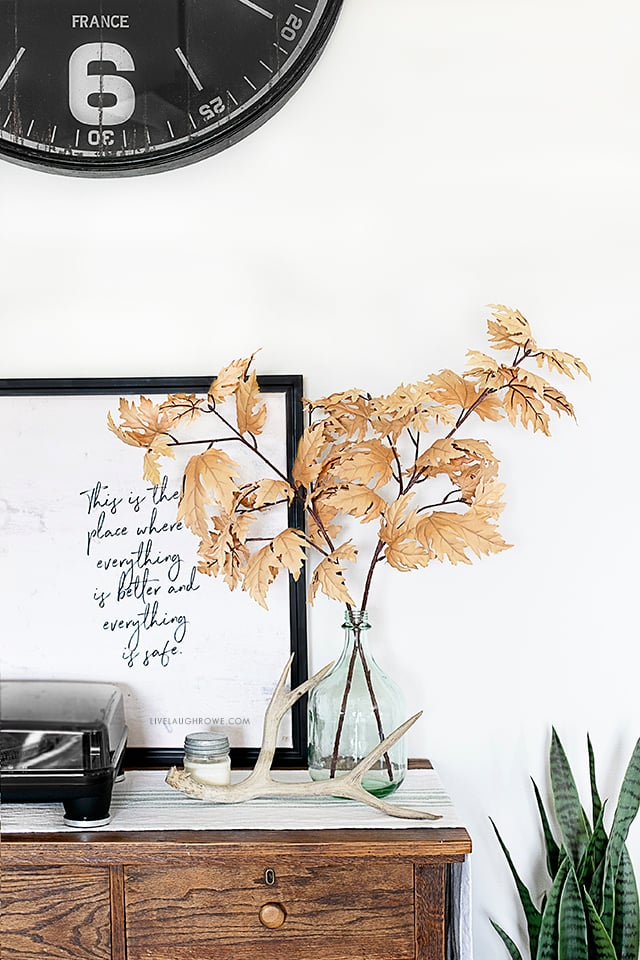 Earlier I mentioned how you can add some color and coziness to your fall decor with pillows or pillow covers. Friends, pillow covers are the greatest invention of all time. They save space, are washable and the list goes on. Most of mine are from Ikea.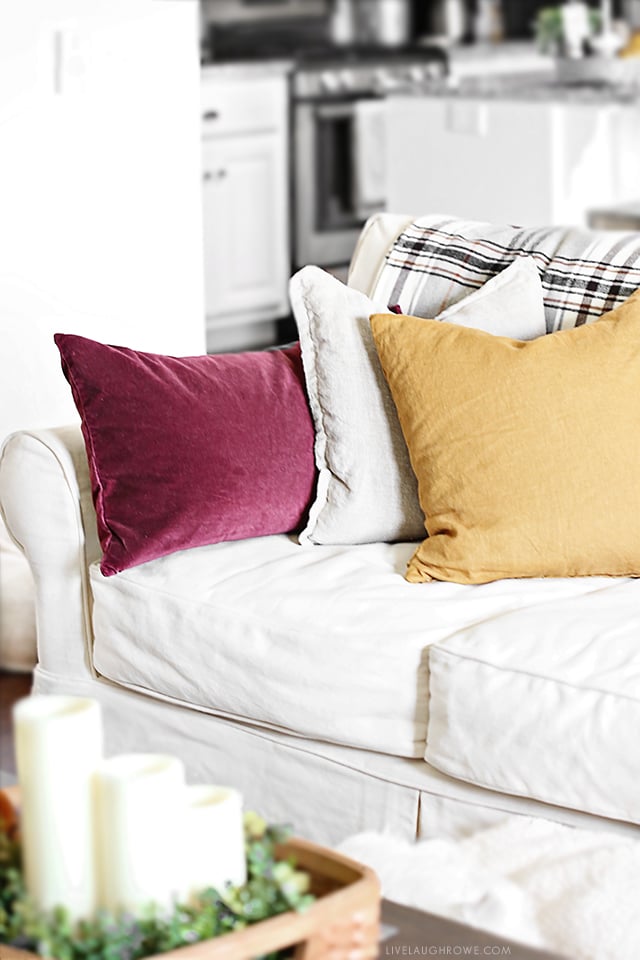 My coffee table is one of my favorite spots to decorate. I love layering here — starting with a basket or tray, adding some greenery, a candle or candles, and going from there. What do you think?
I picked up this basket at the outdoor fall market too — for $10. When I spotted it, I knew it would make a great centerpiece for my coffee table. Score.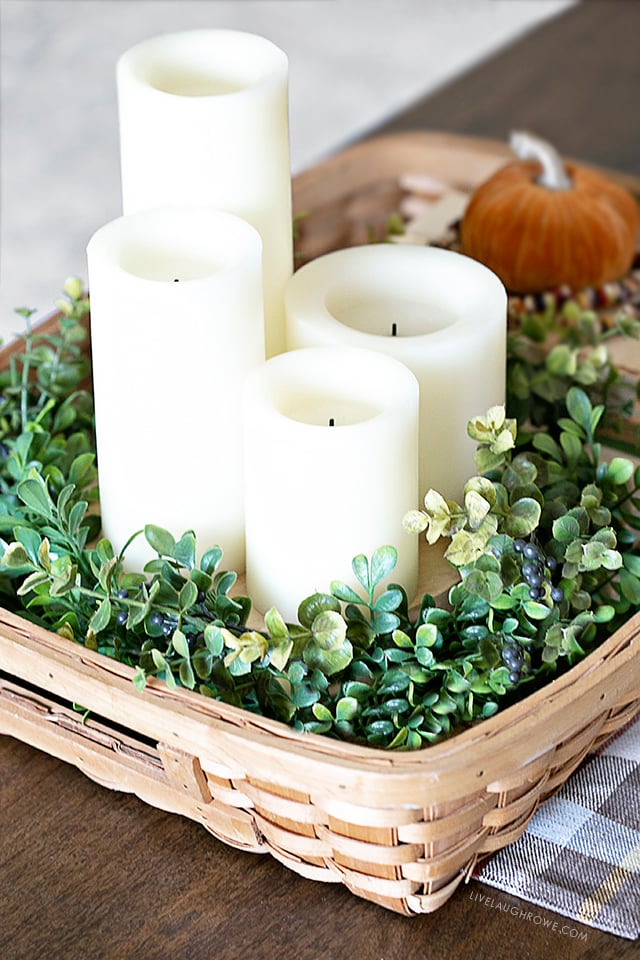 Miscellaneous Cozy Fall Decor
These last two pictures fall under the miscellaneous category. However, it doesn't mean they don't contribute to the cozy fall decor in my home — because they do.
I made these yarn pumpkins this year, following this tutorial by Heart Filled Spaces. I'm obsessed with how awesome sauce theses pumpkins are. The colors, textures, and wooden stems are true perfection.
Meanwhile, they make a geat project for a girls' night too.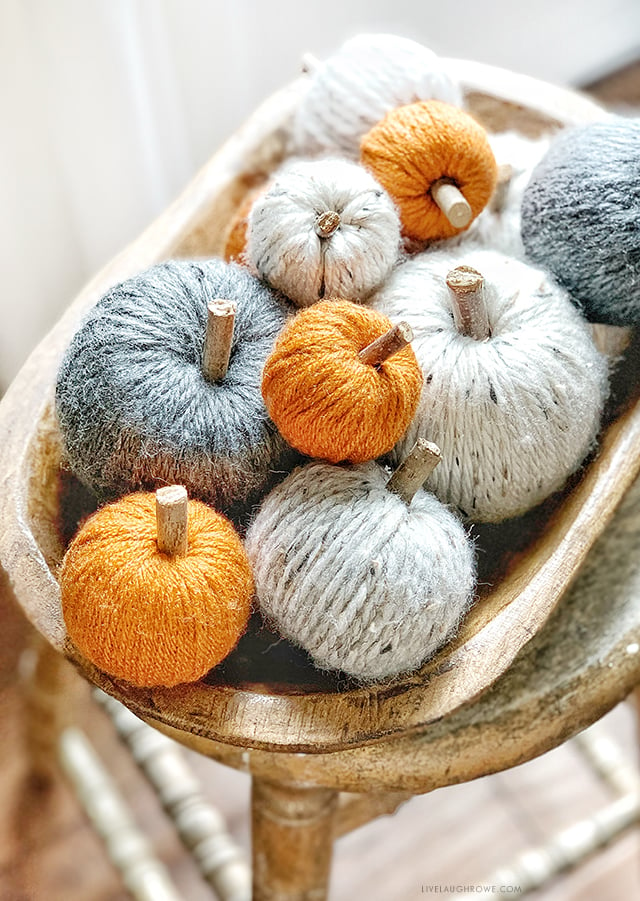 Last, but certainly not least, is my two-tiered tray. A couple of months ago I decided to invest some time into decorating a two-tiered tray for the holidays.
In all reality, we'll see how long this lasts (haha); however, I'm hoping I can keep this alive. It's a great way to add some festivity to my counter, especially if I may not be doing much decorating.
This one turned out pretty darn cute — and notice the name of the candle? Feelin' Cozy. Yep. Likewise, this vignette makes me smile and that bowl of dark chocolate keeps me coming back day after day.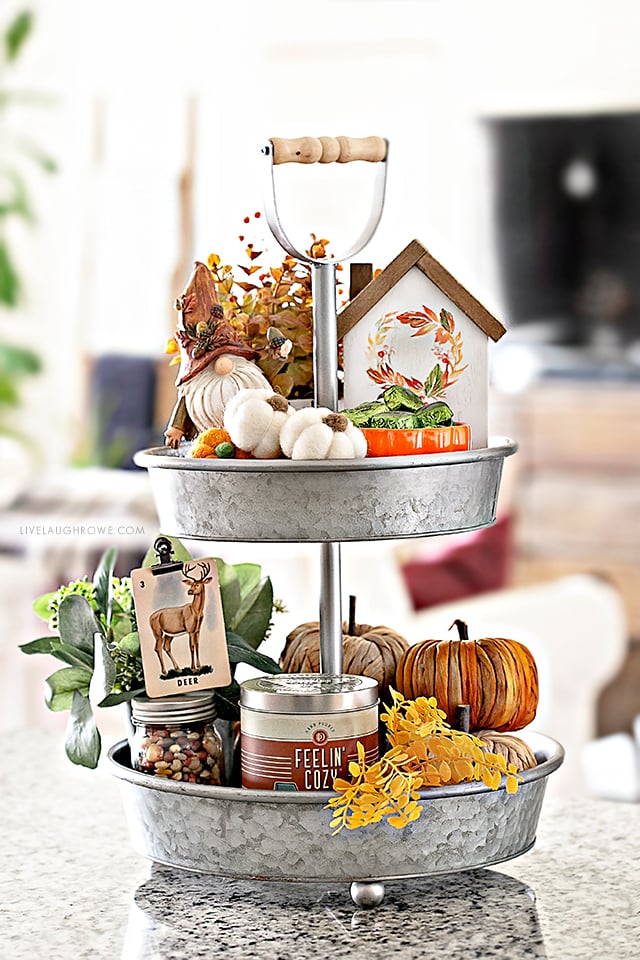 Resources:
Floral Stems – Michael's
Two-Tiered Tray: Hobby Lobby
Dough Bowl (on the dining table): Target
White Pumpkins: Amazon (similar)
Two-Tiered Tray Goodies:
Felt Pumpkins: The Felt Pod on Etsy
Gnome: Hobby Lobby
Mini Mason Jar Photo Clip Kit: Amazon
Connect with Live Laugh Rowe!
Facebook | Instagram | Pinterest | Twitter
Hugs and Blessings!