Happy November! I am over the moon excited to be partnering with Balsam Hill today to share this simple, yet gorgeous, Thanksgiving Tablescape for Two.
Simple Thanksgiving Tablescape for Two


As many bloggers are toggling between Thanksgiving and Christmas decor, I'm sitting in an Airbnb without any of my home decor. Womp womp womp. It's been a little sad as I count down the days, but it's temporary and we only have about 7 or 8 days until we close on our new home.
When Balsam Hill reached out to share a Thanksgiving tablescape, my first thought was, "Hmmm. Probably can't make it work." However, then I thought — "You can do this, Kel!"
I was up for the challenge. I knew I would have to work with what I had and that meant setting tablescape for two. The reality is, sometimes Thanksgiving tablescapes aren't for large gatherings, so I'm hopeful that you'll be inspired and possibly embrace the simplicity of how I set this table.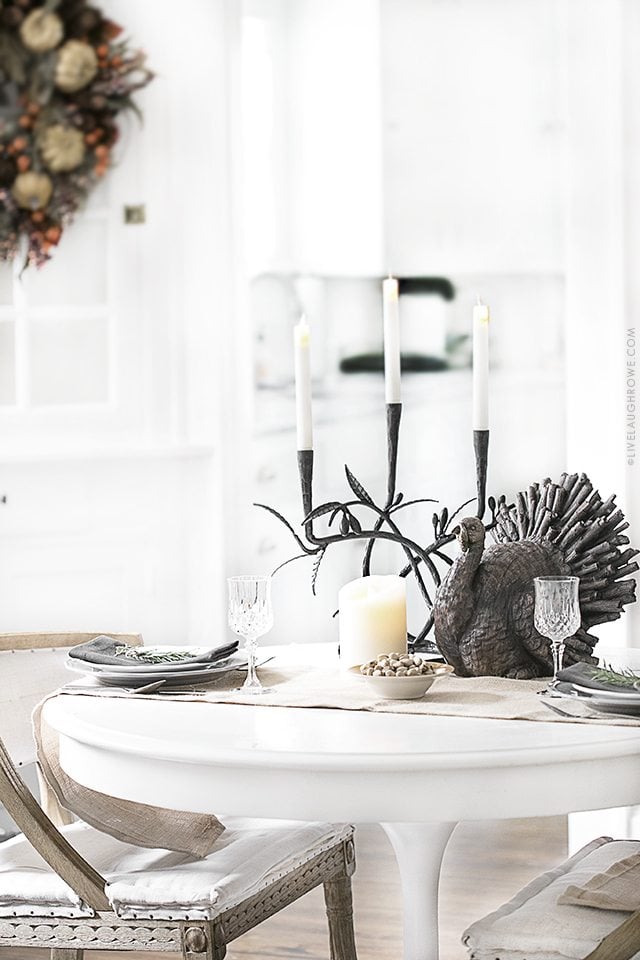 It's mind boggling to me that Thanksgiving is only a few weeks away. If you're a planner like me — you're perusing Pinterest and the web for ideas to add some festive touches to your Thanksgiving table. Balsam Hill has some BEAUTIFUL pieces that will do just the trick.
The space became effortlessly inviting as I set the table. It almost had me wishing there was a turkey in the oven (haha). From flameless candlesticks on a wrought iron Tuscan candelabra to a faux wood tabletop turkey, I couldn't be happier with how the tablescape came together.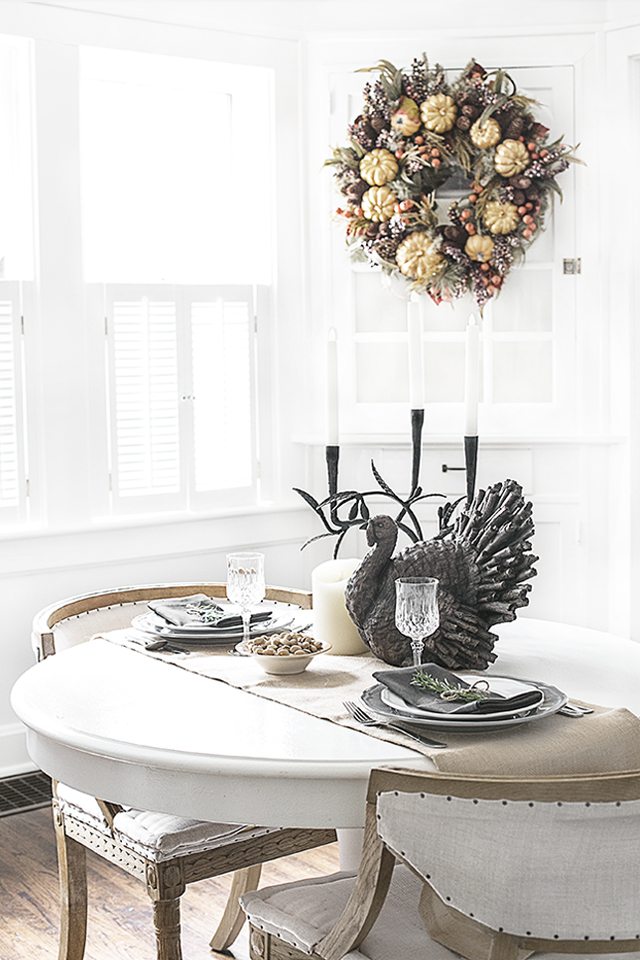 This tabletop turkey has become a favorite of mine. Incredible detail too!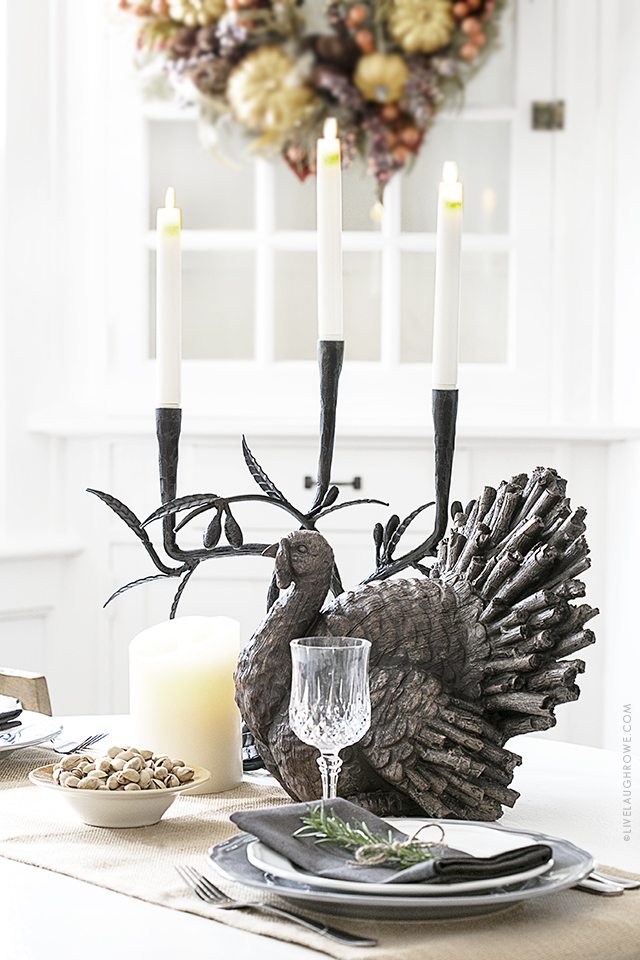 Not what we say about our blessings,
but how we use them, is the true measure
of our thanksgiving. – W.T. Purkiser
I've always liked the idea of candles being set out to burn without using a holder, candle rings and/or accessories. Setting them out in the raw. Guess what? With the Miracle Flame LED Wax candles you can do just that! I love the LED candles that create the illusion of a dancing flame. Most importantly, there's no fear of someone getting burned, wax dripping or any danger of a fire. SCORE! The remote is pretty awesome sauce too.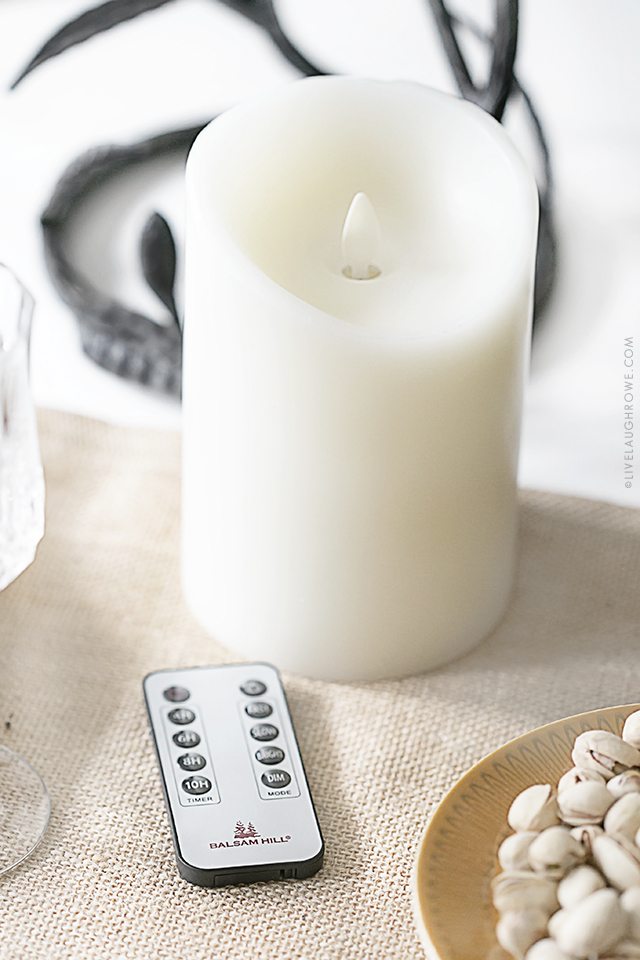 I always enjoy layering the place settings — and decided to keep it rustic and simple using a burlap runner to serve the purpose of a charger or placemat. I loved the idea of using fresh herbs (rosemary sprigs), so I tied together a couple with jute twine and used them as place holders. They smelled amazing too!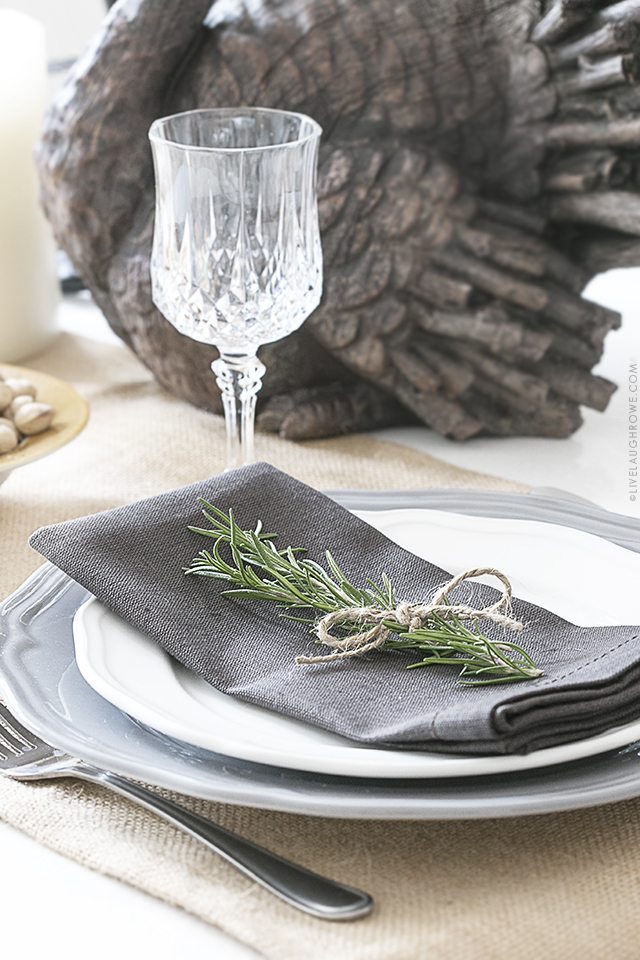 My family has never had over-the-top Thanksgiving celebrations. One thing I rarely compromise on is watching the Macy's Thanksgiving Day Parade! I'll get the turkey in the oven and prep other food while watching it. That's been a family tradition for years… I remember watching it in my pajamas as a kid.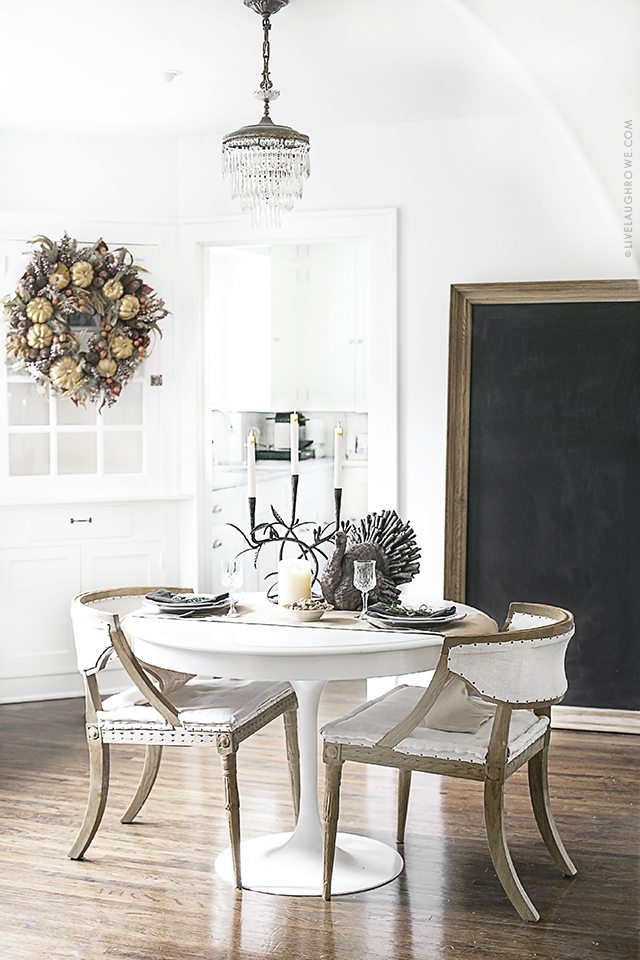 The menu is usually simple, consisting of mashed potatoes, stuffing, corn and dinner rolls. Sometimes we'll throw in a Green Bean Casserole and there's always cranberry sauce for my dad — but that's it. It's a lazy day of eating and watching TV….. and there's usually a nap in there somewhere too.
Eat, Drink and
Be Thankful!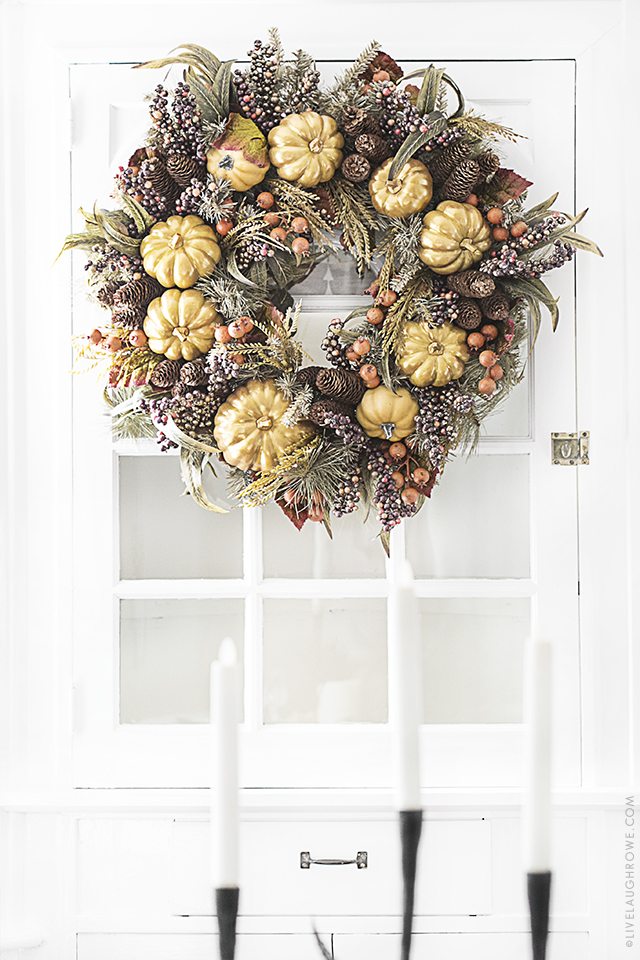 This year I'm super excited that I'm not going to be setting a table for two — but FIVE. I now live in the same town as my parents and my sister will be driving down from St. Louis. I am ecstatic to be hosting in our new home (even if there will be moving boxes everywhere, haha).
Balsam Hill was gracious to collaborate with six talented bloggers in sharing beautiful tablescapes and traditions, below you can see who the bloggers are and links to their blogs. I'm confident you'll be inspired, I have been!
Here is the three day line-up (with links):
Friday, November 3rd
Products featured in todays post:
Autumn's Bounty Wreath | Give Thanks Tabletop Turkey | Miracle Flame LED Wax Pillar Candle (Small)
Miracle Flame LED Wax Taper Candles (Small) | Tuscan Wrought Iron Entertaining Taper Candelabra

Be sure to visit with me here too:
Facebook | Instagram | Pinterest | Twitter | Google+