Boho decor seems to be trending. There are a lot of dried palm leaves, wicker furniture, and more that seems to be making a comeback across the web. So today I'm sharing some boho decor ideas that I've stumbled across while browsing on-line.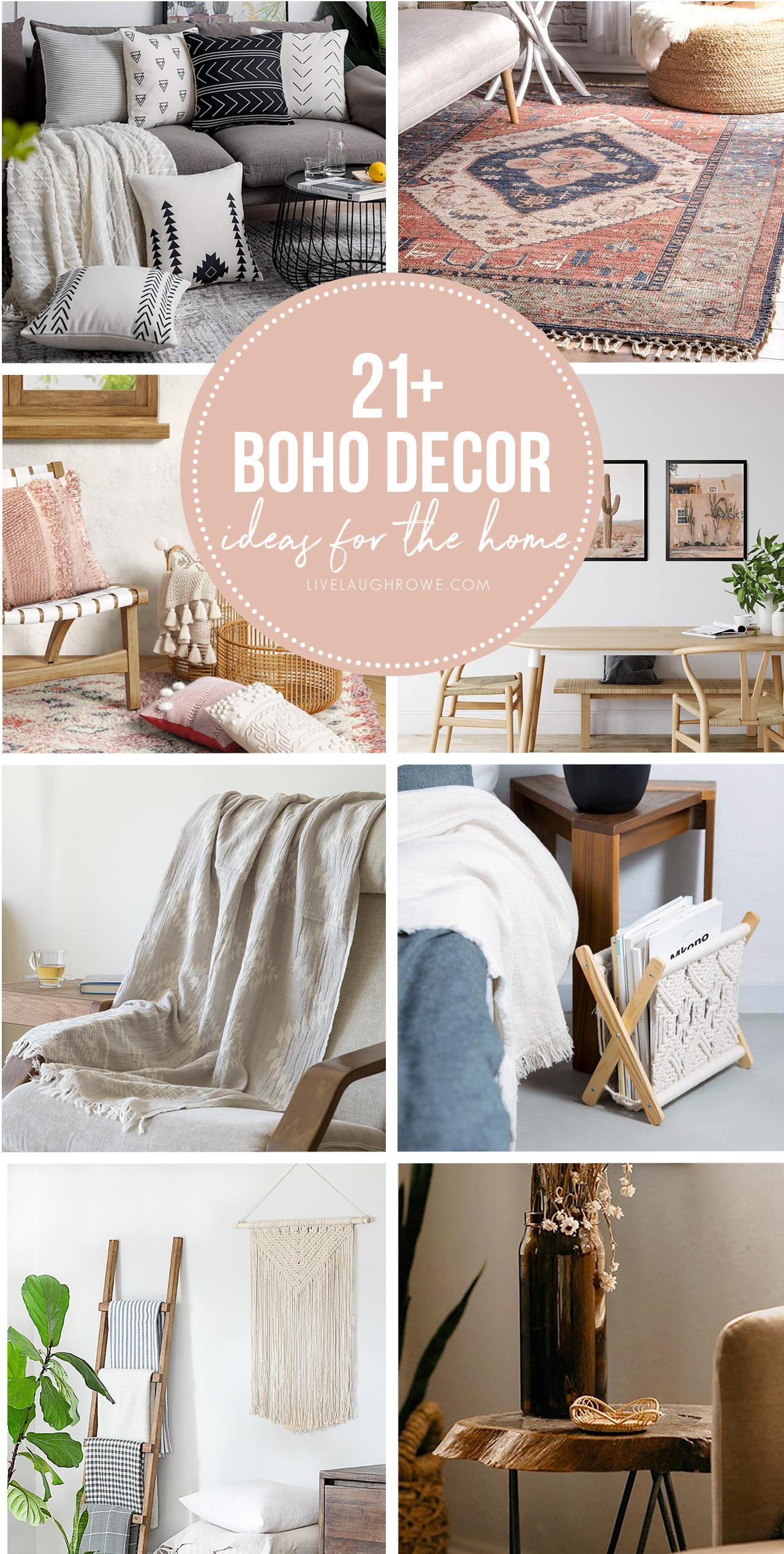 If I'm being honest, I feel that my decor style is shifting more towards the boho style. I love baskets, plants, pottery, and how eclectic bohemian decor is.
I currently have a lot of neutral decor, so making the shift won't be too hard. Slow and steady… right?
What is your decor style? Maybe you'll find a few new faves below.
What is bohemian decor?
Bohemian decor is a very laidback style that usually incorporates an eclectic mix of decor using colors, textures, and patterns textures. Often you'll find a lot of neutral colors with pops of color. Plants are usually incorporated into this style as well.
Boho Decor Ideas for the Home
Geometric Pillow Covers – a six-pack of pillow covers. Great for a couch, beds, chairs, and more.
Cactus and Desert Prints – these prints are a beautiful mix between bohemian, southwestern, jungle, and mid-century decor.
Macrame Magazine Holder – a versatile piece that is decorative, but can also be used for storage. Winning.
Seagrass Belly Basket – I have a couple of these from Ikea. They make great plant holders — especially with a fiddle leaf fig plant.
Bohemian (Onion and Garlic) Baskets – adorable rattan baskets that can be used for anything, sold in pairs.
Mini Macrame (or Ornaments) – these darling mini macrame are just too cute to pass up. Great price point too. I ordered a few sets. Shhh. It can be our little secret. Mmmkay?
Rattan Coasters – hello cute coasters. I think they would be a real show stopper on your coffee table.
Leaf Trinket Dish – a simple dish that can be placed on a side table, nightstand, entry table, or bookshelf. Therefore it would be great for keys, loose change, or jewelry.
"Be faithful to your own taste,
because nothing you really
like is ever out of style."
-Billy Baldwin
Wall Baskets – the picture below says it all. You can really create a simple vignette on your wall with a random display of baskets.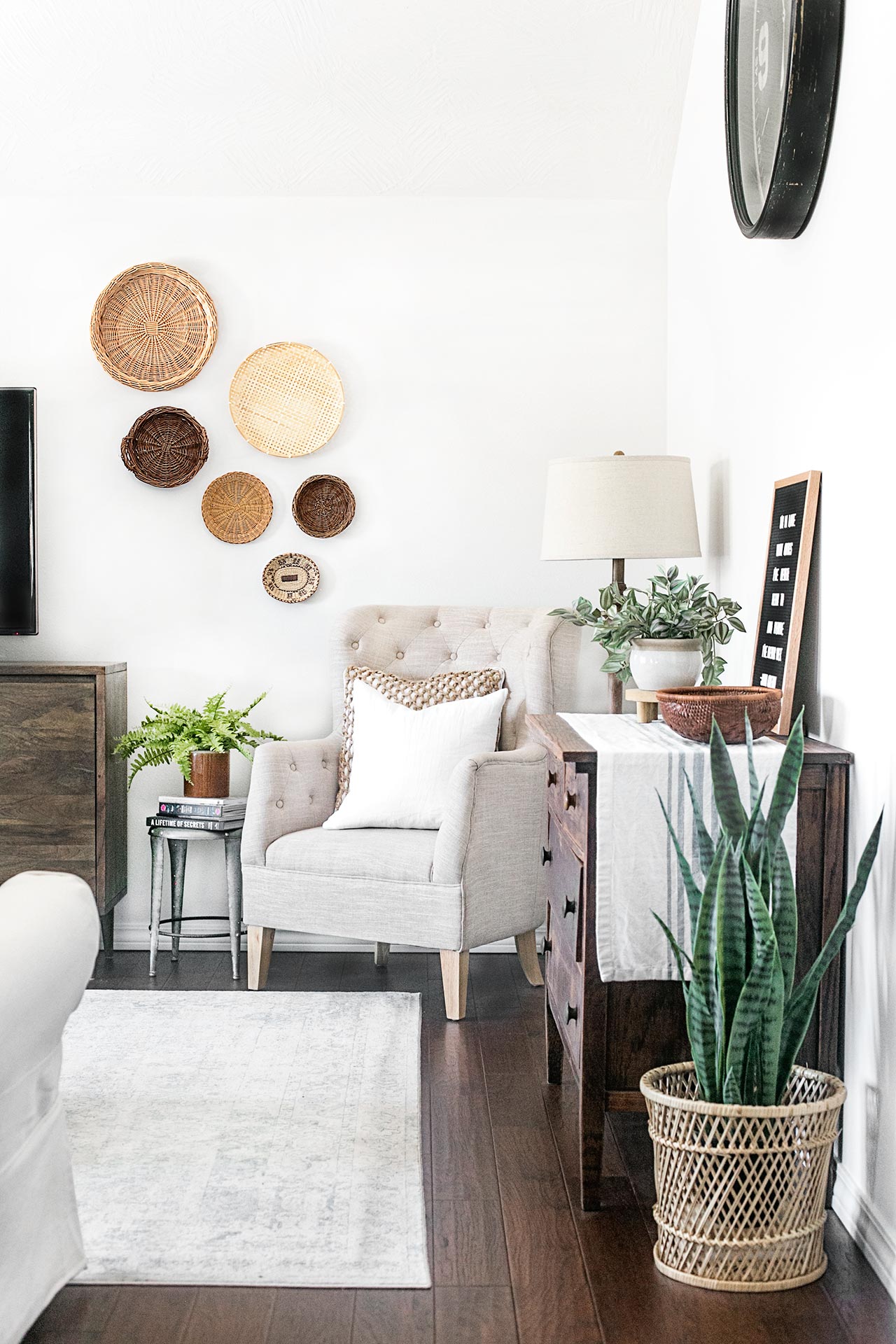 Macrame Tissue Box – functional and stylish tissue box. I simply adore this and as a result, it's on my wish list.
Beaded Pendant Lights – boho vibes with wooden beads. Need I say more?
Diandra Flatweave Jute Area Rug – gorgeous rug with muted pops of color. Nevertheless, this rug is currently sitting in my cart.
Turkish Cotton Blanket– a thin blanket that makes a great cover both indoors and outdoors. I own the gray color. It's so soft too.
Tall Rattan Basket – Opalhouse at Target has a very boho vibe. This basket is what dreams are made of (hee hee).
Natural Rattan Floor Planters – open and airy, these floor planters are beautiful for displaying plants.
Macrame Wall Hangings – I bought mine from a local artist, but there are so many great choices on-line. Macrame comes in so many different colors, shapes, and sizes. I tend to lean towards neutrals for the purpose of versatility.
Other decorative posts:
Simple Decor Updates with Thrift Store Finds
Home Office Refresh with Gordmans
Making the Most of a Small Space | Apartment Living
DIY Window Treatment for Sliding Glass Doors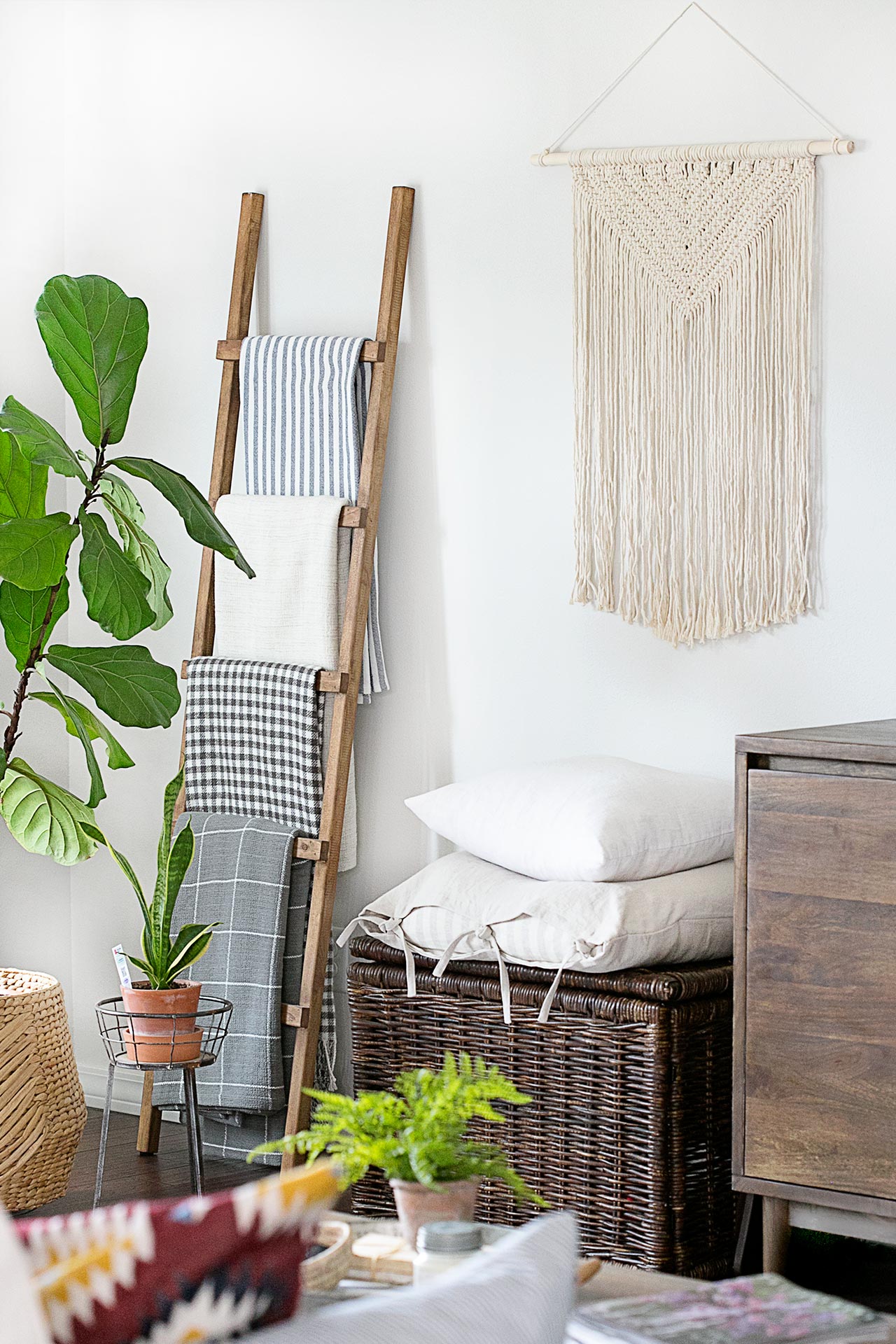 Rattan Coffee Table – a gorgeous natural finish with an open airy base.
Raffia Fans – these fans are a classic piece to boho decor. I've yet to buy one, but they're on my radar.
"Decorating golden rule:
Live with what you love."
-Unknown
Wooden Poster Hangers – hang all your posters, artwork, or photos on these hangers that can be used in any part of your home.
Butterfly Poster – two boho-inspired papillon butterfly posters.
Felt Fedora Hat – these felt hats make such lovely and simple home decor. Wear it out to run errands and hang as a piece of art when home. Perfection.
Vase Fillers – pampas grass, dried bunny tails, artificial eucalyptus, dried palm leaves, and many more.
Well, there you have it. A lot of boho decor ideas that I hope inspire you, or at the very least, made you smile.
Hugs and Blessings!