Easy Crockpot Chicken and Mushrooms
A delicious slow cooker recipe made with chicken breasts and mushrooms. Looking for a quick and mouthwatering way to get dinner on the table? This easy crockpot chicken recipe is one of our favorite crockpot recipes for a weeknight dinner.
In addition to sharing an amazing chicken recipe with you, I'm excited to be partnering with Perdue Farms' in regards to their new direct-to-consumer website that just launched.
Be sure to sign up for my email to get new
recipes and creative ideas sent right to your inbox!
Crockpot Chicken and Mushrooms

Perdue Farms has worked with small family farmers to raise animals with care for 100 years. Perdue Farms is passionate about farming, land preservation, and healthy and nutritious food. As a matter of fact, they're celebrating their 100-year anniversary this year (2020). So there's no better time than the present to launch this direct-to-consumer initiative and having premium proteins delivered right to your door.
Speaking of premium proteins, did you know that over the last 10 years, Perdue Farms has transitioned from conventional chicken and turkey production to becoming the #1 supplier in the U.S. for Organic Chicken? They're also a leader in premium Beef, Pork, Lamb, Pasture Raised, Grass-Fed, Heritage Breed, Antibiotic Free (No Antibiotics Ever), Non-GMO, and more.
It's quite impressive and I'm proud to say that I've been buying their Organic Chicken for quite some time. We love the product. Therefore, this partnership was a no brainer and using the Boneless Skinless Chicken Breasts for today's Crockpot Chicken recipe was perfection.
Unboxing Perdue Organic Chicken Bundle
Imagine my excitement to receive a box filled with an Organic Bundle of Perdue Farms Proteins including these Perdue Harvestland products:
Organic Whole (With Giblets)
Organic Boneless Skinless Breast
Perdue Simply Smart Organics Lightly Breaded Chicken Chunks
Organic Drumsticks
Perdue Harvestland Diced Chicken Breasts*
So, why not take the guesswork out of grocery shopping? Ship Perdue Farms' most popular organic chicken products straight to your door. Order here today and save 10% Off and get a box of FREE Diced Chicken.
Now that you've ordered your chicken (wink-wink), let's chat about the recipe. Sound like a plan?
The crockpot is one of the greatest inventions (along with the Instant Pot). For example, we're able to speed a recipe up or slow it down so that we can enjoy ourselves outside the kitchen. With very little effort, you can have a delicious meal in no time. It's pretty darn amazing, don't you agree?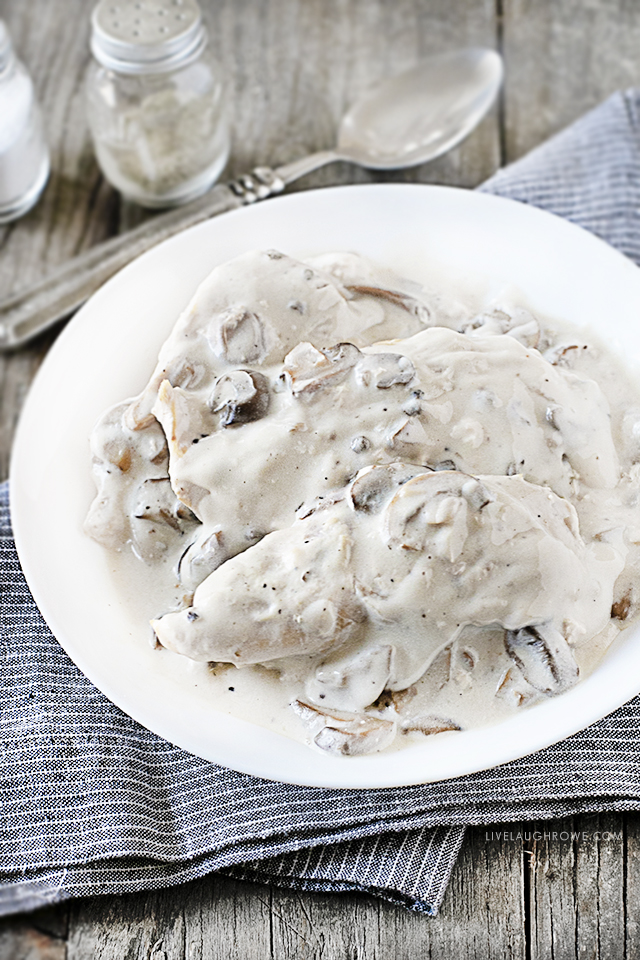 Ingredients for recipe:
boneless, skinless chicken breasts
chicken broth
cream of mushroom soup
sliced mushrooms
salt and pepper
How to make Easy Crockpot Chicken Recipe
1. Place chicken in crockpot and season with salt and pepper.
2. Mix soup, broth, and mushrooms in a bowl.
3. Pour soup mixture over the chicken breasts. Sprinkle with additional mushrooms.
4. Cover and cook on the desired temperature (see full recipe below).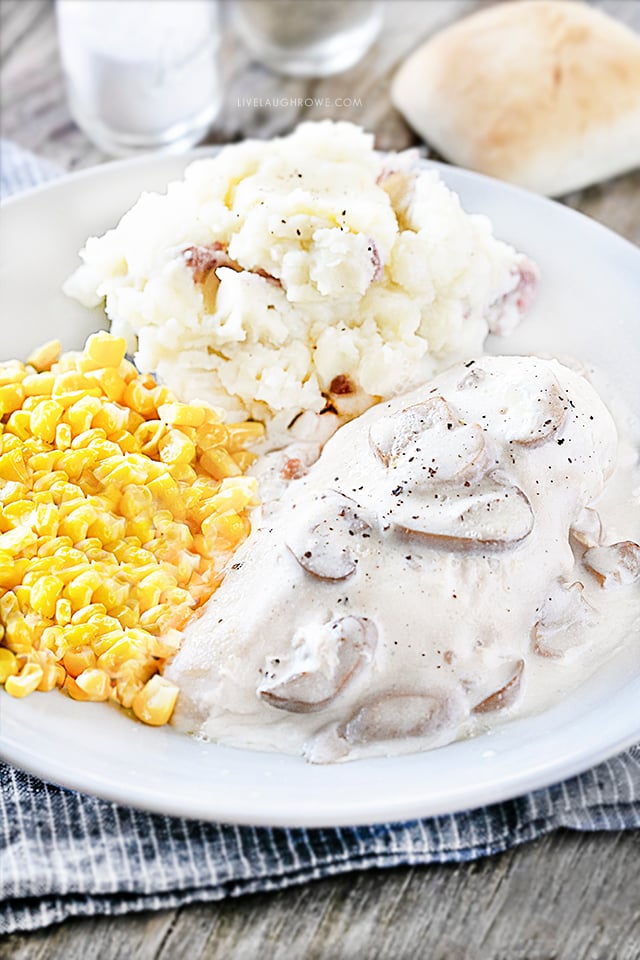 How long does it take to cook chicken in the crockpot?
Chicken will usually cook on low for 6-7 hours or high for 3-4 hours. Above all, be sure the chicken is cooked through. Most importantly, be sure the meat reaches an internal temperature of 165 degrees Fahrenheit, at a minimum.
If you don't overfill the crockpot with ingredients, raw chicken will usually cook in 4-6 hours on low. However, it's important to note that the more sauce you have in the pot and fewer pieces of chicken, a shorter cook time is needed.
Other Crockpot Recipes You Might Like:
Crockpot Chicken Noodle Soup
Crockpot Apple Butter
3-Ingredient Slow Cooker Salsa Chicken
Slow Cooker BBQ Chicken Wings
Slow Cooker Boneless Sirloin Tip Roast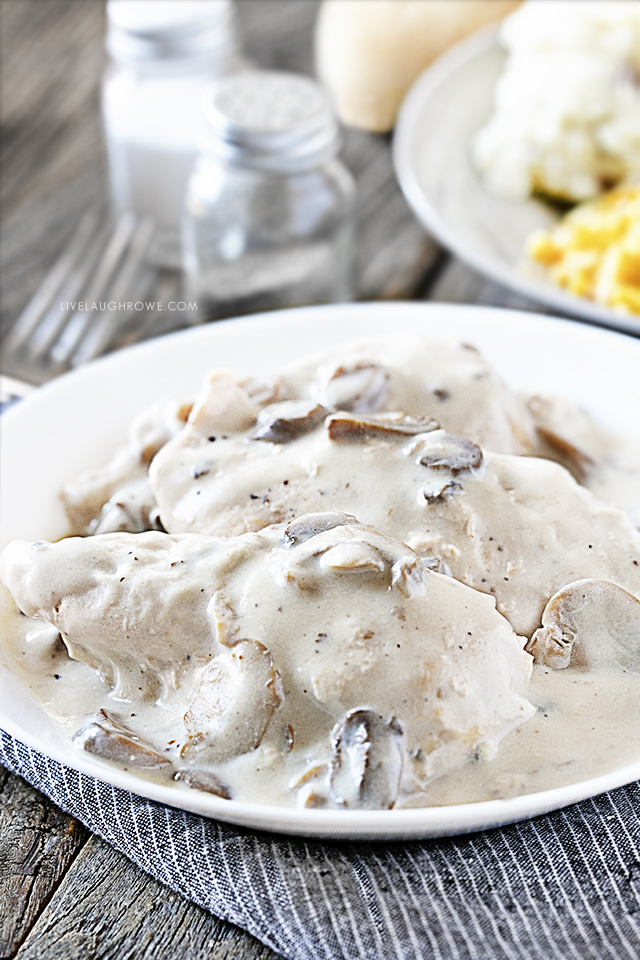 Easy Crockpot Chicken and Mushrooms
Ingredients
2-3

lbs

boneless skinless chicken breasts (3-4 breasts, depending on size)

1/4-1/2

cup

chicken broth

2

cans

cream of mushroom soup, (10.5 oz.) cans

2

jars

sliced mushrooms (4.5 oz. cans), drained

salt and pepper, to taste
Instructions
Grease crockpot and place chicken breasts in the bottom. Season with salt and pepper.

In a separate bowl, mix cream of mushroom soup, chicken broth and one can of sliced mushrooms. Stir until well mixed.

Pour soup mixture over chicken breasts.

Sprinkle additional jar of mushrooms (drained) over the top of the soup mixture.

Cover and cook on low for 7-8 hours or high for 3-4 hours.

Serve over rice, noodles or mashed potatoes.
Connect with Live Laugh Rowe!
Facebook | Instagram | Pinterest | Twitter
Hugs and Blessings!