In search of a new recipe try? These amazing chicken thigh recipes make an easy and low-cost dinner option any night of the week. They also make a great protein and can be baked, grilled, air fried, and more. So, you're sure to find a new favorite amongst these delicious dishes.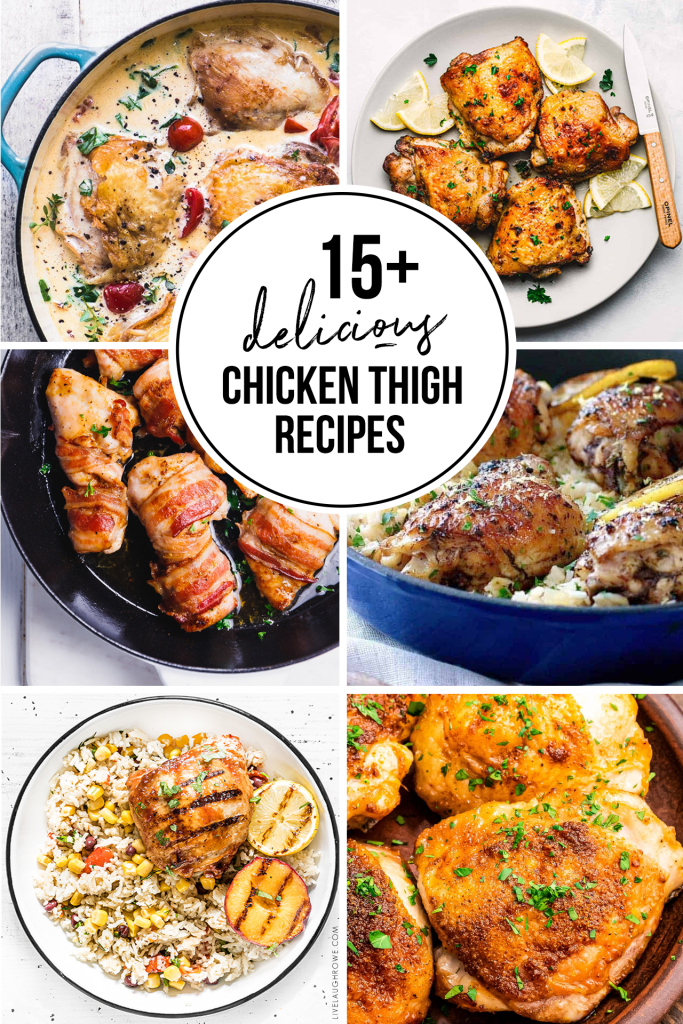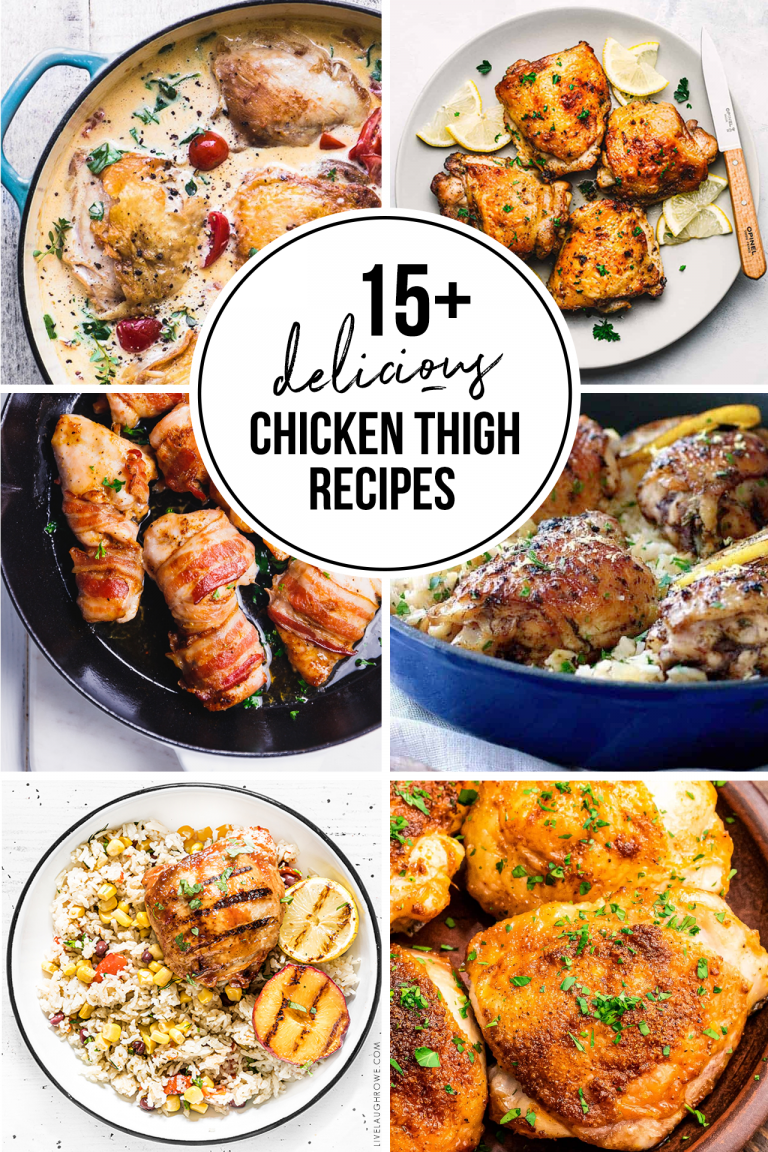 Unquestionably, chicken is one of my favorite proteins. From my Easy Crockpot Chicken and Mushrooms recipe to my 3-Ingredient Slow Cooker Salsa Chicken and many more, you'll find it obvious that I'm a fan of chicken.
So rounding up these chicken thigh recipes was a no-brainer. Subsequently, I'm looking forward to trying a few of these myself.
Random Story
Here's a funny random story for you…
While in high school, my mom was on a special diet. I clearly remember her making meals with tofu and wondering what that foreign food could possibly taste good with. We survived those meals. However, I tend to avoid tofu at all costs anymore.
On another occasion, I recall her mentioning that we would be trying chicken livers for dinner. My thoughts, "Ummm, what?" And, it clearly stunk to high heaven.
In addition, it looked so unappetizing. I mean no offense to those who enjoy that cuisine, this is my humble experience and opinion.
Nevertheless, we all set down and within about 5 minutes it was agreed that we would head to Pizza Hut for dinner. Giggle. We soon thereafter piled up the dishes and headed out the door.
I know that has nothing to do with Chicken Thigh recipes, but this story came to mind and I felt like I might humor you with it.
Back to the subject at hand…
What are chicken thighs good for?
Chicken thighs are excellent for grilling and work well with marinades. They're also great for frying, pan-frying, roasting, and more. Chicken thighs are clearly versatile meat.
15+ Chicken Thigh Recipes

And now let's take a look at these delicious dishes. In short, prepare to be inspired and leave a wee bit hungry. Enjoy.
Lemon Pepper Chicken Thighs via Posh Journal
Grilled Chicken Thighs with Peach Barbecue Marinade via Live Laugh Rowe
Grilled Chicken Thighs with Peach Barbecue Marinade
Creamy Tuscan Chicken via The View from Great Island
Chicken Thighs with Creamy Mushroom Sauce via Mom Secrets
Baked Balsamic Chicken Thigh Recipe via Wholesome Yum
Bacon-Wrapped Chicken Thighs via Cooking LSL
Ranch Cheddar Chicken via Damn Delicious
Perfect Cast Iron Skillet BBQ Legs and Thighs via Live Laugh Rowe
Perfect Cast Iron Skillet BBQ Legs and Thighs
Creamy Chicken Casserole via Vikalinka by Julia Frey
Air Fryer Chicken Thighs via Julie's Eats and Treats
Sticky Orange Chicken Thighs via The Schmidty Wife
One-Pot Greek Chicken and Lemon Rice via recipetineats
Garlic Mushroom Chicken via Cafe Delites
Chinese Sticky Chicken (using Chicken Thighs) via Live Laugh Rowe
Chinese Sticky Chicken (using Chicken Thighs)
Mediterranean Chicken Thighs Recipe via The Woks of Life
Extra Crispy Oven-Fried Chicken Thighs via Craving Tasty
Pan-Seared Cajun Butter Chicken via Easy Weeknight Recipes
Instant Pot Garlic Brown Sugar Chicken via Little Sunny Kitchen
Hugs and Blessings!