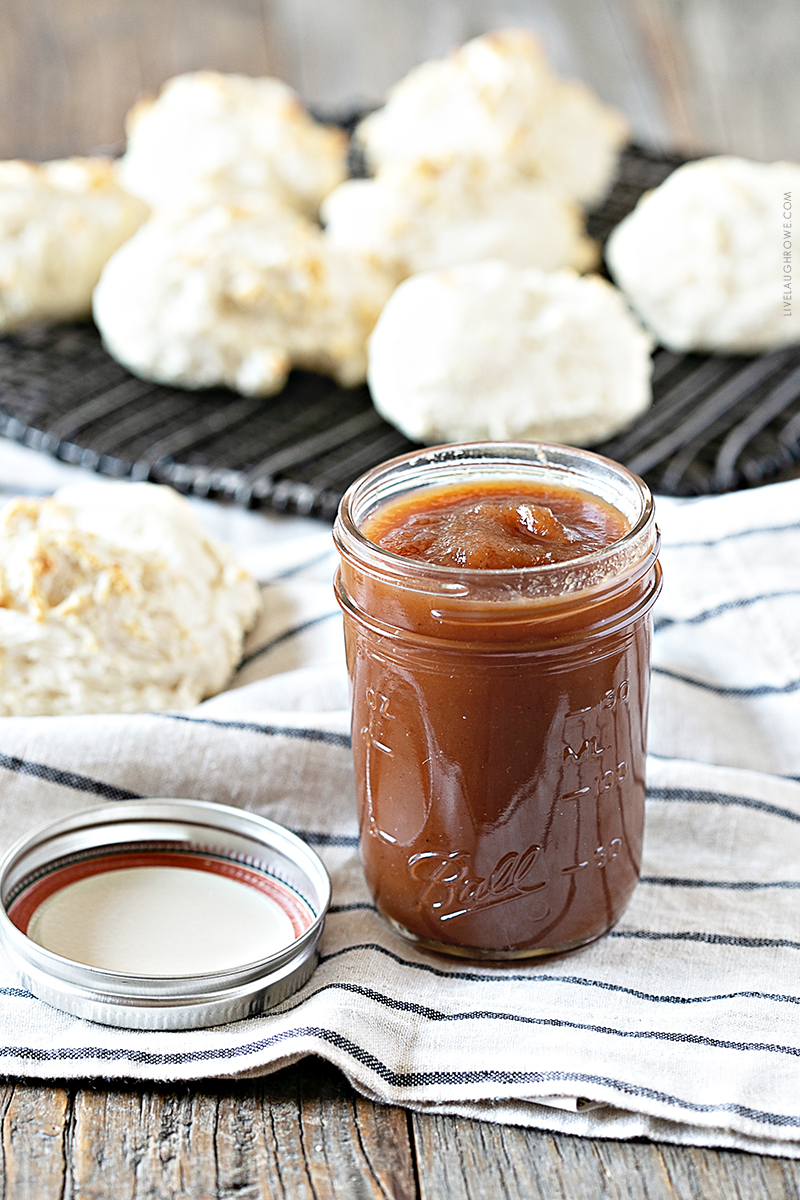 Simple Crockpot Apple Butter
A simple recipe that will have your taste buds doing a happy dance. This crockpot apple butter is one of those recipes that is dump and go. A few hours later, you have a delicious treat that the whole family can enjoy. This apple butter also makes a great gift.

Homemade Apple Butter Recipe


Before I jump any further into this apple goodness, I wanted to ask you a question. Have you ever had one of those weeks where thing just didn't go according to plan? Yeah? Phew. Glad I'm not alone over here.
This week was one of those weeks. We headed to Arkansas last weekend to camp with some friends and had planned to stay the entire week. Since we (the hubs and I) both work remotely, we were ready to roll and super excited to get the Oliver out of storage for the first time since April.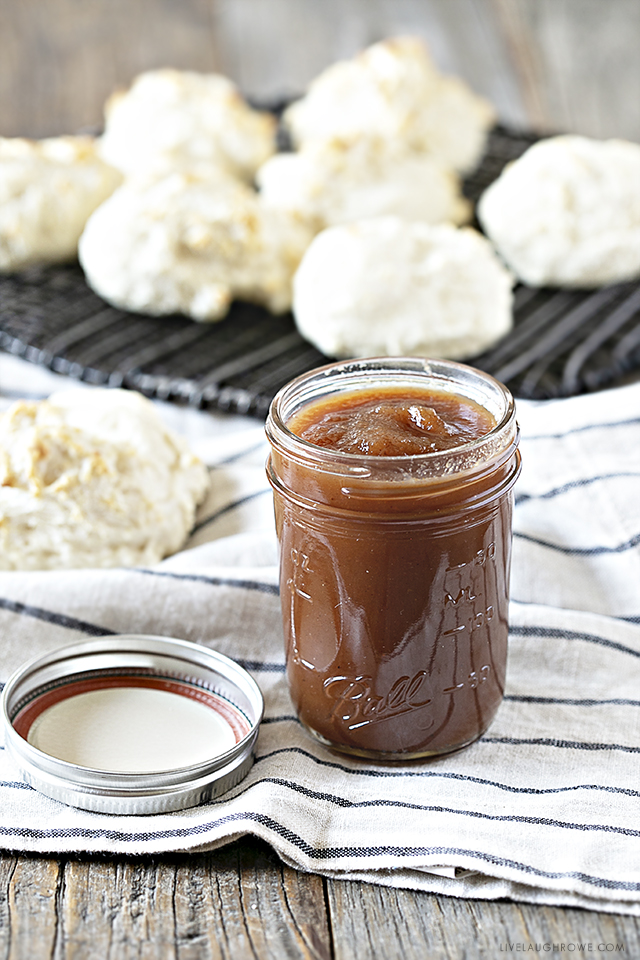 Well, for some reason, the week just seemed off. It was hot, rainy, damp and the internet at the campground was not cooperating. So, Steve (my husband) and I decided to cut the week short and head back home.
Honestly, camping can be quite miserable if you're not enjoying yourself and the weather and internet aren't cooperating. It was a big, fat bummer — but necessary not only for our sanity, but for us to get our work done as well.
I had even planned to bring along some of this slow cooker apple butter. And forgot it (insert face palm). Maybe THAT was the beginning of the end. Haha, just kidding.
Anywho, Steve got a ticket on the way to dinner one night and the meal was awful. I remembered thinking, was this trip not supposed to happen? Sigh. I'm happy to report we're officially home safe and sound. I can tell the dogs are always so excited to be on their home turf too.
Apples are my Favorite
If I had to list my top three fruits, the apple would be at the top of the list. And the McIntosh would be the one I would look for first. Mmmm. So, as you can imagine, using apples to make this delicious Crockpot Apple Butter was super exciting.
Would you believe that this is the first time I've ever made apple butter? Have you ever made it before?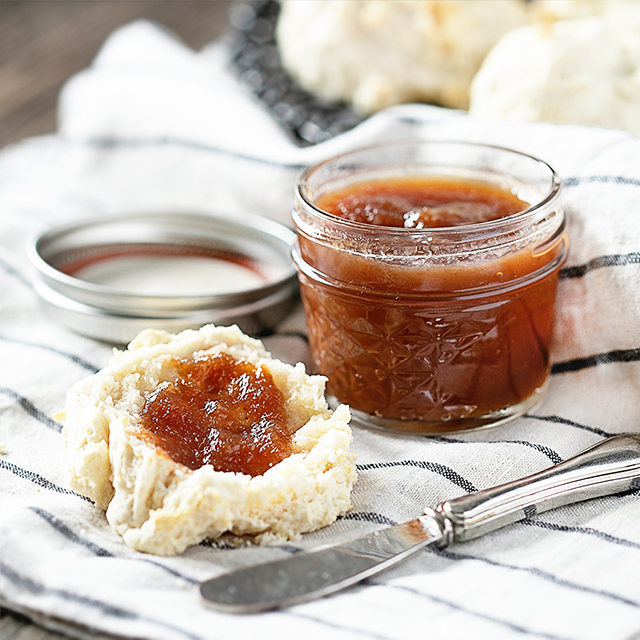 I love apple butter, especially on toast or biscuits. And I can't believe I'm going to admit to this, but this handwritten recipe has been sitting in my recipe box for over 11 years now.
I would always see it and think, "yummmm." However, I never did pull it out to make it. There is something incredibly nerve wrecking about a new recipe. What if it burns? Or I do something wrong and ruin the whole batch?
It was ridiculous. I know, it's okay for you to agree. Especially since this recipe uses applesauce. Imagine peeling, cutting and everything else that needs to be done using fresh apples — and messing that up. Yeah. I would have had a good cry.
Nevertheless, I'm happy to report that I did not mess up my first batch — and I even decided to share it with my family. They all reported back that it was delicious. Hallelujah.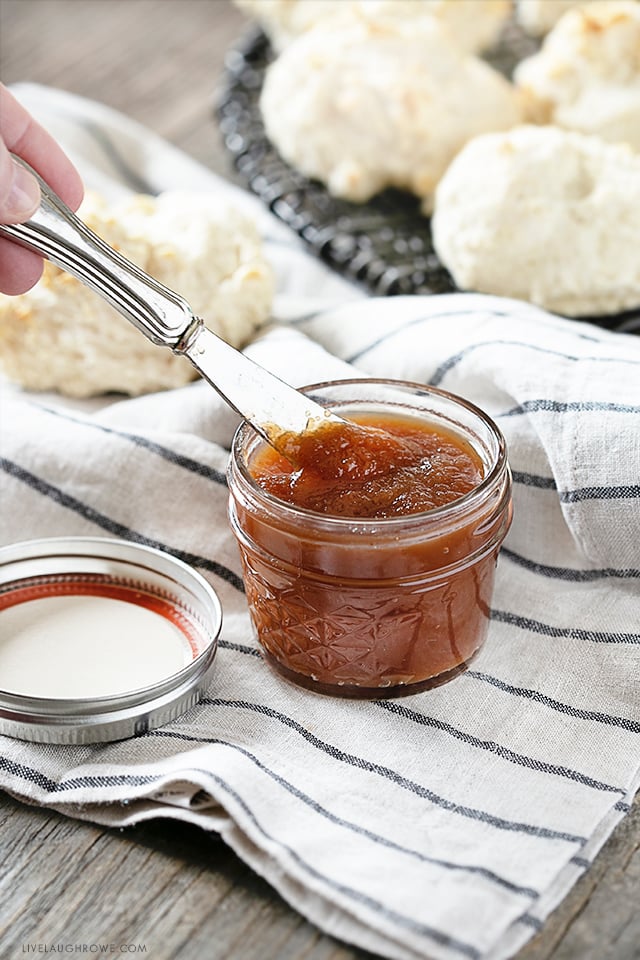 My recipe said to cook without the lid for 3 hours — it didn't specify high or low, so I had to do a little researching. I saw some recipes that said to cook on low for 12 hours. YIKES!
That's when I started to panic. I settled on cooking mine for about 6 or 7 hours with the lid on. It was getting dark and I was frightened to death it was going to burn. I think it's safe to say that when you're happy with the consistency, it's done.
Can I can the Apple Butter?
Yes! You can can using the traditional way — or you can take a shortcut and can this apple butter a little more simple. Start by sterilizing your jars in hot water (run them through the dishwasher). Be sure to keep them as hot as possible while completeing the following steps:
One: Be sure the apple butter stays very hot so the jars seal.
Two: Funnel the hot apple butter into the jars to about one-eighth inch from the top. Tap each jar on the counter to eliminate air bubbles. (Use a heat-proof glove or small folded dry towel.)
Three: Wipe the jar rims with a moist cloth, if necessary.
Four: Place the lids on the jars as you normally would (be sure not to over tighten), and turn the jars upside-down. As they cool, they will seal themselves. You will see that the lids have become slightly concave. When they are nearly cooled, turn them right-side-up, tap on the counter again so the filling is evenly distributed, and let them cool completely.
And you're done! These will keep for a long time — refrigerate or freeze.
In spite of all my fretting, this crockpot apple butter tasted AMAZING! I hope you enjoy it as much as we did.
How to make Crockpot Apple Butter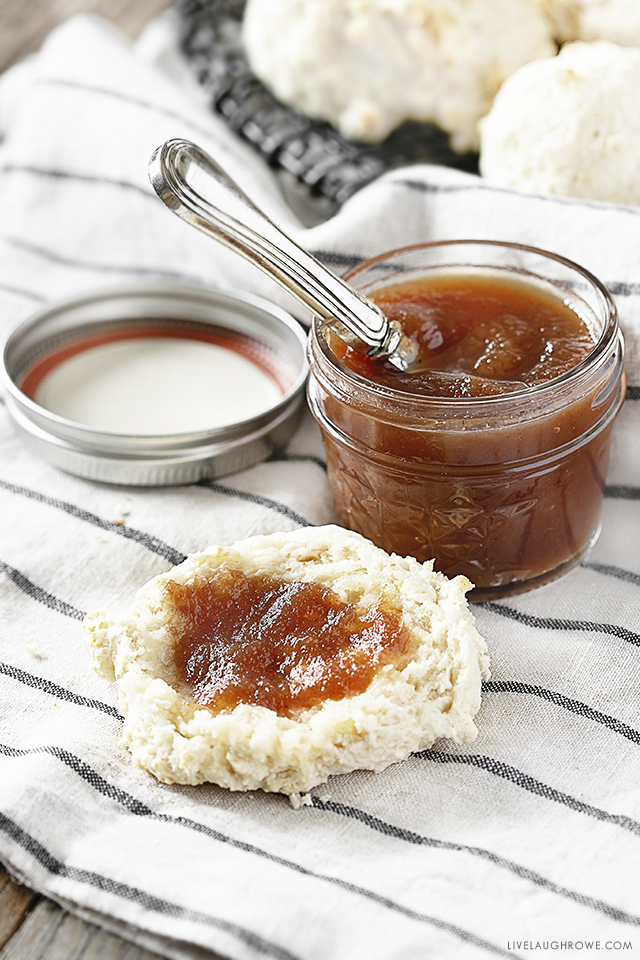 Crockpot Apple Butter
Simple and delicious Crockpot Apple Butter. And to make things even easier, it's made using applesauce.
Ingredients
8

cup

unsweetened applesauce

3

cups

white sugar

1

cup

brown sugar

1/2

cup

apple cider vinegar

2 or 3

tsp

cinnamon

1/2

tsp

ground cloves
Instructions
Combine ingredients in crockpot and cover with lid.

Cook on low for 8-10 hours or until desired thickness.
Looking for some more Apple Recipes?
Apple and Cheese Danish
Easy Apple Crisp
Caramel Apple Overnight Oats
Apple Pie Parfait

Be sure to visit with me here too:
Facebook | Instagram | Pinterest | Twitter | Google+