Super excited to have the talented Ashley from Little Glass Jar back with us today, sharing some awesome sauce DIY Farmhouse Frames. I'm thinking she should open a store… Hmmmm.
DIY Farmhouse Frames

Since moving into our first house two and half years ago, I have come leaps and bounds when it involves buying things just to buy them. I was never that girl with the crazy shopping addiction, but I was the girl who would make a purchase before I knew what I was going to do with it. Typically that purchase would end up in our basement just waiting for me to find its perfect spot, and typically that day never would come. So I made a new rule that I wouldn't buy something unless I knew what I was going to do with it in our house. Now, it's safe to say I also have a list in my head of those rare exceptions to this new rule. That's only fair right?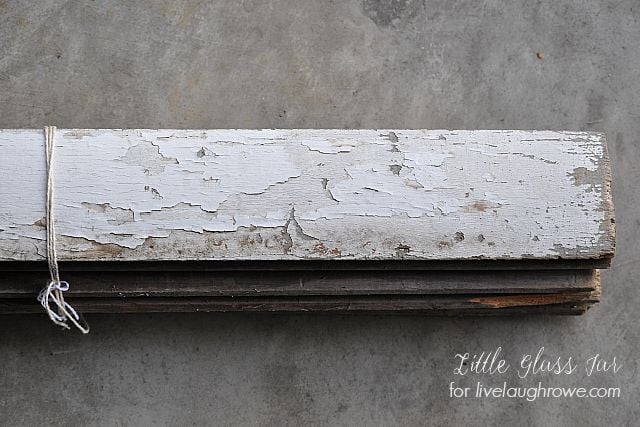 Recently I went with my mom to one of our favorite antique places. While roaming around drooling over all the great pieces, I knew I didn't have space for them. However, I found a few bundles of really old, chippy white scrap wood.
I have learned that barn wood, or any old wood for that matter is pretty hard to come by near where I'm located. Which is shocking considering I live in the Midwest and there are roosters living across our road. So salvaged wood = exception right? I definitely stood there a while trying to justify buying the bundle…because, of course, I would find something to do with them.
Before anyone else could see their potential, I grabbed them and took them up to the cashier. One thing I absolutely love about vintage finds, is finding out where they originated from. The lady who owned the booth told me the wood I was buying were pieces of porch columns on an old farmhouse. That's all I needed to hear. No buyers remorse necessary!
I wanted this wood to be displayed somewhere in our home, so I thought that making what I see as art into something I could actually display as art was what I wanted to do.
Supplies for Farmhouse Frames:
Miter Saw
Brackets
Screws
Drill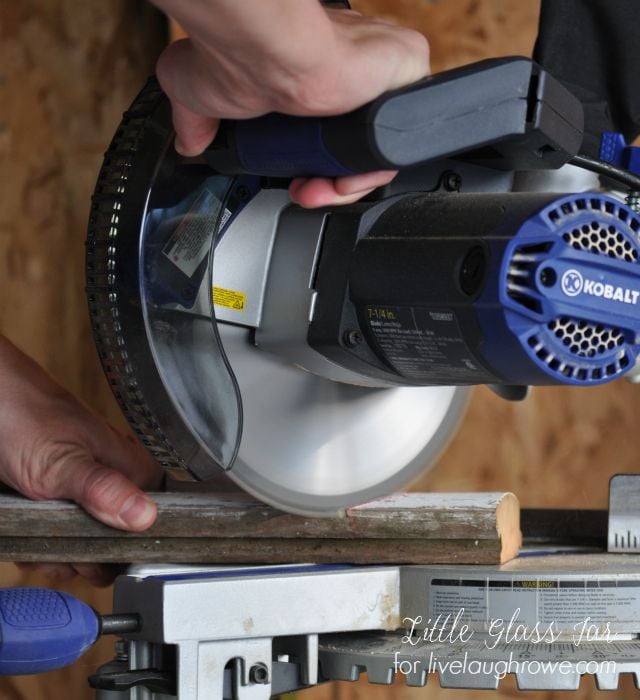 Ready for the easiest piece of farmhouse art you've ever made? Using basically whatever kind of salvaged wood you want, set your miter saw at a 45 degree angle and cut each end of the wood to make a frame of your desired size. We screwed brackets on the back side of the frame with a drill to connect the four pieces. Voilà!
No really. That's it. There are so many ways you can use these simple farmhouse frames. I chose to use them simply as art, because to me, that is what they are. A piece of someone else's home that now sits in mine. It doesn't get better than that!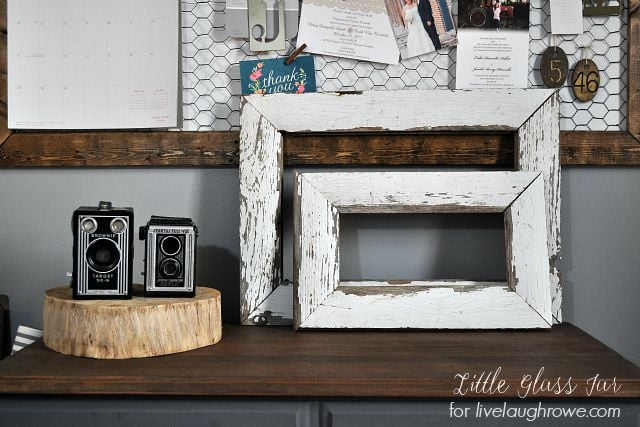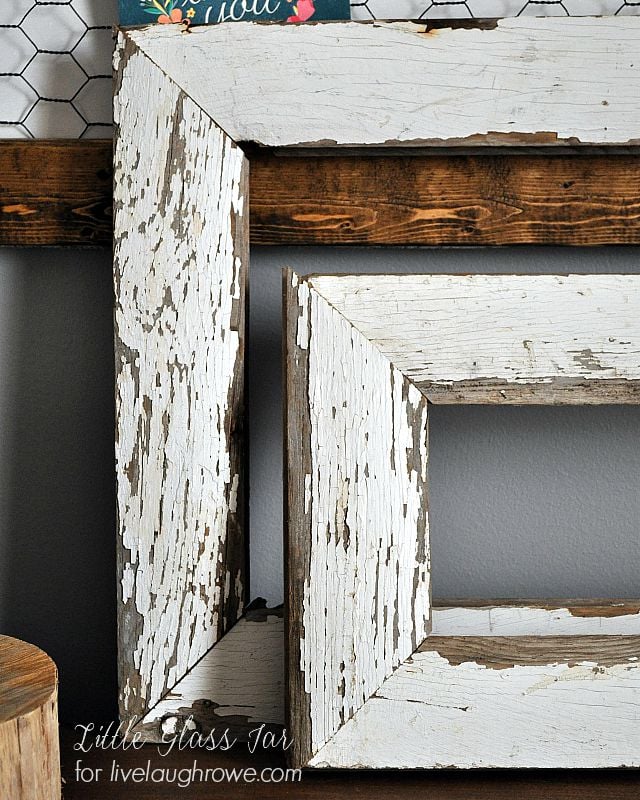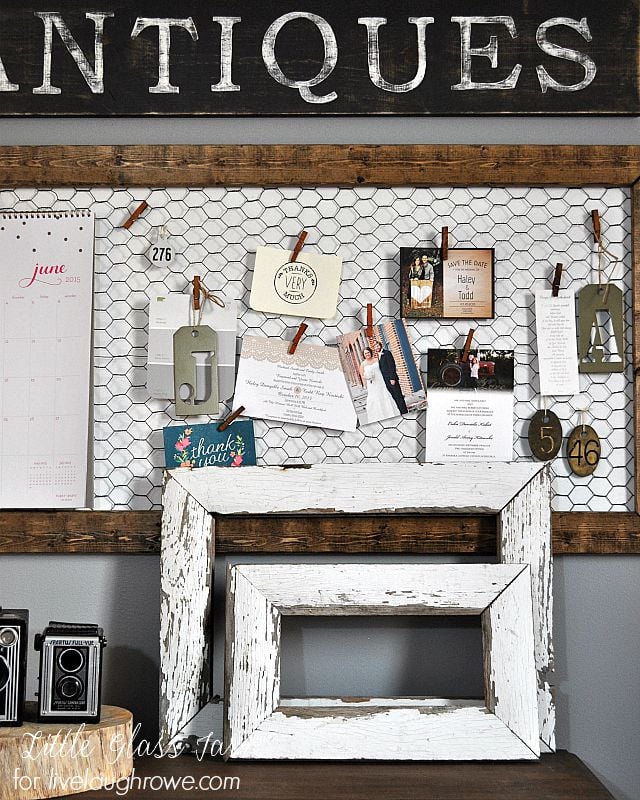 As always, thanks for stopping by to visit me here! If you want to see more of what I've been up to lately, I think you might like my most recent addition to our home office, this Four Drawer Side Table.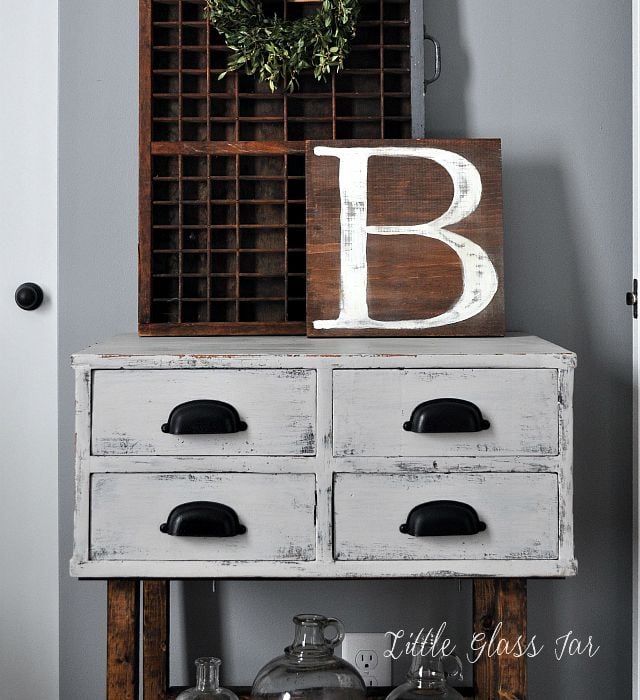 You can also find me hanging out here:
Instagram | Facebook | Twitter | Pinterest
https://betweennapsontheporch.net/