This post is brought to you in collaboration with The Home Depot.
Storage. Can you ever really get enough storage space? For me, NO! I can always use more storage. How about you? Well, this DIY Storage Ottoman might just fit the bill. It's easy to pull together and can add functionality to your space. For me, that's a win-win!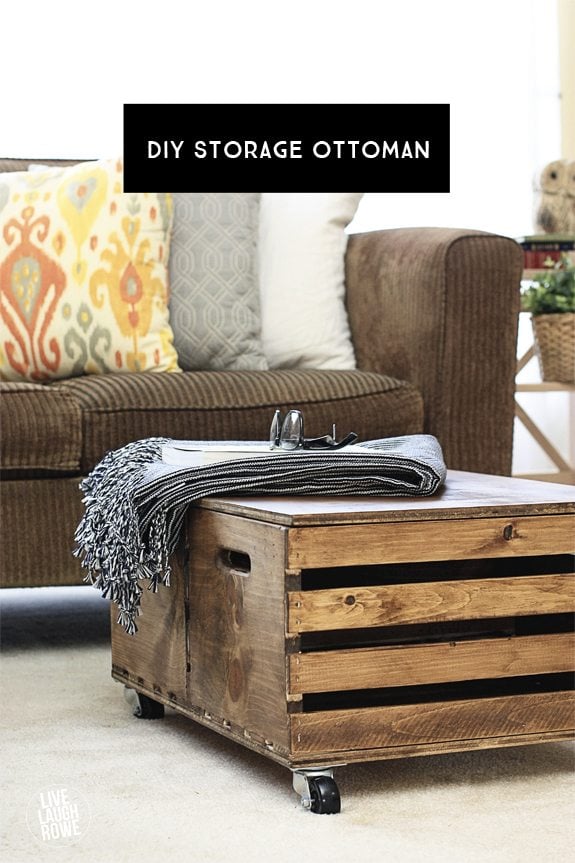 Supplies:
(2) 18″ x 12½" x 9½" wood crates
(2) 25″ x 18″ pieces of plywood will be the base and the top, respectively.
(4) 2″ casters – locking or non-locking
½ Pint Varathane Wood Stain
Paint brush and/or Rags
Drill & Bits
(2-pack) 1½ inch Satin Brass Non-Removable Pin Narrow Utility Hinge
(2) 4-packs #6 ½ inch Screws Silver/Chrome Finish
12-pack #8 ¾ inch screws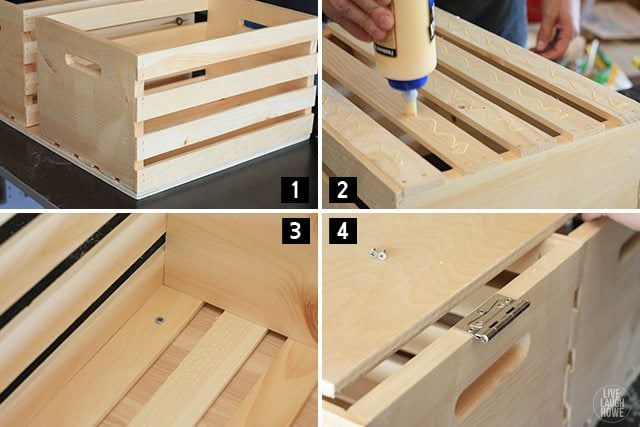 Step 1
The first step is to attach your wood crates to one of the two pieces of plywood. Line them up next to each other, apply some wood glue and secure with #8 ¾ inch screws in the corners. (See photos 1-3)
Step 2
Next, measure and mark where to attach the hinged top. To make the hinges align with the handles in the wood crate, simply measure to find the middle of each crate, above the handle.
Having a second pair of hands would be helpful here — one to hold the top piece, and one to help align the hinges and hold them in place. Use shorter #6 ½ in. screws. (See photo 4)
Step 3
Next, attach the casters with #8 ¾ in. screws.
Be sure to align the caster where the screws will go into a plank on the base of the wood crate. If you miss it, the screw might show through. Plus, it's an extra layer of strength to screw through the plywood and into the wood crate.
Step 4
Last but not least — stain using a brush or rags. Of course you can stain your storage ottoman at any time throughout the process, that is completely up to you. I prefer waiting until the piece is assembled so that I don't damage it.
*Looking for more tutorial photos? Feel free to visit the Home Depot blog.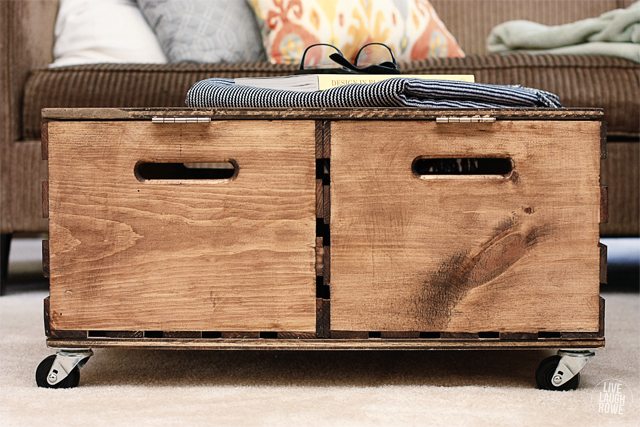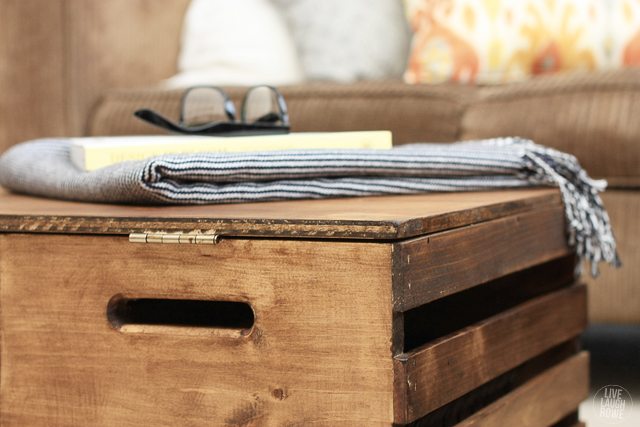 And you're done! This is a great weekend project that will provide you with storage for magazines, books, remotes, smaller blankets and more! Don't forget that with the caster wheels if can easily be moved from room to room. Boom!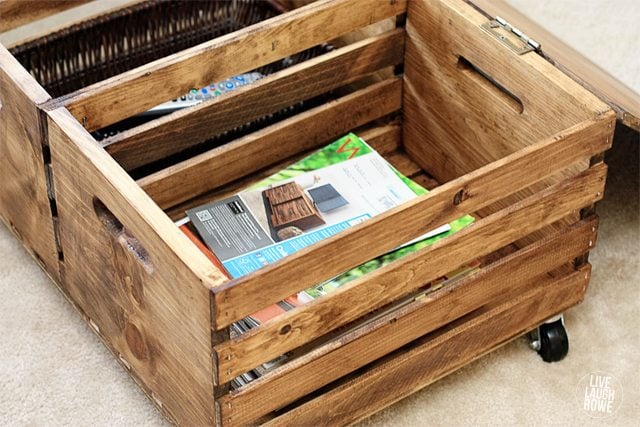 Guess what? You can build one of these at the July 16th DIH Workshop! Be sure to register on-line and don't forget to bring a friend! Happy creating, friends! xo
Care to stay in the loop? I'd love to have you!
Catch me snapping + sharing pictures over on Instagram.
Subscribe to Updates | Like on Facebook | Follow on Pinterest
Linking up at Between Naps on the Porch