This post is written by me in partnership with Photowall. All opinions and thoughts are my own.
One way for a quick room refresh is in your wall decor, in my humble opinion. Similarly, adding a new colorful piece can really make a wall pop and the room stand out. Eeeks! I'm so excited to share my new canvas wall decor with you today.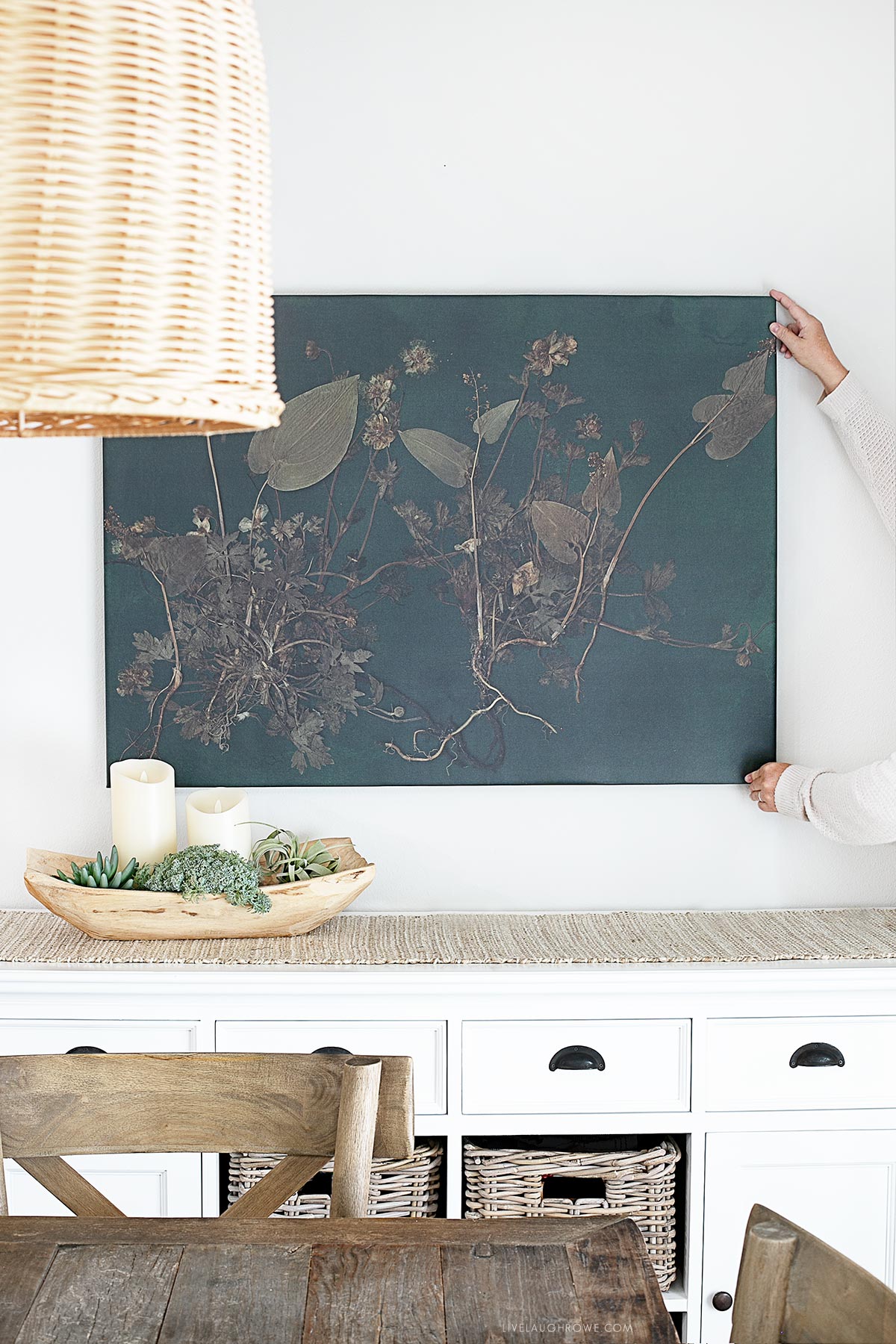 So, I recently got two new canvases to display in my home. Insert happy dance.
One thing I've learned over the years is "Be faithful to your own taste because nothing you really like is ever out of style." -Billy Baldwin
Are you true to your own taste ands style? Have you ever felt like you were stuck in a decor midlife crisis? I did, for years. Yepper.
I've always loved more of an eclectic/boho style — with neutrals and plants. Maybe a pop of color here and there. Yet I never followed through with it.
Then I settled on farmhouse decor due to its popularity and simplicity (insert face palm).
As you may (or may not) know, I've been making a shift to more of a boho/urban boho look in my home. While I loved the farmhouse look, I'm over it in my home (haha and no offense, friends).
Anywho, I know I still haven't shown you my new sofa, but I'll save that for another time. And I hope to share my entryway changes soon too. Woo-hoo.
However, today we'll take a look at the new canvas wall decor I recently acquired. Yay.
Assembly and Shipping
Before getting into the canvas pieces, I wanted to share one unique feature of Photowall canvas prints. Believe it or not, they're shipped to you unassembled and FREE.
I've ordered several canvases over the years from various companies. Shipping usually isn't free and they rarely arrive unassembled.
However, how you assemble the Photowall Canvas is pretty darn clever. They provide detailed instructions, making it easy peasy.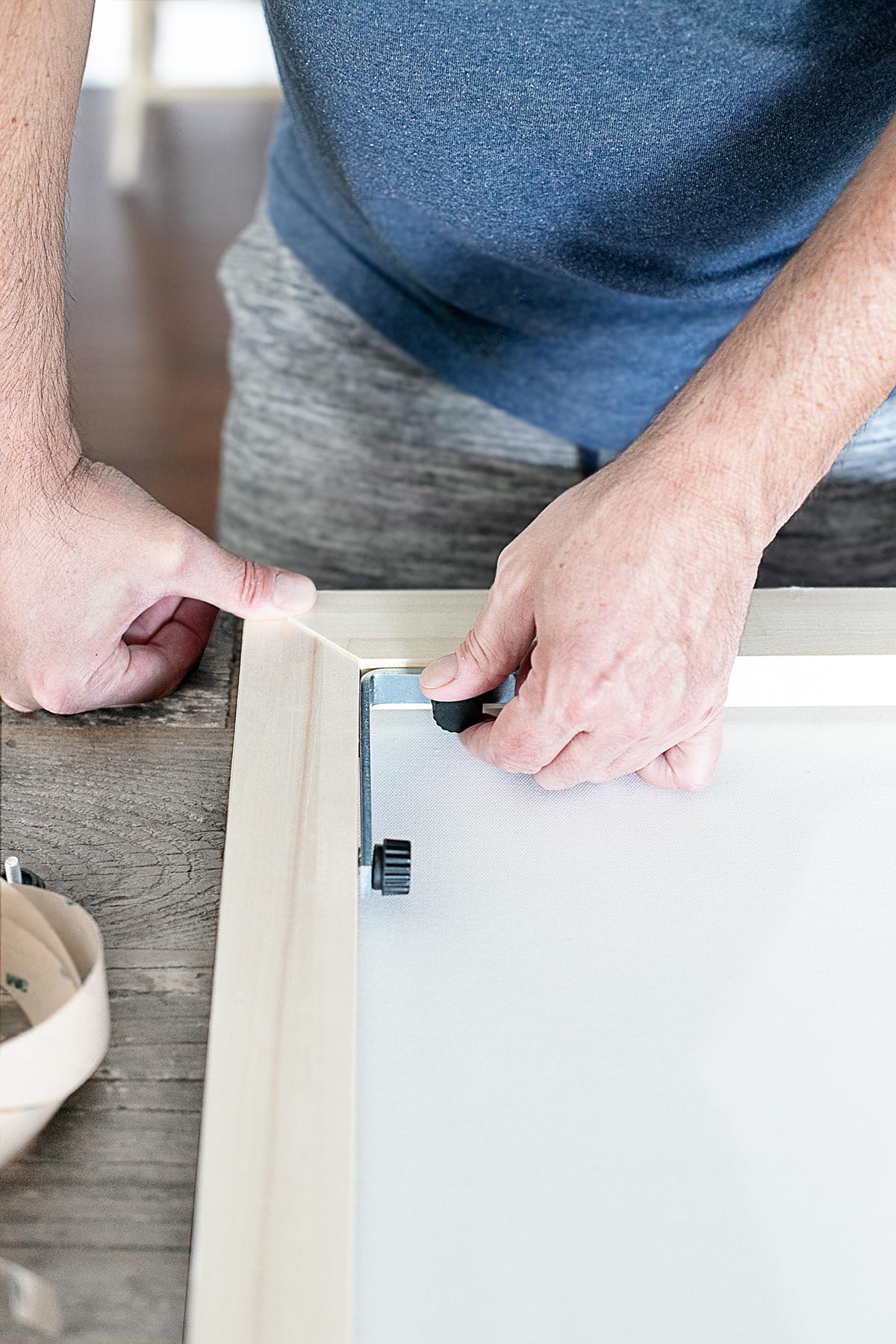 The canvas sticks to the framing with a 3M tape and you fold the sides in and attach brackets.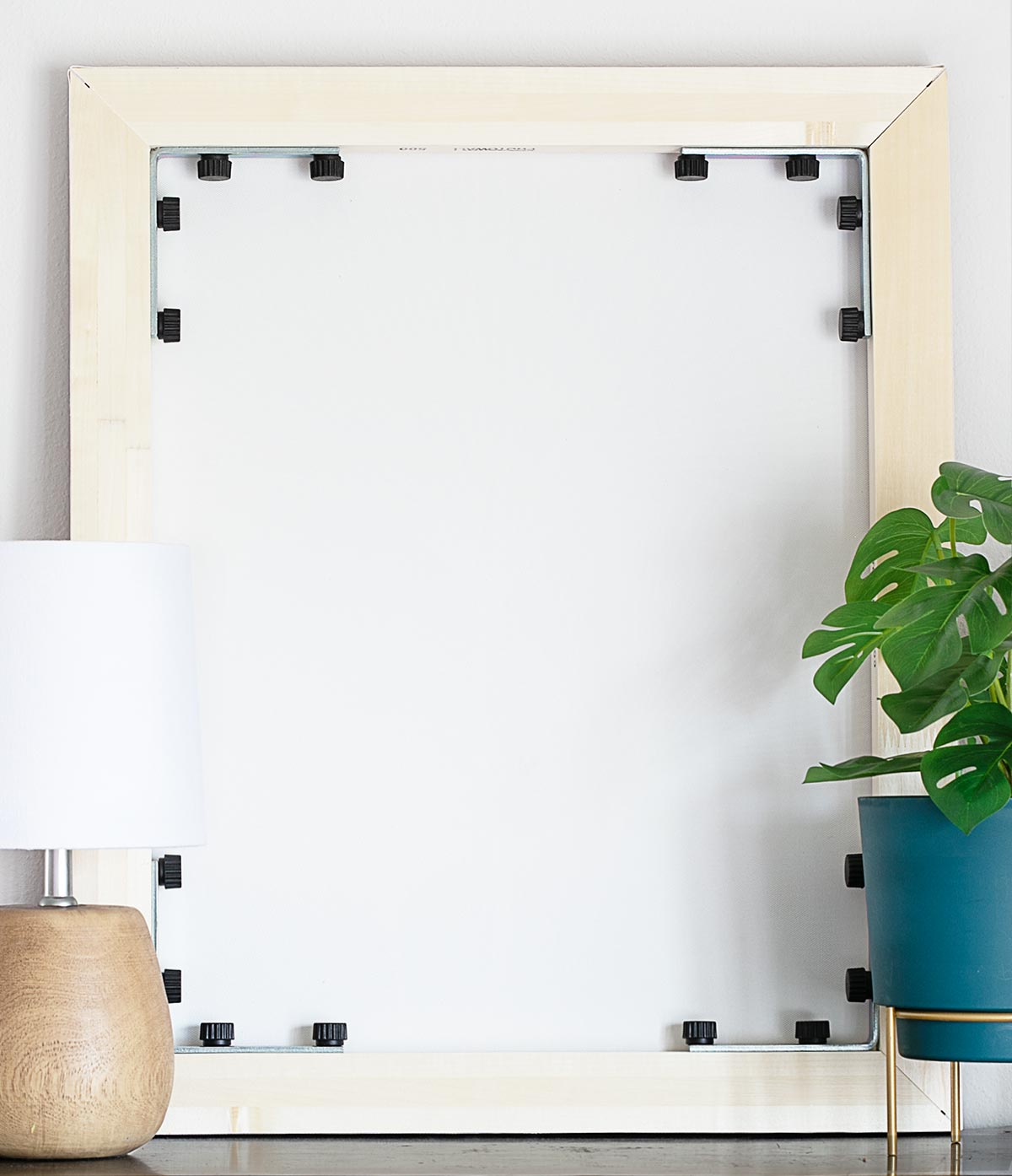 I wanted to at least give you a peek. It's pretty cool. In short, it keeps shipping costs down and eliminates damage.
Plantasia Canvas Wall Decor
As you can see, one of the canvases is much larger and more dramatic. This canvas is sized at 43.31 x 31.5 inches and it's called Plantasia.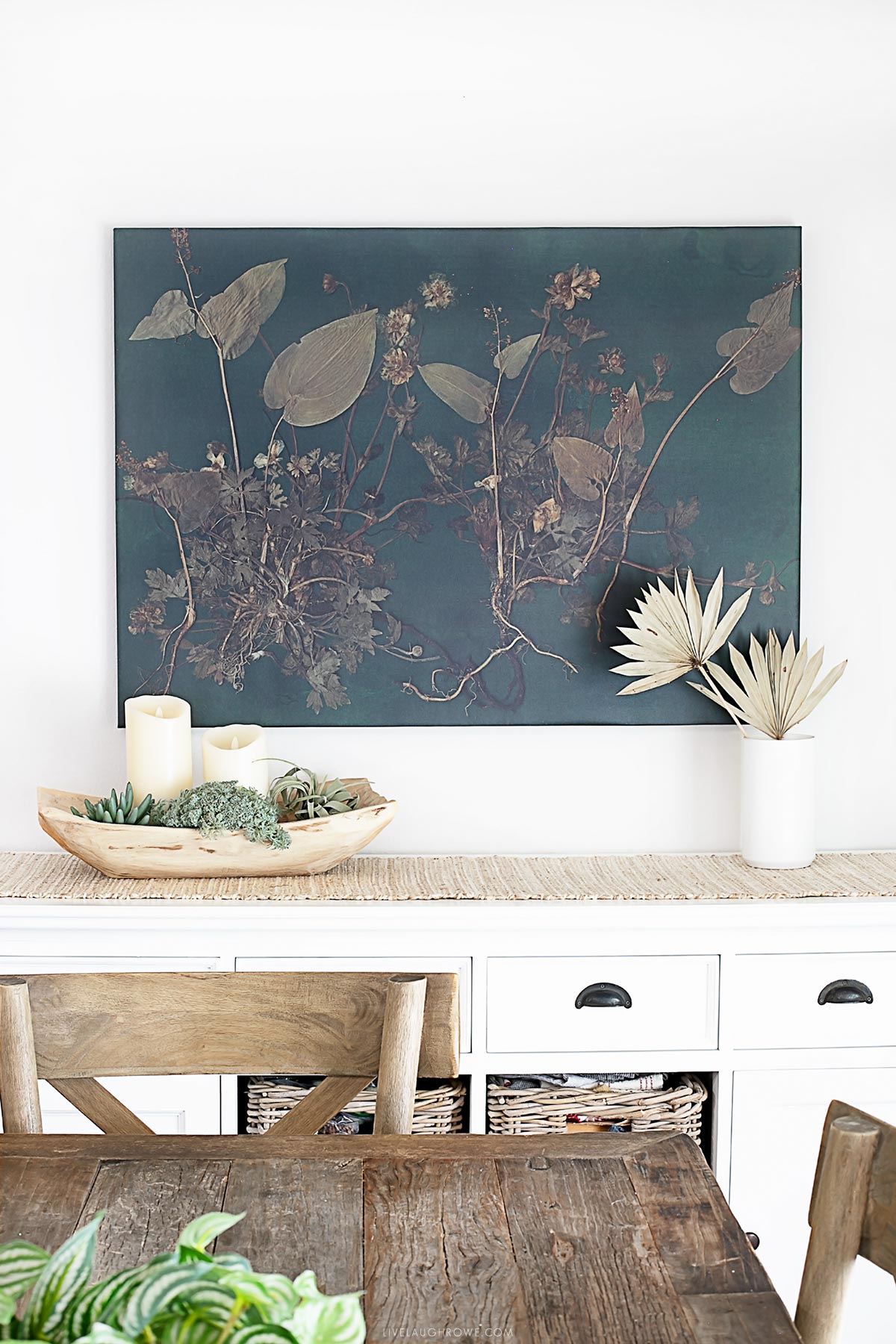 Aren't the deep green and botanicals magnificent?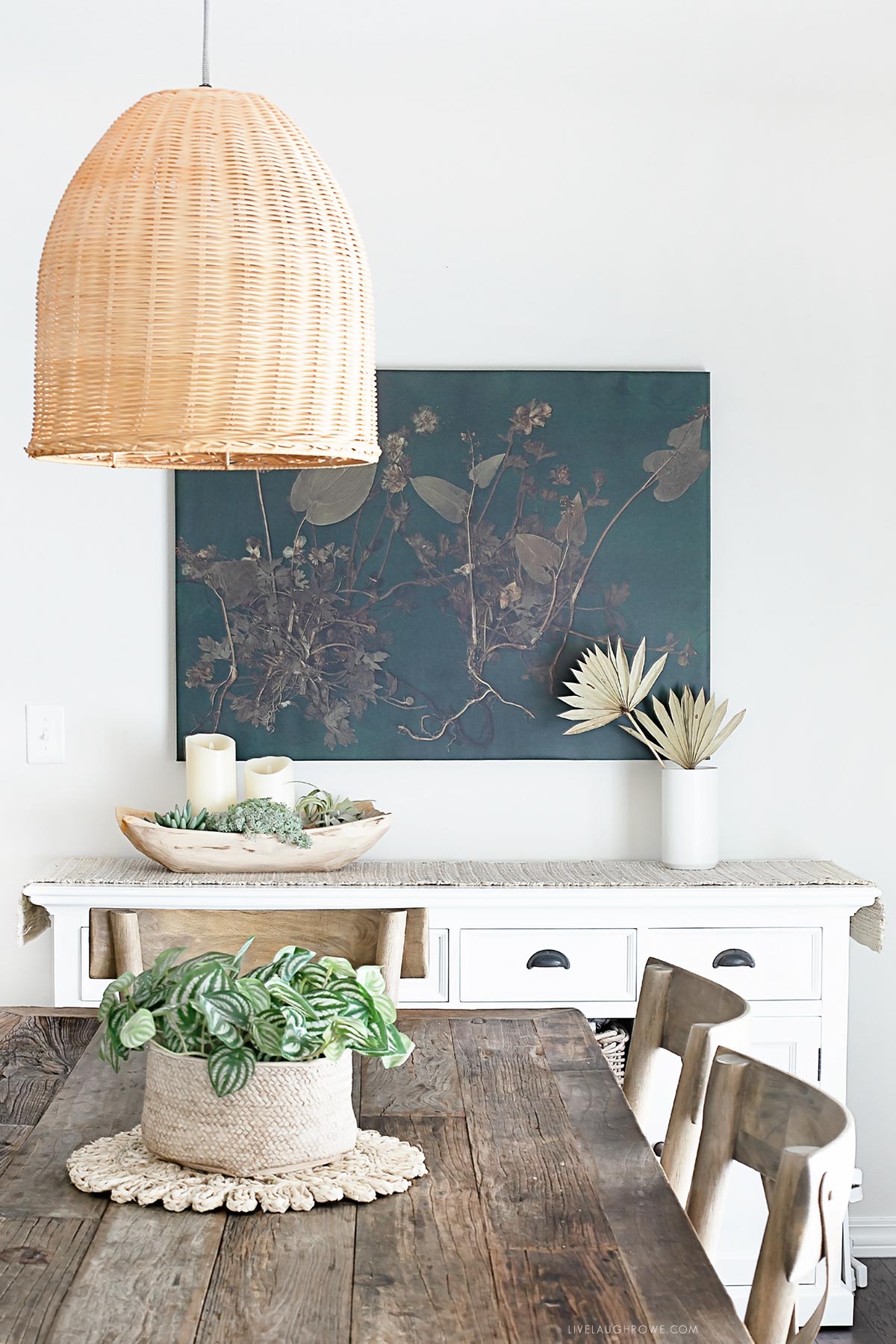 I recently purchased the rattan pendant light too. Therefore, I thought the new light and canvas might compliment each other well. What do you think?
Custom Canvas Wall Decor
For this canvas wall decor, I decided to purchase more of an abstract digital print (on Etsy) and used it to order a Custom Canvas Print. This one is sized at 15.75 x 19.69 inches.
It turned out beautifully. I love how simple and subtle it is.
This is a corner of the house that doesn't make too many appearances here on the blog. My mom gave me the antique lawyer's bookcase because it's been in the family for years.
If I'm being honest, I go back and forth on whether I should keep it or not. Opinions are welcome. Hee-hee.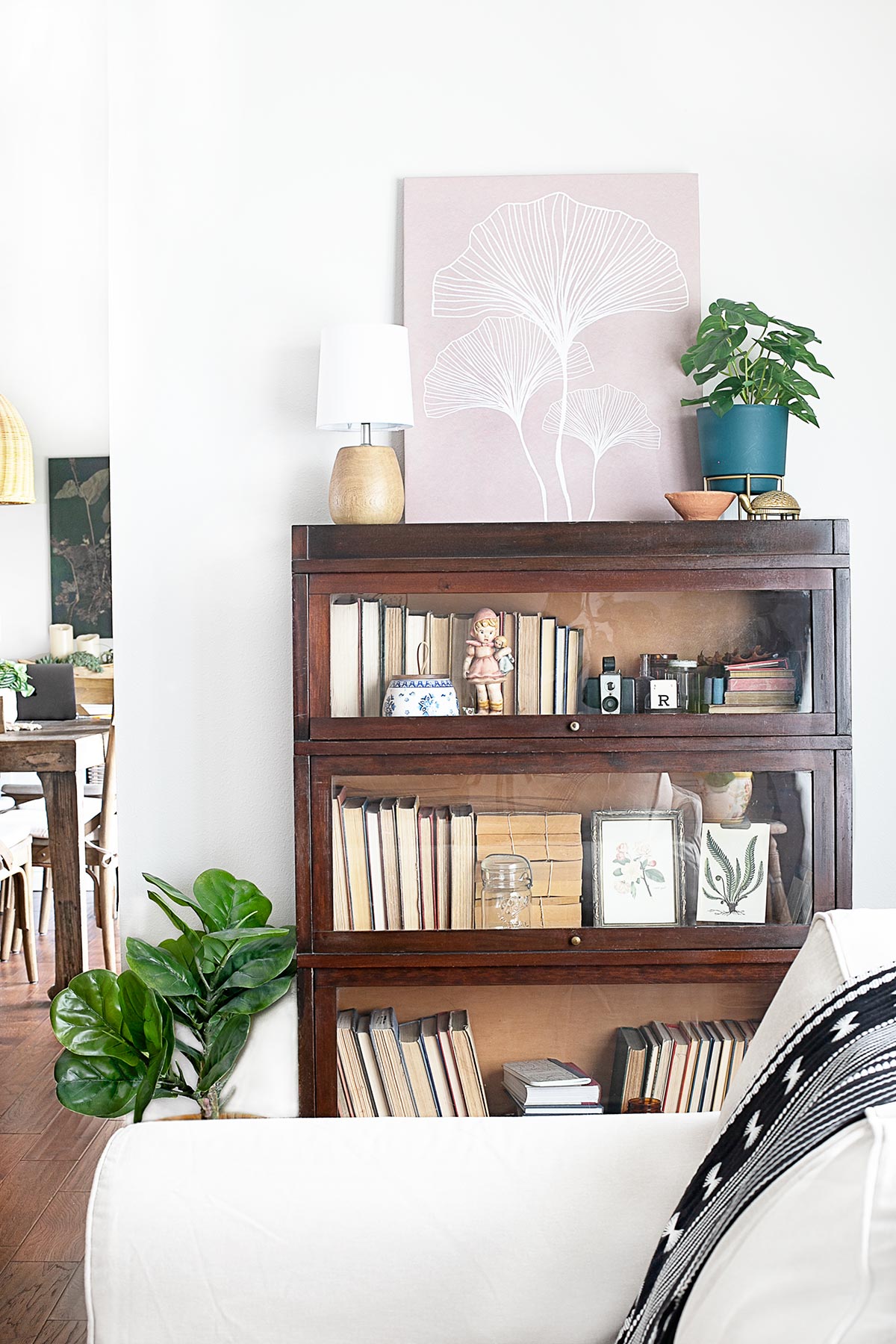 Nevertheless, I had this spot in mind when ordering the canvas. I used to have tobacco baskets displayed here. I think this vignette came together fairly well. However, I move things around a lot, so we'll see.
How about your? Are you a mover and groover when it comes to decor? Ha.
Additional Photowall Info
This is my second collaboration with Photowall. Their beautiful products range from Wall Paper, Prints & Posters — and you can customize a piece or two as well.
I certainly hope you'll give them a visit. And if you're looking for savings, use code livelaughrowe25 to save 25% from today (July 1, 2021) to September 3, 2021.