You know how the old saying goes, one man's junk is another man's treasure? Well, today I'm going to prove that theory with a recent trash to treasure up-cycling project that turned an old bed spring into a vase holder… using more junk!! Stay with me here, because this one is pretty awesome sauce.
Trash to Treasure — Super Simple Upcycle!


It feels like I've mainly been sharing printables and recipes, so I was excited to finally take some time to pull this together and share it with you. Time sure has a way of getting away from us, doesn't it?
Since moving back to Springfield, I have spent a great deal of time antiquing, visiting flea markets, vintage booths and more. I will probably have to reign in those field trips soon before I get myself into trouble… remember we downsized back in November (gulp).
Anywho, a couple of months ago I was out with one of my girlfriends (Hi Amy!) and we hit up Camp Flea Antique Mall and Vintage Market in Ozark, MO. While perusing, we stumbled on a bunch of old bed springs and they were like $1.00 each. I picked one up…(hesitantly) thinking with the right "accessory" of some sort — it would make a great vase!
Old Bed Spring
The rest of our time there I kept a close eye out for something that might work… "This? Hmmm. Nah." Imagine that going on inside my head for far too long. I remembered thinking that maybe I should just put the old bed spring back. I'm very good at buying things with good intentions…. and somehow it gets put away and the idea never comes to fruition (insert face palm).
I continued to hold onto it — and then we happened to pass a booth and I saw these vintage oil can pour spouts! Squeal.
Vintage Oil Pour Spout (with cap)
A light bulb went off that placing the spout upside down into the old bed spring might. just. work.
Oh my goodness,
oh my goodness,
…it DID!!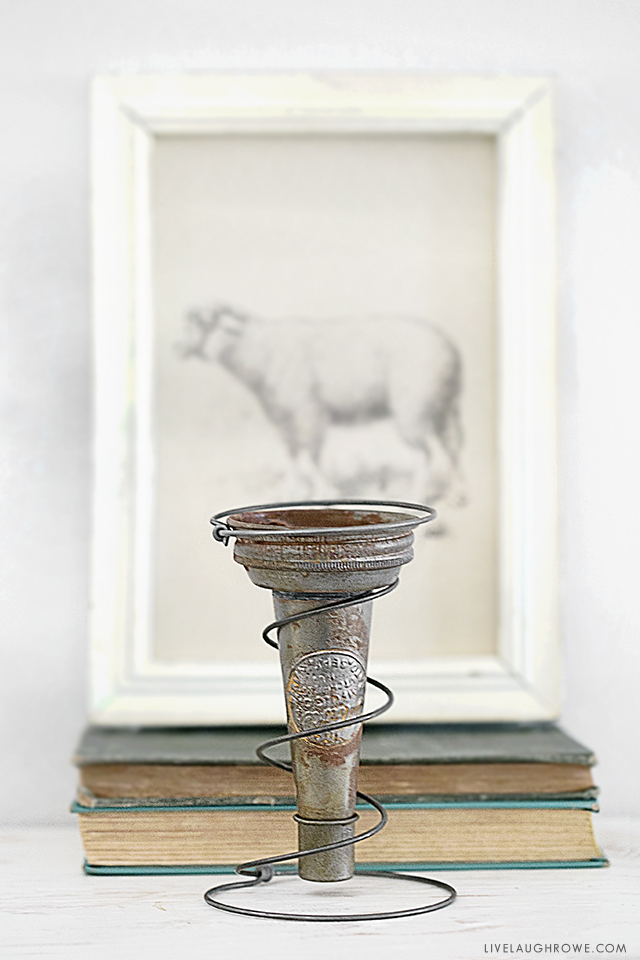 The oil can pour spout was $8.95. I'll be honest in saying that was probably a little more than I would've wanted to pay. Nevertheless, I thought the whole thing was too genius to pass up. Of course I wasn't sure if it would hold water, but a few dried or faux flowers would work just as well.
So, $10 for a piece that was unique and useful didn't seem too bad. Honestly, if I ever had a rustic party or helped with a rustic wedding — these would be so much fun for centerpieces.
Old Bed Spring Vase Holder


What do you think? Trash to treasure at it's finest? (hee-hee). Yes, it's still pretty rustic. And some of you might think that it still looks a little on the 'ready for trash' side. However, it is a perfect example of taking two random pieces of junk (per say) and creating a fantastic upcycled project.
The best part? There were no tools involved! Boom!
Now, if any of you are like me and sometimes wonder about other things in the photos, I'm going to guess that some of you are wondering about that sweet farmhouse inspired print behind the Old Bed Spring Vase Holder.
The Sheep
I found this printable amongst many vintage animal printables at House of Hawthornes. Be sure to grab yourself a copy. It's a new favorite of mine!
Looking for some more upcycled projects?
Cork Vase Filler
Vintage Cheese Grater Organizer
Wire Basket Memo Holder
Easy Peasy Twine Holder
Dish Rack to Shipping Station

Be sure to visit with me here too:
Facebook | Instagram | Pinterest | Twitter | Google+