If you like Fettuccine Alfredo, you're sure to love the flavors of this Roasted Red Pepper Fettuccine Alfredo with Chicken.
Have you watched Chopped on the Food Network? The contestants take everyday items and turn them into extraordinary dishes. I would be a complete mess on a show like that. Seriously, I just can't imagine the pressure.
Sargento® is hosting a "Chopped at Home" contest. They challenged me to showcase my style as an at-home cook. The challenge was to use Sargento® Chef Blends™ Shredded 6 Cheese Italian, Boneless Skinless Chicken Breast, Red Bell Pepper and Greek Yogurt (plus other necessary ingredients) to create a dish using Sargento Shredded Cheese.
Getting to cook at home without the cameras, viewers and judges is a little less stressful, right? I made this amazing Red Pepper Fettuccine Alfredo with Chicken.
Roasted Red Pepper Fettuccine Alfredo with Chicken
Honestly, this dish started off as quite a challenge. However, I pressed on. You know, "If at first you don't succeed, try, try again?" So, that's what I did. I was delighted to come up with this dish that scored a home run with my husband.
Steve loves Fettuccine Alfredo. Therefore, I thought a spin on one of his favorite dishes would be ideal. It didn't disappoint. Enjoy!
Roasted Red Pepper Fettuccine Alfredo with Chicken
Ingredients
1

boneless

skinless chicken breast

8

oz.

fettuccine

1/2 pound

2

Tablespoons

extra virgin olive oil

1

clove

garlic

minced

2

Tablespoons

flour

1

cup

chicken broth

1

Tablespoon

butter

1/2

cup

milk

1/4

cup

Greek yogurt

plain

1/8

teaspoon

garlic salt

salt and pepper

to taste

3/4 to 1

cup

Sargento Chef Blends

Shredded 6 Cheese Italian

Red Bell Pepper

roasted

Italian Parsley

optional
Instructions
Place 1/2 of roasted red bell pepper into food processor and pulse until small pieces of pepper are formed. If watery, strain as necessary. Set aside.

Cook fettuccine, according to package directions and set aside.

Cut chicken breast into thin, 1/2 slices and cook in small skillet over medium-high heart. Set aside.

Heat olive oil in a medium-sized sauce pan over medium heat. Add garlic and cook, stirring, until golden brown, about 1 minute.

Sprinkle in flour and whisk to incorporate and cook for 1 additional minute.

Slowly whisk in chicken broth, butter, then milk. Whisk in Greek yogurt, garlic salt, salt and pepper, then turn the heat down to low. Let the sauce simmer until thickened, about 2-3 minutes.

Turn the heat to low then stir in Sargento Chef Blends Shredded 6 Cheese Italian and roasted red pepper. Toss sauce with chicken and pasta. Serve with additional cheese and chopped Italian parsley.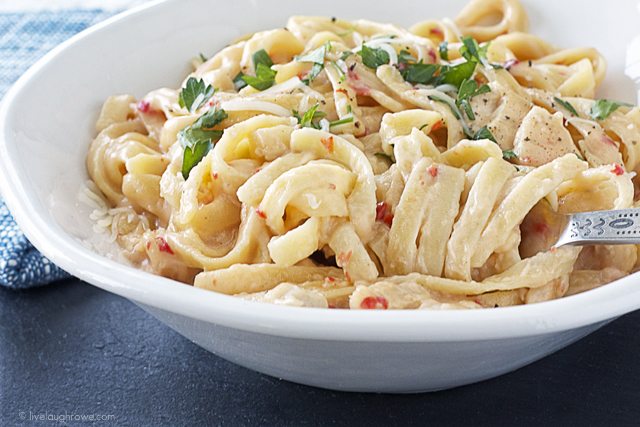 Available in 30 versatile varieties, unique blends and distinct cuts, Sargento Shredded Cheese is always cut from blocks of 100% real, natural cheese. For more inspiration, check out the Sargento Pinterest page or visit Sargento.com.
The Chopped at Home Challenge gives viewers a chance to create their best recipe too! Simply use the selected basket ingredients, including Sargento Shredded Cheese, for a chance to win $10,000!

Be sure to visit with me here too:
Facebook | Instagram | Pinterest | Twitter | Google+
Post sponsored by Sargento.