Hi-ya friend! Wasn't waking up to a brand new shiny Saturday this morning exciting? For me, the answer is a resounding Yes and Amen!
It was a fairly quiet week around here. While pulling the Weekender together, I dug into the archives and thought I might do some throwbacks on occasion. Once in a while, I gasp at the horror of some of the projects/pictures… we'll keep them hidden in the archives. 😂
Above is a picture from 2015, where I shared Painted Drop Cloth Soap Wraps. I think homemade (melt and pour) soaps are still pretty popular, and these make a unique way to wrap them for gifting.
Alrighty, let's jump right in…
Miscellany:
1. Well, it's officially my birthday month! (Insert a happy dance). I kicked off the week/month by meeting a couple of my gal pals for lunch on Monday. We used to work together, and we're always able to catch up where we left off. It's a breath of fresh air. I hope you have a couple of friends like this.
2. On another note, I totally missed May Day. Sigh. I hope to do something creative every year on May Day, and then I forget. Did you give or receive any flowers?
3. Towel Band Wrist Bands. I'm not sure what to think of these, but I do know that I hate water running down my arm while washing my face, etc. However, if you look at this Amazon listing — there are over 4K reviews!
One review said that it's the thing she didn't know she needed. So, what say you? Yay, or nay? I'm very curious and think they might be worth a try. 🤷🏼‍♀️
4. I finally snapped a picture of the pantry for you (and the crowds go wild). The space is roughly 6'x4′. It's a weird space to photograph, and I didn't want to spend hours getting pictures and editing them.
However, I think this pic works. It gives you a great idea of how functional the space has become.
Remember that we went from four wire shelves on the back wall to this L-shaped beauty with five shelves (plus the floor).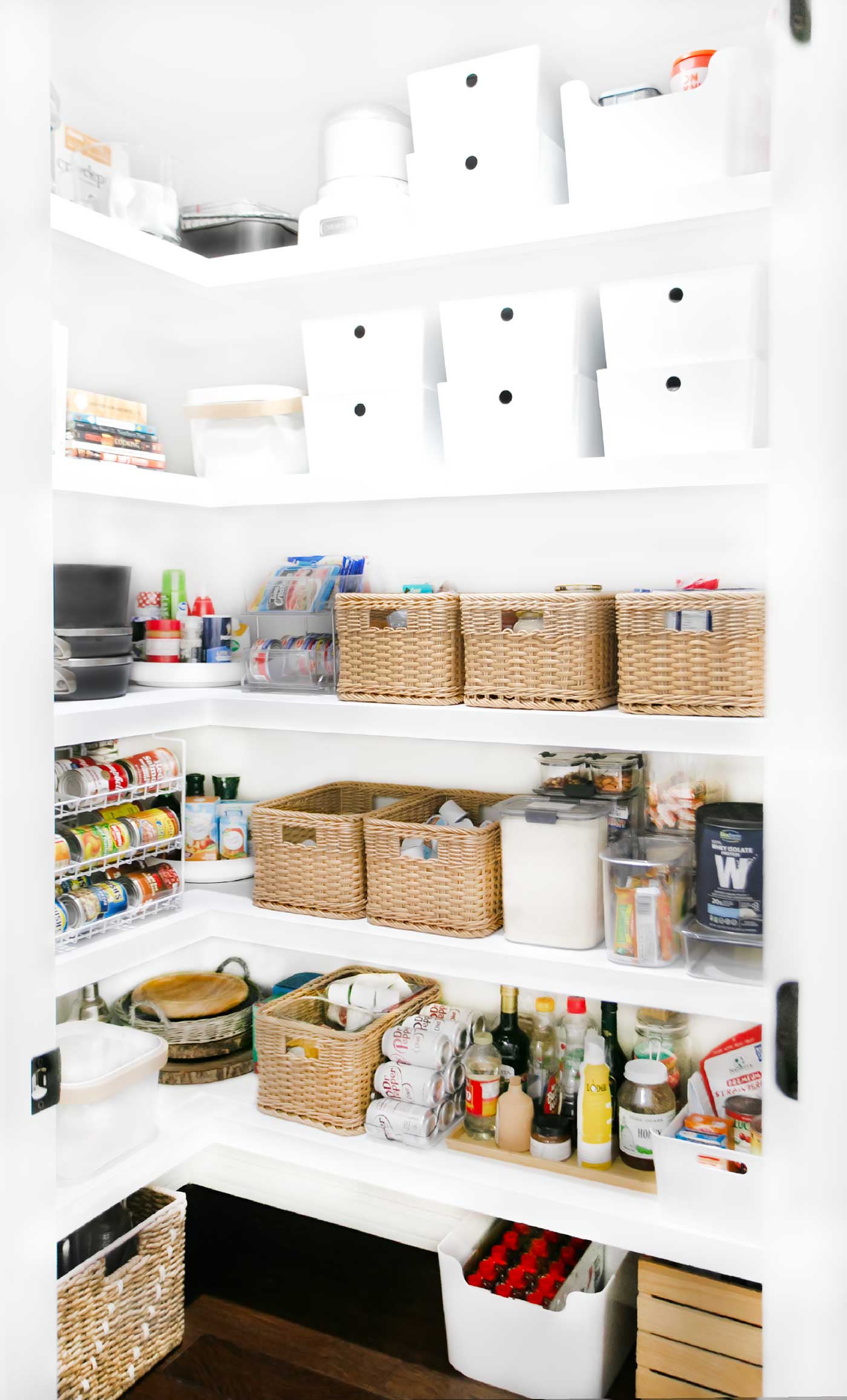 Resources:
5. I met another friend (and marketing guru) for coffee this week. She is such a great person to bounce things off of and share work-related ideas, etc. I feel blessed that we've reconnected over the last year or so. Plus, we're both going through menopause. Haha.
Anywho, she shared how she's recently started using a habit tracker. I'm seriously thinking of making one (maybe buying one) to put to good use and track daily devotions, hydration, walking Nash, meditating, reading, journaling, etc.
Do you use a habit tracker? Any thoughts or insights?
6. I'm Currently Watching: The Night Agent and The Diplomat (both on Netflix) and The Last Thing He Told Me (on Apple+).
Are you a TV junkie? What are you watching? Any recommendations?
7. The big yard sale is coming up in less than a month, so I need to clean the garage. UGH and SIGH. I'm pretty sure I'll be kicking and screaming when it's time to head out there and get started. Haha, just kidding. Send help, mmmkay?
8. Nash got a new bed. The one he currently uses is getting too small for him, and my sister highly recommended this memory foam Beautyrest bolster bed. Did somebody say spoiled? Ha! Yep, that's how we roll.
Around the Web:
This 3/4 Sleeve Linen Blend Shirtdress.
These Leather Zip Pouches.
This Sleeveless Blouse.
This DIY Jewelry Organizer.
This Mother's Day Shop.
These 25 Brain Boosting Foods.
This Cottage Cheese Jello Salad (perfect for warmer weather).
Frozen S'mores, anyone?
This Freezer Food Block Maker. 🤯
These Chocolate Flowers.
One Last Hoorah:
Pssst. Enjoying the content? Buying me a coffee or two occasionally is a fabulous way to support all my hard work and the content I provide. Thank YOU!