Hello May — you beautiful month, you! Did you know that May is my "birth-day" month? It also happens to be my absolute favorite month of the year. For the first time in my many years of blogging, I thought I would celebrate all of the fabulous May babies with May quote printable.
May Quote Printable


Maybe I'm a little biased… but May really is a great month. It's the final month before summer rolls in and it usually has so many vibrant colors that make my heart so incredibly happy.
Is that a little crazy to hear from a neutral loving girl? Probably. However, when it comes to the great outdoors, bring on the color! I'd much rather have green grass than brown grass! And I love potting flowers to add some color to my yard and/or patio.
Yesterday I was perusing Pinterest about the month of May. I saw something like this and had to make one to post on my Facebook page (haha).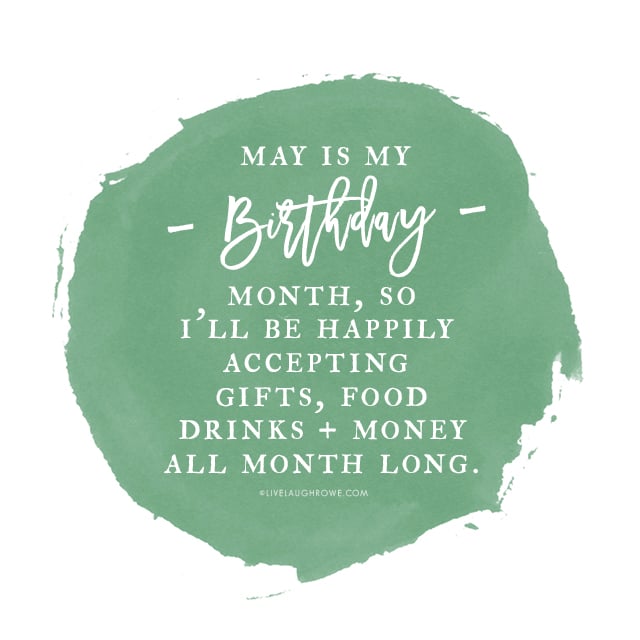 Yep, I'm a month long birthday celebrator. Are you? Between you and me, it's more or less a great reason to justify cheating on my diet, buying myself a few extra goodies for myself and par-tay!! Bwahaha… I'm dying over here.
Anywho, I also I learned that the birth flower of May is Lily of the Valley, which is such a lovely flower. It has a sweet smell too. When I read that, I was a little annoyed at myself.
Wondering why? Well, while camping in Branson last week, there were some planted around the campground. Why didn't I take pictures?!?! On several occasions I said I would, but never did. Booooooo! Insert face palm.
Oh well. The next best thing is botanical clipart. Right?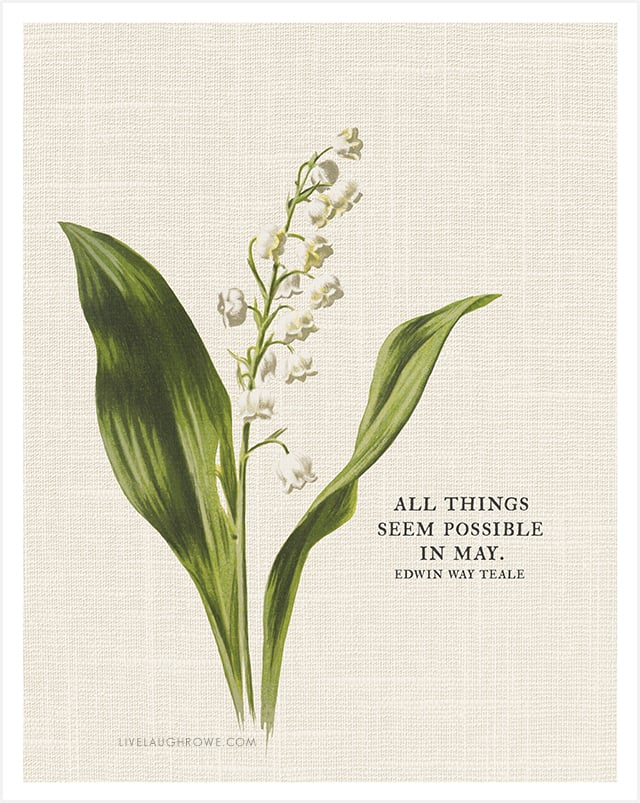 Then I looked for May quotes and happened to stumble upon this one:
"All things seem possible in May."
Edwin Way Teale
There's some mystery to this quote; however, if Spring isn't the season for new life, new beginnings and more — I don't know what is! So, I guess things do seem more possible during this beautiful month.
So, I learned something new and made this beautiful printable! Now it's time to celebrate… all month long and with a free printable. Sized at an 8×10, I hope you will enjoy this as much as I will.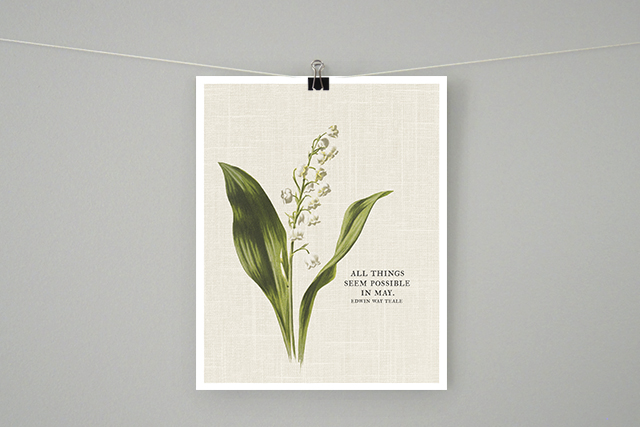 *Please Note. Printables and downloads designed by Live Laugh Rowe are for PERSONAL USE ONLY. Please do not alter the file or claim it as your own. This file is not intended for resale, nor are the printed versions of this file.
If you should have difficulty with the PDF not printing, I'd recommend that you save the file to your computer and then print the place cards from there. There's apparently an Adobe issue that is out of my control and many readers have had difficulty with some of the printables. I apologize for any inconveniences.
Check out these printables too:
Floral Birthday Tags
365 Page Book Quote Printable
Botanical Calendar
Shabby Chic Pillow Box
Botanical Spring Flowers

Be sure to visit with me here too:
Facebook | Instagram | Pinterest | Twitter | Google+