Happy September! Friends, the 'ber months have arrived. Let's do a happy dance, shall we? I'm all kinds of giddy. Bring on all-things fall.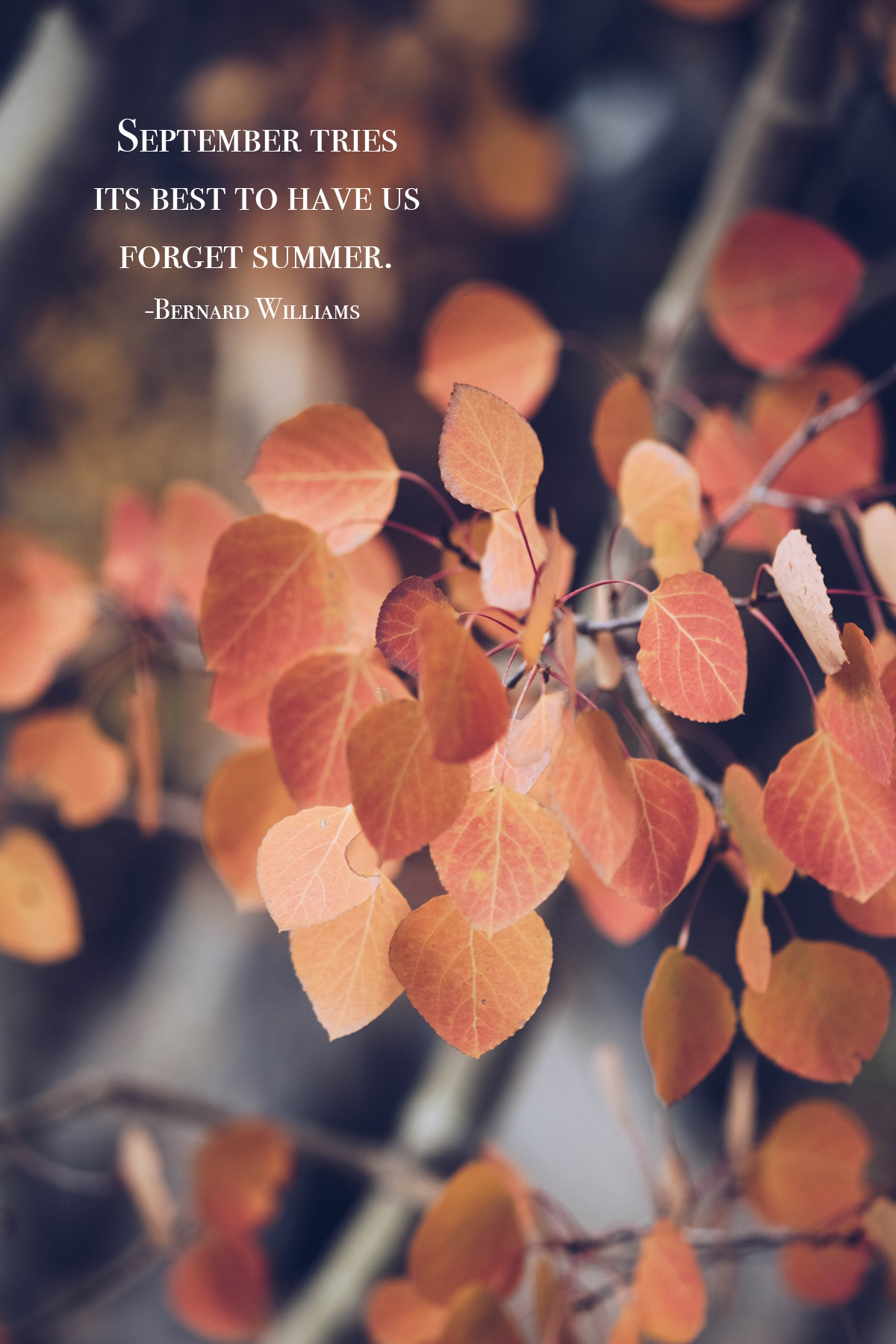 Miscellany:
1. Appointments. This week seemed so much busier than usual. I had a hair appointment and an OB/GYN appointment. I prefer to spread them out, but it didn't work that way this week.
My gynecologist stopped delivering babies a couple of years ago, and I was kind of glad because, selfishly, it would make my waits shorter. Over the last couple of years, that seemed to be the case – however, this time, I had to sit in the waiting room for about 30 minutes. The longer I sat there, the more my heart began to ache again. Watching all of the pregnant women and their husbands come and go never seems to get easier, even after a hysterectomy.
I often wonder if God is reminding me that regardless of the overwhelming sadness I have felt over the years, He has a plan, and everything is as it should be. Have I had an extraordinary life? You bet. It just looks different than I imagined, and sadness comes in waves, but I continue to lean into Jesus and remember the passage of scripture found in Daniel 3:18.
I say all of that to remind you that, yes, life is hard… but God is good. Never forget that.
2. Bloodwork. I asked my gynecologist to do some labs to measure where I might be regarding menopause. Hot flashes are real, friends. And they kind of suck. Haha. I felt it was time to see where things stood. I hope to hear something within a week or two. Stay tuned.
3. Neighbors. I'm proud of myself for going outside my comfort zone and participating in some of our neighborhood gatherings. I've met so many wonderful women. I volunteered to help one of the neighbors with mid-afternoon medications while they were on vacation. They have a house/dog sitter, but she works in town (a 20-minute drive each way). Coming home for 3 o'clock meds wasn't going to work, so I was happy to help out for the week. Plus, I love their dog, Rascal — he's as sweet as can be. I'm so excited to get a little furry friend time. ❤️
4. Random Fact. Playing dance music helps ward off mosquitoes.
Yepper, according to a study back in 2019, the song 'Scary Monsters and Nice Sprites' contains both low and high frequencies that yellow fever mosquitoes don't like. In other words, just dance the mosquitoes away. Boom!
5. Catfish. Have you ever watched the TV show Catfish with Nev and Kamie? I enjoy reality shows, and this would fall into that category. Anywho, there's a documentary on Netflix called Untold: The Girlfriend that Didn't Exist. It's about the gifted linebacker Manti Te'o, and it's only two episodes. I enjoyed it. Some of the craziest things happen online. Nevertheless, if you're a Netflix subscriber, check it out.
6. Girl Time. There's a shop in Ozark, MO, that I visit on occasion called Little Bluebird. Vintage Boutique. It has a little bit of everything, and I don't frequent the store because they carry way too many cute things. So rude. Haha. Just kidding.
I saw they were having their Fall Open House this week, so I asked my mom and sister if they wanted to check it out with me. As a result, we planned to meet on Friday morning for a little shopping and grab lunch after that. It's been a minute since we did something like that, and I thoroughly enjoyed myself — and spent too much money. 🙄
7. Recycling. This week I got an e-mail that included a press release about this initiative and felt the need to share it with all of you. Let's take action and reduce all of the plastic going to landfills.
SOLO® and TerraCycle are partnering to reduce plastic waste on college campuses, at backyard parties, and anywhere else people are celebrating game day. With an estimated 500 billion disposable cups used and thrown away globally each year, SOLO® is taking action to keep all brands of rigid plastic cups out of landfills.
The free SOLO® Cup Recycling Program accepts all brands of #6 rigid plastic cups. Participation is easy: sign up on the TerraCycle program page and mail in your used cups using a prepaid shipping label. Once collected, the plastic material is cleaned, melted, pelletized, and used to create new products such as shipping pallets and park
benches.
Around the Web:
These glass nail files.
These faux fur slippers.
This sticker (IYKYK). 😂
These Leaf Clay Dishes.
This Poppies and Mushrooms Floral Washi Tape.
These DIY Botanical Label Tags.
This Homemade Macaroni and Cheese (on regular rotation).
These Pecan Maple Shortbread Cookies.
These Pumpkin Pie Twists.
This One-Pot Chicken Pot Pie.