Happy Saturday from rainy Missouri. Sometimes rainy days are a blessing in disguise. They seem to slow me down. I tend to hunker down on the couch and just enjoy some tv or reading. How about you? Do you like rain?
The letter board pictured below is what I wish the weather would do here in MO. HA! I want cooler temps sooooo bad. These high 70's and 80's need to go. Can I get an amen?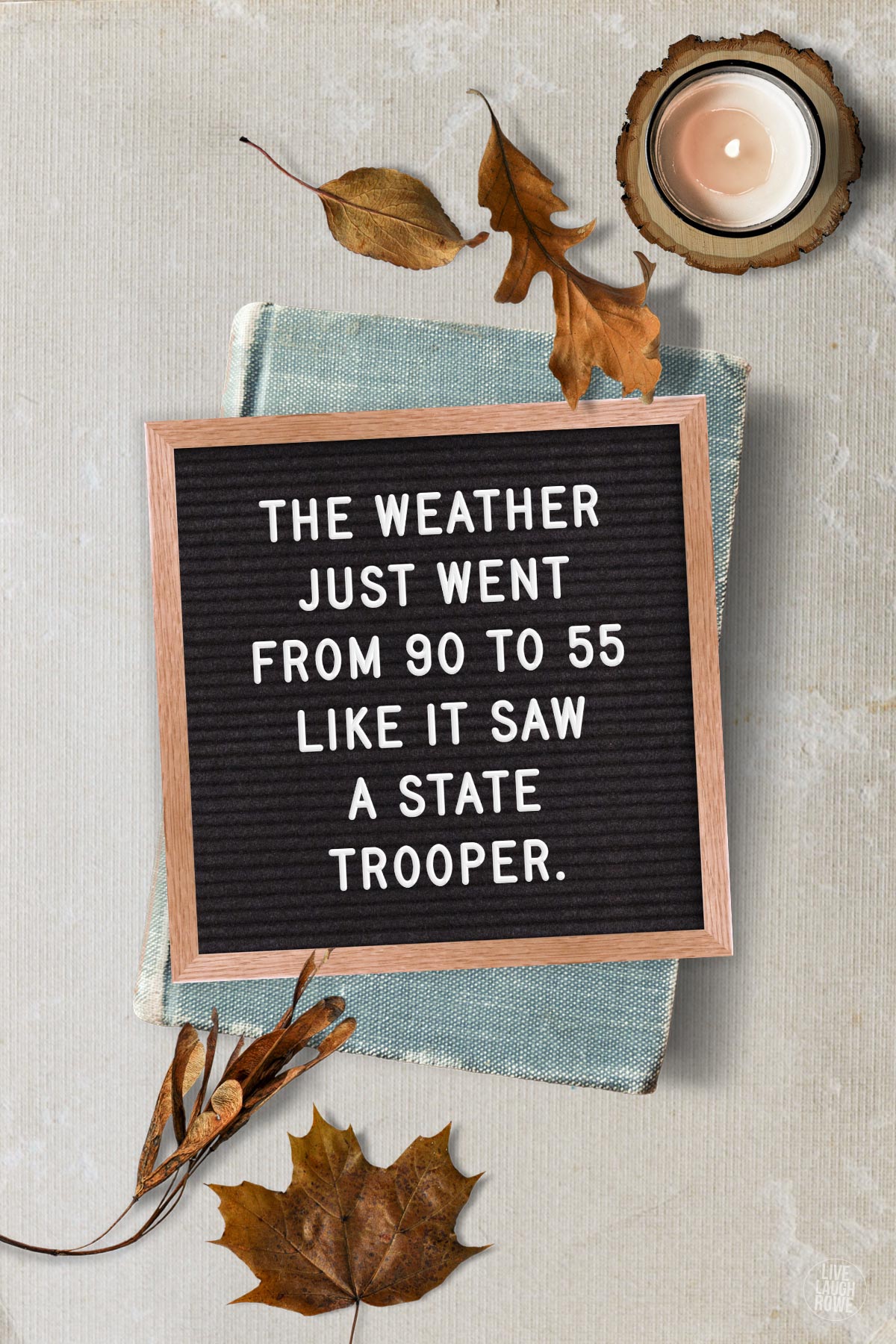 Miscellany:
1. Last Sunday (9/26), we arrived home from our time away in Gulf Shores. It was a long day on the road, but we decided to empty the trailer out. On Monday I did almost 10 loads of laundry… bedding, towels, rugs, clothes, and more.
2. I attend WW meetings on Friday mornings. And this past week I hit my 20 lb. goal. Woo-hoo! I was so super excited.
So when I stopped by my parents later that day, we all had a little dance party in their living room to the song Happy Dance by MercyMe. It's such a fun song. You really should check it out… I'm fairly certain it will make you smile and do a little foot-tapping (or dancing).
3. Did you hear about the California woman who found a 4.38-carat diamond in Arkansas? I had no idea there was a diamond mine in Arkansas that is open to the public — apparently, it's the only one in the U.S. Crazy town!
4. I have done ZERO decorating for fall. The only things that currently appear seasonal in my home are candles, my dining room table cover, and the centerpiece from my harvest table decor.
I'm not sure what my problem is… but I have no desire/motivation.
How about you? Have you done any fall decorating?
5. My DIY Halloween Vignette (using birdhouses) is getting a lot of traction on Pinterest. I got an e-mail this week that it was being featured on the Today tab…. I'll be honest and say that I'm not 100% sure what that means but I'll take it. Haha.
6. Walking has become a regular part of just about every day. It's therapeutic, allows me to get some fresh air — and spend some extra one-on-one time with my husband. Yep, he walks with me 99% of the time.
This week while walking in our neighborhood, I spotted these donkeys and just had to stop and say hello. I think they were just as mesmerized by me as I was with them.
I snapped this pic with my iPhone — and secretly named them Salt and Pepper.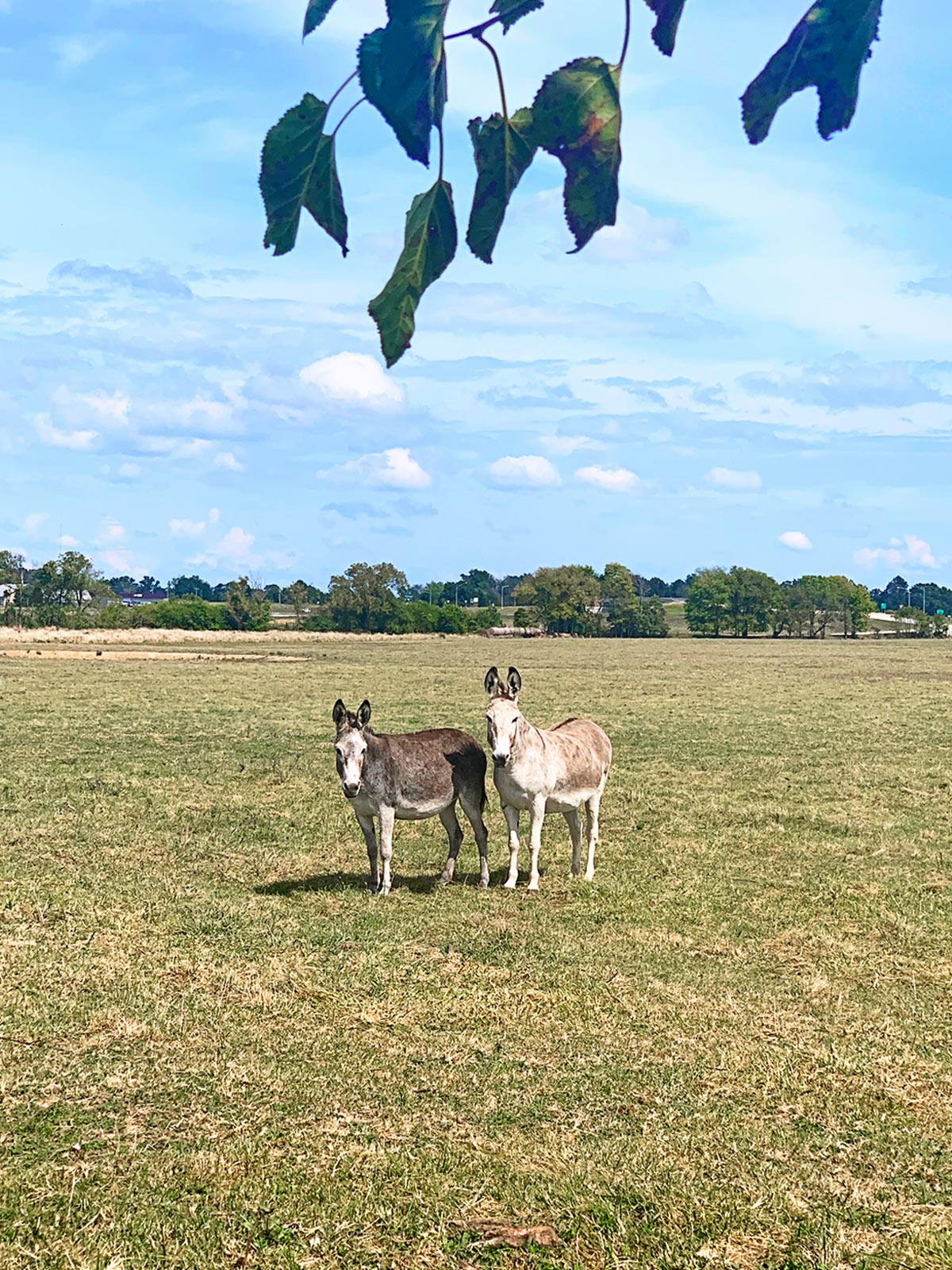 7. Overalls. Do any of you wear them? I have a couple of pairs from Torrid, but they don't fit comfortably right now. So, I bought a pair from Old Navy. I'll need to wear them around the house to see how they feel before I decide to commit, but I really like overalls. A very casual, fun look. What do you think?
8. Lastly, did you see the homemade Sugar-Free Pumpkin Spice Coffee Creamer recipe I posted this past week? No? What are you waiting for? Add a little fall love to your coffee.
Around the Web:
This beautiful Fall Wreath.
These Pumpkin Chocolate Chip Cookies.
These Brown Paper Packages Painted with String.
This Lasagna Soup Recipe.
These Fall Vibe stickers.
This Fall Playlist.
This Halloween Word Search.
These Seasonal Entertaining Tips.
This Pumpkin Patch Punch.
This gorgeous Fall Mantel.