20+ Meals that Freeze Well
In short, meal prep can really cut back on your meal preparation throughout the week. For some of you, you're juggling homeschooling, work, and trying to keep up with all of the housework too. And as a result, you're feeling exhausted, right? If your nights are busy and chaotic, these meals that freeze well will come in handy. So, you can make them ahead of time and feel a little less stressed.
These freezer meals are lifesavers on busy nights. They can help your family eat at home together most nights too. And it certainly doesn't hurt that they're easy and simple enough that anyone can make them.
Be sure to sign up for my email to get new recipes
and creative ideas sent right to your inbox!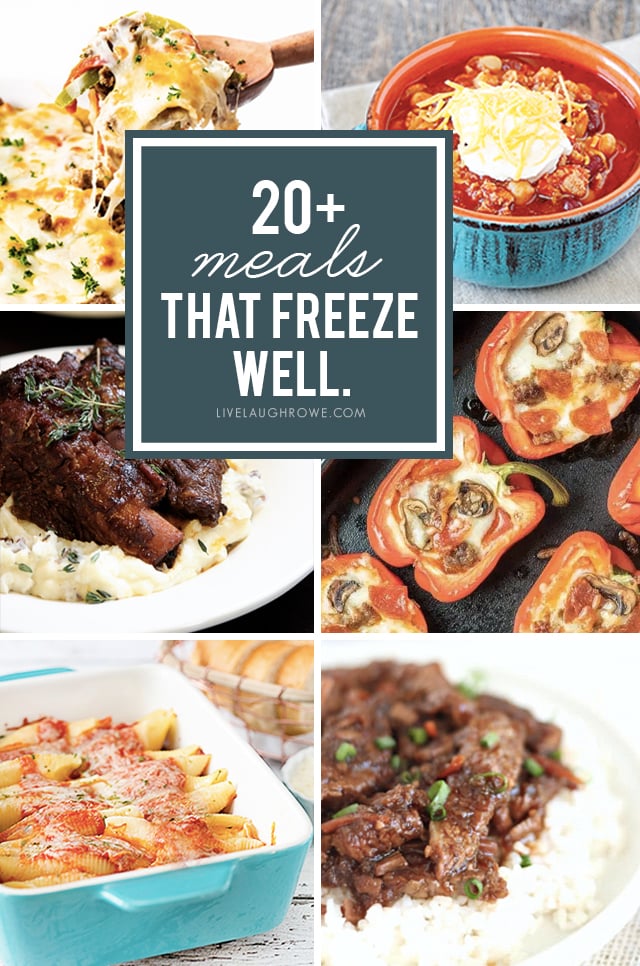 Delicious Freezer Recipes for Busy Nights
Here are a few delicious meals that freeze well — perfect for busy nights. Hmmm, I wonder which one you'll try first. In short, you can't go wrong. Let the family think you've been in the kitchen all day. However, what they don't know is that meal prep and freezer meals are the stars of the show (wink-wink).
1. Chicken and Dumpling Soup via Happy and Blessed Home
2. Low Carb Keto Philly Cheesesteak Casserole via Wholesome Yum
3. Slow Cooker Thai Chicken via Paging Fun Mums
4. Easy Chicken Casserole via Pint Sized Treasures
5. Sweet Garlic Chicken via Plain Chicken
6. Slow Cooker Braised Short Ribs via Big Bears Wife
7. Slow Cooker Mongolian Beef via Fabulessly Frugal
A meal that Freezes Well: Stuffed Shells
8. Stuffed Shells via Live Laugh Rowe
9. Lasagna Freezer Meal via About a Mom
10. Slow Cooker Chicken Tostadas via Sunshine and Hurricanes
11. Cheesy Broccoli Chicken & Rice Freezer Meal via Passion for Savings
12. Make-Ahead Honey Mustard Chicken via Foodlets
13. Instant Pot Orange Teriyaki Chicken via The Salty Pot
14. Baked Chicken Dijon via Meaningful Mama
15. Eggplant Parmesan Freezer Meal via Midget Momma
16. Easy Instant Pot Beef Lettuce Wraps via Awe Filled Homemaker
A meal that Freezes Well: Three Bean Chili
17. Three Bean Chili via Live Laugh Rowe
18. Meat Lovers' Pizza Keto Stuffed Peppers via Home Made Interest
19. Calzones Freezer Meal via Thrifty Northwest Mom
20. 5 Minute Meal Prep Chicken Soup via The Soccer Mom Blog
21. Stuffed Baked Potatoes via The Realistic Mama
Connect with Live Laugh Rowe!
Facebook | Instagram | Pinterest | Twitter
Hugs and Blessings!