When younger, if we saw a large bowl of peeled potatoes soaking in water in the fridge, we knew that Potato Pancakes were on the menu for dinner. I'm 99% sure that squeals accompanied that discovery too. Just typing that makes me smile — this Potato Pancake Recipe has bee an all-time favorite for me (and the whole Kuert family) for years.
Amazingly Delicious Potato Pancake Recipe

Along with this recipe comes the innumerable family meals we spent together laughing and making memories! I hope you can say that you do the same. Those memories are priceless to me!
I'm not sure why, but I haven't these potato pancakes in years. GULP! Mom came for a visit and I mentioned making them. Well, the recipe not only made an appearance, but it's been made several times since. My husband LOVES them too! Paired with butter, sour cream and salt — your taste buds are about to do a happy dance.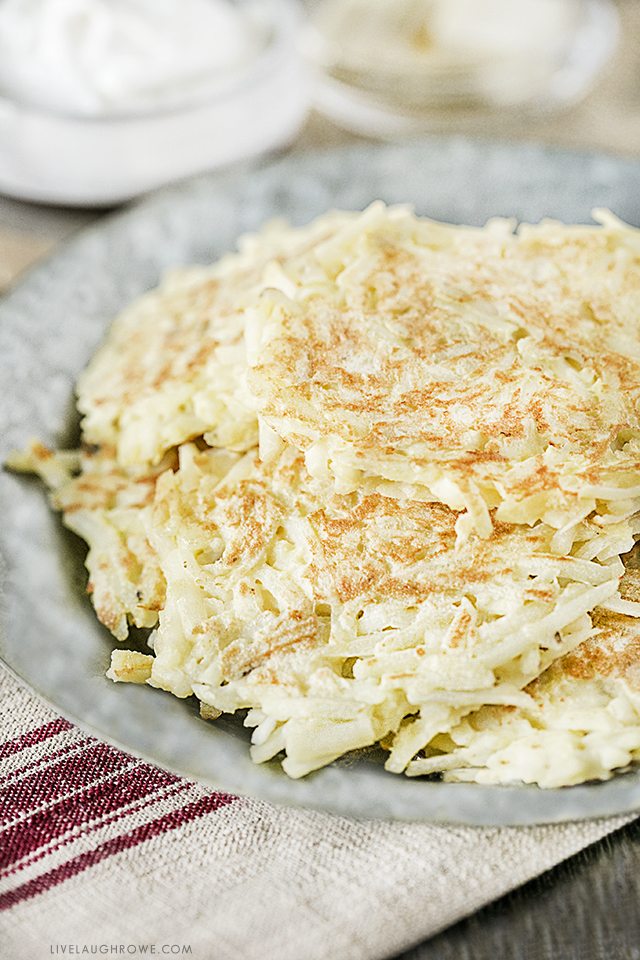 Of course you could serve a couple of these with eggs for breakfast too! For us, they've been a dinner staple for years. We rarely serve them with anything else either, it is pretty good with a side of apple sauce. Usually 3-4 potato pancakes will fill you up…. Boy, I'm officially craving some carbs now (haha).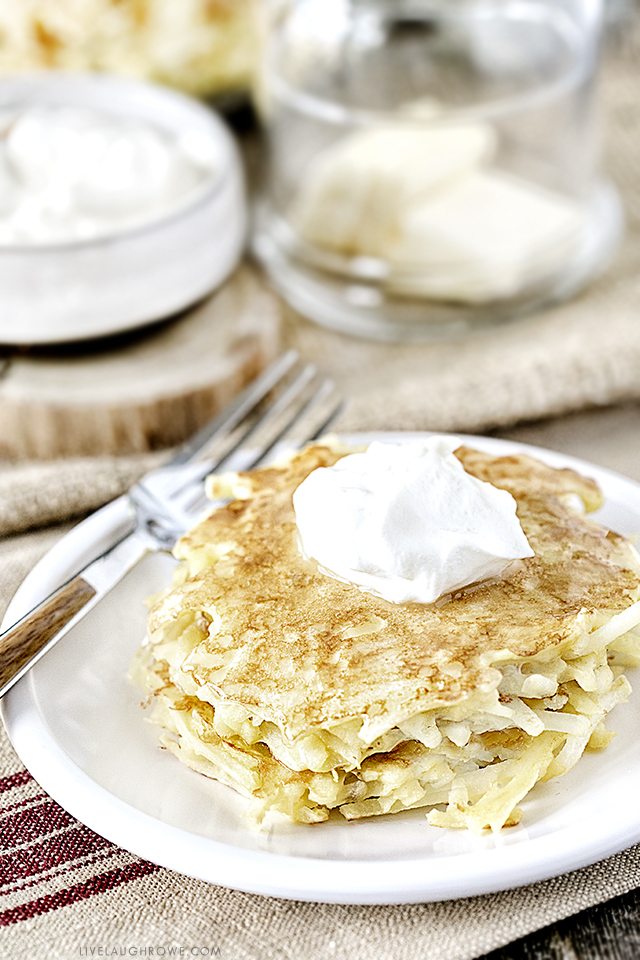 In all honestly, if you like potatoes, these delicious patties are sure to become a new favorite. They're not only delicious, but super easy too! Enjoy.
Potato Pancake Recipe
Ingredients
3

cups

fresh grated potatoes

2

eggs

well beaten

1 1/2

tbsp.

flour

1/8

tsp.

baking powder

1

tsp.

salt
Instructions
Peel large potatoes and cover with cold water.

Let soak for several hours before using.

Pour off the water and grate. Drain thoroughly.

Add the well-beaten eggs to grated potatoes and mix lightly; stir in remaining ingredients.

Drop from large tablespoon onto a hot (well-greased) skillet and brown on both sides.

Serve with butter and sour cream.
Notes
Save time by thawing frozen shredded hash browns or potatoes. No need to soak. They taste just as good (promise)!
Add them to your weekly meal planner and let me know what you think! I can't wait to hear if you like them.

Be sure to visit with me here too:
Facebook | Instagram | Pinterest | Twitter | Google+