Beautiful Silver and Gold Christmas Tree inspiration, with red accents brought in through decor and gift wrap!
Have you put up your tree yet? I love my woodland tree, the one I put up almost every year. However, this year, I wanted to do something different, something with silver and gold.
Silver and Gold Christmas Tree


I bought some of the metallic looking garland on clearance a couple years ago and it was time to put it to good use! So that's where this tree got it's inspiration — the silver, gold and copper ball garland. I thought it would be fun to go with more of a metallic themed tree; however, it went more silver and gold. Isn't that metallic garland lovely though?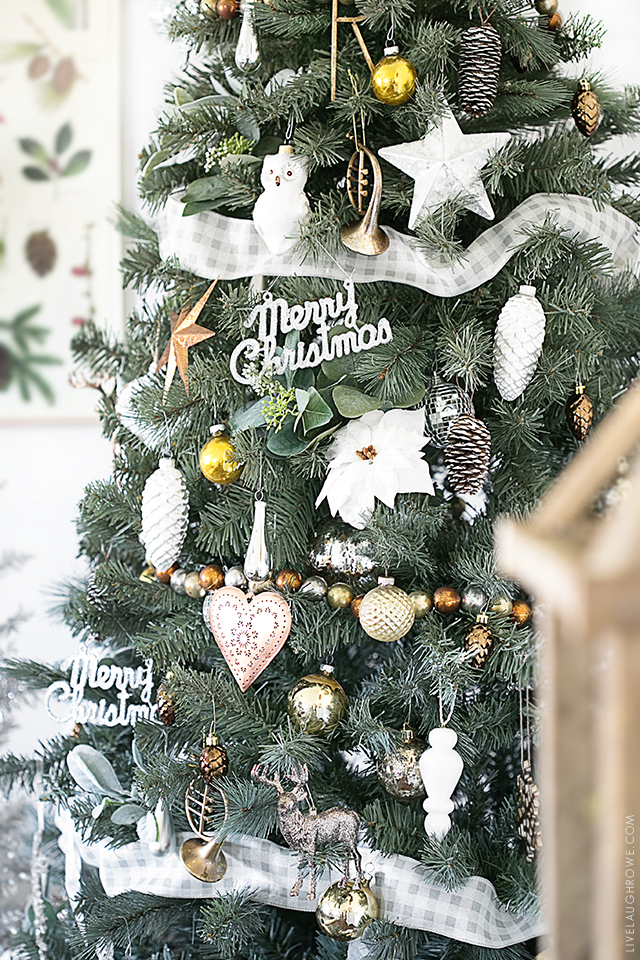 Unfortunately, I didn't have enough to use on the whole tree, so I added the gray and white gingham ribbon. I almost went with using all of the gingham ribbon, but I thought the rotation of each really complimented the tree. What do you think?
Adding in a few white ornaments, poinsettia clips, artificial eucalyptus and lambs ear picks added some different textures and (in my opinion) great accents. I did not want to spend a fortune on this decor, so I shopped the floral department and my stash of greenery in my storage area. The artificial lambs ear picks I scored at Hobby Lobby for .99¢ each! They will come in handy year round too (not just on my tree).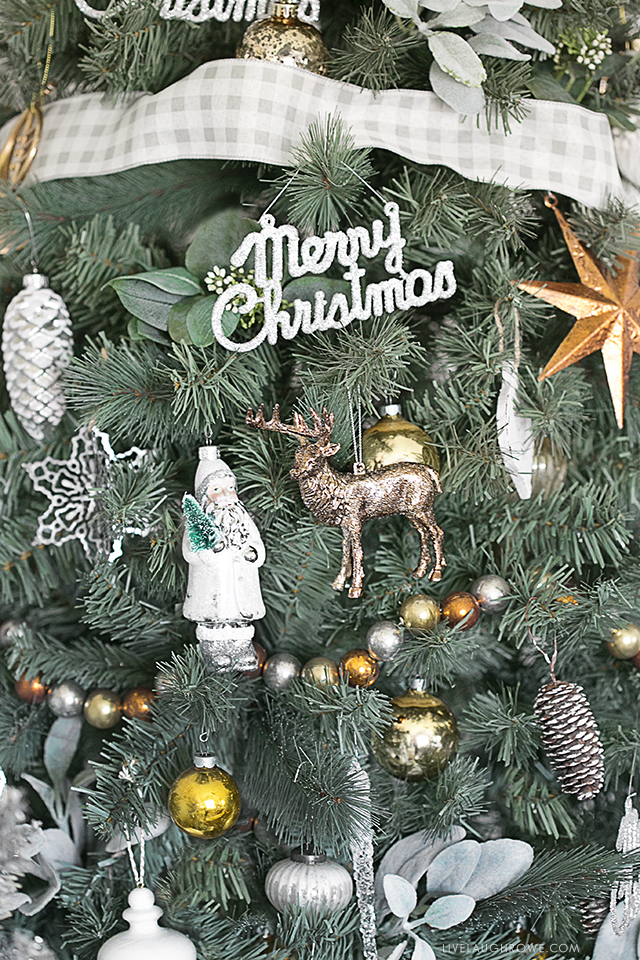 I'm not sure why, but this view (see pic below) really made my heart go pitter padder. I think it was seeing all of the old and the new coming together to make such a lovely contribution to my Christmas decor.
"Silver and gold
Silver and gold
Mean so much more
When I see…
Silver and gold decorations
On ev'ry Christmas tree"
(Burl Ives)
The galvanized pail and old bundled books as the tree skirt for my new little silver tree is a pure delight. And hello sweet vintage thermos. All of the silver, white, gold and greenery jump out of this photo. It's the simple things, ya know?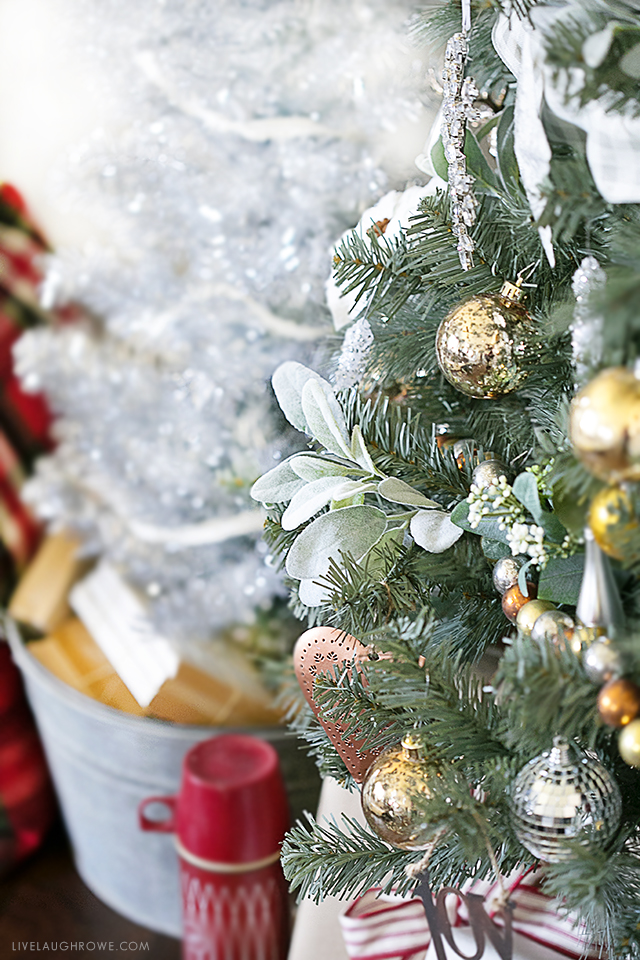 And as you can see, I brought in some red accent colors in the wrapping paper and decor. Isn't the color red just beautiful? It's a bold color that easily draws the eye in. I felt like it really complimented this space in our living room.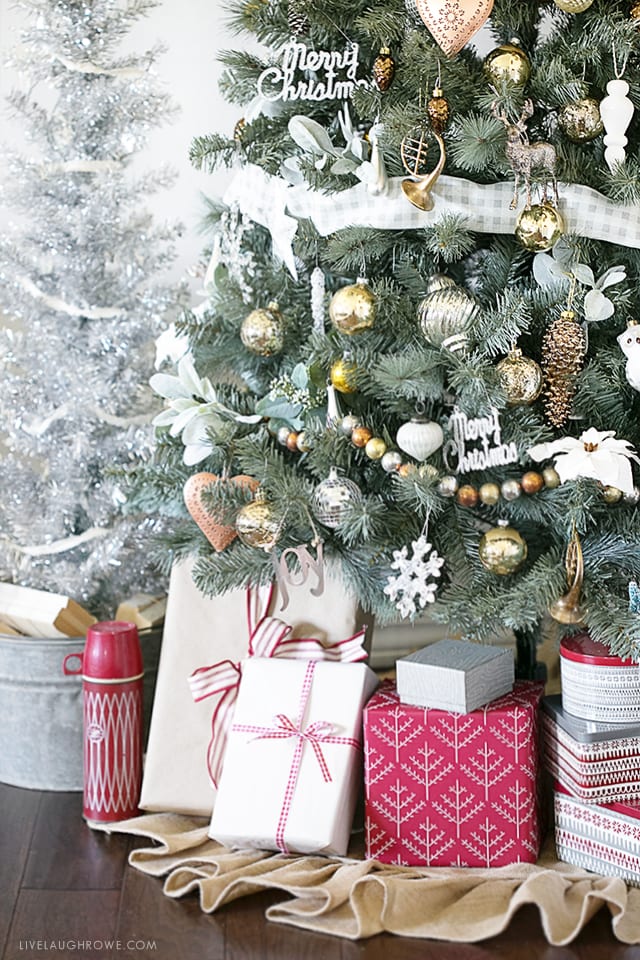 One of the newest additions to my seasonal decor this year is from a Holiday Market I attended earlier this month, Schofield and Gray in Fordland, MO. This beautiful scrap wood lantern might be an all-time new favorite. They had large ones hanging by a barn at the market, so I swooped in for one of the smaller ones. Isn't it magnificent? (Insert all the heart eyes possible).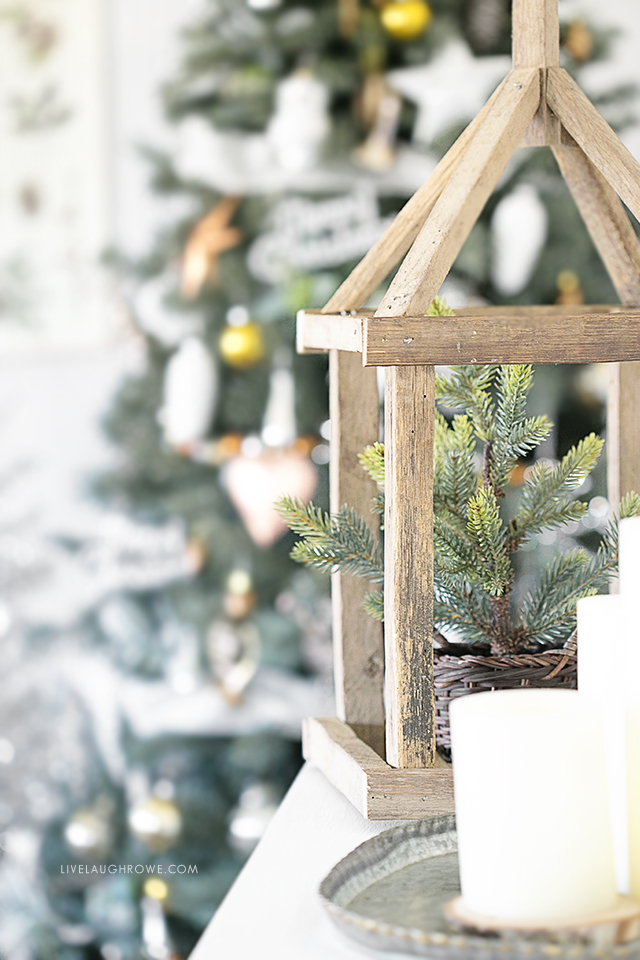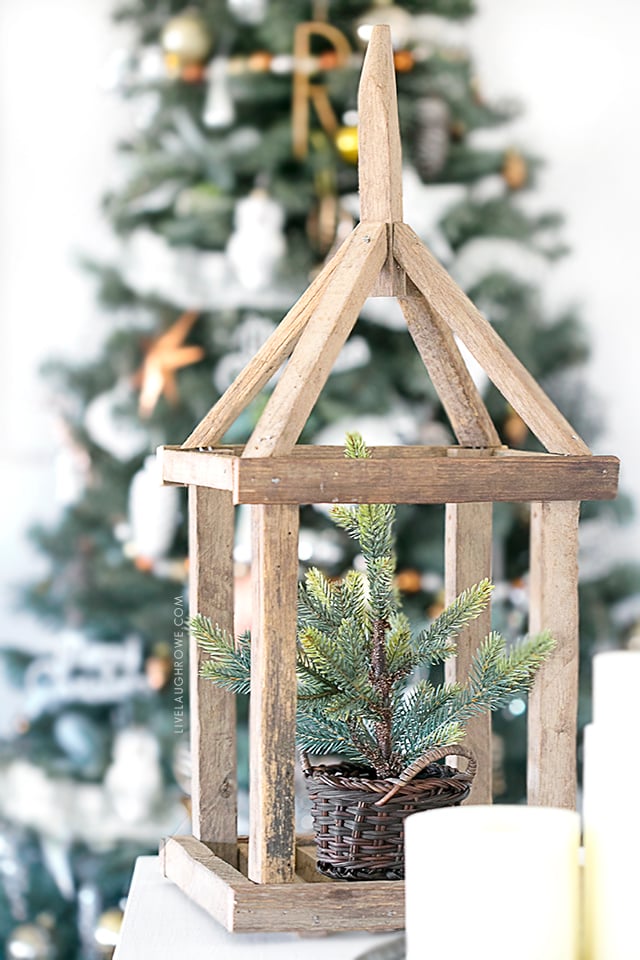 Guess what? I bought the large one too (gasp). YES!! It's on my covered front porch with a large outdoor battery operated candle. When I purchased it, and a large branch of holly berry completing the vignette. The spire on top just makes this piece perfectly unique — and I love that there is NO glass!
Feeling inspired? Would you ever have a Silver and Gold Christmas Tree? What is your trees theme this year?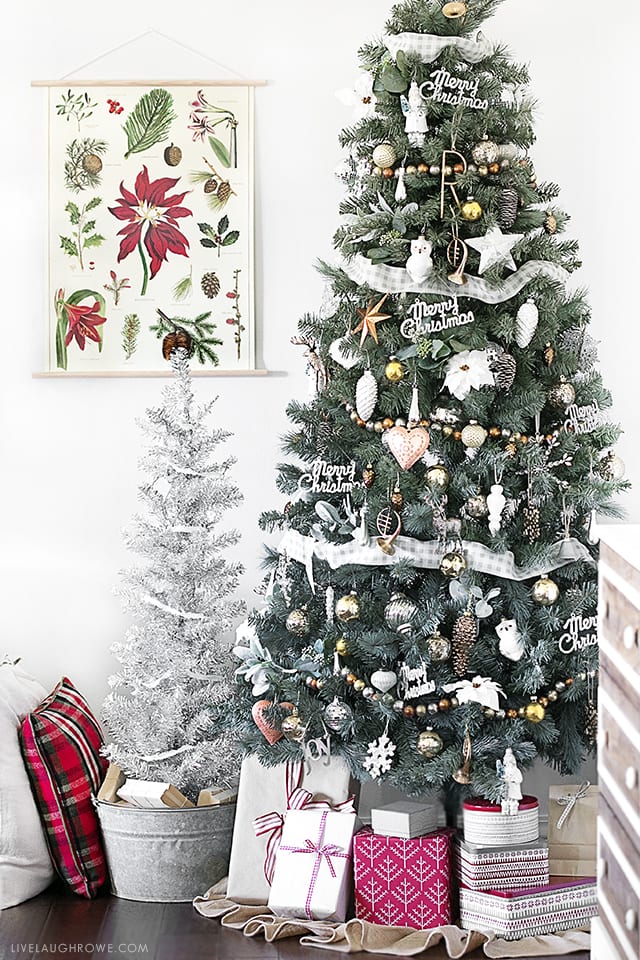 Here's a couple more Christmas posts where trees were featured:
Warm and Cozy Christmas Living Room
Rustic Christmas Tree
Woodland Christmas Home Tour
Resources:
Christmas Botanical Poster
4′ Pre-Lit Tinsel Silver Tree
Tree: Walmart
Pine Tree in Basket (inside lantern)
Tree Skirt: World Market
Ornaments: Vintage | Target | Hobby Lobby

Be sure to visit with me here too:
Facebook | Instagram | Pinterest | Twitter | Google+