Oh happy day! It's week three in the Christmas Home Tour and today we're sharing our living rooms. Joining us from A Burst of Beautiful? WELCOME! I'm excited to have you drop by! Let's grab a cup of coffee or tea and catch up in my Warm and Cozy Christmas Living Room, shall we?
Warm and Cozy Christmas Living Room
Red (and gray) seems to be a theme this year in the Rowe home. Red is a happy, vibrant and festive color. Don't you agree? Another discovery I recently made is that we need a new tree in our living room. The tall, thin one needs to go. Haha!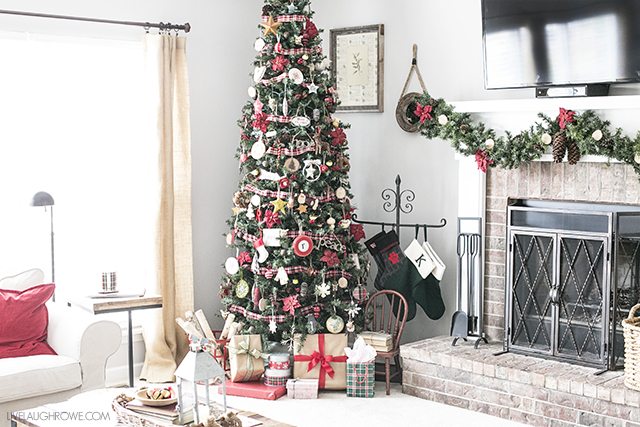 Simplification was something I wanted to do this year when it came to holiday decor. Sometimes we work so hard to make everything perfect for the holidays — a beautiful tree, perfectly wrapped gifts, happy kids, cookies and more. Can I get a witness? What should be a time of joy and celebration has become so incredibly stressful.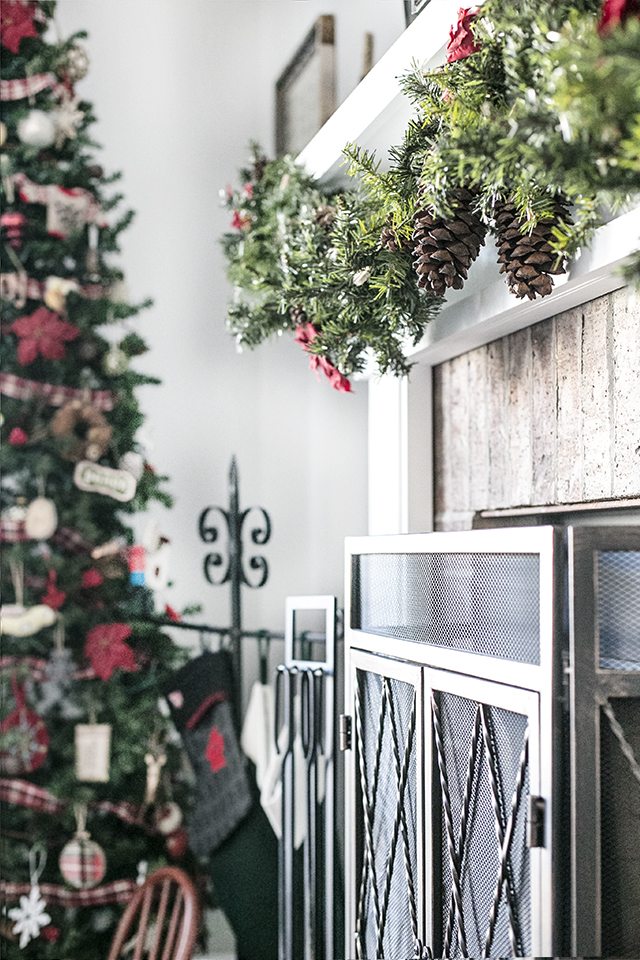 This year I just felt overwhelmed by it all and decided to do a little less decorating and little more enjoying of the season. One of my favorite things about the season are the scents. I love the smell of pine and burn endless hours of candles. Many times I neglected doing just that, lighting a candle and enjoying not only the smell, but the ambiance as well.
Lighting my candles and listening to Christmas music every single day is a must. It's the little things. I enjoy the little things and often neglect them…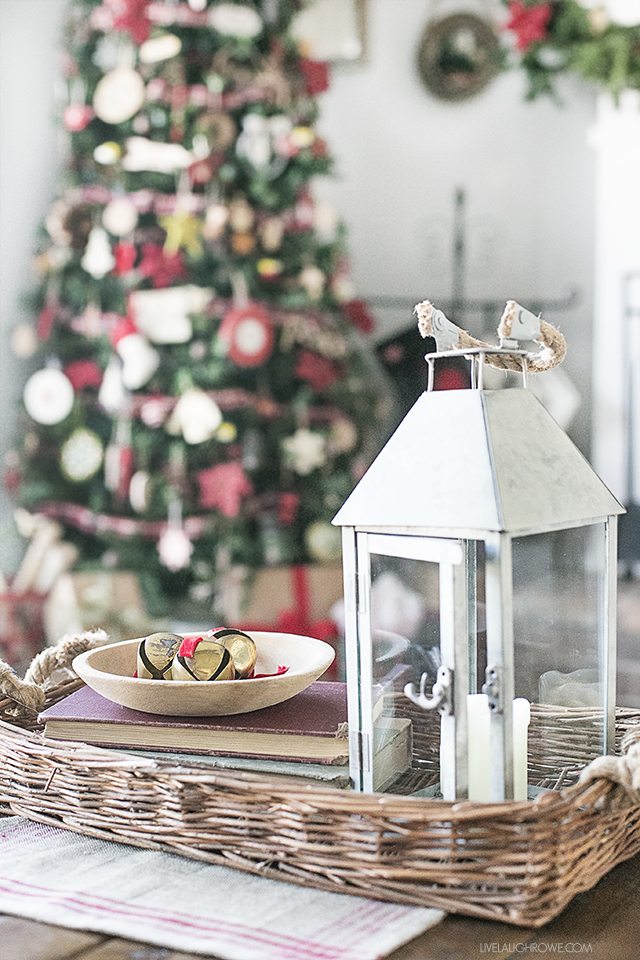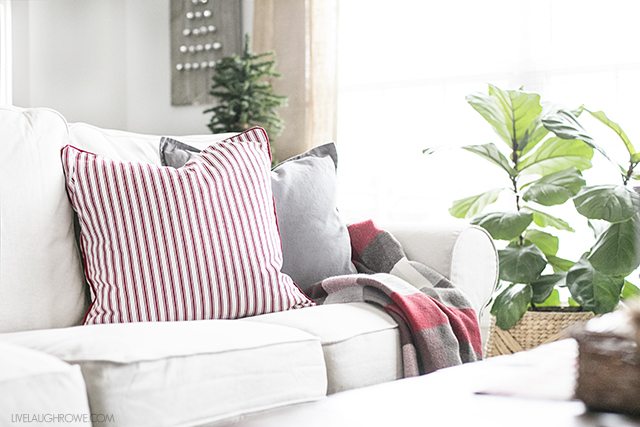 So, after meeting a few deadlines this week — I'm going to do just that, enjoy the season! Snuggle on my couch under a warm blanket, catch up on some of my favorite magazines that seem to just keep piling up.
"Christmas waves a magic wand over this world,
and behold, everything is softer and more beautiful."
-Norman Vincent Peale
This chair below happens to be one of my favorite spots.. a great view of first floor, the lights of both trees, and if a fire is crackling at night — you feel the warmth.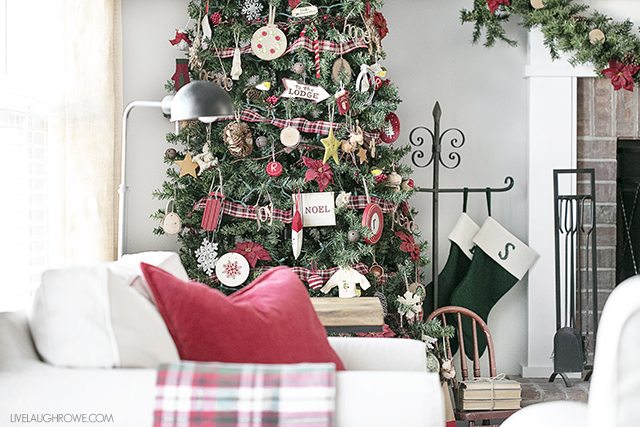 Sometimes I think of it as a nook within the room, maybe it's the reading light and the windows behind me. Call me crazy…
Throughout my home, you'll find a lot of my favorite greenery, baskets, vintage jingle bells, vintage books and antlers. Our stained rustic bench made an appearance as well. However, it might become a permanent fixture!
To the left of this bench is the vignette you can find in my Shiplap Ornament Display post. And that's a wrap. I think it's warm and cozy; however, it's much more warm and cozy at night (wink).
Many thanks for stopping by — I hope you leave inspired. Parker wanted to be sure to say goodbye too.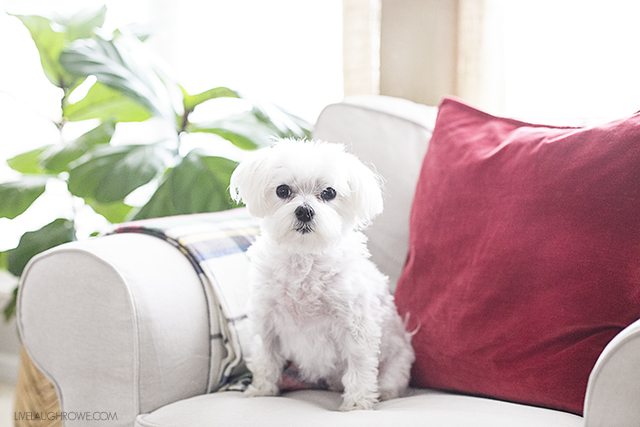 If you're wanting to catch up on the previous weeks, here you go:
Week One: Entryway | Week Two: Christmas Tree.
Be sure to swing by and check out Maison de Pax beautiful
Christmas living room too! Tell Rachel I said I said, hello!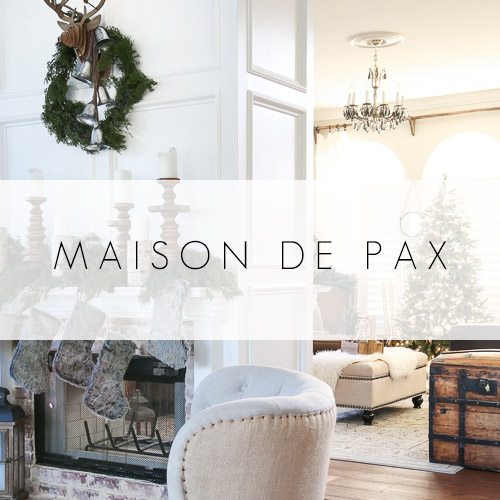 Next week we'll be visiting in the dining room… see you then!

Be sure to visit with me here too:
Facebook | Instagram | Pinterest | Twitter | Google+