Mistletoe and Holly Christmas Tree
Hoping to inspire you to brighten up your home this holiday with my Mistletoe and Holly Christmas tree.
Well, Thanksgiving has come and gone. Black Friday is a blur — and it's time to officially wrap my head around the fact that Christmas is less than 30 days away. Gulp. Let's take a look at my minimalist tree this year.
The theme: Mistletoe and Holly, inspired by Balsam Hill.
Be sure to sign up for my email to get new recipes
and creative ideas sent right to your inbox!
Beautiful Classic Decorated Tree


You might recall that I partnered with Balsam Hill earlier this month on a This or That tree challenge. Well, they were also kind enough to send some decorations my way. I didn't want to blur any lines by adding different decor, so I used only what they provided.
I had hoped to share this sooner, but life… Believe it or not, on Thanksgiving Eve I spent my morning in severe pain and my afternoon in ambulatory care. Why? Kidney Stones. I just had to take a deep breath and roll with the kink in my week.
Besides, inspiration is inspiration, right? Whether you use it this year or 5 years from now, it's inspiration. Here's a closer look at the beautiful Holly and Mistletoe themed tree.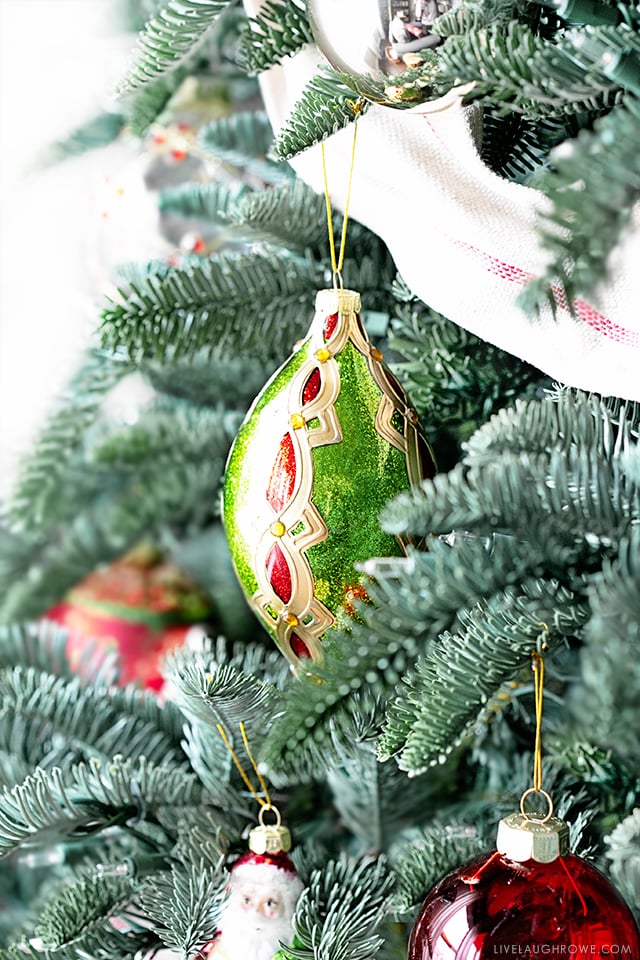 This year's tree feels a little more minimalistic than I'm used to but beautiful nonetheless. The exquisite blown glass ornaments include everything from Santa on his sleigh to jolly snowmen.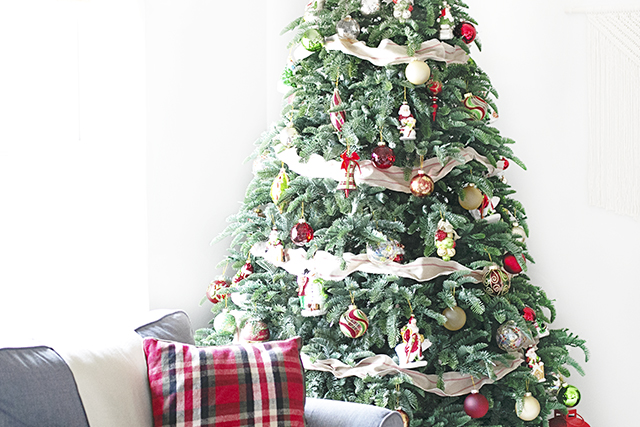 It's truly a merry mix of figurines, teardrops, balls, and bell-shaped ornaments. Each piece adds a whimsical flair and the vibrant colors brighten up a classic tree.
The brown Christmas tree ribbon has a farmhouse feel. I love how the ribbon features rich earth colors and beautiful texture that adds depth to Christmas trees (wreaths and garlands too).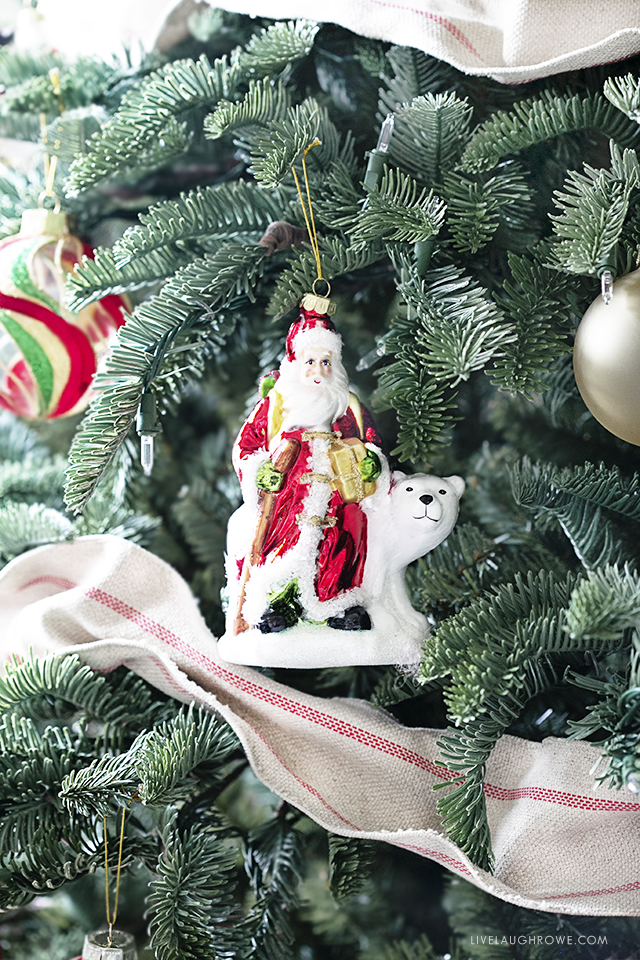 The star tree topper is embellished with shiny sequins, pearl-like beads, and glitter (yep, more glitter). This double-sided topper adds shimmer and elegance to the treetop.
O Christmas Tree, O Christmas Tree,
How lovely are thy branches.
One of the funniest bits about this year's Mistletoe and Holly Christmas Tree is that the decorations were coated in glitter. If you know me, glitter is not my friend. Actually, it gives me grave anxiety.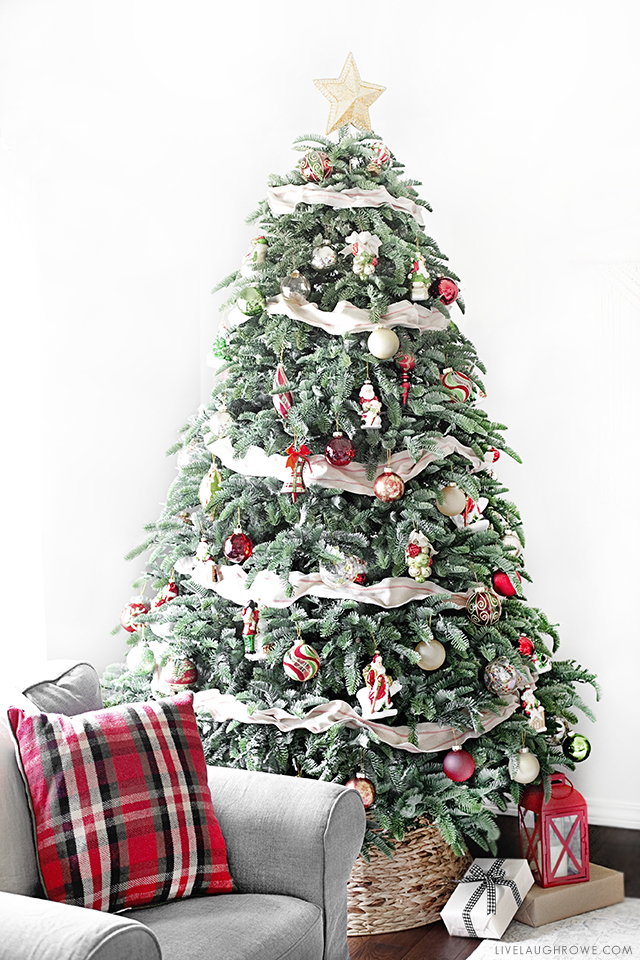 I have to confess that I didn't know the ornaments would be heavily sprinkled with glitter, but they were. So I had to suck it up and sparkle all day (haha). It was a stretch, but I was happy with the outcome.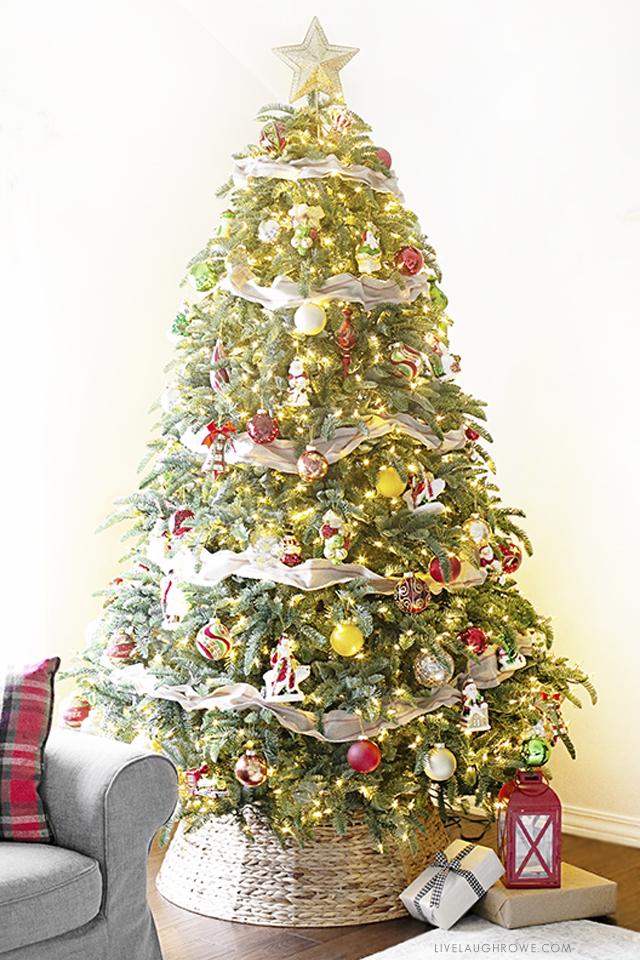 What do you think? Does your tree have a theme?
Check out my other trees over the years:
Woodland Home Tour (and trees)
Silver and Gold Christmas Tree
Rustic Christmas Tree
Connect with Live Laugh Rowe!
Facebook | Instagram | Pinterest | Twitter
Hugs and Blessings!