O Christmas Tree Printable
Of course, this is the English title (version) of the German song, O Tannenbaum. The modern version of this song was written in 1824 by Ernst Anschütz. O Christmas Tree is now a very popular Christmas Carol.
Would you believe that the song wasn't really written about the traditional Christmas tree or even Christmas? Crazy. I never knew that. Thank you, Wikipedia.
The original reference of the song is to an evergreen fir tree, putting emphasis on its symbol of it being constant and faithful. The good ole' evergreen tree.
Be sure to sign up for my email to get new recipes
and creative ideas sent right to your inbox!
Vintage-Inspired Holiday Print


In all reality, Christmas wouldn't be Christmas without a tree — and I have so many fond memories of our trees growing up. We always had real trees (now we all have faux trees).
I remember many times crawling under those real trees to water them (which I hated it, insert laughing out loud emoji). Mom had us help her string popcorn and cranberries for garland and many times we decorated the trees while watching Christmas specials like Rudolph.
However, my favorite part of the traditional tree is its beautiful glow at night. I love laying on the couch listening to Christmas music and just staring at its magical glow.I'm often overwhelmed with memories and all the delight that comes with this ever-so-special holiday.
Every Christmas Eve we would come home from church and sit by the tree so Dad could read the Christmas story to us from the bible. We also got to open up one gift, a bit of a teaser (wink-wink).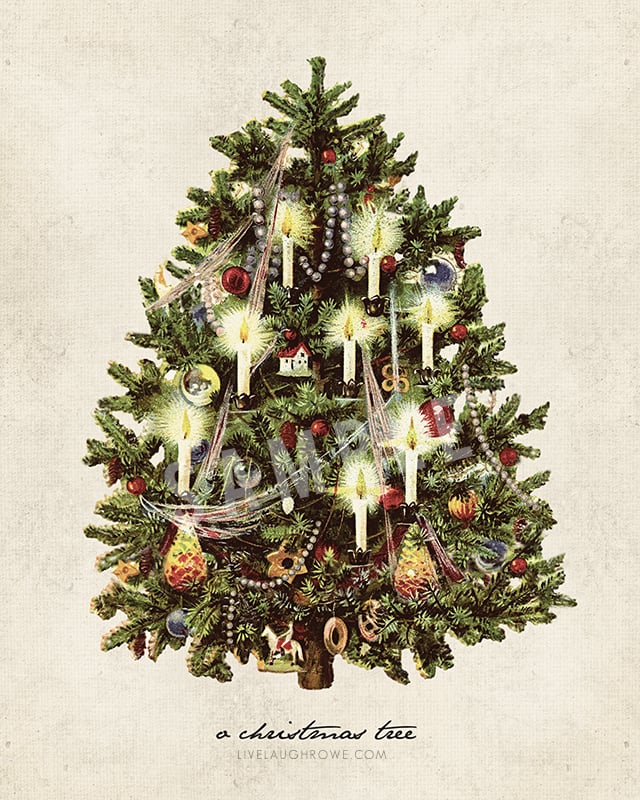 Here's a refresher on some of the lyrics…
O Christmas tree, o Christmas tree
Thy leaves are so unchanging
O Christmas tree, o Christmas tree
Thy leaves are so unchanging
Not only green when summer's here
But also when it's cold and drear
O Christmas tree, o Christmas tree
Thy leaves are so unchanging
Anyone ready to head out and do some caroling? (hee-hee). Talking about traditions and Christmas carols has me sitting here feeling all nostalgic.
When we lived in upstate New York, we did a lot of ministry in homes for seniors. Being that my dad was a pastor, he had built up a rapport and many of the residents looked forward to those annual traditions. Filling the halls with festive songs of the season — and carrying around those little caroler books.
I feel like that is something that isn't as prevalent as it used to be. Society has changed so much. Sigh.
Nevertheless, I hope this printable can add some charm to your home and take you on a walk down memory lane. Sized at an 8×10, you can frame it, hang it on a clipboard or refrigerator, gift it and more. Enjoy.
Please Note. Printables and downloads designed by Live Laugh Rowe are for PERSONAL USE ONLY. Please do not alter the file or claim it as your own. This file is not intended for resale, nor are the printed versions of this file. This is not a vintage print due to layers and backgrounds used to create this unique print.
Other festive holiday printables:
Merry and Bright Print
Candy Cane Poem Printable
Winter Bucket List
Christmas To-Do List Coloring Sheet
Chalkboard Christmas Printables