It's Week Two in this years Christmas Home Tour — and today I'm sharing my Rustic Christmas Tree. A great big warm welcome to those of you joining me from A Burst of Beautiful (or Pinterest, Instagram, Facebook, etc).
Parker Posey decided to be the official greeter today… don't tell him I said this, but he looks like he's gained a few pounds (hee-hee).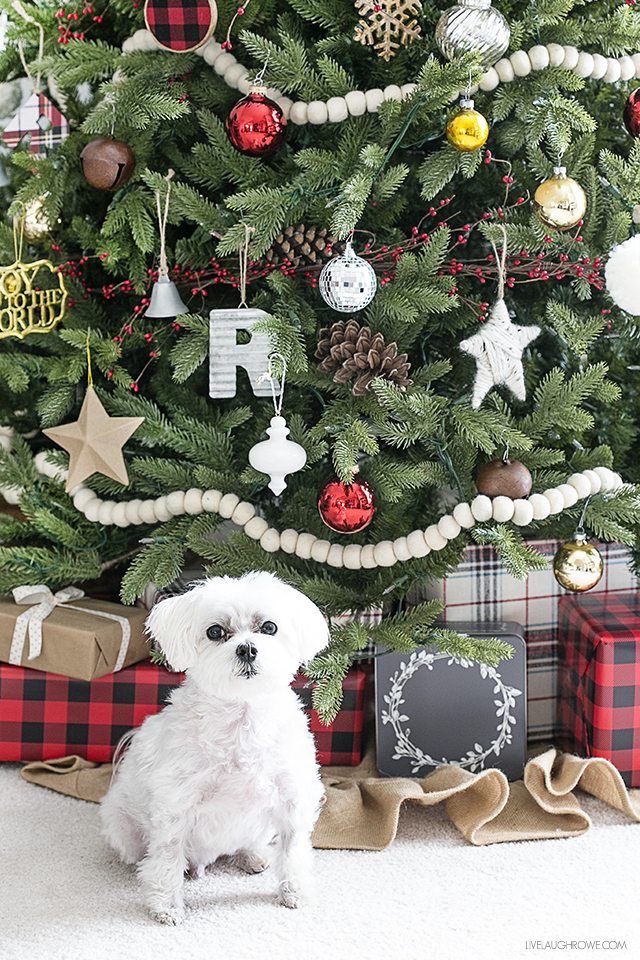 I'm a creature of habit. The tree in my living room has been the same for the past 6 or 7 years. The tree in my front room usually hosts a tree filled with ornaments from our (the hubby and I) childhood and travel. I call it the memory tree. However, when blogging — you can't post the same tree each year… Womp womp womp. Last year I shared this tree in my Woodland Christmas Tour.
I went with a simple rustic Christmas tree this year, and I even bought a new tree. Yahoo00o! I had a five foot tree and it was a little on the pathetic side. When you can touch the top of your tree without a stool, you might need to upgrade. I decided an upgrade was long overdue, and used woodsy, rustic ornaments with splashes of a little glam and plaids.
Don't even get me started on the wool felt ball garland and the berries. They seem to be a match made in Christmas tree heaven!
Rustic Christmas Tree
Growing up, we ALWAYS had real trees. The hubs isn't a fan of that, so I don't push the idea. I remember when we lived in Bath, NY, there was a man from our church named Royce Pifer. He and his family owned a tree farm. We bought our trees from him for over 10 years.
One year we even drove out to the property and cut one down. Everyone should experience that at-least once in their lifetime. It's certainly a wonderful memory making experience.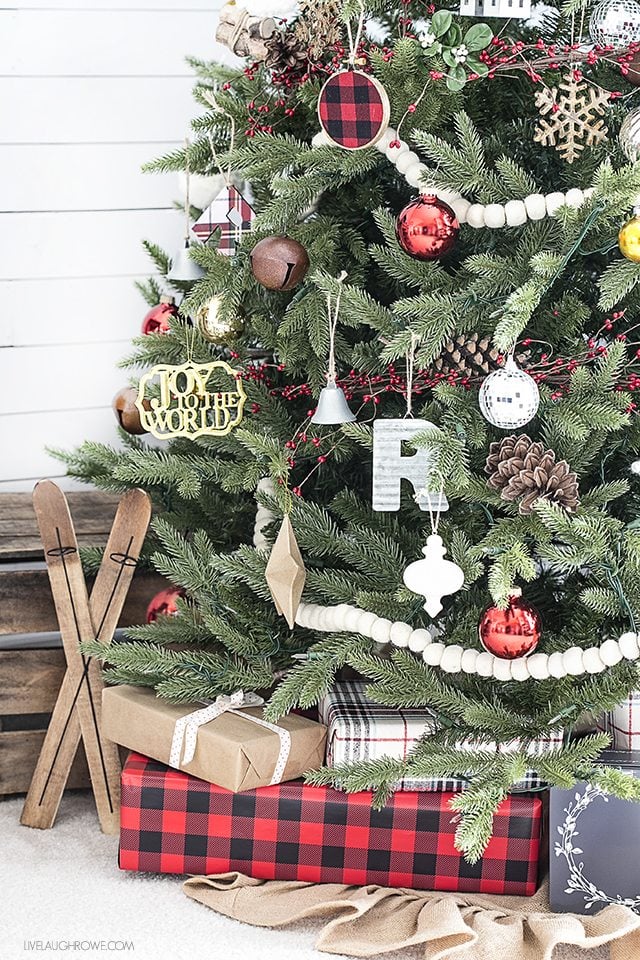 A holiday tradition that I detested was stringing cranberries and popcorn… but looking back I become nostalgic and appreciate the memory. My sister and I would sit on the living room floor with a hug bowl of air popped popcorn and bags of cranberries, carefully threading 10-12 pieces of popcorn, then 2-3 cranberries. While it did add a beautiful simplicity to the tree, we just hated the labor behind it… kids will be kids, right?
Most years the tree went up while we watched the Frosty the Snowman cartoon (one of my ALL TIME favorite holiday shows other than White Christmas).
O Star of Wonder
While I don't string the popcorn and cranberries anymore, each year as I decorate the trees, I fondly think back to those days. What would we do without those special memories?
Nowadays I make a lot of my own ornaments when I'm changing my trees theme up…. like the Buffalo Check Hoops, the mini bundles of birch and the plaid wooden "R" ornaments.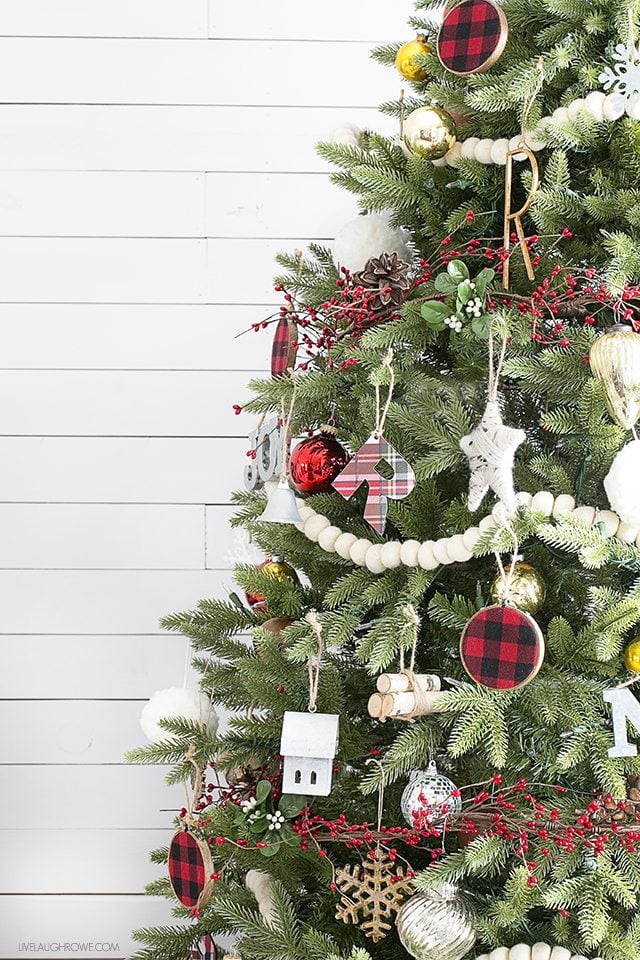 Yarn wrapped stars are an all-time favorite of mine and I shared the tutorial for those back in 2011. I make a few almost every year.
How cute this is galvanized farmhouse? I picked it up at Michael's. Yes, I tend to pick up some new ornaments every year too. It's hard not to, especially when they are screaming, "BUY ME! I'm perfect for your tree." You know, like the Pier 1 commercials? HA!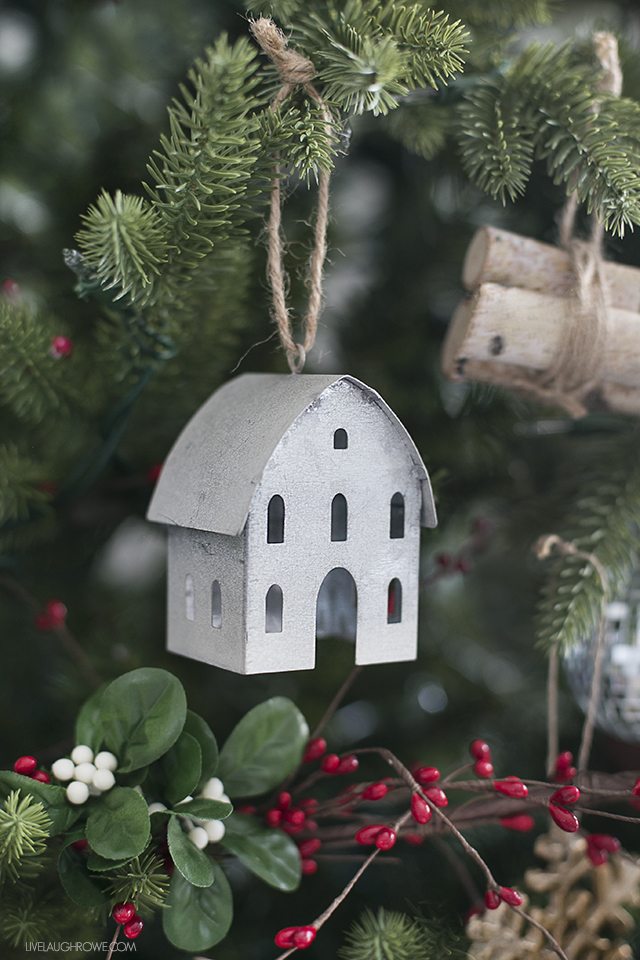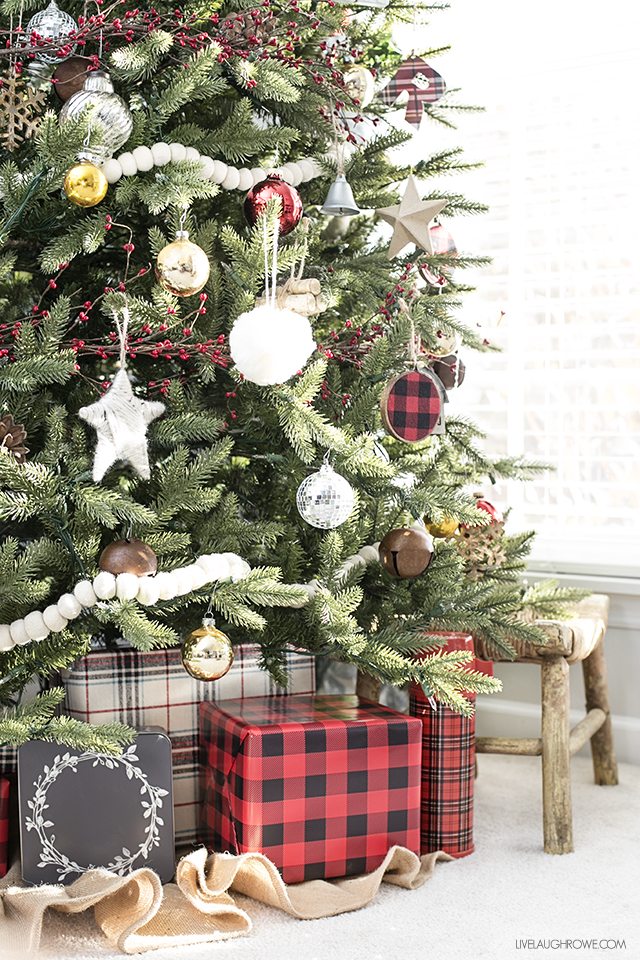 And that's a wrap… from oversized pom poms to large rusty jingle bells, I hope you're feeling all warm and fuzzy. Next week we can cozy up by the fire in our living room if you'd like — and sip on some hot cocoa!
Click on through to visit with Rachel from Maison de Pax.
Be sure to swing by and check out her beautiful tree!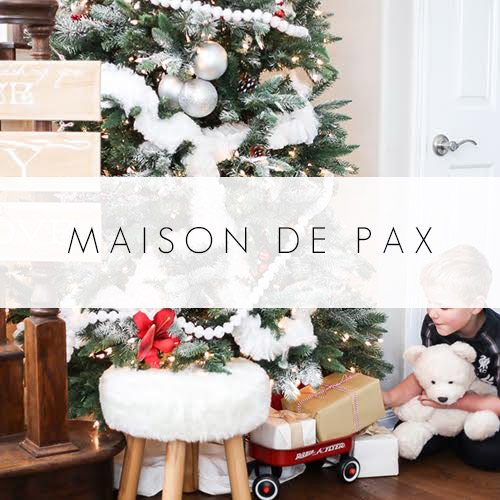 Be sure to visit with me here too:
Facebook | Instagram | Pinterest | Twitter | Google+