Matchbox Advent Calendar with printable matchbox covers? Yes, please! And we're keeping it simple for those of you who might be running a little behind. Yep, today's post is here to save the day!

Gingham Matchbox Advent Calendar


Let me start by saying that I love the whole concept of advent calendars. In two words, they're fabulous! They can be so incredibly simple or over-the-top spectacular. Heck, you can buy chocolate advent calendars at TJ Maxx.
BUT… making them is where the real magic is. Every year I wish I had kids to make an advent calendar for. Since that's not a possibility, I then move on to wishing that someone would make one for me. Seriously, how fun would it be to wake up each day for a ridiculously fun surprise — what's in the envelope, box, bag, etc?!?! Eeeek!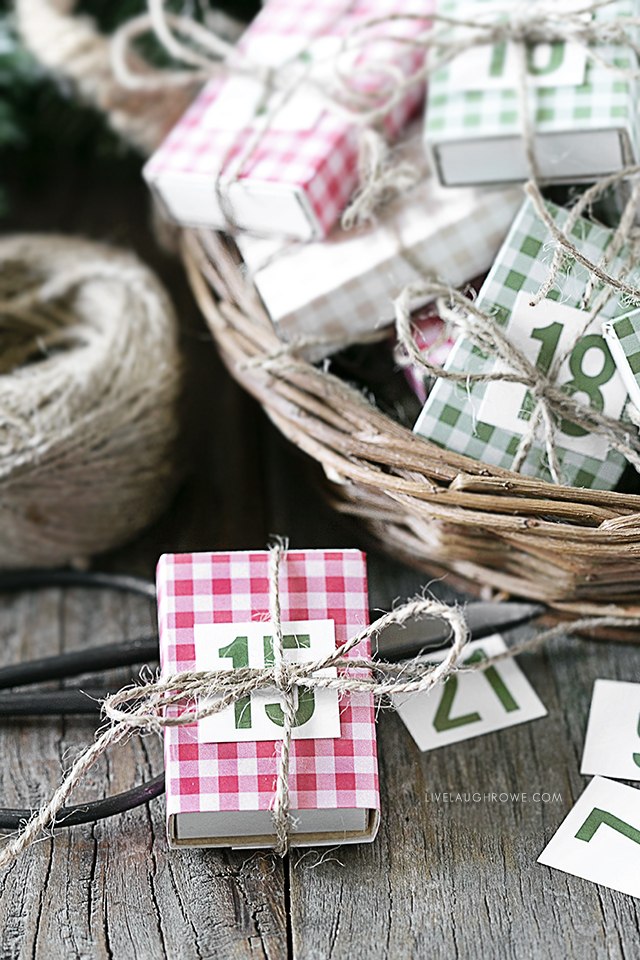 I'm probably a little late on sharing this matchbox advent calendar with you; however, I think it's easy enough that you could pull this off in a day. One of my favorite things about this advent calendar is that it's SMALL. You could do all things mini. I can't even…
Lack the time to pull all things little together? Slip some small pieces of paper with an activity in each of the boxes — drink hot chocolate and stir it with a candy cane, Christmas art, family trip to the Dollar Store (buy the kids a toy or coloring book), build a snowman with marshmallows, bake cookies, etc. Children find so much excitement in the little things, so there's no reason to go over the top.
"In the eyes of children
we find the joy of Christmas;
in their hearts we find
the meaning." -Unknown
I went with the traditional Christmas colors: red and green. And threw in the khaki for all my neutral-color loving peeps! The gingham print seemed perfect for these matchbox advent calendars. I felt that one or all three colors have a 95% chance of working for everybody. Use one color for all 25 boxes or an assortment (as pictured).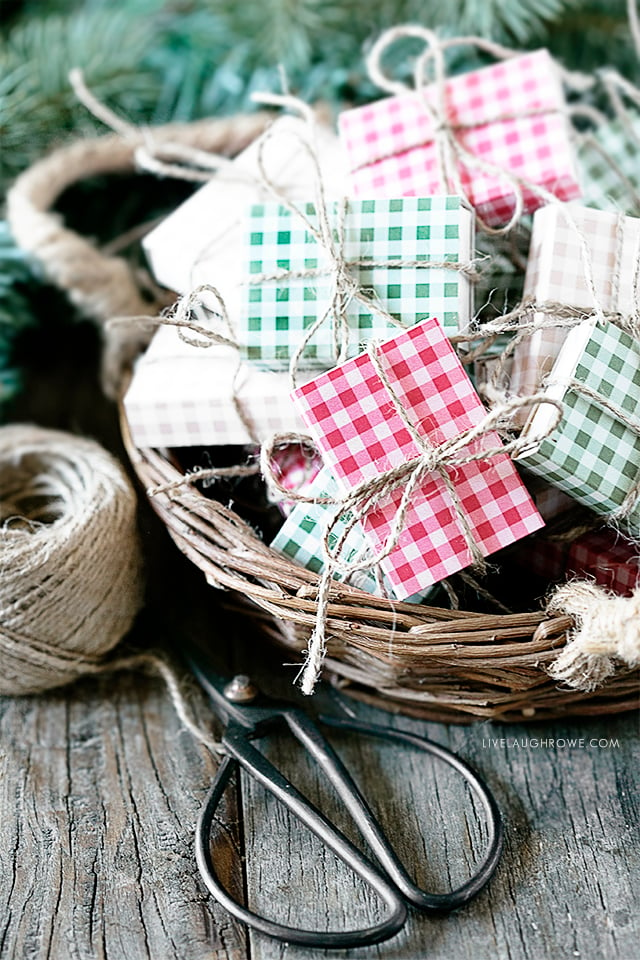 My initial thought was that you don't have to number the boxes. If you place them in a basket or jar, have the kiddos randomly grab one — making it even more fun, since you won't know which one they pick either.
Advent Calendar in a Jar!


Supplies for Matchbox Advent Calendar:
25 small Diamond matchboxes (32 count boxes)
Matchbox Covers (see printable link below)
Advent Countdown Numbers (see printable link below)
Paper Cutter (or scissors)
Bone Paper Folder
Double Sided Tape
Twine
Scissors
1. Print matchbox covers and cut.
2. Empty all the matches from the matchboxes.
3. Wrap the matchbox cover around the matchboxes, using the bone folder to create your creases for clean folds.
4. Attach the covers with double sided tape.
5. Fill with goodies or fun holiday activities.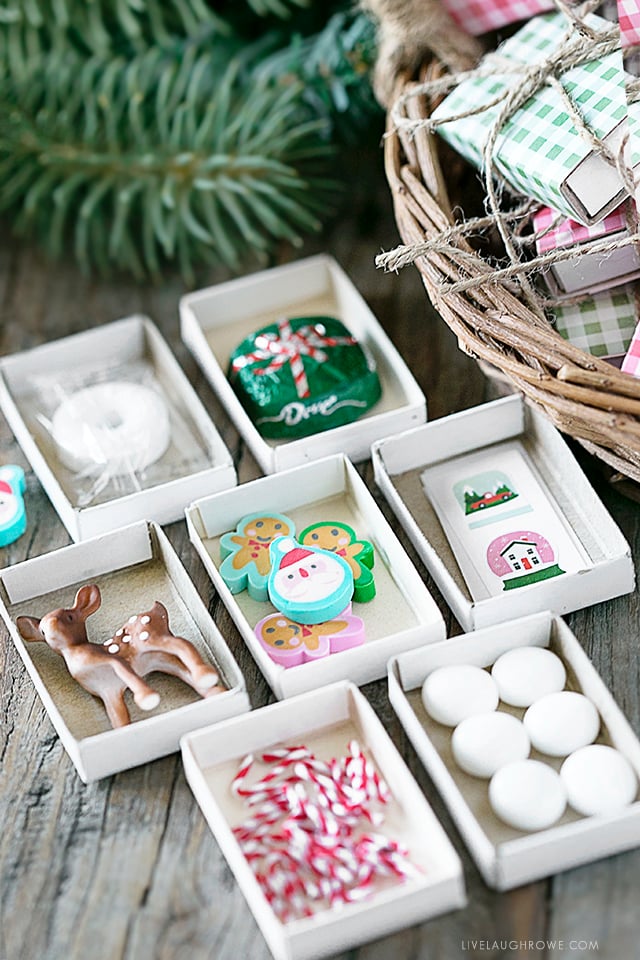 6. Tie with twine or string, optional.
7. Attach countdown numbers, optional.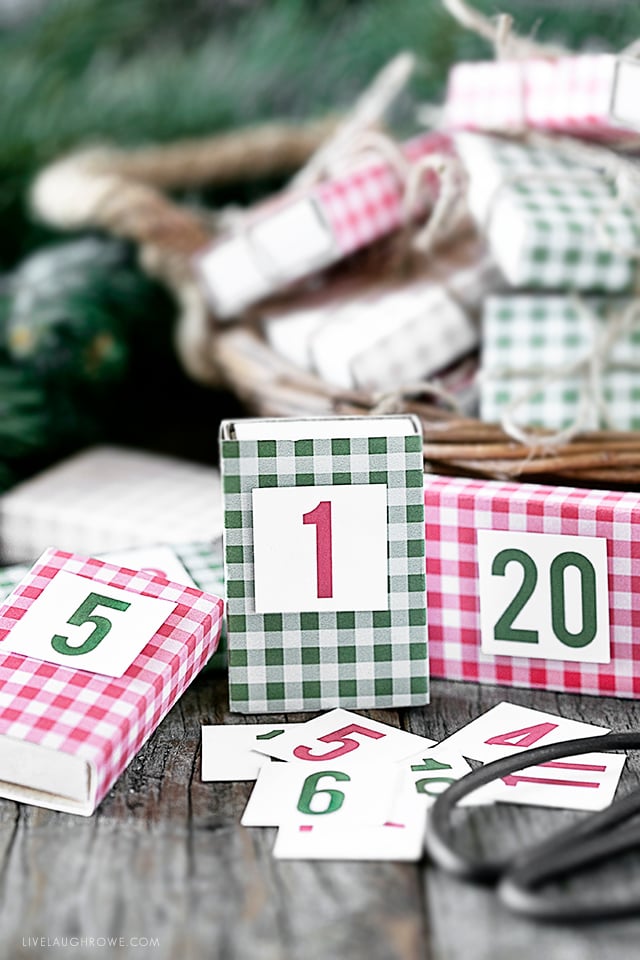 You guessed it, I'm including a set of numbers in red and in green if you want to do a number countdown.
This is totally doable, sweet and simple. What do you think? Well, I hope you love them as much as I do. And if anyone wants to make one for me — let me know (giggle).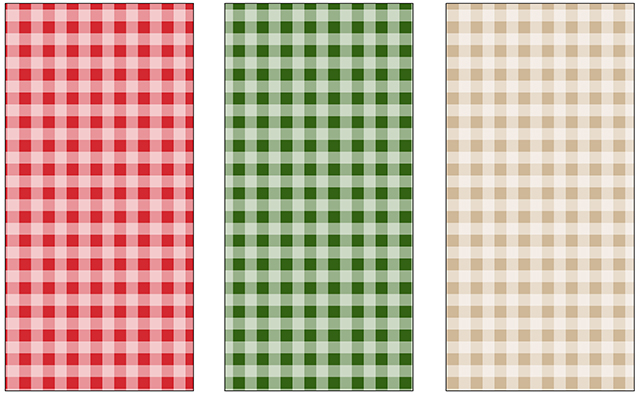 *Please Note: All printables and downloads designed by Live Laugh Rowe are for PERSONAL USE ONLY. Please do not alter the file or claim it as your own. You may not re-sell printed or electronic versions of these files
DOWNLOAD OR PRINT MATCHBOX COVERS & NUMBERS

Be sure to visit with me here too:
Facebook | Instagram | Pinterest | Twitter | Google+