Last year I told myself, "I need to get my hands on a fiddle leaf fig tree." The key word being 'need,' of course. So, I searched high and low. I asked friends to keep an out for me. I looked at home stores, grocery stores, IKEA and more. Nothing, nada, zilch.
Nevertheless, I did not give up. I was talking to Ashley from Little Glass Jar and she mentioned that The Home Depot sold the Fiddle Leaf Fig on-line. Now that peaked my interest, friends.
Why was I so obsessed with getting a fiddle leaf? Well, they're awesome, beautiful and a perfect addition to home decor (and photos). The fiddle leaf fig tree photographs beautifully and is very popular among interior designers.
Now, I'm far from being a designer, but I do love decorating my home and adding pieces that contribute to the aesthetic. The fiddle leaf does just that!
Tips for Caring for the Fiddle Leaf Fig Tree
So, guess what I did? I ordered a Ficus Pandurata Bush in Pot (also known as the fiddle leaf fig tree) from The Home Depot.
I'd be lying if I didn't say I was nervous. I chatted with a customer service representative on-line to ask about the guarantee, etc. They assured me that returning the plant to my local store would not be a problem if the plant should arrive damaged.
However, the plant arrived in beautiful condition. I was giddy, friends!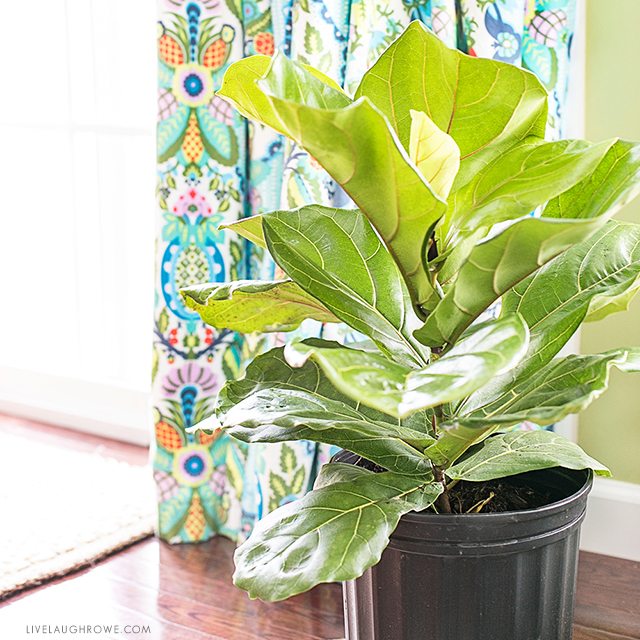 I thought I would share a few tips on how to care for the fiddle leaf fig tree. These tips will come in handy if you should decide to purchase one. I didn't have a clue! After asking my friend Debbie from Refresh Restyle a couple of questions, I figured I had a 50/50 chance. Haha.
I found this FABULOUS basket on clearance at Target — and while it seemed a bit big for my baby fiddle leaf fig, I knew it would grow.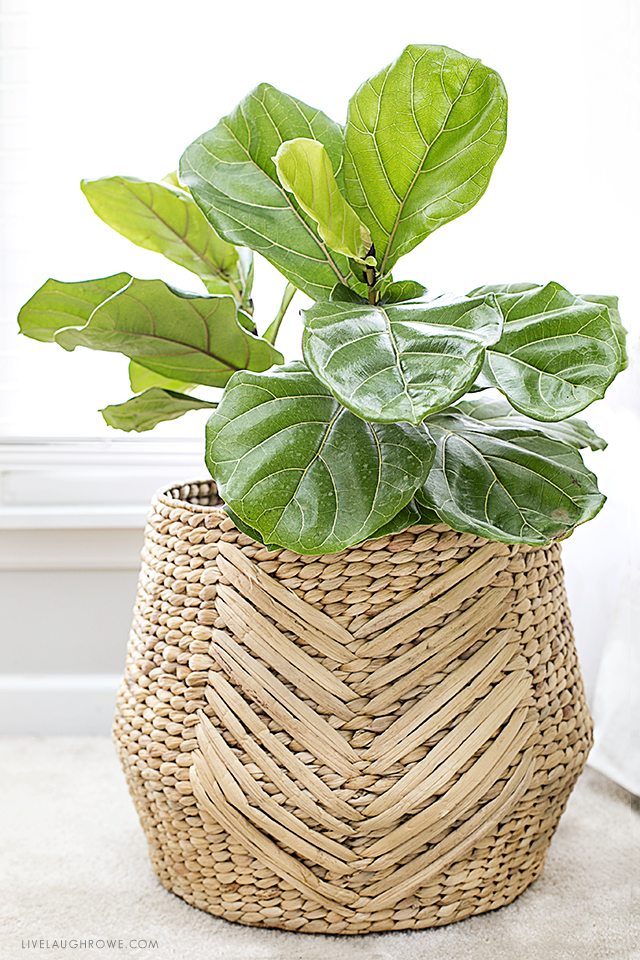 And that it did. It's been almost a year since I purchased my ficus plant, and I think it's doing great.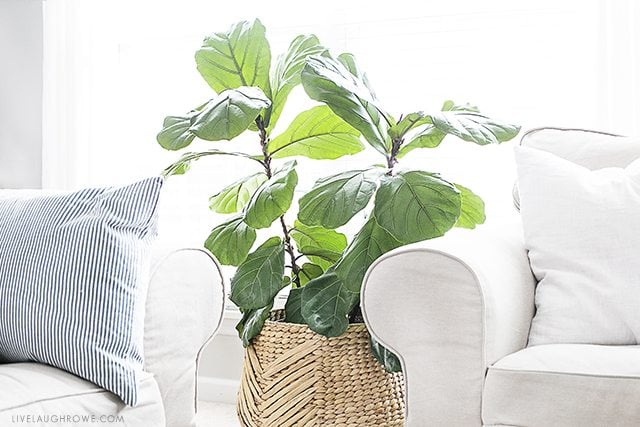 Bright Light. Your fiddle leaf fig tree needs bright, indirect light. It's said that if in an eastern facing window, direct light will work too. I noticed my plant was leaning towards the light, so I rotate mine every so often to keep it from leaning too much (and not being able to support itself). Avoid dry heat and drafts.
Wiping the leaves with a damp soft cloth is suggested to remove dust, allowing the leaves to get as much light as possible.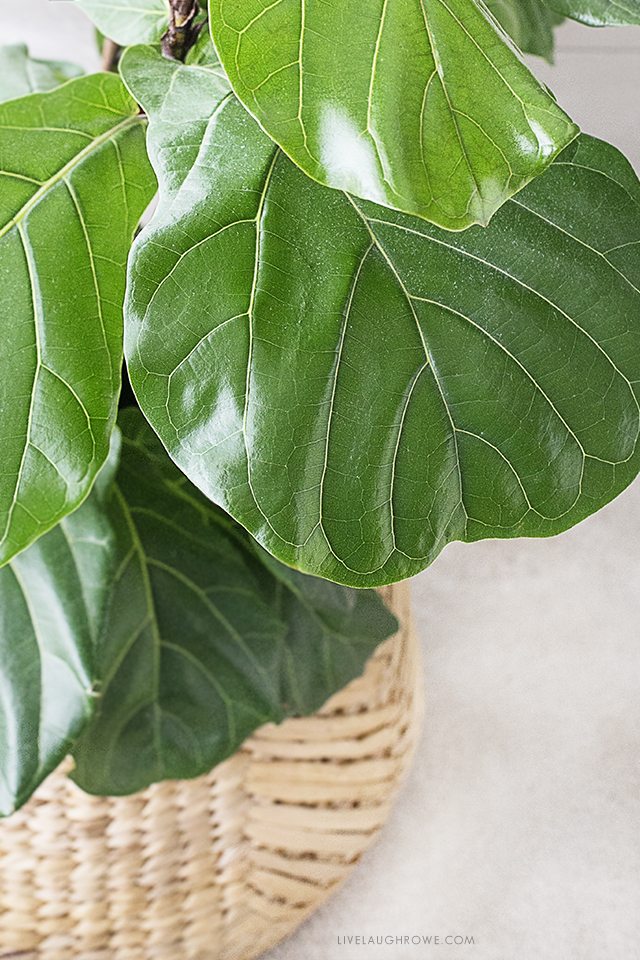 Watering. I water when the top inch of soil is dry and use a small watering can. Use your finger to test the dryness of the soil. In the winter, it's suggested that you mist the leaves on occasion to create a bit more humidity.
Be sure not to over water or your plant could potentially get root rot.
Repotting. Try to repot each year, using a larger pot each time until the plant reaches a desired size or the container is no longer manageable.
Temperatures. Keep the plant in temperatures between 60 – 75°F. During the summer months, the plant could be placed outdoors.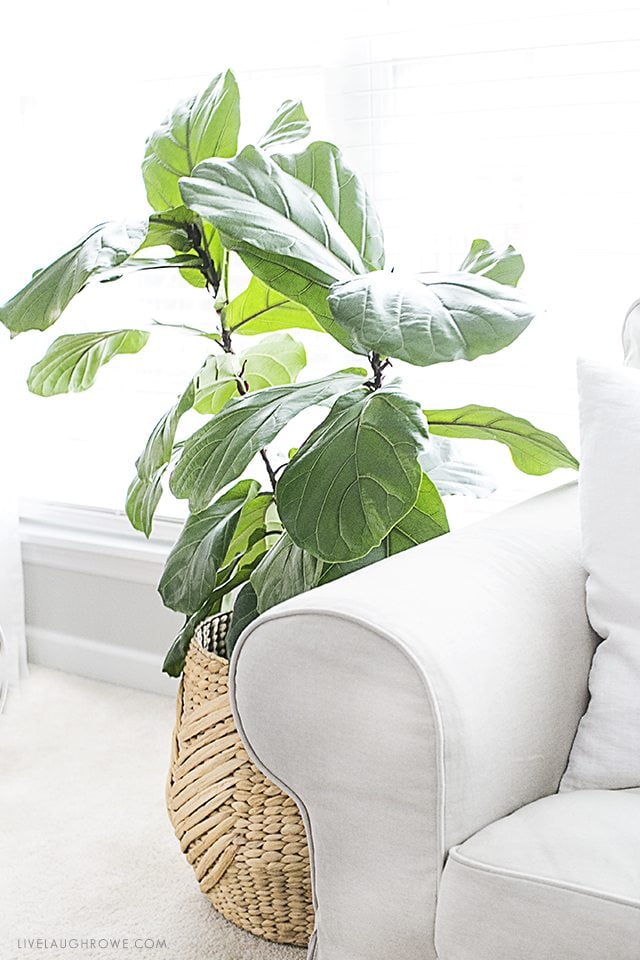 Debbie from Refresh Restyle mentioned that her fiddle leaf fig tree loves coffee grounds. On a couple of occasions, I placed some used coffee grinds on the top of soil when watering — would you believe that when I did that, new leaves started to grow in? So, there might be something to feeding it a bit of coffee. I'm no plant expert, I'm only sharing from my experience.
If you've been eyeing the fiddle leaf, now just might be the time to take the plunge. Buy a couple to add some extra charm to your home! Gift one to a friend… or mom.
*additional purchasing options are available on Amazon as well.

Be sure to visit with me here too:
Facebook | Instagram | Pinterest | Twitter |Google+