Did somebody say chocolate and peanut butter?!?! Mmmmm… A delicious and healthier breakfast option, this smoothie bowl is a great way to start the day!
Chocolate & Peanut Butter Smoothie Bowl


Smoothies are genius, in my humble opinion. And the possibilities are endless! Whether you're using milk, yogurt, ice, fruit, water, etc. — you can add just about anything else to the mix. From fresh fruit and vegetable to protein powders, etc. Seconds to minutes later, you have a delicious smoothie ready to go!
And then we started turning them into smoothie bowls! What the wha?!? Even more genius. The best part is that you can add topping of all shapes, sizes and flavors. Crunchy or soft!?! So. Many. Options!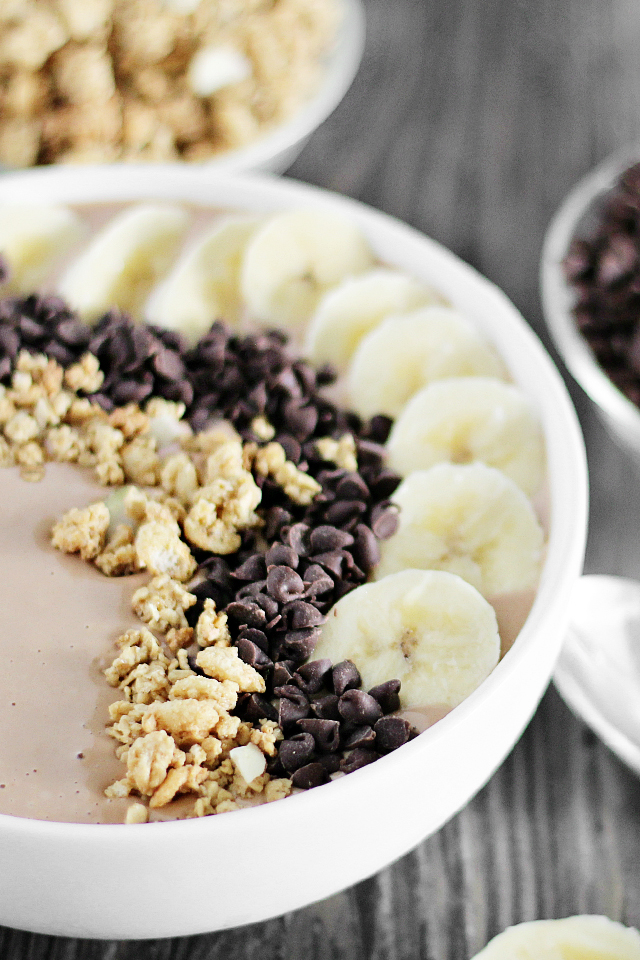 A smoothie (or smoothie bowl) is the perfect way to start the day in the summer too! I am not a fan of the heat, but these can cool you off -and- fill you up. That's a win-win in my book.
I am a peanut butter addict, so this recipe had me at just that, peanut butter. Oh sure, the chocolate was an attractive ingredient too (wink-wink). Banana and granola are a great addition, adding a little sweet, soft and crunchy to the mix.
I hope you'll give this deliciousness a try and let me know what you think! Enjoy.
Smoothie Bowl with Peanut Butter and Chocolate
Ingredients
Toppings
mini semi-sweet chocolate chips

granola

bananas
Instructions
Start by adding your yogurt, peanut butter , vanilla, almond extract, and protein powder into a blender.

Blend on high for roughly 3 minutes.

Top with mini chocolate chips, granola, and bananas

Delicious Smoothie Bowl

If you like smoothies, be sure to give these recipes a try too!
Sunrise Smoothie
Mango Smoothie
Blueberry Spinach Smoothie

Be sure to visit with me here too:
Facebook | Instagram | Pinterest | Twitter | Google+