Do you hear that? Fall is knocking on our door. Woo-hoo! I couldn't be more excited. So, I'm sharing a printable fall bucket list for adults (and older kids) with y'all. Yay.
Created with a little boho flair, it's certainly has a little fun and cuteness to it. For example, you can hang from a clipboard or frame and use a dry erase marker to check off what you've completed.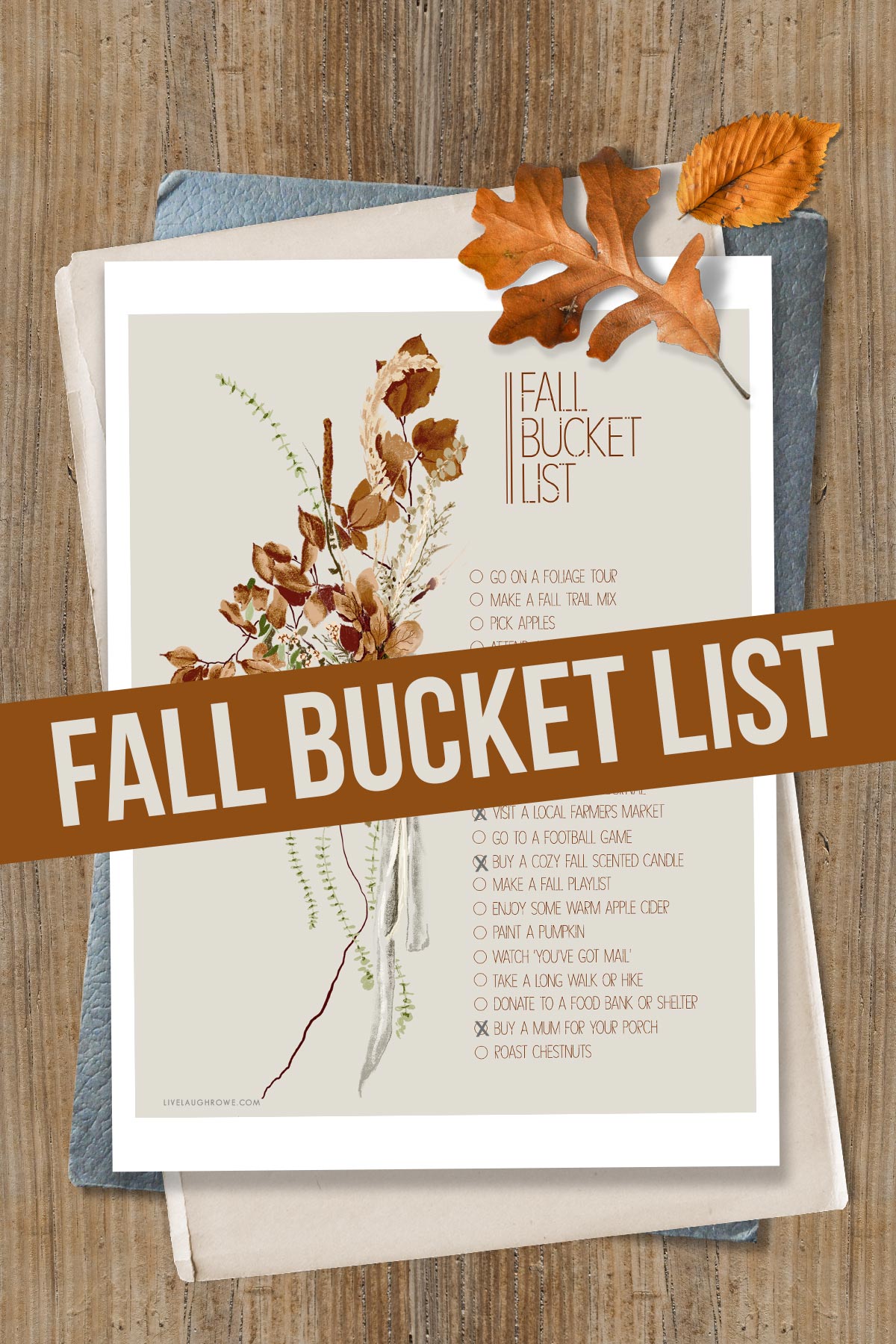 Fall Bucket List for Adults and Teens
With the autumn season comes lots of fun festivities and activities. What are some of your favorites?
The printable list includes over 21 festive food and more. In short, I tried to channel some cozy, yummy vibes.
Let's take a look at a few of the featured fall bucket list ideas and after that you can grab a copy of the printable.
Fall Foliage Tour
Go on a foliage tour. Whether that's a drive through a neighborhood, a walk through your favorite park, or a trip to Vermont — be sure to soak in the beautiful fall foliage.
Autumn Puzzle
Tackle an autumn puzzle. From 300 pieces to 1000, there are so many options out there to choose from. Similiarly, it will provide hours of entertainment for you and/or the whole family.
Friday Night Football
Did any of you watch the TV series Friday Night Lights? I loved that show. So this fall I'm hoping to catch a local high school football game here in Rogersville. Maybe I'll treat myself to something yummy from the concession stand too.
p.s. If it's a cool night, enjoy a couple of bowls of homemade chili before heading out.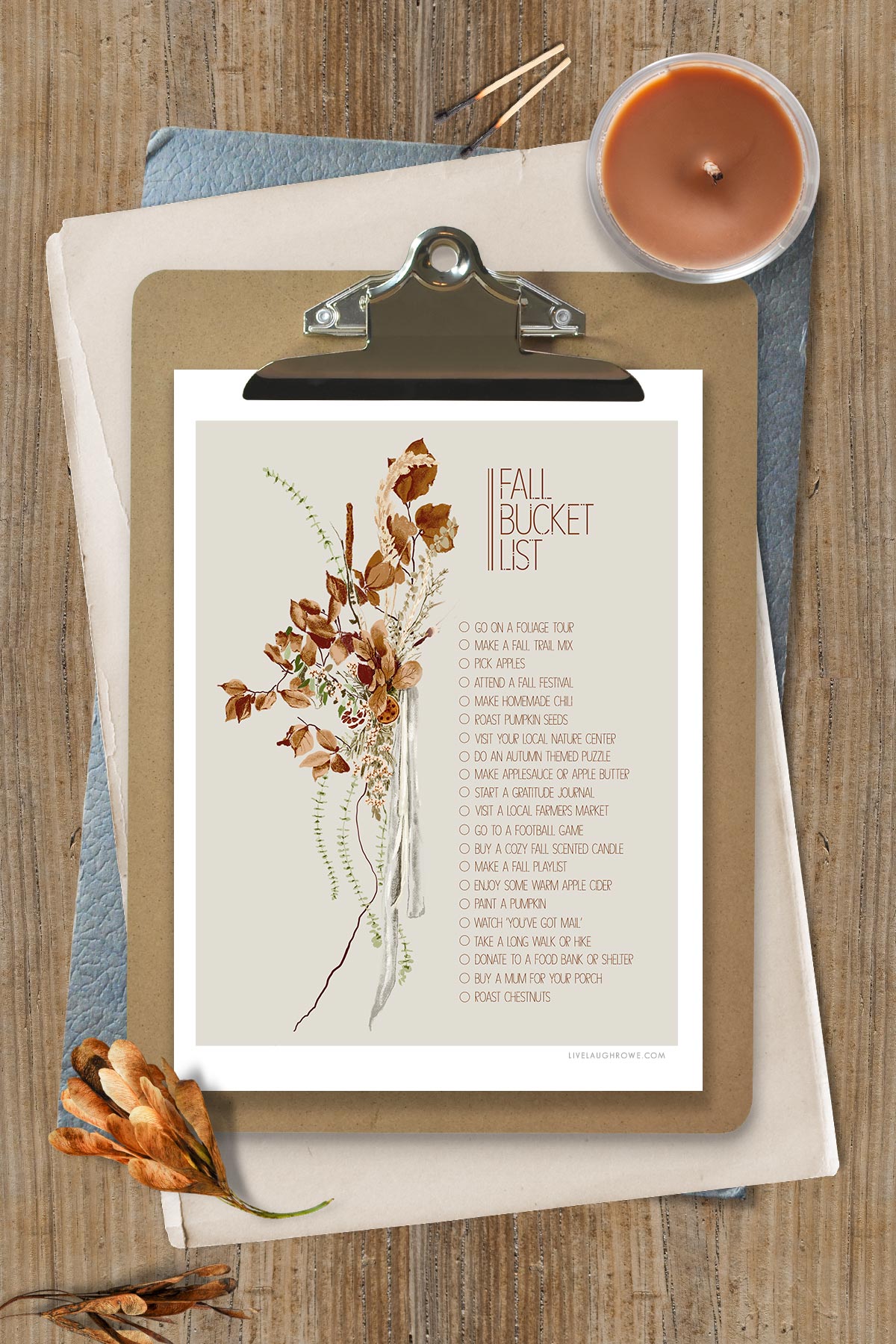 Fall Scented Candles
I've been busy buying candles the past week. Haha. I picked up one at Target and then I picked up half a dozen or so of the single wick candles at Bath and Body Works. Sweet Cinnamon Pumpkin is a yearly favorite and this year the Pumpkin Pecan Waffles caught my attention. Holy yum, batman.
Fall Playlist
How about creating a crisp autumn jam list? Get nostalgic and gather some of your favorite cozy vibes to listen to while driving to town or walking through your neighborhood.
Check out Billboard's Fall Playlist from last year.!
Apple Goodies
If you love apples, try your hand at applesauce or apple butter. I shared a crockpot apple butter recipe a couple of years ago. Nevertheless, it was delicious — and I enjoyed sharing with friends and family too.
...and many more!
Fall Bucket List Printable
When printing this fall bucket list, be sure to click on the scale to fit button — that will leave some white space and not give you a message saying the picture goes outside the margin.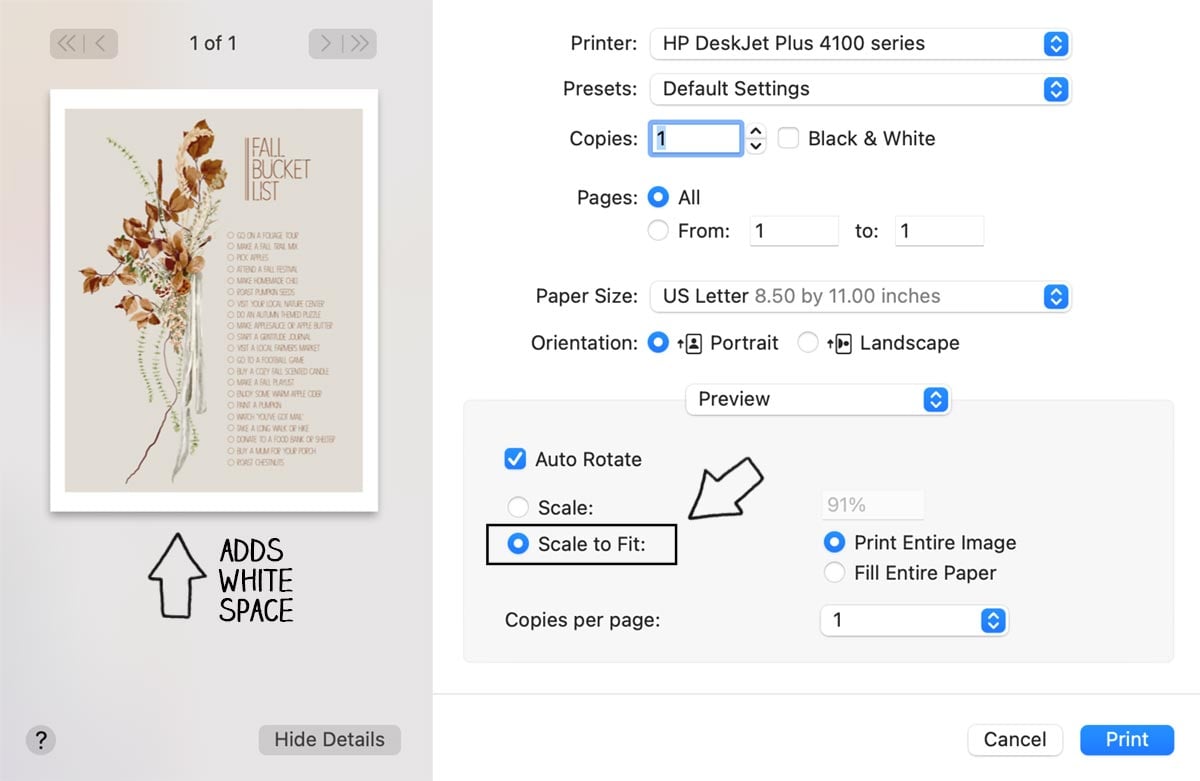 Above is a screenshot from my MacBook Air. Please note that all computers may have different printing prompts and look differently. Find that scale to fit button and you'll be set. Also keep in mind that the preview might look different between printing the jpeg and pdf.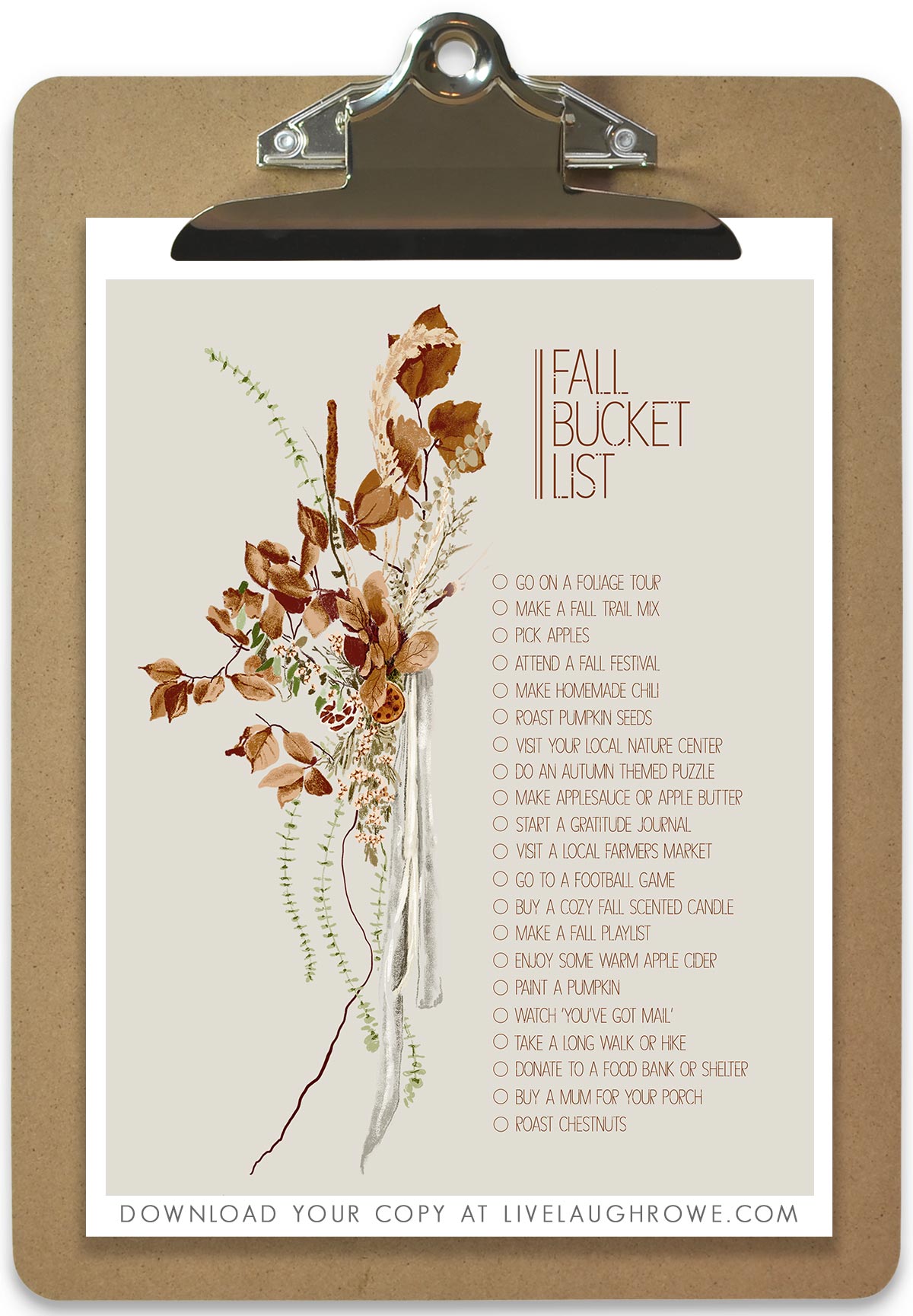 Please Note. Printables and downloads designed by Live Laugh Rowe are for PERSONAL USE ONLY. So, please do not alter the file or claim it as your own. Not intended for resale. Nor are the printed versions of this file.
FALL BUCKET LIST for ADULTS
Download PDF
Download JPEG