Reasons to Love Fall | Free Printable
Today I'm sharing some of my favorite reasons to love fall. After a year of quarantine and masks, I was so incredibly anxious for the cooler weather to roll in. With fall comes change, but I find the changes to be so refreshing.
This past weekend, Steve and I went camping in Branson. The weather was perfect and when we took Parker for "potty" walks, I enjoyed hearing the crunching of the leaves and seeing the acorns hanging on the trees. Sadly they hadn't begun to fall yet… our foliage is rolling in rather slow this year.
However, I'm not complaining, there are still so many other reasons to love fall and celebrate the season.
Be sure to sign up for my email to get
new recipes and creative ideas
sent right to your inbox!
So, how about you, do you love fall? I know some of you might live in states who don't really get much of a fall (Texas being one of them). Nevertheless, if you do enjoy the fall season — what are some of your faves?
Below I gathered several of the reasons I love fall… and then I went a step further and created a simple printable with a few of the reasons most people love fall.
Other free fall printables:
Psalm 118 Fall Printable
Printable Fall Bucket List Ideas
Never Met a Pumpkin I Didn't Like
Oak Acorns and Leaves Fall Printable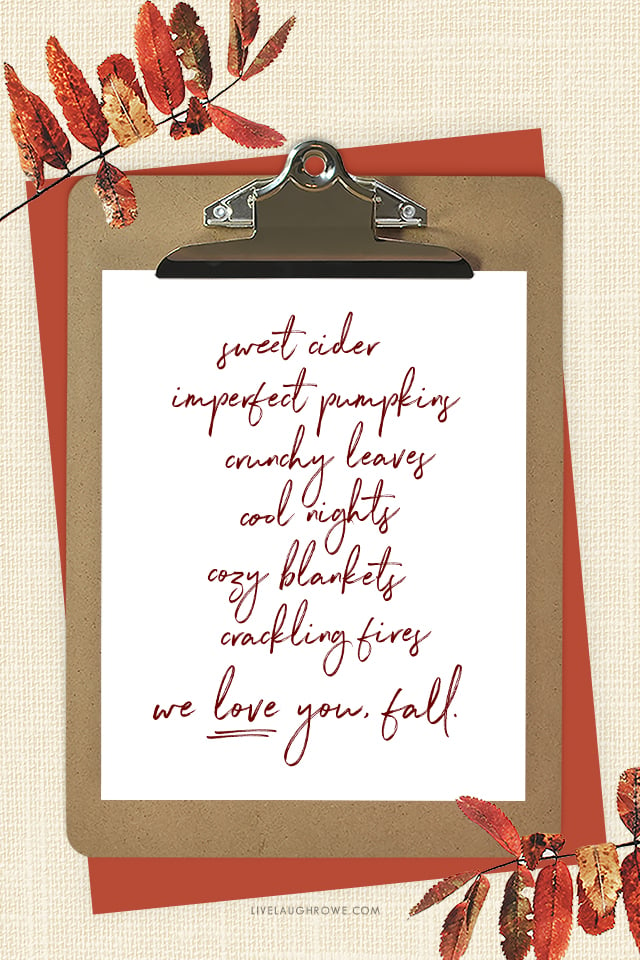 Reasons to Love Fall:
Cooler temperatures. I love both the cooler morning and the evenings of fall. I find it invigorating. In addition, I get to wear sweatshirts and sweaters (more to come on that).
Pumpkins. There is something to admire about all of the different shapes, sizes, and colors of pumpkins. For example, I love that no two are alike — and yet they're perfectly imperfect.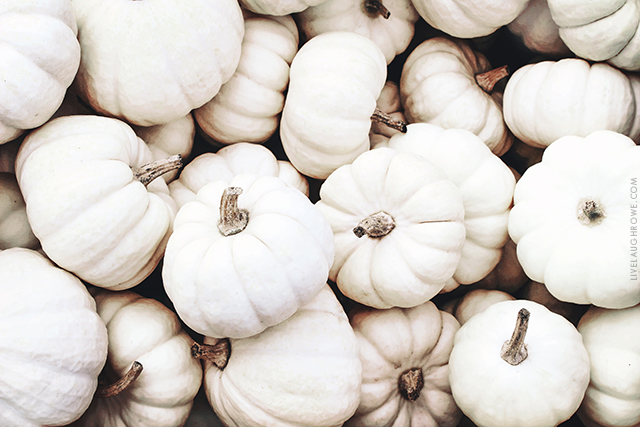 Mums. These hardy plants come in so many vibrant colors. My favorite is the burgundy color, as a matter of fact, there is one on my front porch right now.
Fall Foliage. Fall foliage is something that can truly take my breath away. I used to fly to Upstate NY for work in the fall. And the colors were amazing. I'd love to go to Vermont during the fall sometime as well. In short, I hear they have amazing foliage.
Crunchy Leaves. Is there anything quite like the sound of crunchy leaves? It's music to my ears.
"Life starts all over again
when it gets crisp in the fall."
F. Scott Fitzgerald
Bonfires. I love fall bonfires. And sitting in front of a bonfire at the end of a long day is my happy place. The crackling of the wood and the smells are certainly a favorite of mine. Add s'mores to the mix and it doesn't get any better.
Cozy blankets. Enough said. Warm, cozy blankets are the best while reading a book, sitting by the fire, or watching your favorite Hallmark movie. (wink-wink)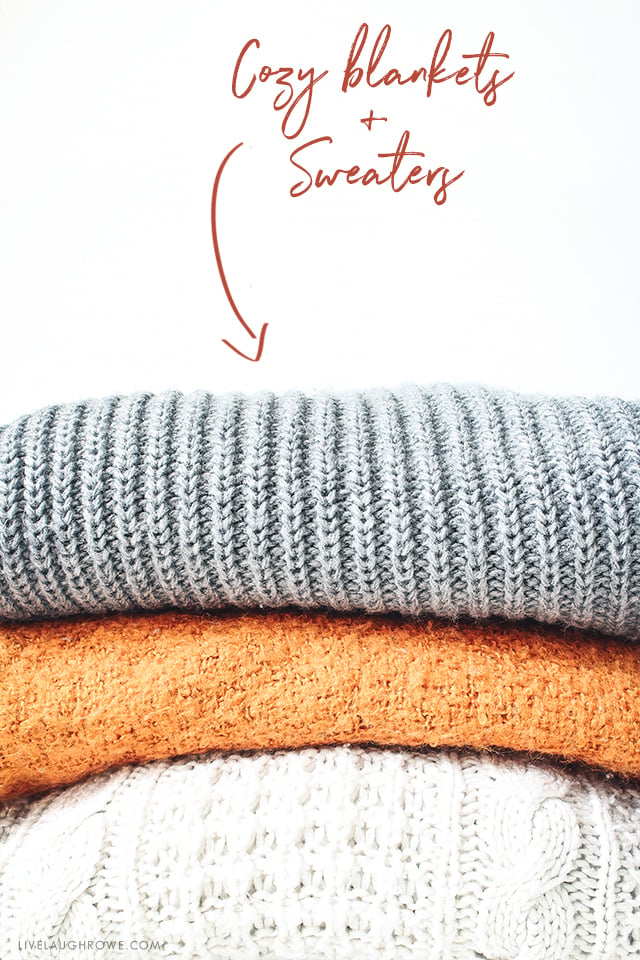 Camping. I love fall camping. Fall is one of the seasons that I'm so glad we own a travel trailer. The weather is perfect for camping… however, I'm not a huge fan of heat either. So that's just a preference of mine.
Apple Crisp. One word: yum. Give me all the apple crisp with a big scoop of vanilla ice cream.
Fall Festivals and Markets. These may vary for everyone, depending on where you live — but I love attending these types of events. There is always so much inspiration and I usually spend way too much money.
"Every leaf speaks bliss to me,
fluttering from the autumn tree."
Emily Bronte
Sweaters. Cardigans are my favorite. So, I'm always excited for an excuse to throw on a t-shirt and cardigan.
Booties. Yes! A pair of skinny jeans or a dress with booties? Does it get any better?
Seasonal Decor. Do you decorate for fall? I've been hit or miss on this the past few years. But this year I did and I'm soaking it all in. There is something to be said about a little refresher with your decor, especially when it signifies changes of the season.
Thanksgiving. Thanksgiving is one of my favorite holidays. The food, time with family, and focusing on having a heart of gratitude. Don't get me wrong, I'm grateful and overwhelmed with gratitude year-round, but it's nice to sit around a table with those we love.
And more…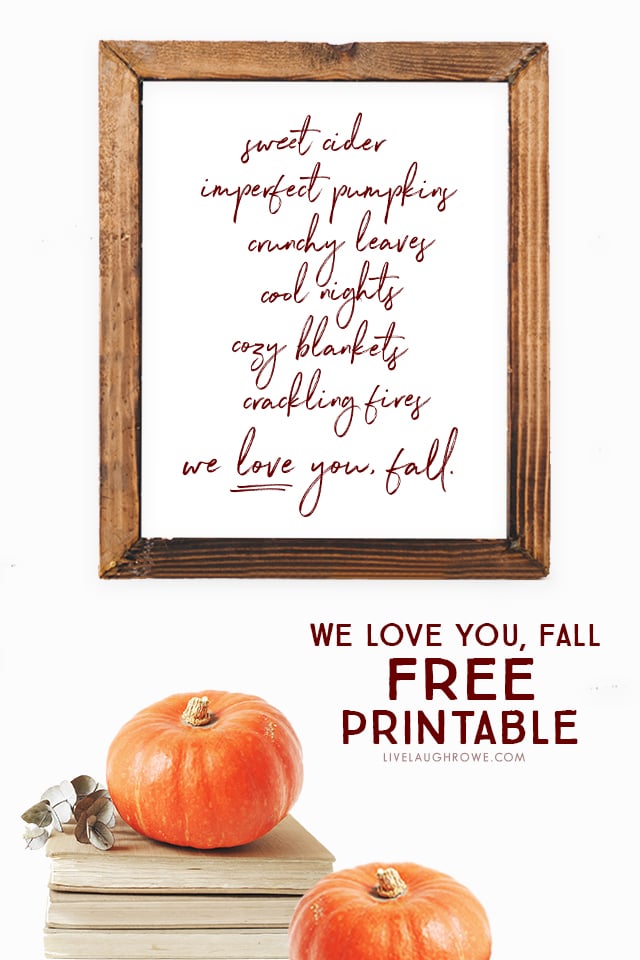 Fall Printable
We love you, fall! This sweet and simple fall printable comes in two different sizes, 5×7 and 8×10. So, feel free to print on white or ivory cardstock. Likewise, be sure to share it with a friend. Enjoy.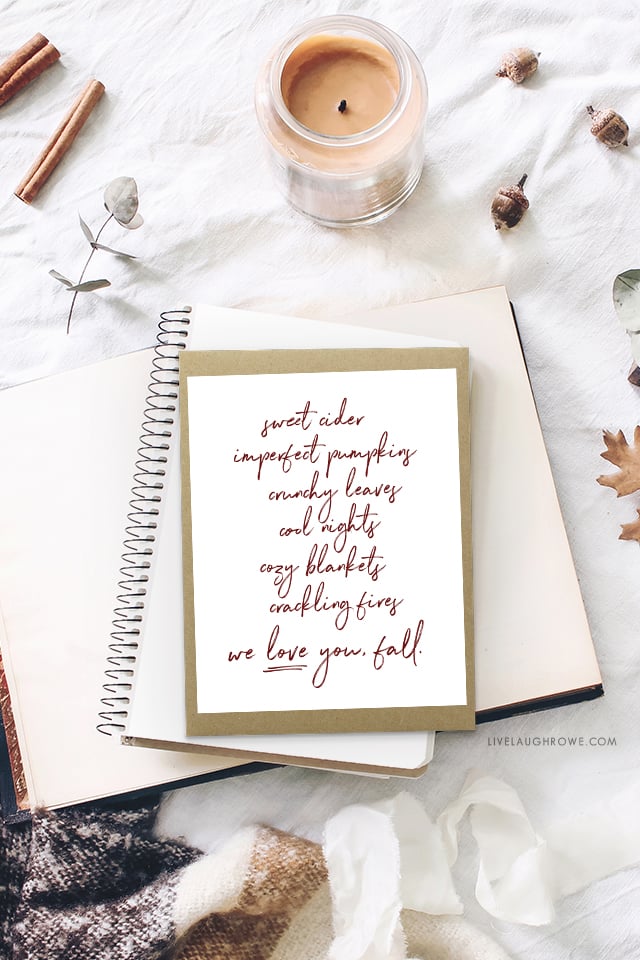 Please Note. Printables and downloads designed by Live Laugh Rowe are for PERSONAL USE ONLY. Therefore, please do not alter the file or claim it as your own. This file is not intended for resale, nor are the printed versions of this file.
Connect with Live Laugh Rowe!
Facebook | Instagram | Pinterest | Twitter
Hugs and Blessings!