Free Printable Easter Place Cards that have a sweet vintage feel and so much versatility! Better yet, they're FREE. Impress your guests this year with these cards that can be taken home with them and used as a bookmark — or add a special touch to their decor!
Free Printable Easter Place Cards


I'm sitting here thinking about that silly Christmas nursery rhyme, "Christmas is Coming." Haha. Christmas is coming, the goose is getting fat. Please put a penny in the old mans hat. If you haven't got a penny….
You're probably asking youself, "Why?!?" Well, Easter is coming and it got me wondering why there aren't any nursery rhymes (that I can recall) for Easter.
Can you tell that my thoughts often wander? Anywho, Easter is Coming… and since there's no catchy tune to go with it, we'll move away from my silly antics.
Are you ready for Easter? Do you have all the kids Easter baskets ready to go? Will you be hosting the family dinner this year? I just said to my sister earlier tonight that the fam bam has yet to discuss the details about Easter.
I'm thinking I'll be hosting due to my mom's recent knee surgery. Honestly, I don't mind — I really enjoy hosting friends and family.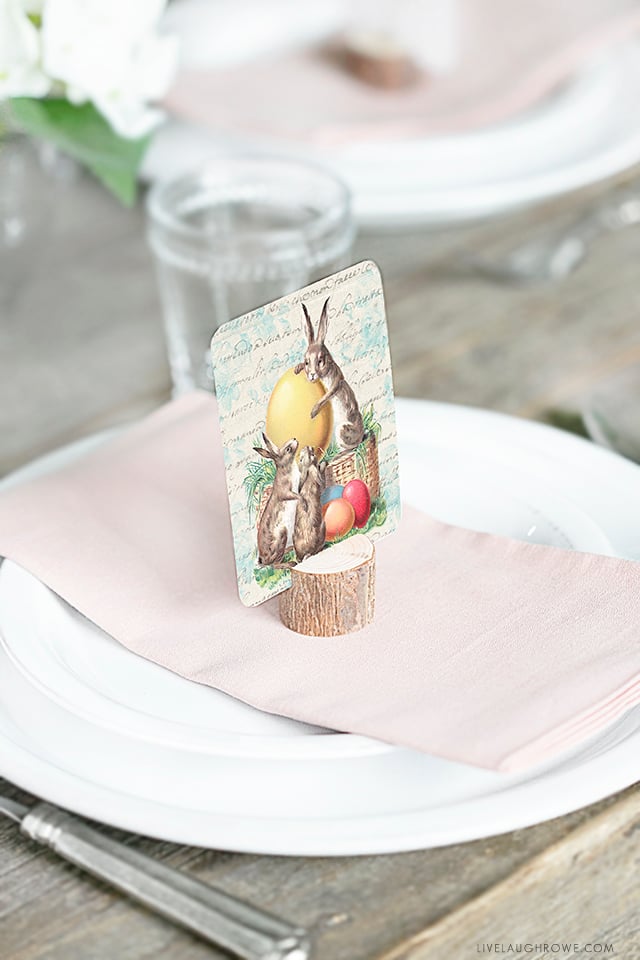 As a matter of fact, I hosted last year and used these place cards at each setting — I've waited a whole year to share them with you. And today's the day. My mom currently has hers displayed in a floral frog (one of my favorite ways to display ephemera or vintage playing cards).
I have a drawer full of place card holders, but these wooden card holders are a go-to for me. They're simple, but can easily match just about any tablescape. Boom!
Rabbit Place Cards


These sweet rabbit place cards will add just the right amount of Easter flare to your table settings; however, they make great cards for your journaling too!
Each sheet has four 3×4 of the Easter Place Cards. Simple print on white cardstock and cut. As you can see, I enjoy rounding my corners with a corner punch. I hope you're able to enjoy these as much as I have.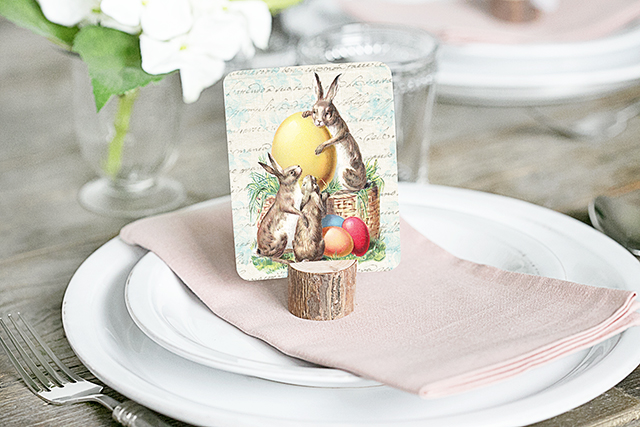 *Please Note. Printables and downloads designed by Live Laugh Rowe are for PERSONAL USE ONLY. Please do not alter the file or claim it as your own. This file is not intended for resale, nor are the printed versions of this file.
If you should have difficulty with the PDF not printing, I'd recommend that you save the file to your computer and then print the place cards from there. There's apparently an Adobe issue that is out of my control and many readers have had difficulty with some of the printables. I apologize for any inconveniences.

Be sure to visit with me here too:
Facebook | Instagram | Pinterest | Twitter | Google+