Are you hosting Easter lunch or dinner this year? Are you feeling a little stumped on how to set your table? Don't sweat it, friend. Because no matter what you do — it will be perfect, and your guests will appreciate your hard work. Today I'm excited to share a couple of simple Easter Table Setting Ideas.
So, my goal here is to inspire you. Maybe some of these ideas will help spur some creativity on how to use some things you have on hand. Moreover, you may very well decide to kick anything creative or fancy to the curb. And that's okay too.
In short, let's just have fun!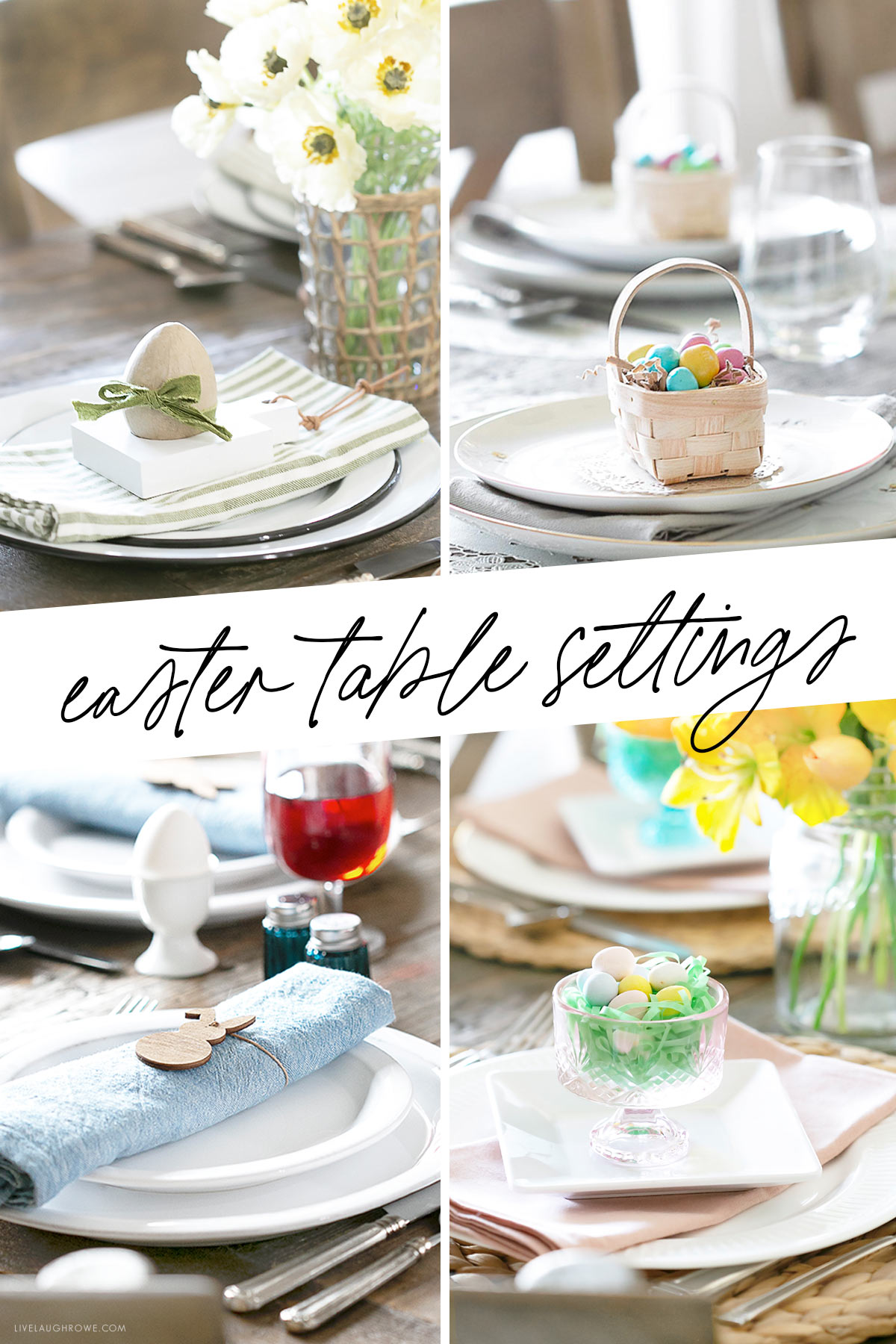 I have three new Easter table settings to share, and I'll refresh your memory on a complete Easter tablescape that I shared last year.
Yellow and Pink, Oh My!
This table setting features pops of yellow and pink. I love the simplicity of the white plates on the woven placemats. Thankfully, almost everything I used was from my kitchen, with one exception.
And since I don't live close to town, I always have faux flowers ready for use in my cabinets. They're very real-looking, so I don't feel bad. Haha.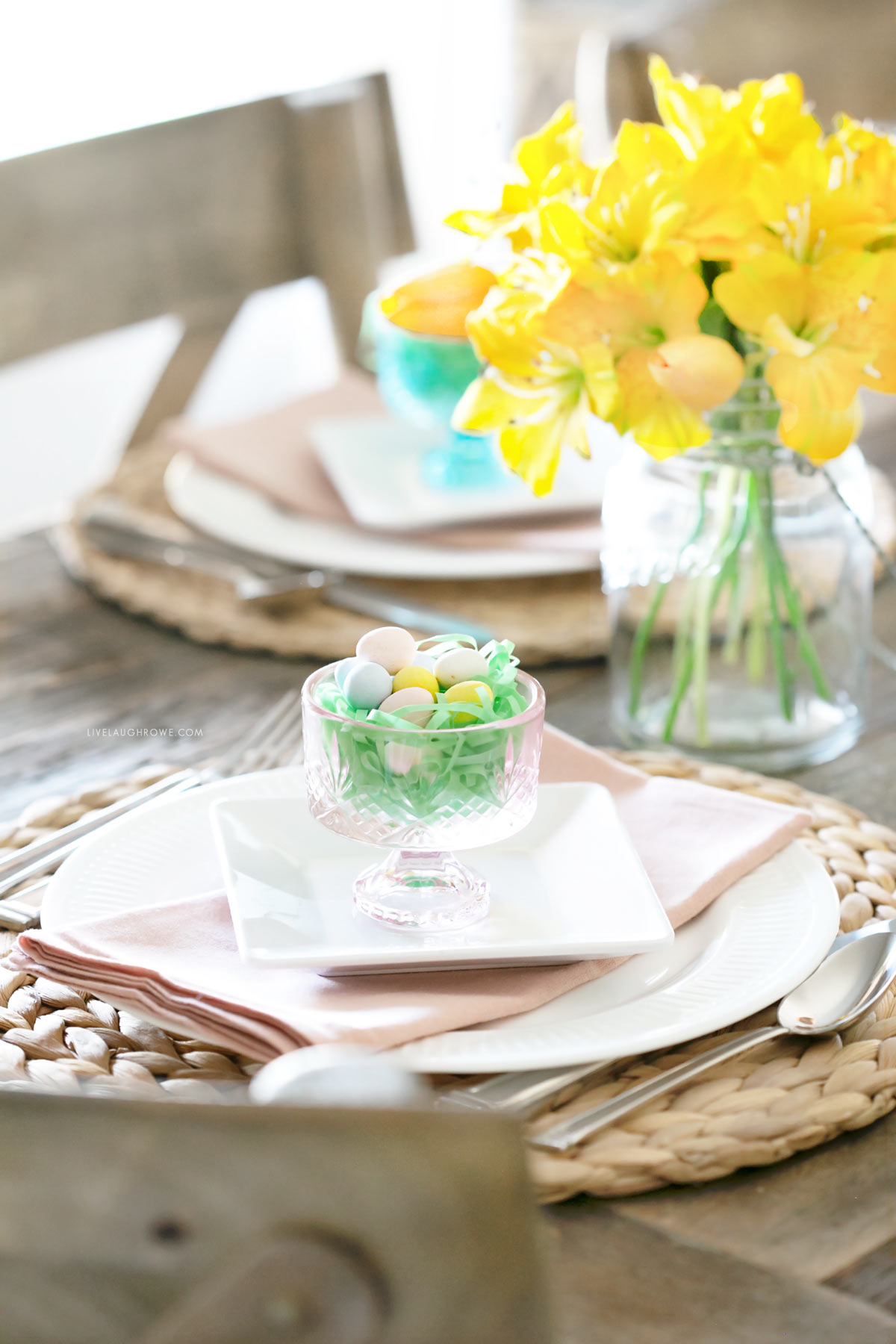 Inspiration. Fill a small, colorful dessert dish with coordinating paper shreds or Easter grass and candy. As a result, you'll have an excellent favor for your guests. These little dishes were new and I picked them up at Hobby Lobby.
And in case you were curious, I used mini chocolate Cadbury eggs, they're a favorite of mine and they looked perfect resting on top of the green Easter grass.
What's one of your favorite Easter candies? These are my all-time favorite. 😋
Stripes and Minimalism
There is something about the striped napkins, paper mache eggs, and (faux) poppy flowers that just makes my heart happy. It's certainly a more subtle color scheme and embraces a minimalistic style. However, there's such a sweet simpleness to this Easter table setting.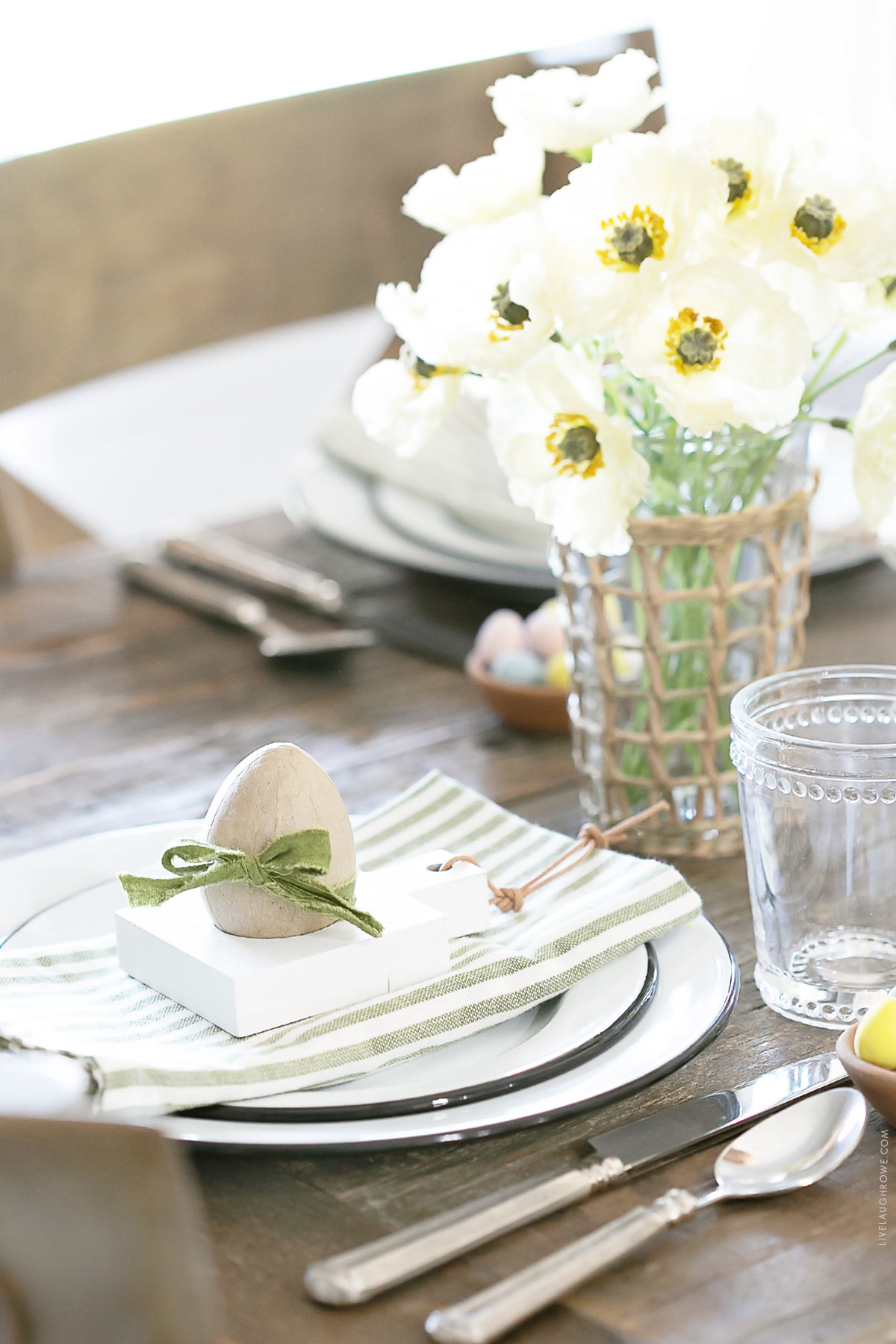 Again, everything was already on-hand. The new pieces used here are the wooden egg holders and the wicker cup I placed the poppies in (both from Hobby Lobby).
Inspiration. These little egg holders are so darling! I added the 1mm round leather cord/lace to the egg holder for a more finished look.
While I used paper mache eggs with olive-colored distressed fabric ribbon, you could do so many fun things. For example, use fun-colored hard-boiled eggs or plastic eggs filled with candy. However, the possibilities are endless.
Meanwhile, the plan is that the egg holder and paper mache egg would go home with my guests. You could easily add a name card if you wanted to as well.
Simple and Chill
Blue Bunny Vibes were the first words that came to mind for this table setting. Haha. I wasn't sure if this one would come together, but it ended up being a favorite. There's a sweet charm to this table setting that gives off a chill vibe.
Above all, I felt the blue chambray napkins paired with the wooden Easter bunny napkin ring were absolutely superb.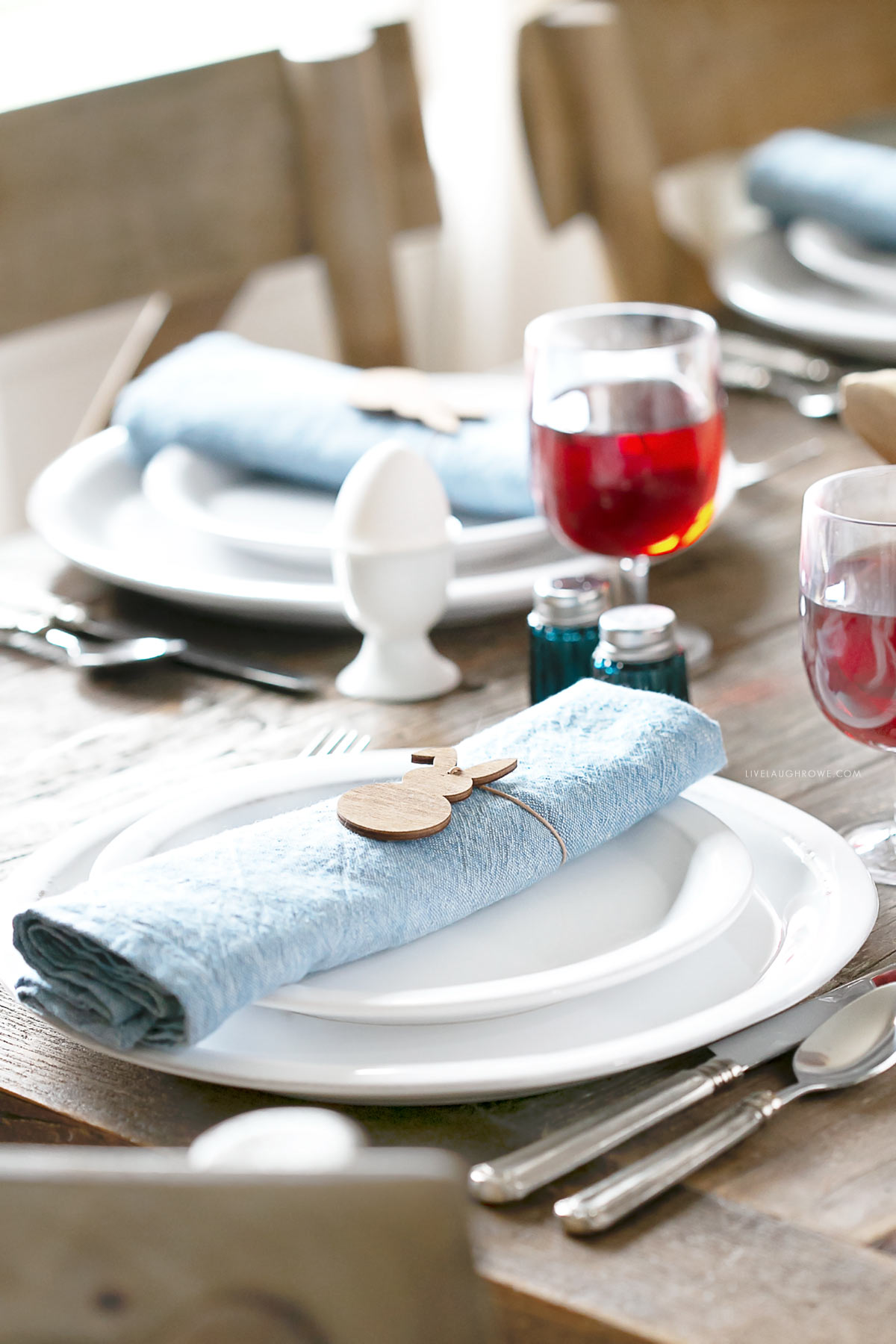 Inspiration. I purchased these unfinished wood easter rabbits on Etsy (they're 3″ in size and 1/8″ thick). They certainly shipped fast and were 100% adorable.
Upon arrival, I used a 5/64″ drill bit for the hole and applied my favorite wood stain (Minwax Provincial). After that, I used the 1mm leather cording to create a loop. I fully intended to use this as a napkin ring — and favor.
On the other hand, these make great Easter ornaments if you're an Easter tree person. You could paint them white and hang them from these willow branches tucked into a vase too.
Other Easter posts to check out:
Polymer Clay Easter Ornaments
Printable Easter Word Search
Easter Place Cards
Hippity Happity Hoppity Easter Print
Easter Gift Boxes
Last but not least — I shared this complete Easter tablescape last year. Check out the full details on this Easter Sunday Tablescape, and how I bought the vintage plates from Facebook Marketplace. Swoon.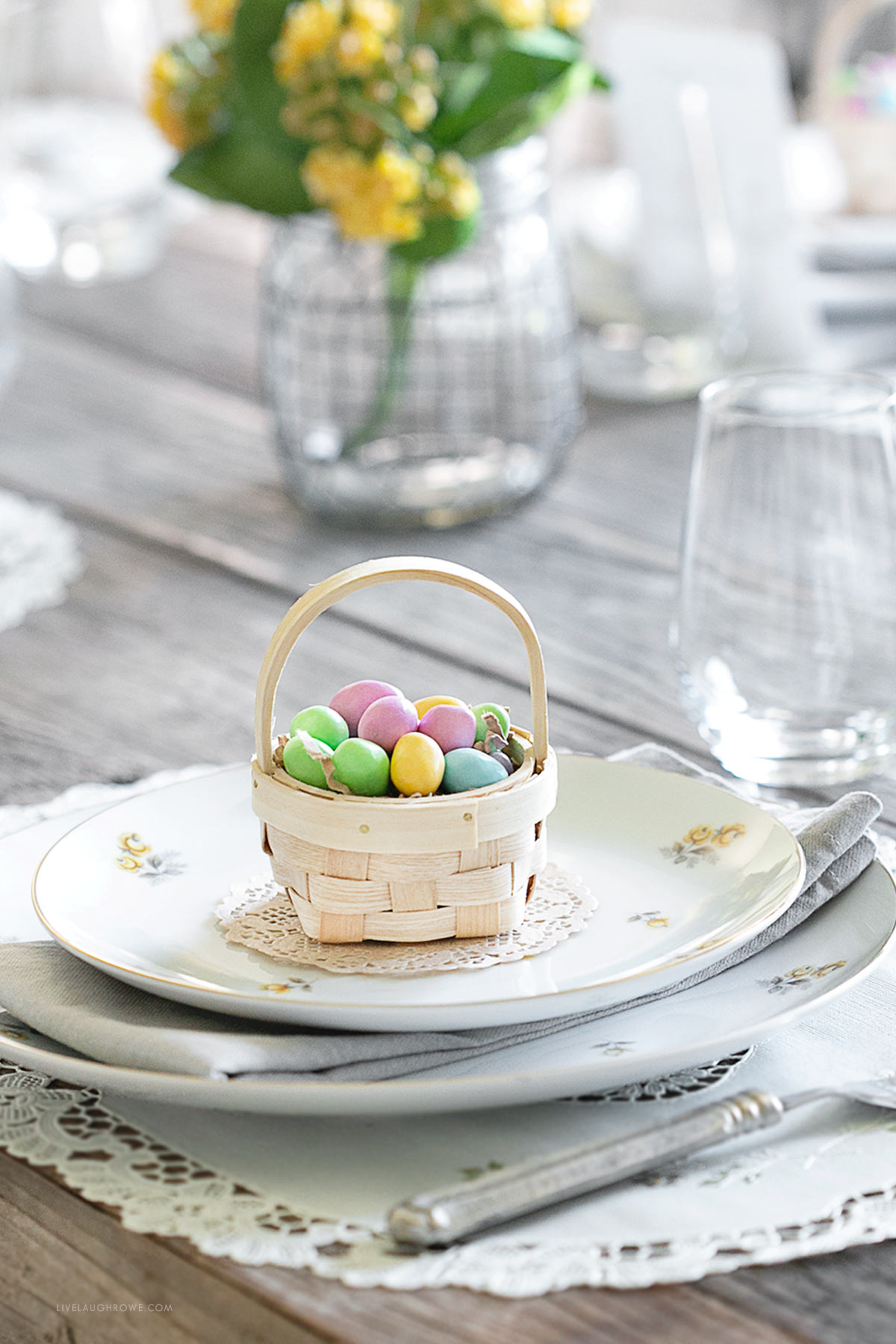 If I'm being honest, I could use these dishes every year… the design is so dainty. I love the yellow — and imagining the story that goes with the history of this set.
That's it! Feeling inspired? You got this, girl… go forth and be awesome!
Supplies for featured Easter favors: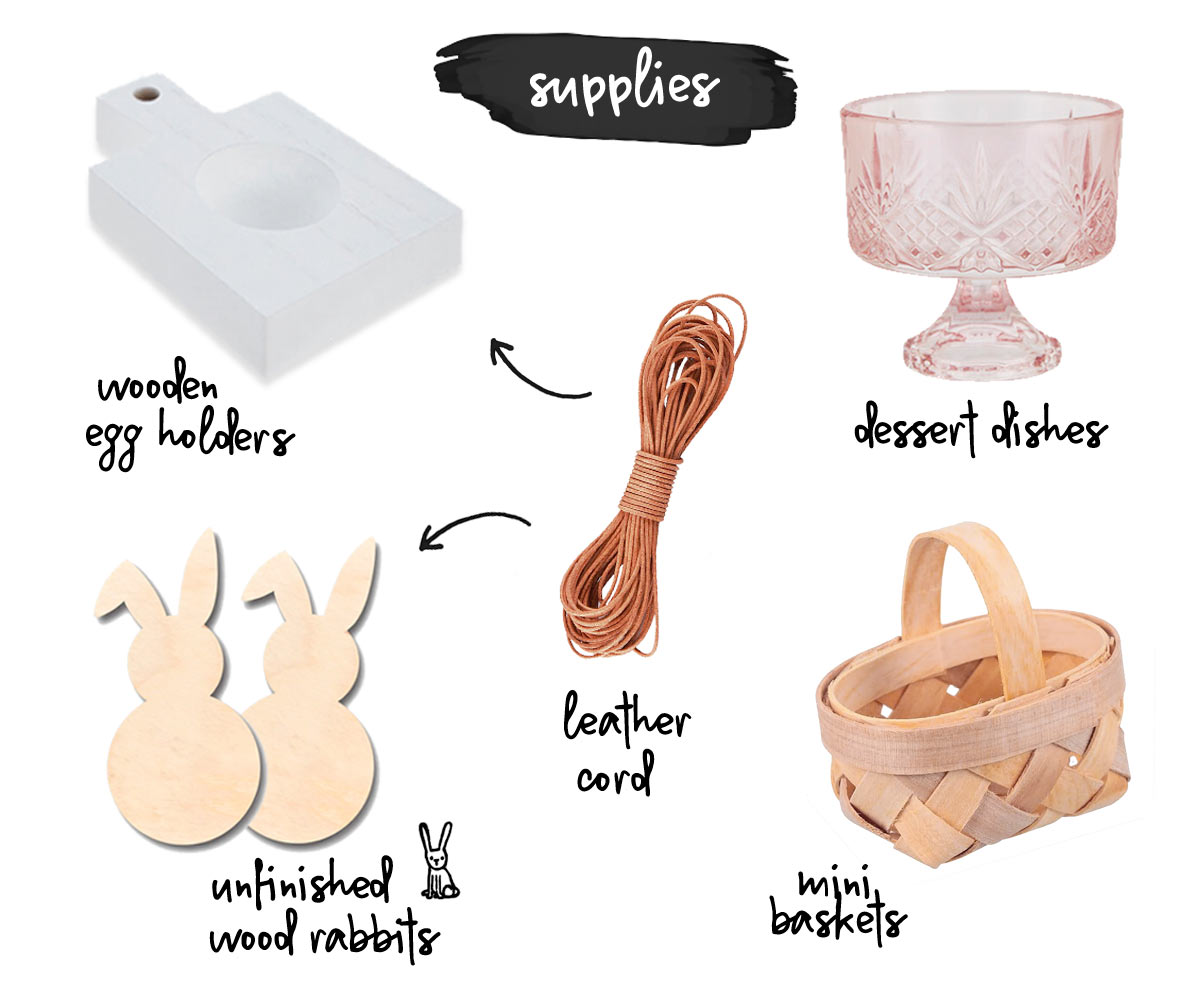 Colorful Dessert Dishes (similar)
Wooden Egg Holder (Hobby Lobby)
1mm Leather Cord
Unfinished Wood Rabbits
Mini Baskets
Easter Grass (not pictured)
Candy