Chinese Takeout Recipes to Enjoy at Home
Do you enjoy Chinese takeout? I do. Well, who says you can't make amazing Chinese Takeout Recipes in the comfort of home? From egg rolls to stir fry, there are lots of great options to choose from.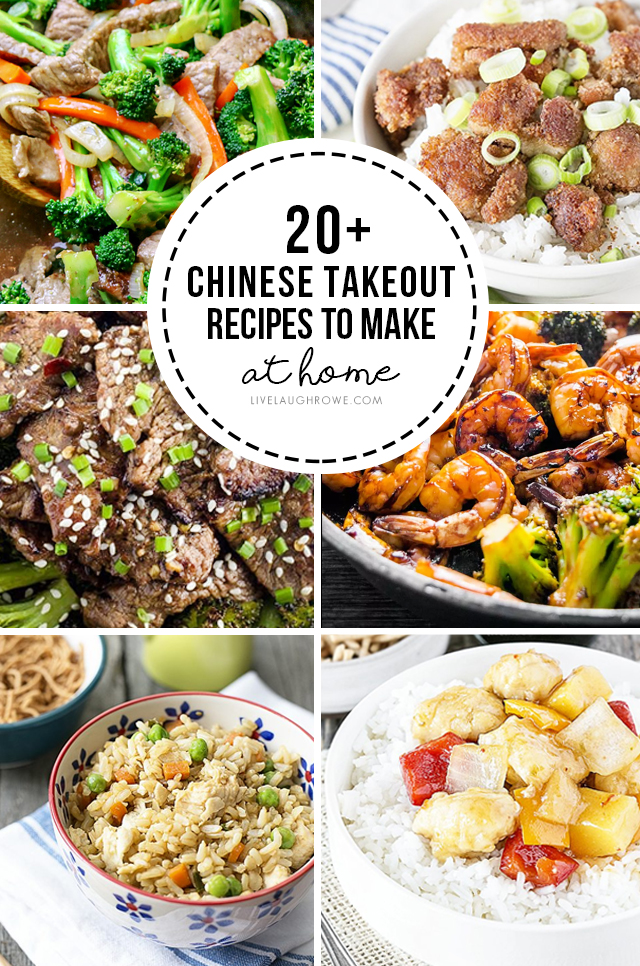 I love Chinese food. Actually, there have been periods of time where we've gotten takeout from our favorite local spot once a week. A popular dish in the Springfield, MO area is Cashew Chicken. (Please note that the Cashew Chicken recipe shared below is not what I'm referring to).
Oh my goodness, it is my favorite. I always order with all white meat and white rice. And don't even get me started on crab rangoon.
Do you have a favorite Chinese dish? Beef and Broccoli? Sweet and Sour Chicken?
On the homefront, the Chinese Sticky Chicken recipe is hands down our favorite at-home Chinese recipe. Plus, it comes with great memories.
Yep, we made it together for the first time when we were dating. The recipe was in a magazine and I remember going to buy all the ingredients together. It's AMAZING. Much better than takeout.
I bet you'll find that with most of these recipes. Winning!
20+ Chinese Takeout Recipes — you can make at home.
Homemade Egg Rolls via Spend it With Pennies
Beef and Broccoli Stir Fry via Homecooking Memories
Instant Pot Pepper Beef via Mooshu Jenne
Chinese Vegetable Soup via DIY Candy
Hunan Beef via Wholesome Yum
Spicy Singapore Noodles via The Suburban Soap Box
Sweet and Sour Pork via Slo Cooking
Portobello Pepper Steak via Creative Green Living
Moo Goo Gai Pan via The Forked Spoon
Chinese Sticky Chicken
Chinese Sticky Chicken via Live Laugh Rowe
Crab Rangoon via Daily DIY Life
Shrimp Lo Mein via Urban Bliss Life
Honey Garlic Shrimp and Broccoli via Homemade Hooplah
Egg Drop Soup via Happy Mothering
Orange Chicken via My Latina Table
Chicken Pot Stickers via Food Al
Chinese Cashew Chicken via Strength and Sunshine
Sesame Cauliflower via Stylish Cravings
Szechuan Shrimp and Broccoli via Peas and Crayons
Chinese Takeout Recipes | Chicken Fried Rice
Skinny Chicken Fried Rice via Live Laugh Rowe
Fried Wontons via Atta Girl Says
Fortune Cookies via Our Pot Luck Family
Mongolian Beef via Cooking With Curls
Sweetfire Chicken via Mom Foodie
Baked General Tso's via Food Al
Shrimp Fried Rice via Happy Mothering
Kung Pao Chicken via The Forked Spoon
Sweet and Sour Chicken with Pineapple
Sweet and Sour Chicken with Pineapple via Live Laugh Rowe
Teriyaki Roasted Vegetables via Peas and Crayons
And that's it! I hope you found some new and exciting Chinese Takeout Recipes to try at home. Let me know how it goes. Enjoy!
Connect with Live Laugh Rowe!
Facebook | Instagram | Pinterest | Twitter
Hugs and Blessings!