Hosting an Easter dinner this year? I'm excited to share this one-of-a-kind table setting. My hope is that this effortless Easter Sunday Tablescape will inspire you. In short, simple can be just as lovely and impressive.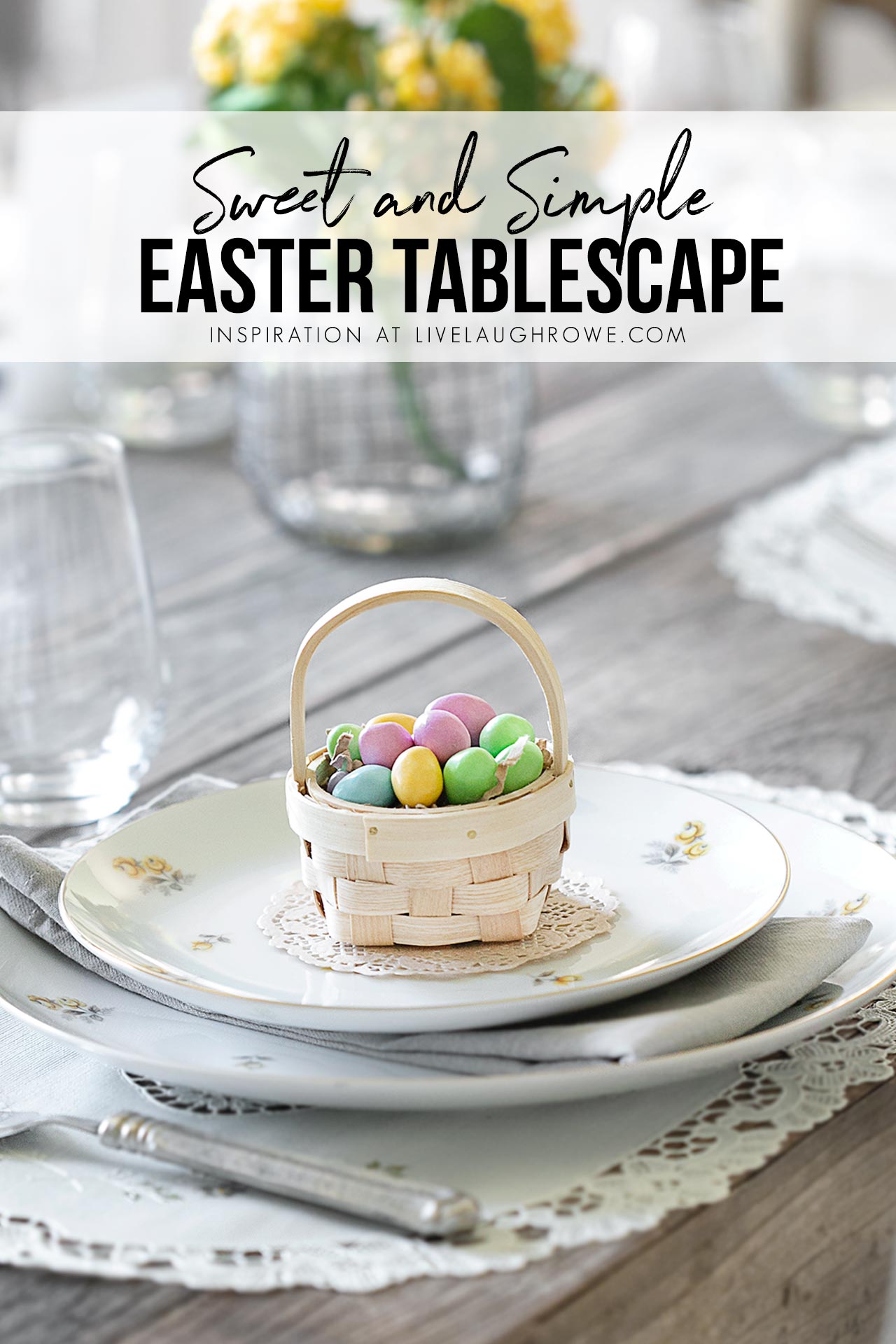 It's hard to believe that I haven't shared an Easter tablescape since 2013. So here are a few of the other Spring and/or Easter Tablescapes I've shared over the years:
Easter + Spring Tablescape
Simple Spring Tablescape
Spring Brunch Ideas for Table Decor
Easter Tablescape
Recently I stumbled upon some pictures from an Easter Sunday Tablescape I did a couple of years ago. Insert facepalm.
I'm honestly not sure whether I forgot to post this tablescape or what. However, it wouldn't surprise me. Hot mess, right here. The struggle is real, friends. Haha.
In short, finding these photos got me thinking. Sometimes we take for granted the holidays we're able to celebrate with family. Growing up, Easters were always special. Then we had many years where we weren't able to be together.
People come together with their families to
celebrate Easter. What better way to celebrate
than to spend a few hours going on the
journey of Christ's life. –Roma Downey
However, now that we're able to have dinner together on Easter and other holidays, I like to make them a little extra special. Why not, right?
Nevertheless, I hosted Easter dinner in 2019 and this is the Easter Sunday tablescape I pulled together.
Plates for Easter Tablescape
This whole tablescape was inspired by the vintage tableware I spotted on Facebook Marketplace. It was a large set from Ariel by Yamaka and subsequently, I couldn't pass it up.
The beautiful dinnerware set was made in Japan and has yellow roses, gray leaves, and gold trim. After purchasing the set, I couldn't wait to put it to good use.
They're lovely and the dainty yellow flowers make me smile. Similarly, they're perfectly spring.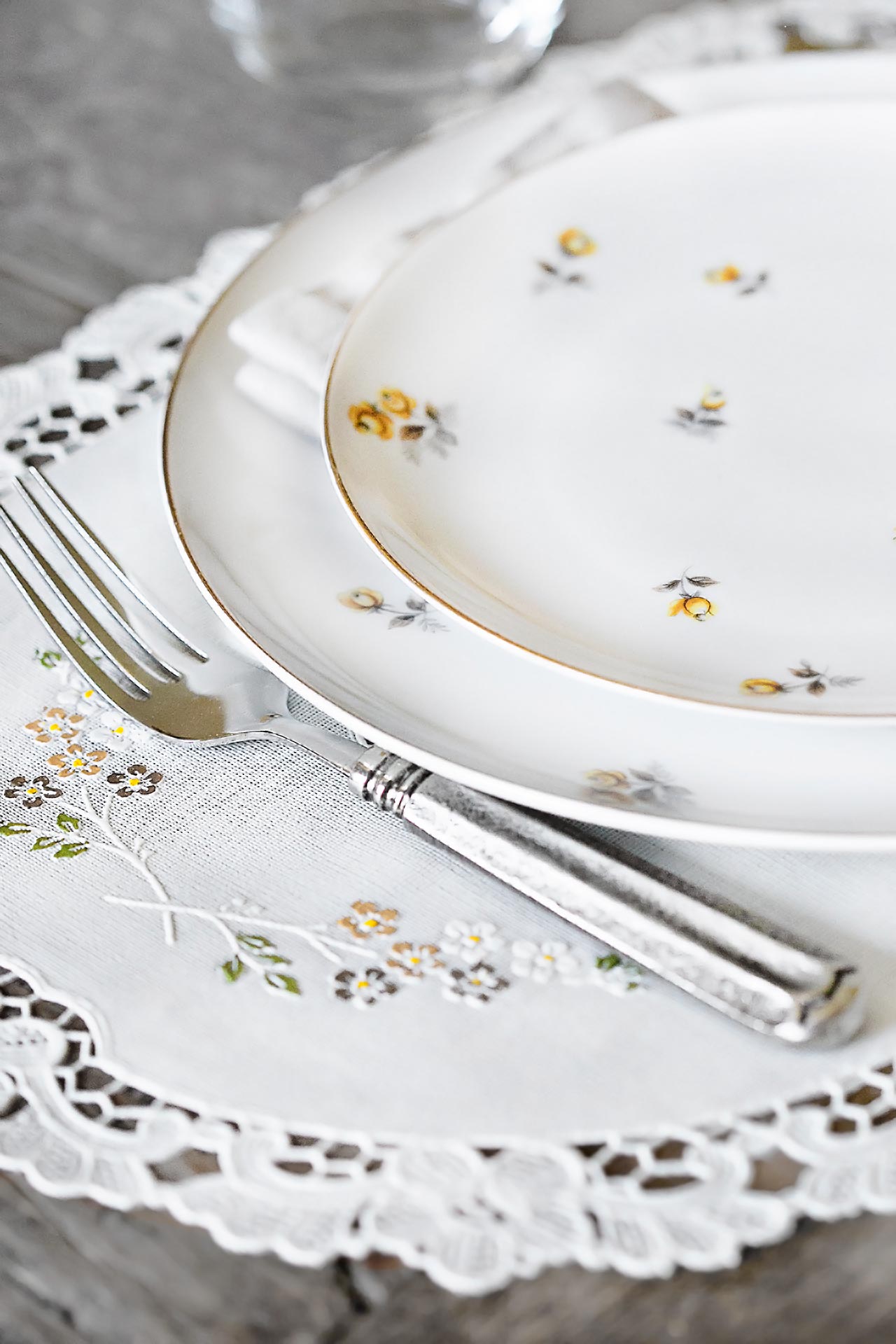 Placemats
Next up, let's talk about the placemats. Aren't they fabulous? I stumbled across these on Amazon. And they matched the plates beautifully.
Can you believe they're vinyl? Yep. So, they're durable, easy to clean, and dry quickly.
When we sat down to eat, my brother asked if I was worried about ruining the lace placemats. I was thrilled that, yes, they looked that real.
Everyone was surprised to hear they were vinyl. To clarify, I'd say it was a great purchase.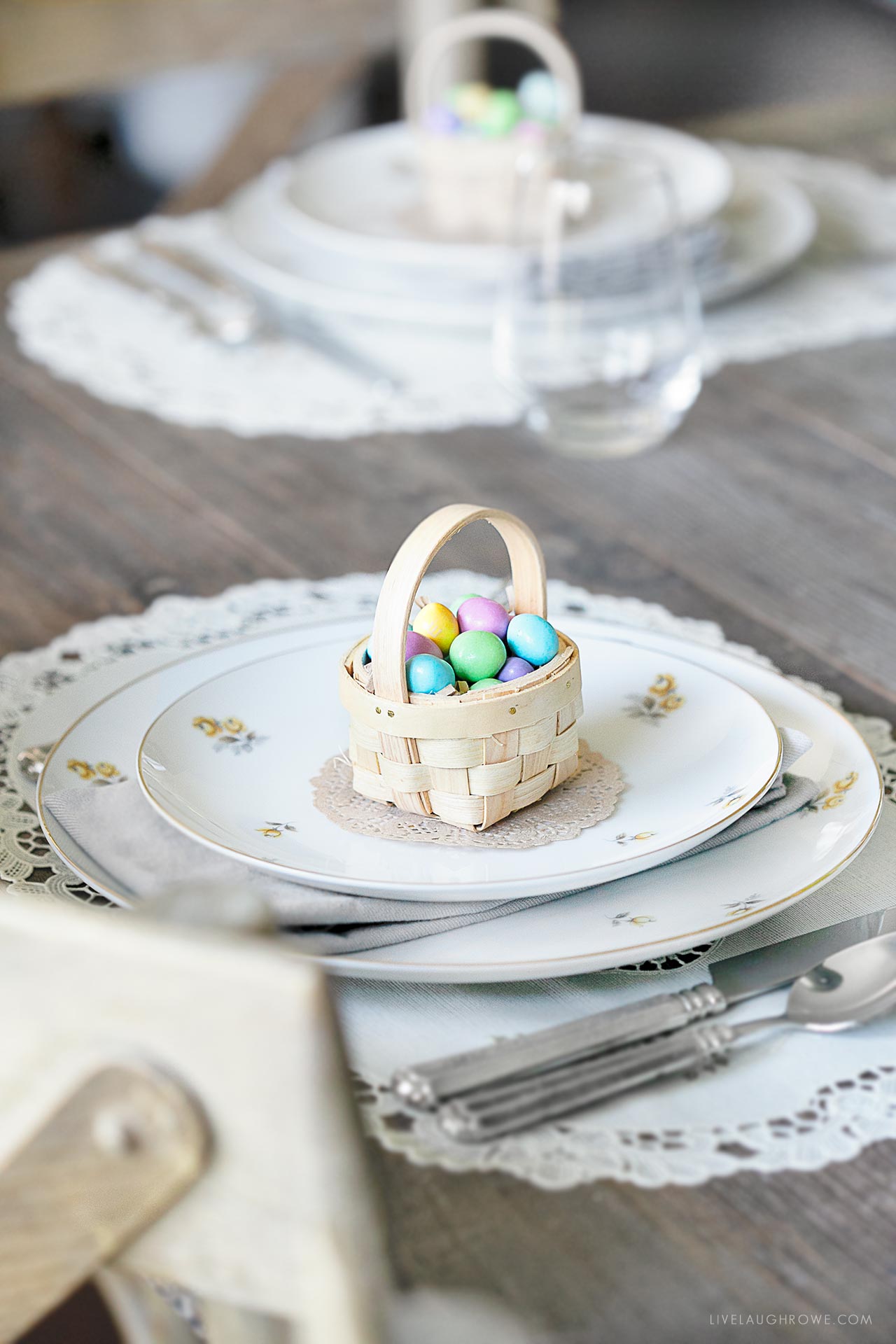 Favors for Easter Sunday
The sweet miniature chipwood baskets are from Factory Direct Craft. They come in assorted styles (round, square, and rectangle) and I absolutely adore them.
I filled them with a little kraft crinkle, added some peanut M&M's, and placed them on small kraft doilies. Super simple, but guess what? They were a hit. Yep, everyone loved them (particularly the women, of course).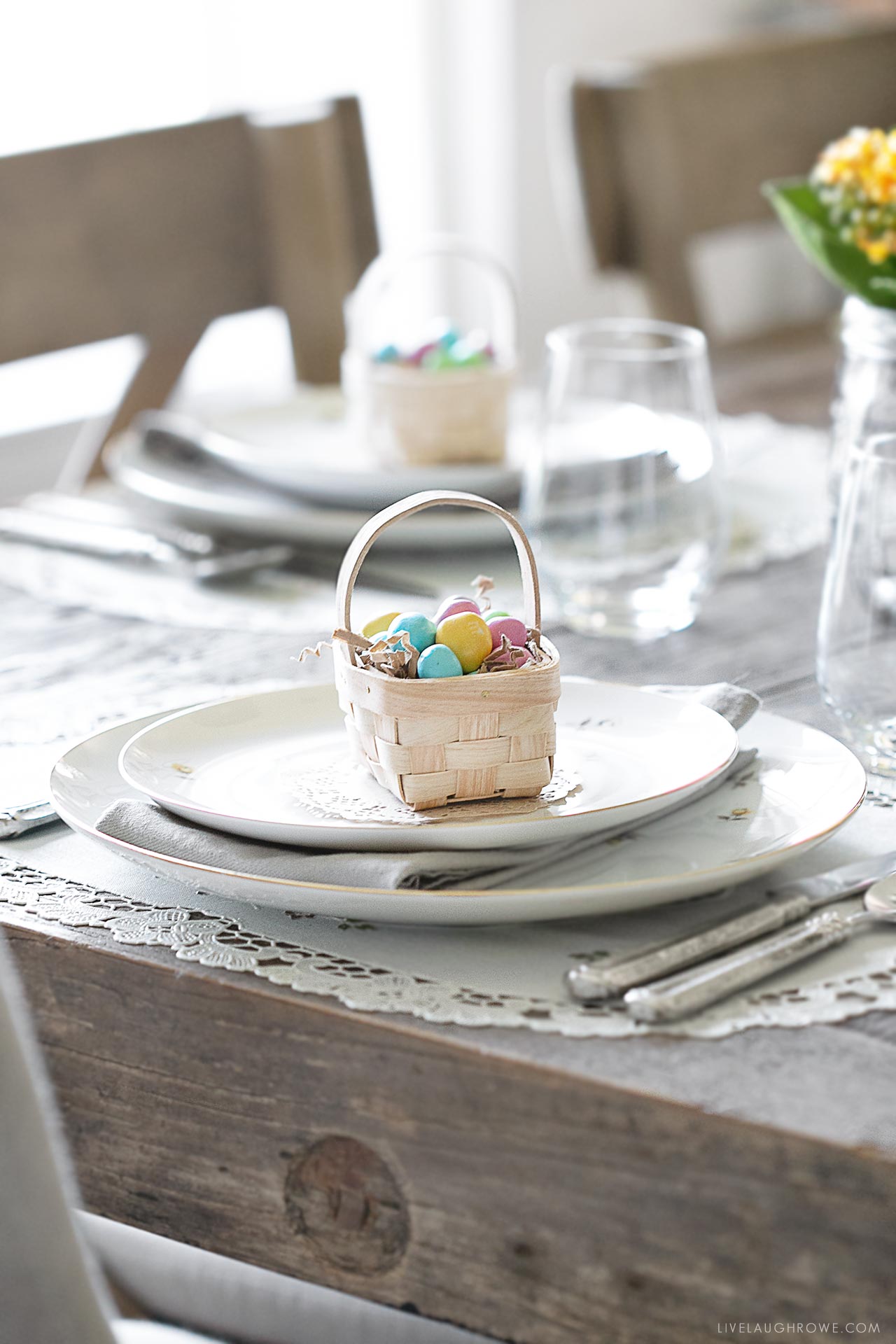 Centerpiece
In addition to the plates, the centerpiece was certainly lovely too. It included wire-wrapped jars with a faux floral stem. Consequently, these floral stems are some of my favorites.
They're so vibrant and I think they look real. What do you think?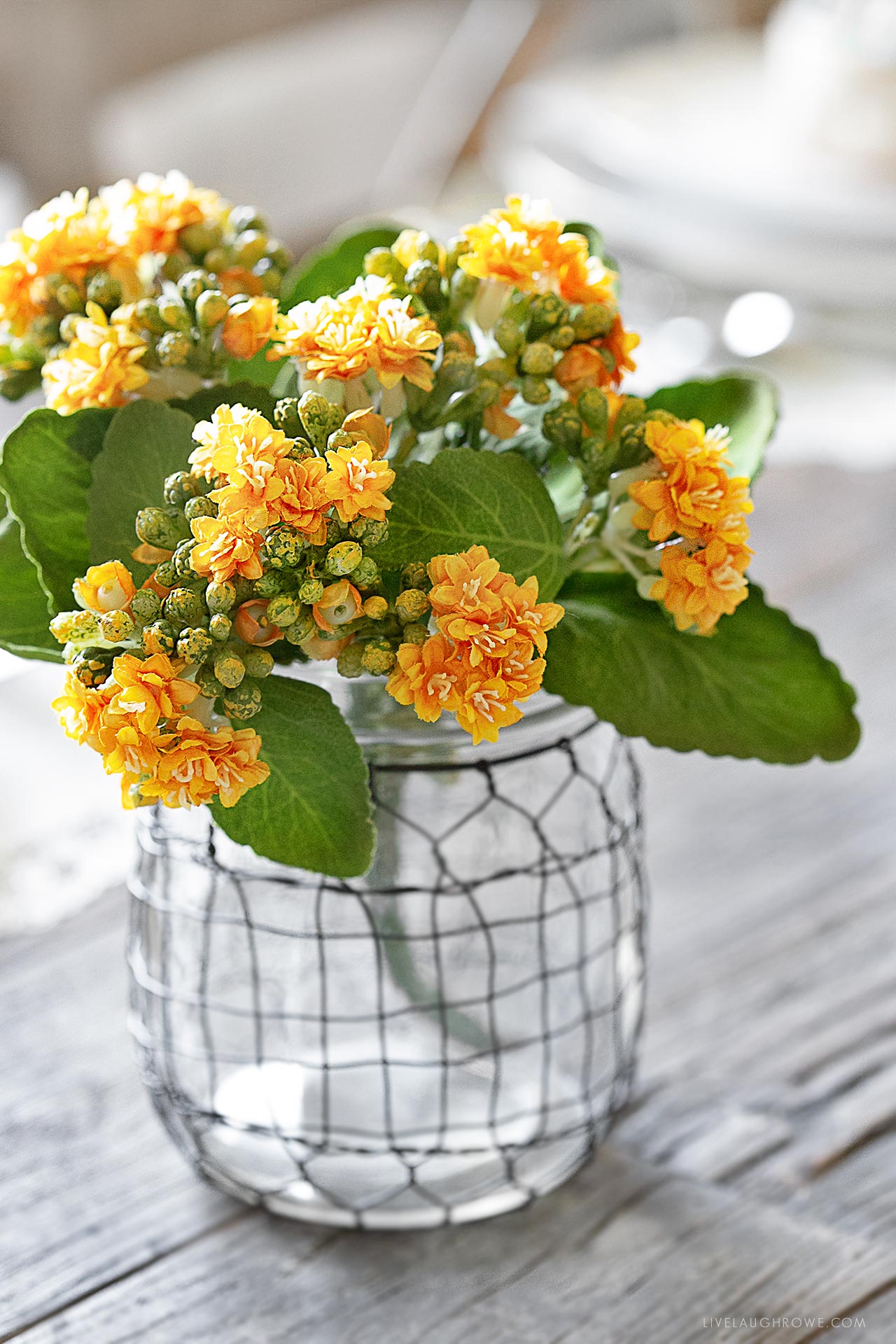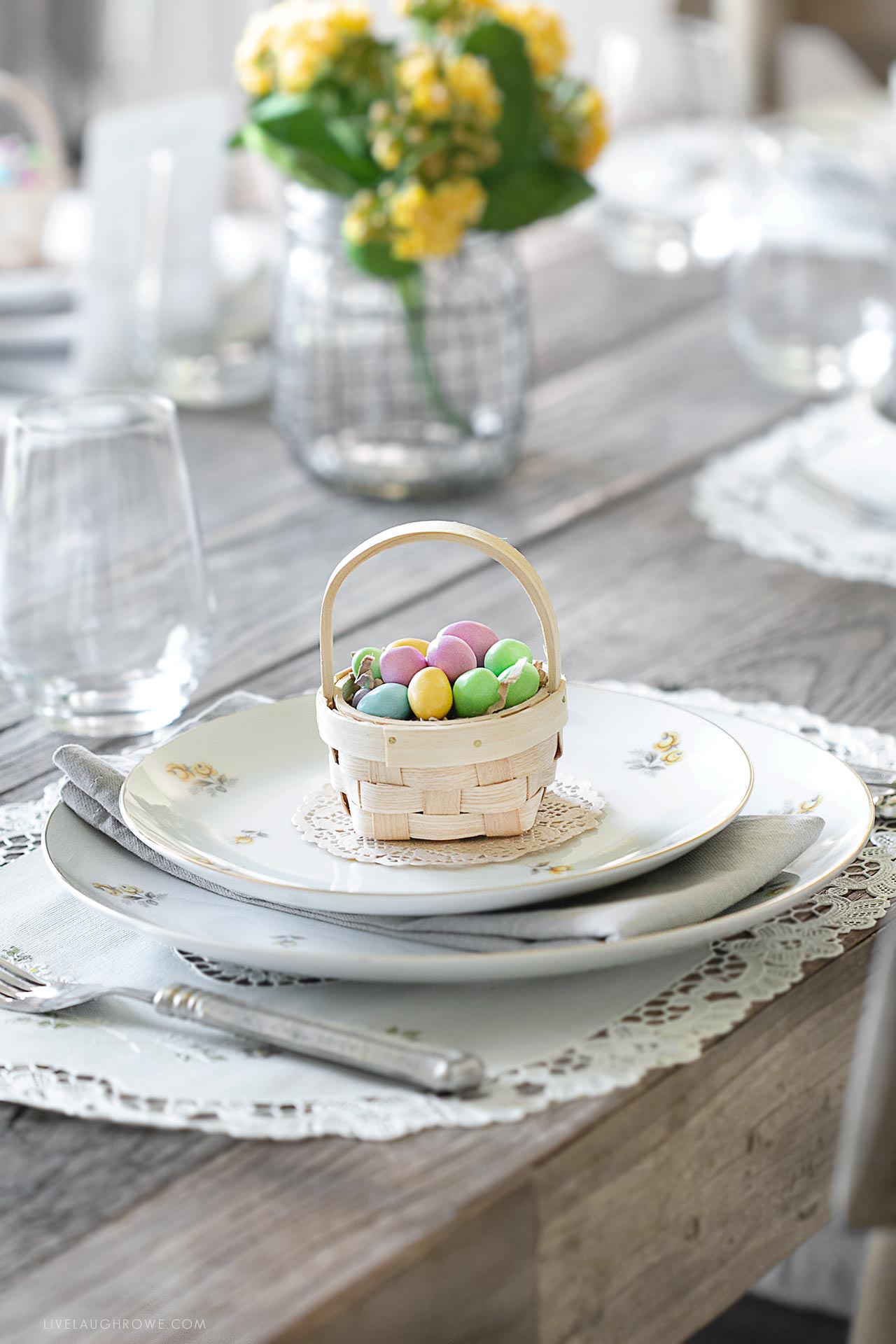 Resources:
Plates, vintage
Vinyl Lace Placemats, similar
Silverware, World Market
Cloth Buffet Napkins
Kraft Doilies
Mini Baskets
Jar and Florals, Local Boutique
Stemless Glasses, similar
Connect with Live Laugh Rowe!
Facebook | Instagram | Pinterest | Twitter
Hugs and Blessings!