Decorating envelopes for snail mail is not merely a way to send a letter; it's an opportunity to send a piece of art. I know that might sound wild, but it's true.
However, there is something special about receiving a handwritten letter in a beautifully decorated envelope that makes snail mail a little more special. It adds a personal touch that cannot be replicated by digital means.
From the use of different colors and different forms of media, decorating envelopes is a thoughtful touch that adds charm to traditional snail mail. So, let's explore some of the techniques, methods, and ideas to inspire you. Let's revive the art of decorating an envelope.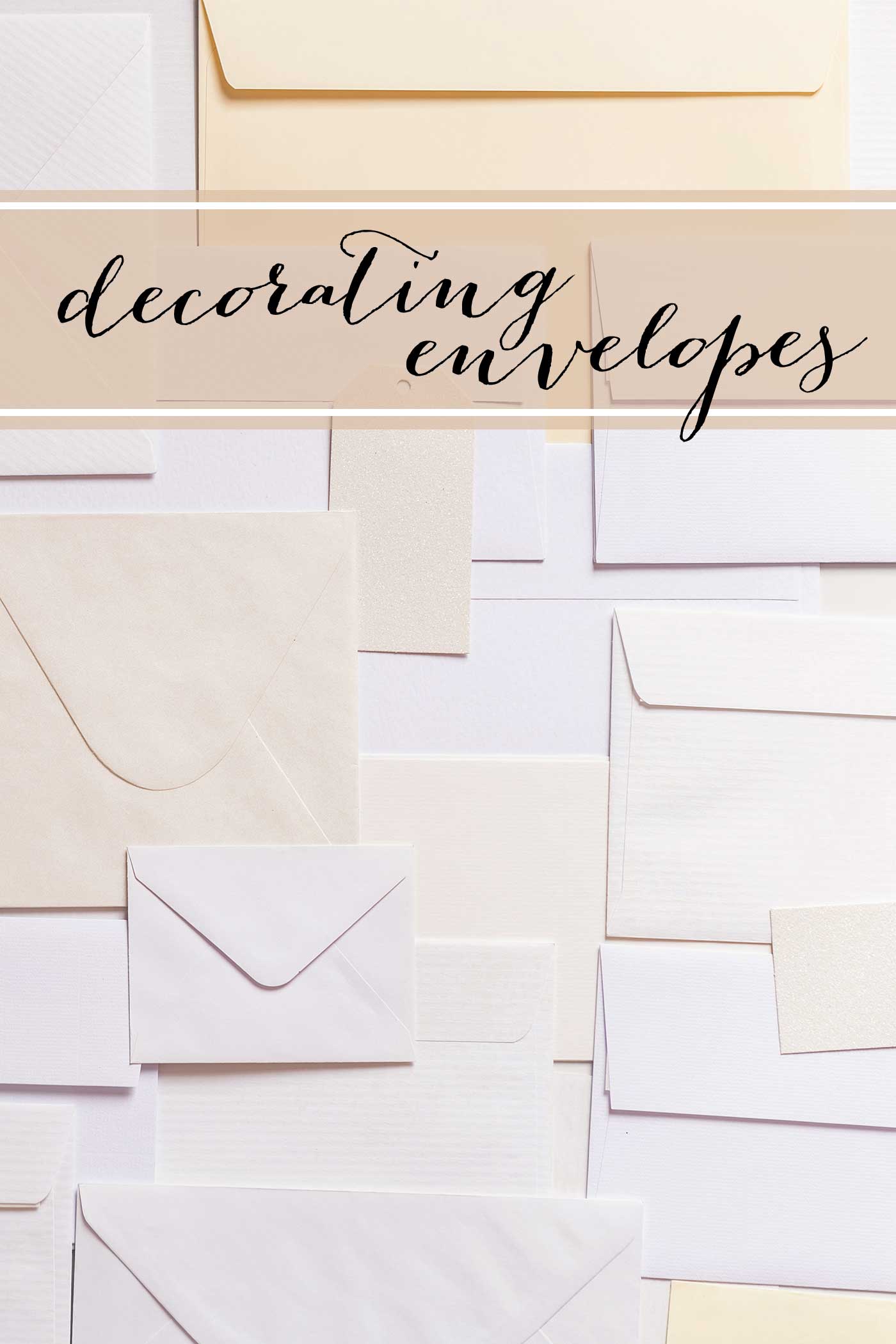 Different Types of Envelopes:
Window Envelopes (#10)
Square Envelopes
Printable Envelopes (DIY)
Translucent Envelopes (I bought these).
Kraft Envelopes
Colorful or Patterned Envelopes
Business Envelopes (#10)
Invitation Envelopes (A2, A4, A7)
5×7 Envelopes (A7)
Money Envelopes
and many others…
Why Decorate Envelopes?
As I've mentioned before in this series, snail mail is a lost art. But the magic of receiving a tangible letter, wrapped in artistic beauty, is incomparable. Decorating envelopes adds a personal touch to the outside.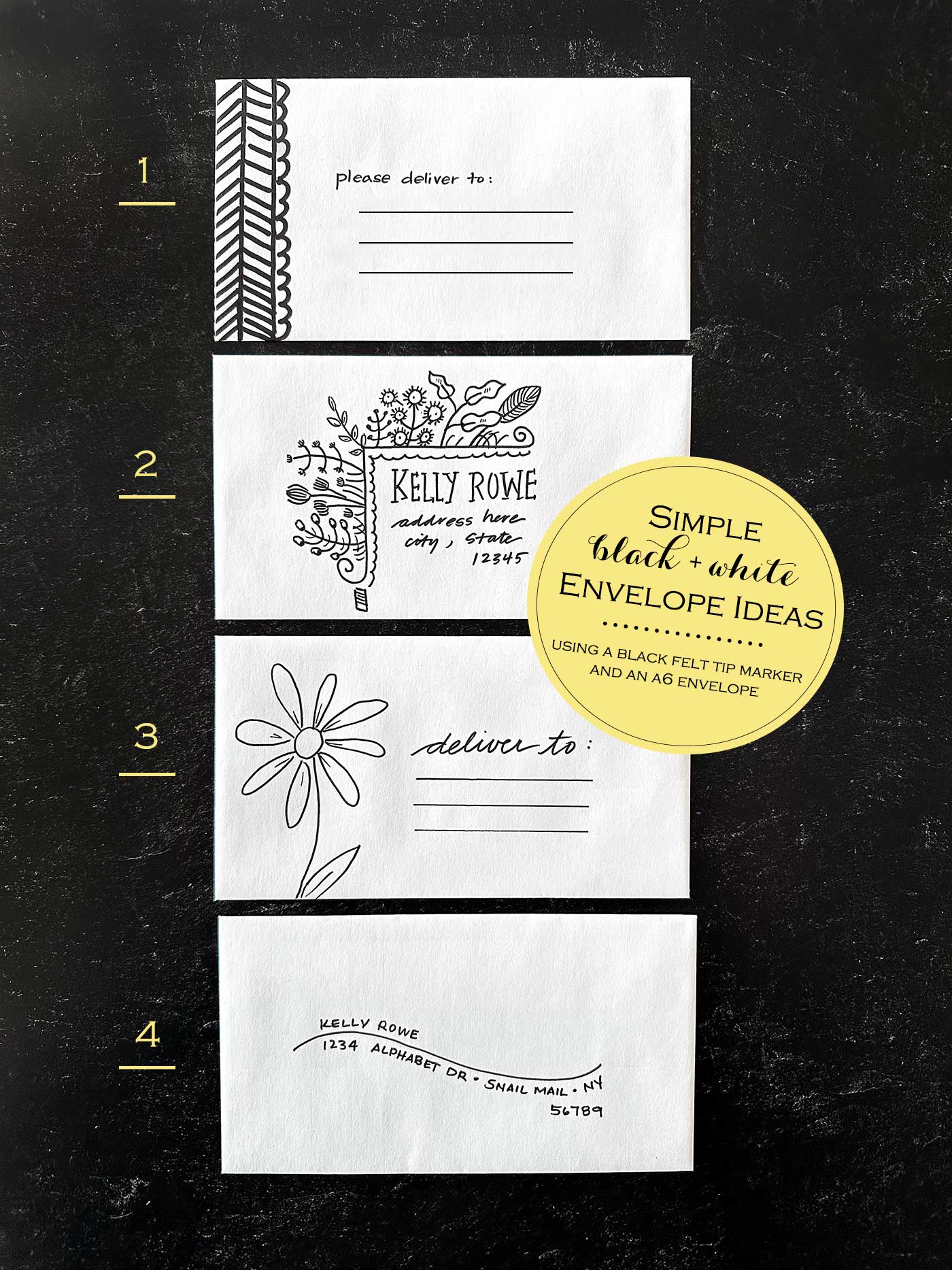 Techniques for Decorating Envelopes
Guess what? You don't need to be an artist to decorate envelopes; all you need is a little inspiration and some basic supplies. Here are a few easy and fun techniques to get you started:
Hand Lettering and Calligraphy: Using artistic writing styles, you can write the recipient's name and address in an elegant way. Various fonts and scripts, like modern calligraphy or traditional cursive, add flair to an otherwise plain envelope.
Stamps and Stencils: Utilizing rubber stamps or stencils can help even those who feel they aren't artistic. Pre-made stamps or stencils offer uniform designs that can be repeated across multiple envelopes, perfect for invitations or holiday cards.
Washi Tape and Stickers: Washi tape comes in many different colors, sizes, and patterns, providing an easy way to add borders, lines, or shapes. Stickers are another great option — adding variety and interest.
Here are a couple of my favorite sticker books:
The Botanists Sticker Anthology
The Bees, Bird, & Butterflies Sticker Anthology
Watercolors and Paint: Watercolors or acrylic paints can add a beautiful touch for those willing to experiment. From soft pastel backgrounds to bold abstract designs, painting allows limitless creativity.
Collage and Mixed Media: Combining various materials like cut-out paper, fabric, or magazine images creates a textured and visually captivating surface.
Postage: Using vintage postage stamps can add a pop of color and interest to your envelope. You can see a couple of examples below.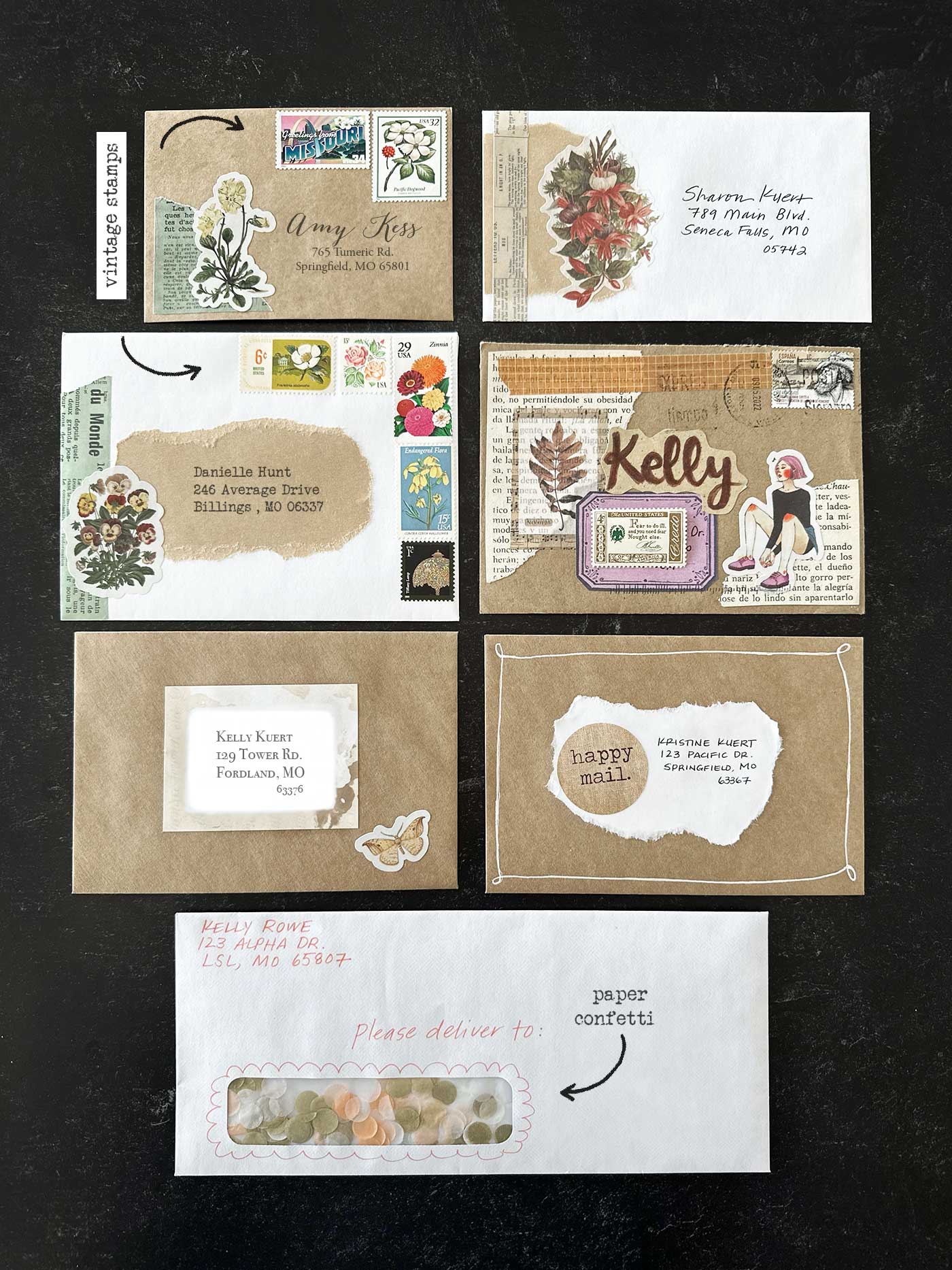 **I sent a window envelope, as seen above, to my sister with the address to the right of the window and the same paper confetti. She received it with no problems. Yay!
Tips for Decorating Envelopes
Consider the Occasion: Tailor your designs to match the purpose of the mail. For example, romantic designs for love letters, festive ones for holidays, or elegant styles for formal invitations.
Know the Postal Regulations: Check with your local postal office about any restrictions or guidelines. Obviously, your decorations should not hinder the readability of the address or the ability to process the mail.
Test Different Materials: Experiment with different paper types, pens, and adhesives to see what works best for your design.
Plan Ahead: Sketch out your ideas first, especially for more complex designs, to ensure everything fits and looks cohesive.
Don't Overcrowd: While being creative, avoid making the envelope too busy. The address should be clear and legible.
Seal Properly: Decorations should never compromise the integrity of the envelope. But, of course, we want the contents to be secure.
Other FABULOUS Resources:
Addressing Guides
Peppercorn Paper*
Nanticoke Lane
Assorted Stickers
Felt Tip Markers
Unused Vintage Stamps
French Curve Ruler Set
About Paige
White Full Sticker Sheets**
Kraft Full Sticker Sheets**
*I have this stamp and this one.
**Print out graphics/clipart to cut out or tear off an address label (as seen above).
Ideas for Inspiration
Seasonal Themes: Match your art with the seasons — for example, autumn leaves, spring flowers, or winter snowflakes.
Cultural Motifs: Utilize motifs from different cultures, like intricate Indian patterns, Japanese cherry blossoms, or African tribal designs.
Geometric Shapes: Abstract and geometric shapes can create a modern, sophisticated look.
Personal Touches: Adding small personal touches, like a wax seal with an initial, makes the envelope uniquely yours.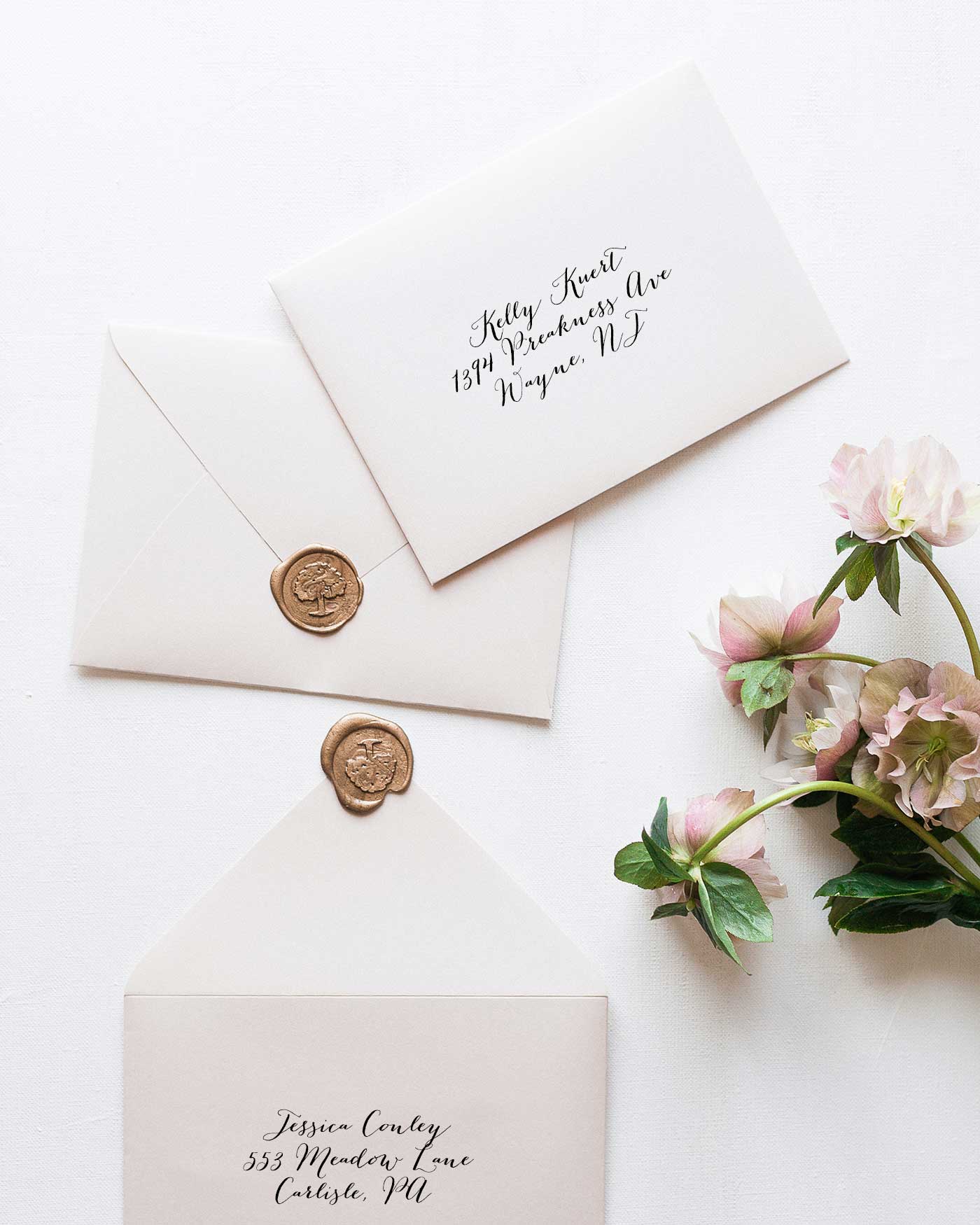 Decorating envelopes for snail mail breathes life into a time-honored tradition, transforming a simple letter into a memorable piece of art. Whether you are a seasoned artist or just want to add a touch of personality to your mail, there's a method to suit your style and skill level.
As you delve into the creative world of envelope decorating, remember to have fun with it. Experiment with different materials, be inspired by the world around you, and most importantly, let your personal style shine through.
The recipient of your decorated envelope will appreciate the extra effort and creativity, turning even the most mundane piece of mail into something extraordinary.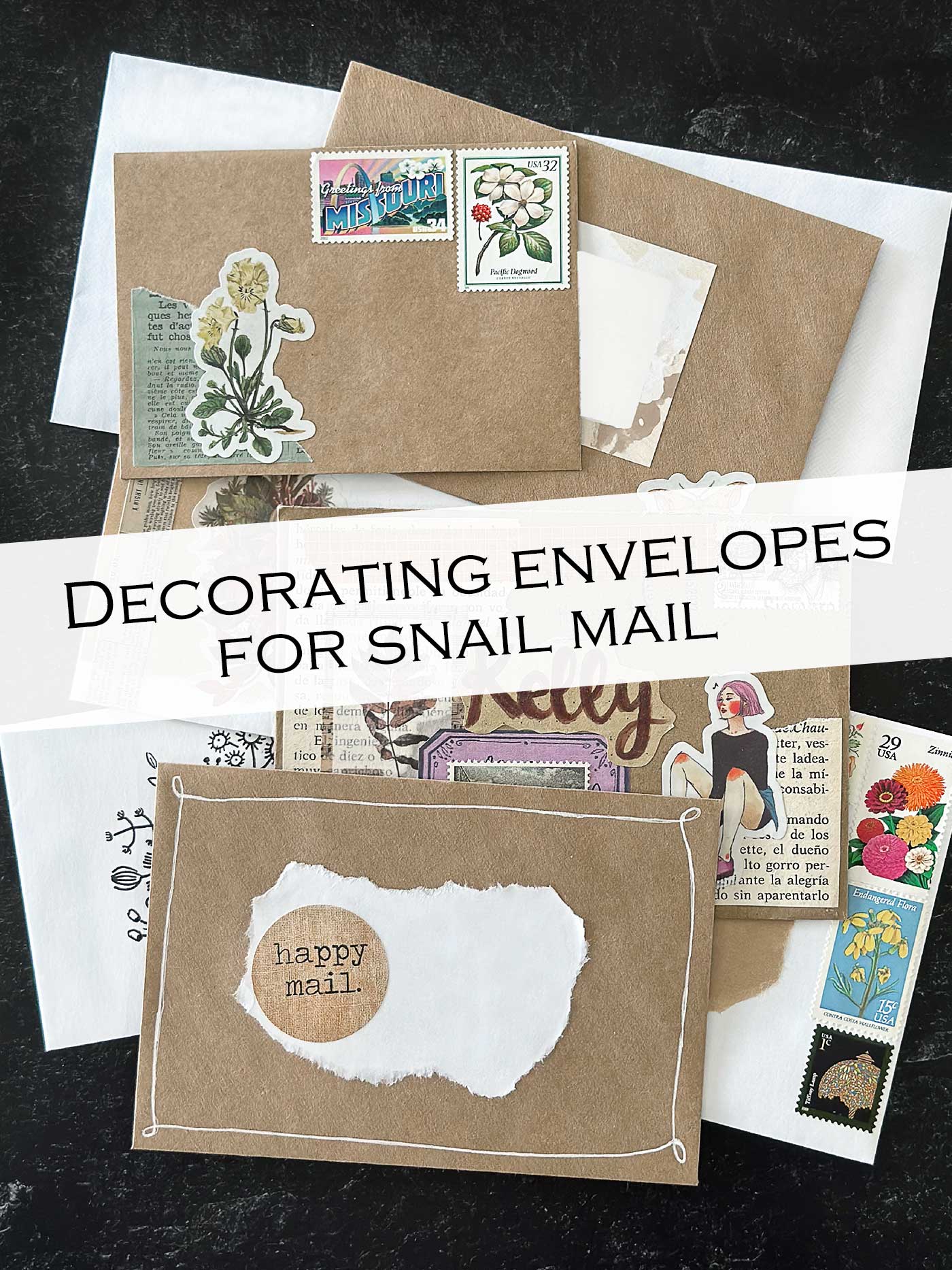 LIKE THIS DECORATING ENVELOPES POST? PIN IT!
Pssst. Enjoying the content? Buying me a coffee or two occasionally is a fabulous way to support all my hard work and the content I provide. Thank YOU!