Most of us probably have a gardener within our circle of friends and family. Whether it's our mom, grandma, a boss, friend, teacher, or neighbor — I think it's safe to say we all know one. Nevertheless, this simple gift for garden lovers is perfectly thoughtful and easy to pull together!
Yay for easy. Can I get an amen?
Have you signed up for e-mail updates? No? Feel free to hit that SUBSCRIBE button in the upper right-hand corner or use the subscription box in the sidebar. And as a result, I'll send some happy mail your way. Mmmmkay?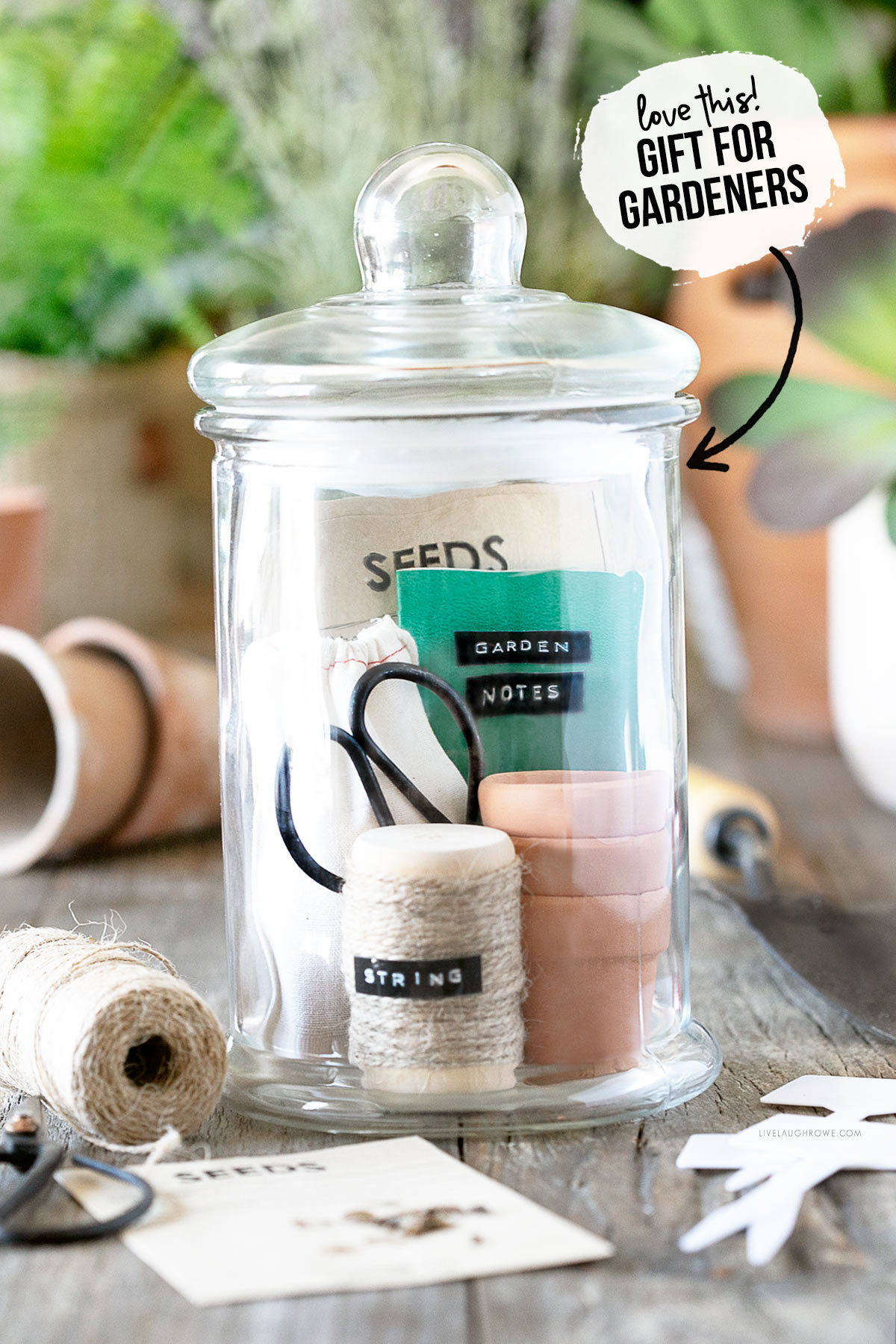 This sweet gift for the gardener is perfect as a seed starter (since the pots are smaller to ensure they fit in the jar), among other things; however, I think it also makes a fantastic decorative piece for spring.
What do you think? So fun, right?
"There are never gardening mistakes,
only experiments." – Unknown.
Several weeks ago, my sister and I saw this idea in our local Hobby Lobby. We both agreed that it needed to be featured here on the blog. It's such a fabulous gift jar idea.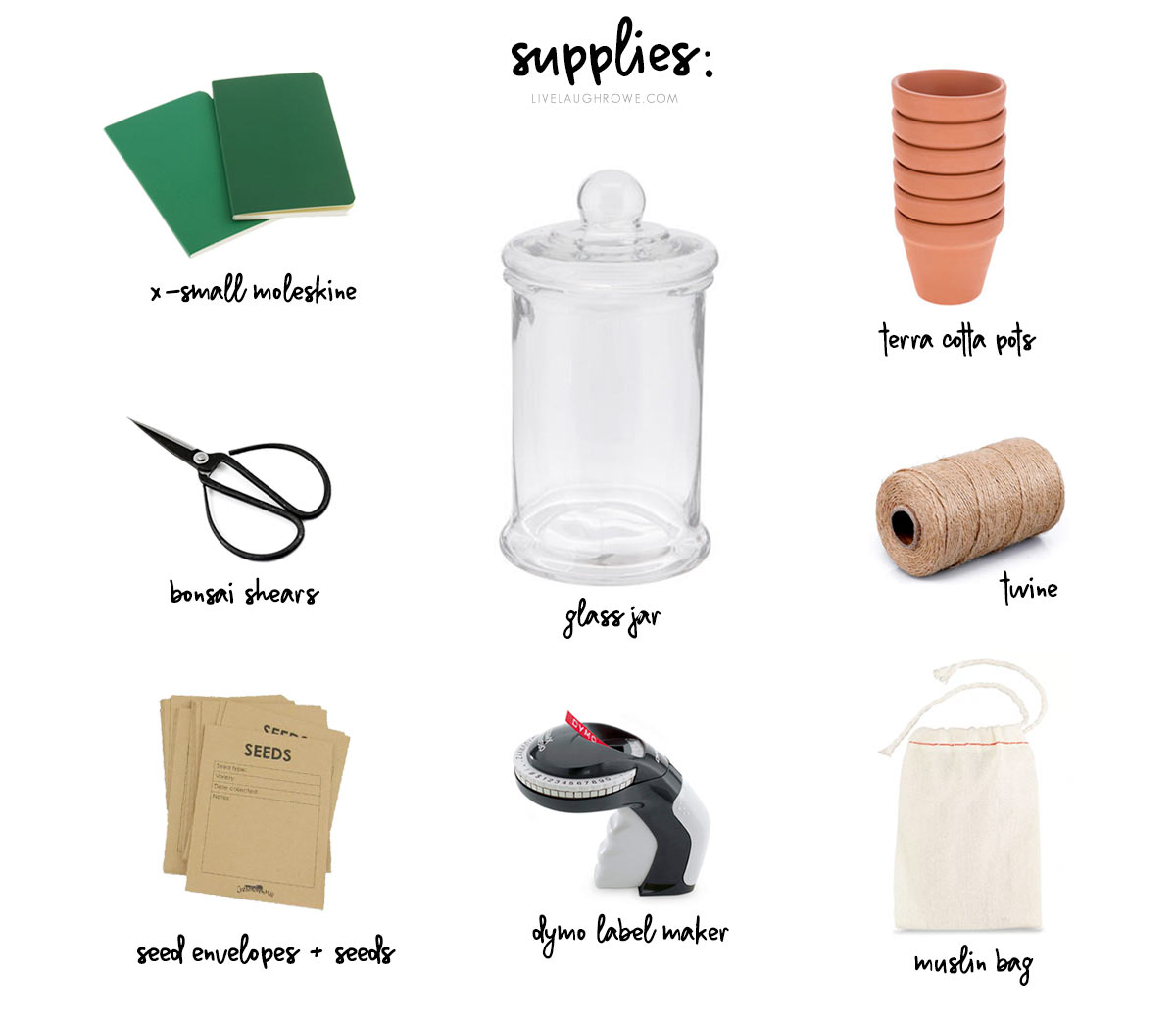 So, let's take a quick look at how this came together and the supplies you'll need.
Supplies used for Garden Gift:
Glass Jars (37 oz. from Hobby Lobby)
Extra Small Moleskine Journal (2.5″ x 4″)
2″ Terra Cotta Pots
Small Bonsai Shears (pictured, 4″)
Seeds
Seed Envelopes
Twine
Muslin Bag (optional)
Dymo Embossing Label Maker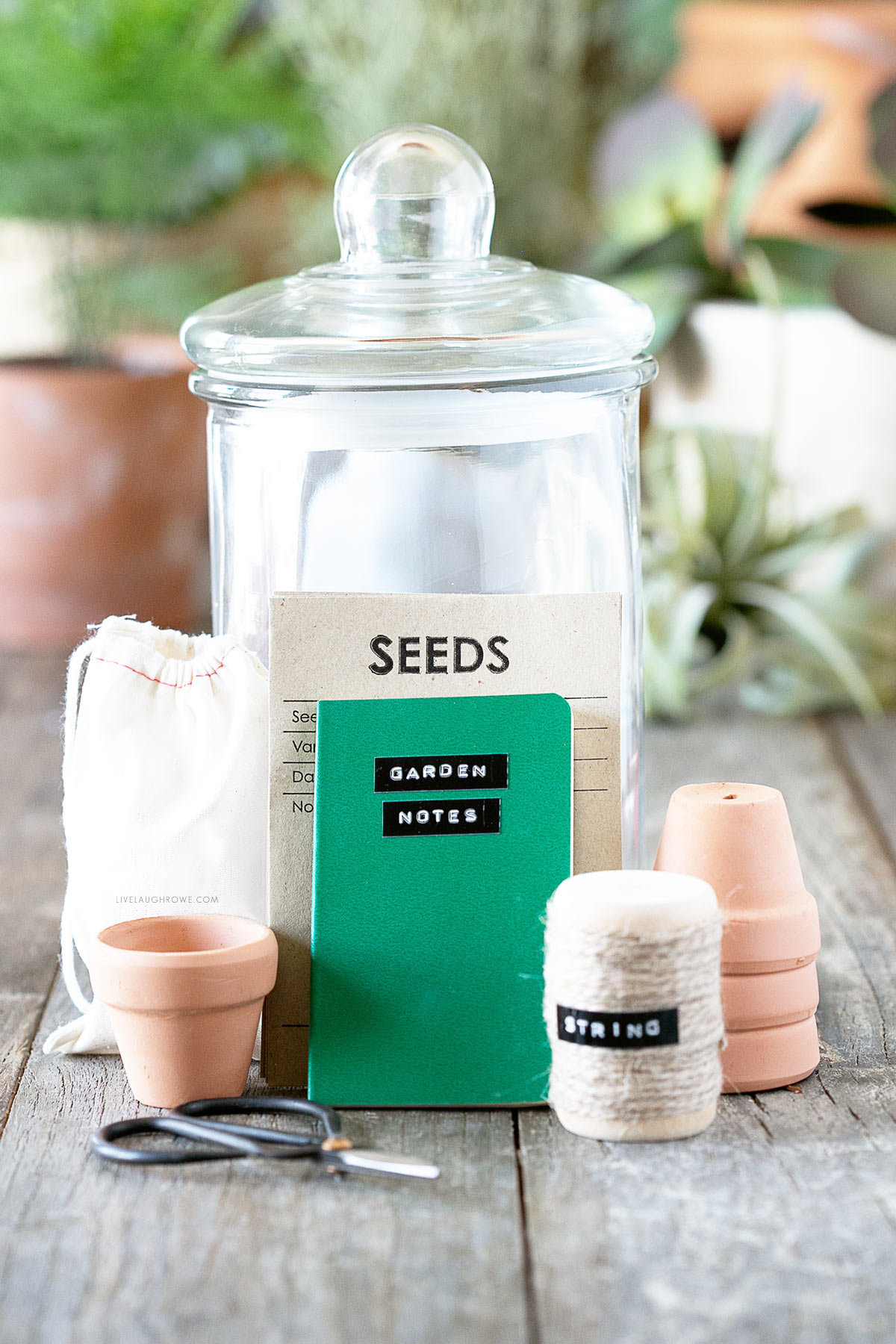 Instructions:
Add tags to notebook and twine using the Dymo embossing label maker.
Place all the gardening goodies in the glass jar. And after that, you're done!
Yep! That's it.
A couple of tips and tricks: I placed one of the little terra cotta pots in the muslin bag (it's more or less decorative). You can't see it since the twine and pots hide it. Also, to raise the seed packets and little Moleskine journal a bit (for more visibility), I placed a small wooden spool on its side at the bottom for them to set on.
The seed envelopes I used were purchased from Terrain a couple of years ago and are no longer available. A Google search for Creamore Seed Envelopes might help you find them if you're interested.
A lovely gift for garden lovers that will add a little extra joy and sunshine to someone's day. Don't you think?
In addition to what is listed above, you could add other fun things to this gardener's jar, like plant labels, plant food or fertilizer spikes, a gift card to a local greenhouse, etc.
Also, if you're in a pinch for time — I'm pretty sure you could find most of the supplies at your local craft store.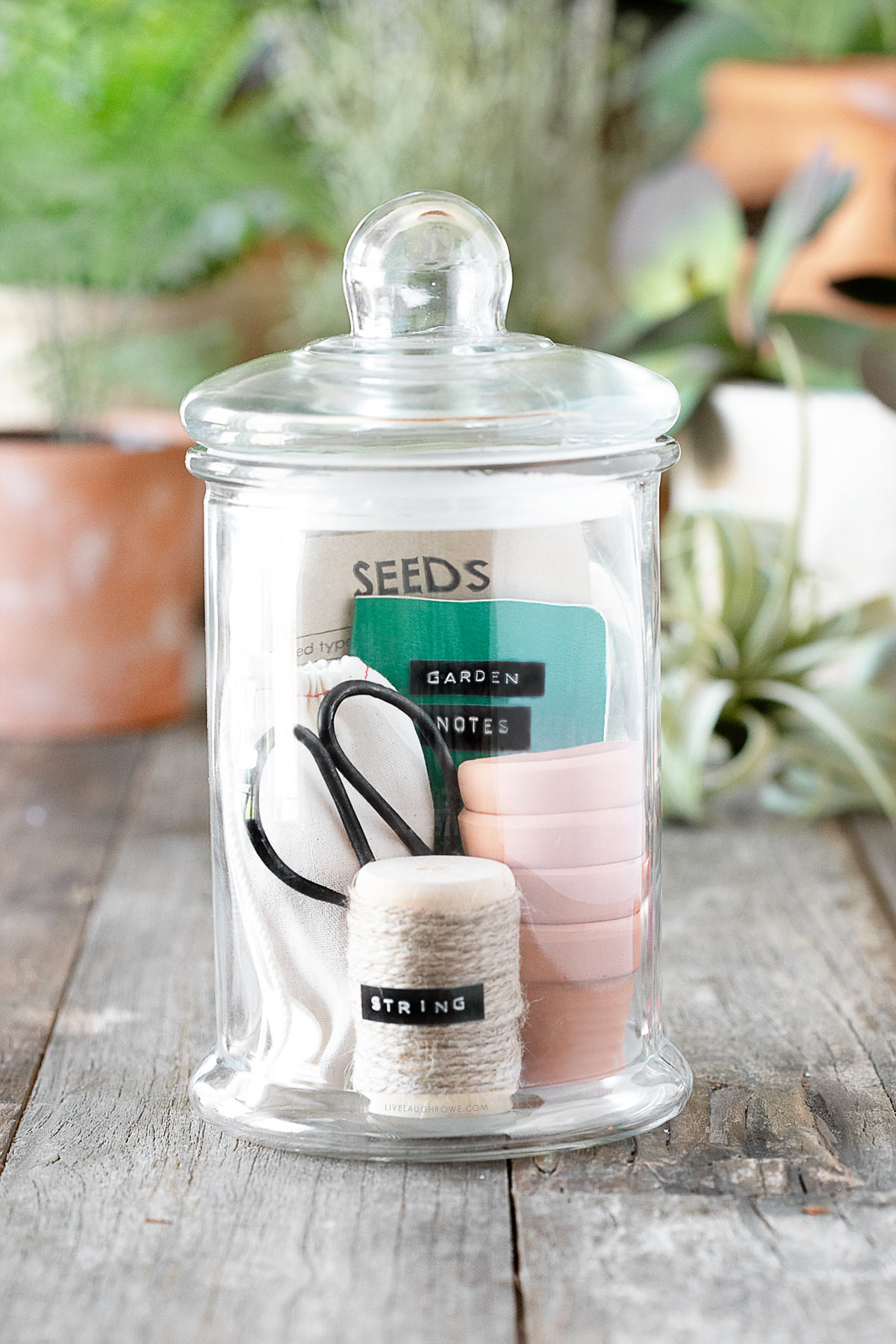 Furthermore, these garden lover gift jars make great Mother's Day or Thank You gifts too! I added a kraft gift tag around the top of the jar coupled with a simple message for labeling.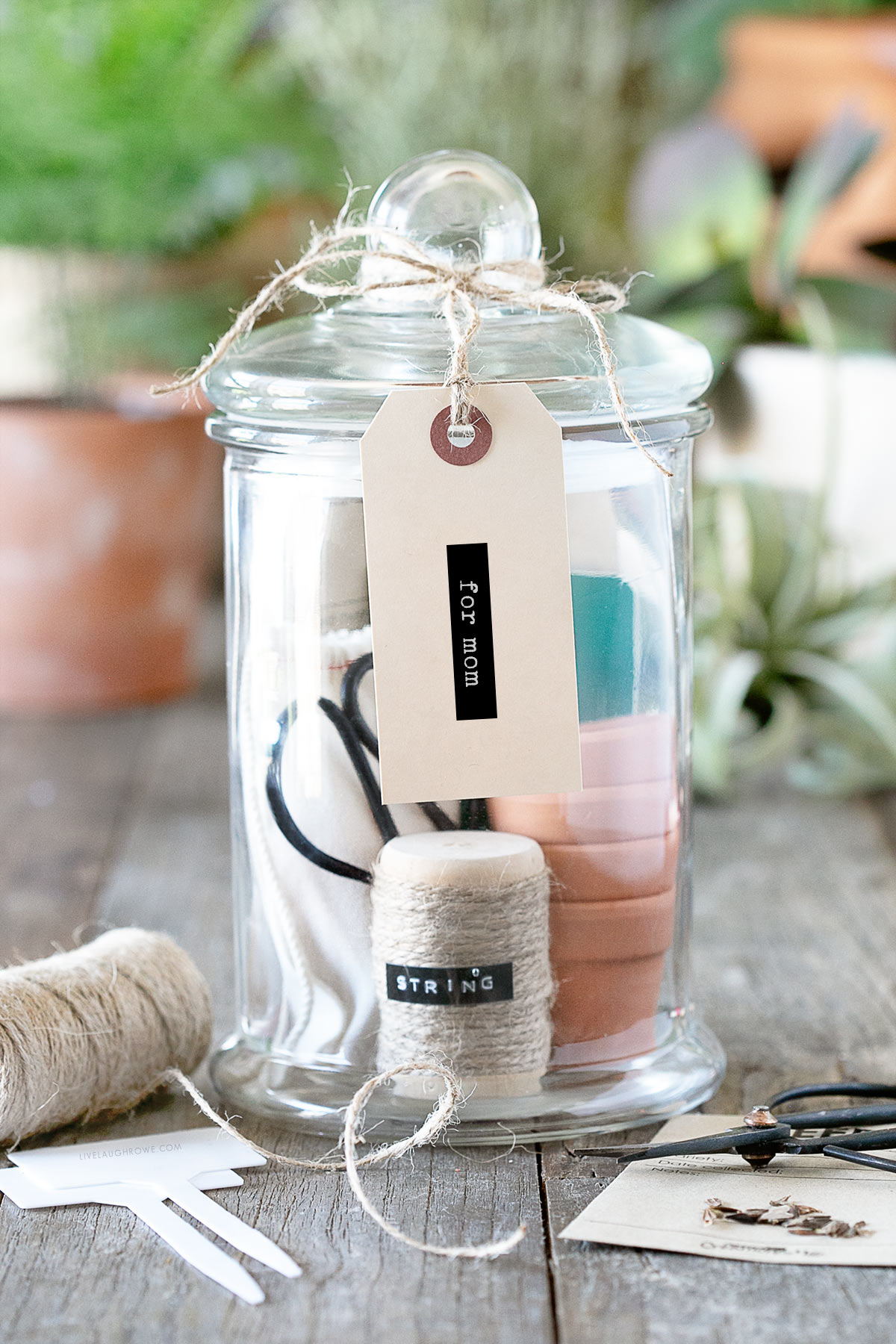 Here's to gifting and spreading a little extra kindness along our journey. Overall, I hope this simple gift idea inspires you.