Butterflies. Their delicate wings and vibrant, colorful patterns have long captivated the imagination. Creating a butterfly garden is one way to encourage butterfly populations and enjoy their mesmerizing beauty. This lovely butterfly garden printable is a great way to keep these winged wonders and their vital role in our ecosystem at the forefront of our minds.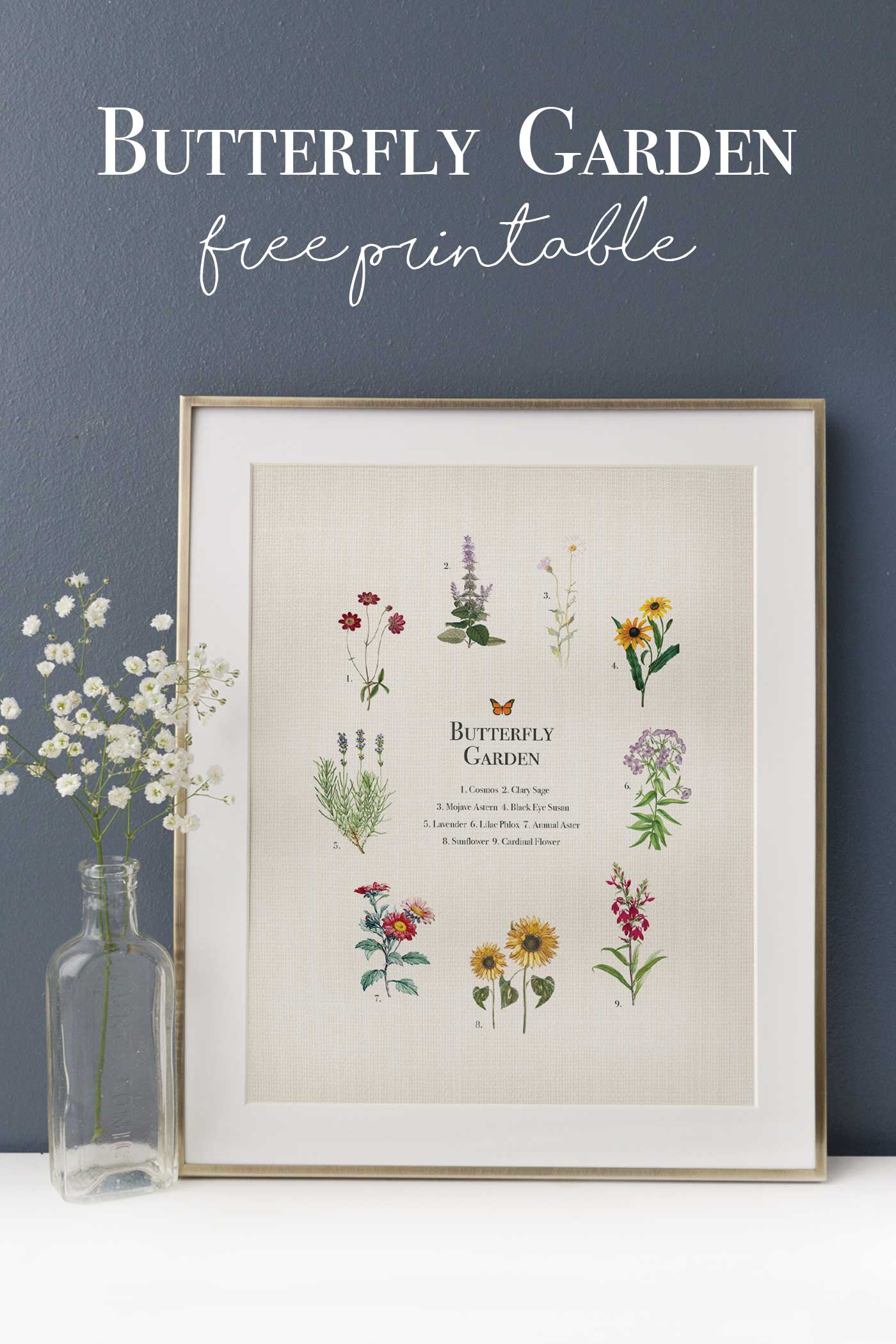 Butterflies are pollinators. They help plants reproduce, producing fruit, seeds, and flowers that sustain other wildlife and beautify our landscapes. With careful planning and selection of appropriate flora, butterfly gardens create a sanctuary for these graceful creatures. They also contribute significantly to the overall health of our ecosystems.
When I think of a butterfly garden, I think of a walking path we frequented in Gulf Shores, Alabama. Several spots were along the trail with signage about not mowing or spraying due to the butterfly habitats.
On one occasion, several monarchs were visiting. They were beautiful. I think that's what inspired this post and printable.
What is a Butterfly Garden?
A butterfly garden is a space intentionally designed to attract and nurture butterflies. Unlike regular gardens that prioritize aesthetics alone, a butterfly garden focuses on the butterfly's life cycle.
These gardens offer a buffet of nectar-rich flowers and provide host plants where butterflies lay their eggs. By creating such havens, we support the delicate balance of nature and contribute to protecting the butterfly.
The whole process makes my heart happy.
The Importance of Butterfly Gardens.
Butterflies, often referred to as nature's pollinators, play a crucial role in maintaining the ecological balance of our planet. Their dance from flower to flower facilitates pollination, enabling the reproduction of many plant species. This process, in turn, sustains the foundation of ecosystems by supporting plant growth, fruit production, and the feeding habits of numerous animal species. However, with the increasing loss of natural habitats due to urbanization and agriculture, butterflies face challenges in finding suitable areas for breeding and feeding.
Enter the butterfly garden, a carefully curated space to provide butterflies with the resources they need to thrive. These gardens offer a buffet of nectar-rich flowers and provide host plants where butterflies lay their eggs. By creating such havens, we support the delicate balance of nature and contribute to protecting these enchanting insects.
A Butterfly Haven: The Right Flowers for the Right Guests
Creating a butterfly garden is not just about planting a few flowers. It's an art that involves understanding the specific needs of these insects and choosing the right plants accordingly. The selection of flowers is so important. They serve as a source of nectar for adult butterflies and food for caterpillars. Native plants are particularly beneficial. They are adapted to the local environment and can support a broader range of native butterfly species.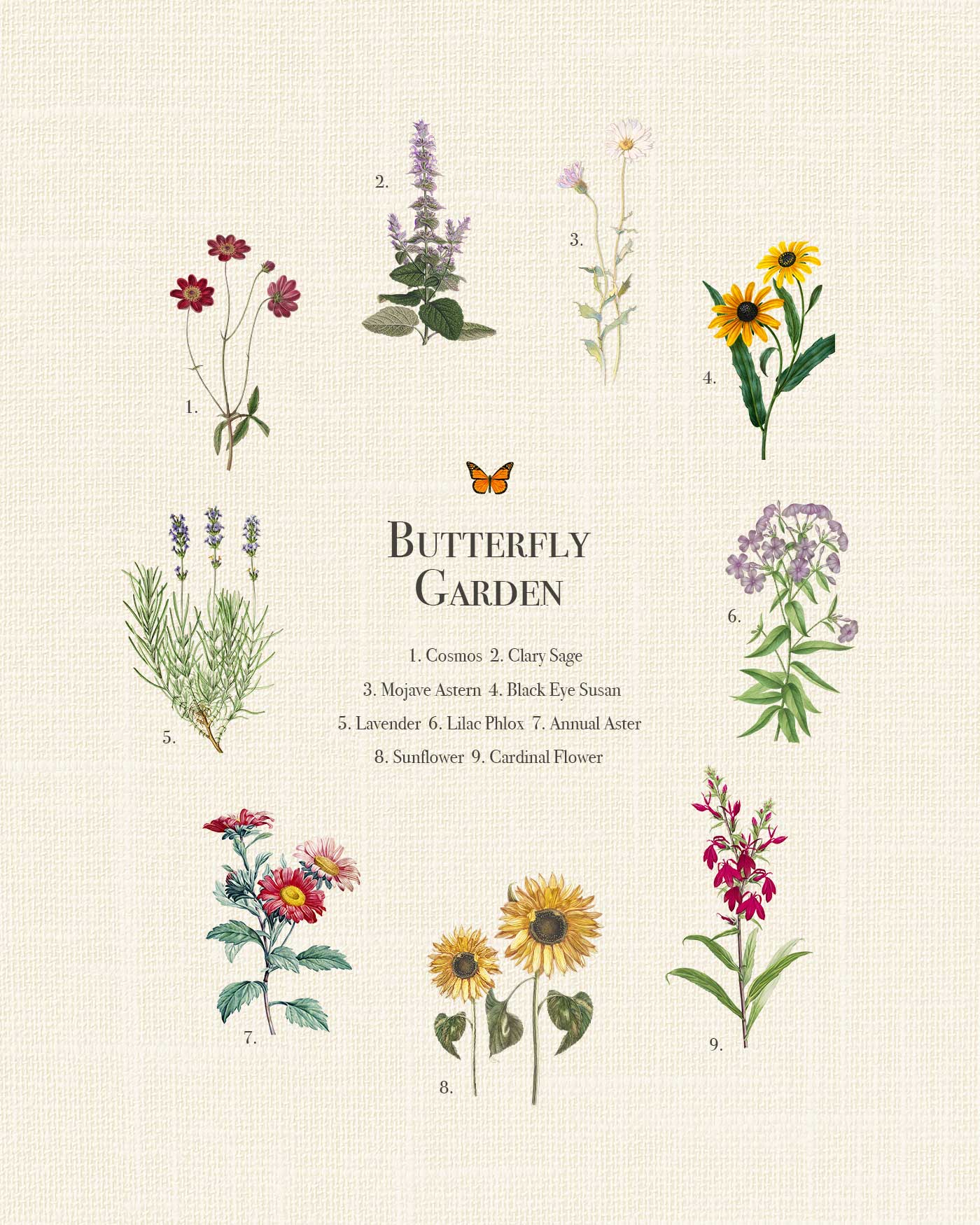 Some popular choices for nectar-rich flowers in butterfly gardens include:
Milkweed: This plant is a vital food source for Monarch butterfly caterpillars. It also offers nectar to a variety of adult butterflies.
Lantana: With its vibrant clusters of flowers, lantana attracts butterflies like a magnet due to its copious nectar production.
Purple Coneflower: This perennial beauty appeals to many butterfly species. And adds a lovely touch of elegance to the garden.
Zinnias: These colorful annuals are a favorite among butterflies and gardeners for their easy care and abundant nectar.
Bee Balm: Apart from attracting butterflies, bee balm also draws hummingbirds, adding to the visual spectacle.
Black-Eyed Susan: This hardy flower provides a landing pad for butterflies while offering them a hearty meal.
Verbena: With long-lasting blooms, the sweet nectar makes verbena a must-have in any butterfly garden.
Asters: Fall-blooming asters extend the butterfly season by providing sustenance when other nectar sources might be scarce.
Do you have a butterfly garden? Steve and I have talked several times about planting some nectar-rich flowers in a corner of our backyard.
The Butterfly Garden Printable
I hope you'll enjoy displaying this printable in your home — and that you're inspired to plant a few of the popular flowers listed above. This Butterfly Garden Printable is sized at 8×10. Enjoy.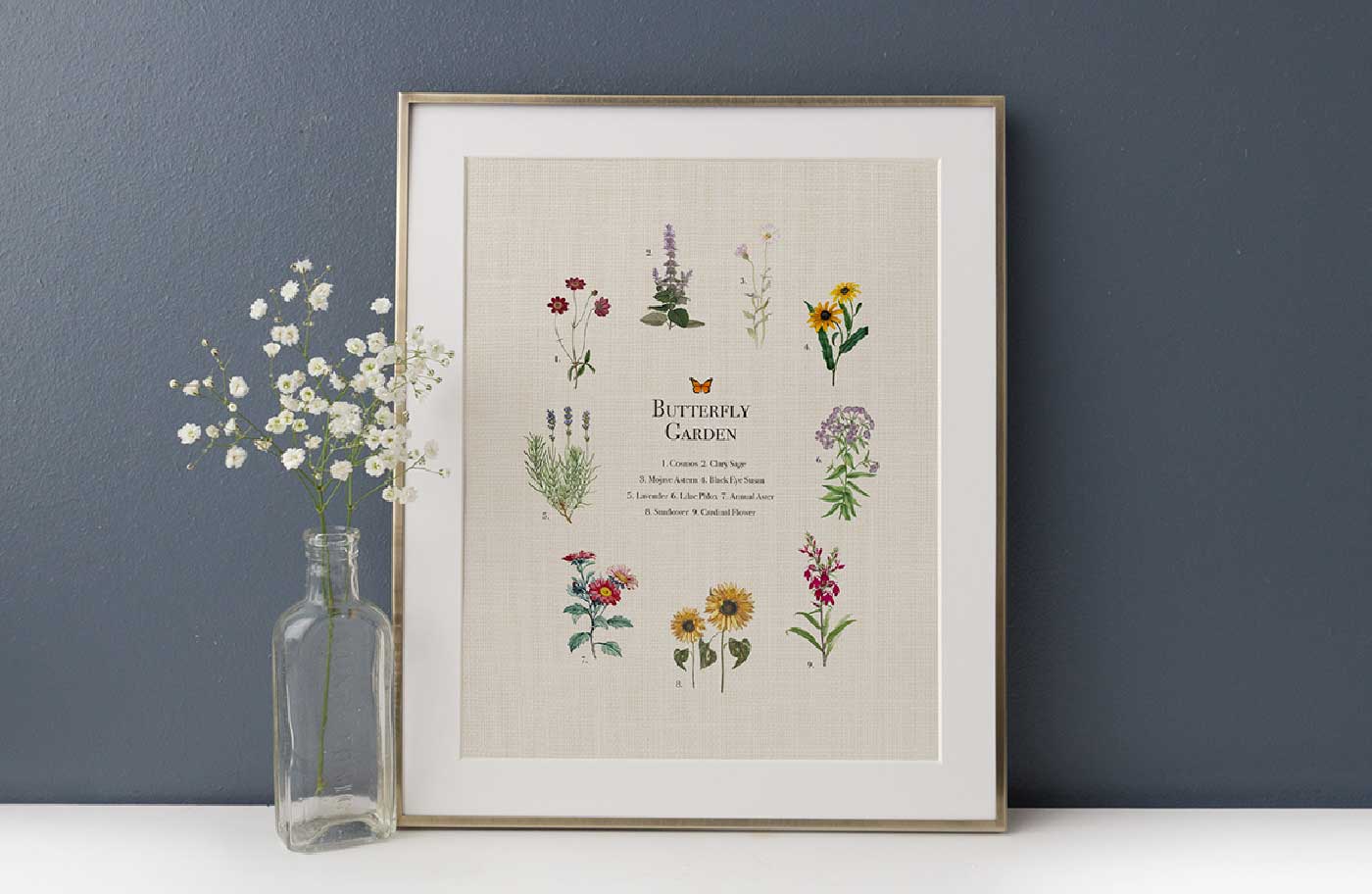 Please Note. Printables and downloads designed by Live Laugh Rowe are for PERSONAL USE ONLY. This file is not intended for resale, nor are the printed versions of this file. Therefore, please do not alter the file or claim it as your own.
PRINT OR SAVE BUTTERFLY GARDEN PRINTABLE
Pssst. Enjoying the content? Buying me a coffee or two occasionally is a fabulous way to support all my hard work and the content I provide. Thank YOU!