Spring is about a month away, give or take a few days. And I'm ready for spring, so a post about spring daffodils seemed appropriate. I Wandered Lonely as a Cloud, a daffodils poem by William Wordsworth, inspired today's post and the lovely FREE daffodils printable I have for you.
Personally, I think daffodils are such sweet and happy-looking flowers with their little trumpets. They look ready to make a joyful song as spring makes its appearance.
When I see them start to pop up on the roadside or around a mailbox, my heart is truly happy. They're one of many beautiful signs of spring.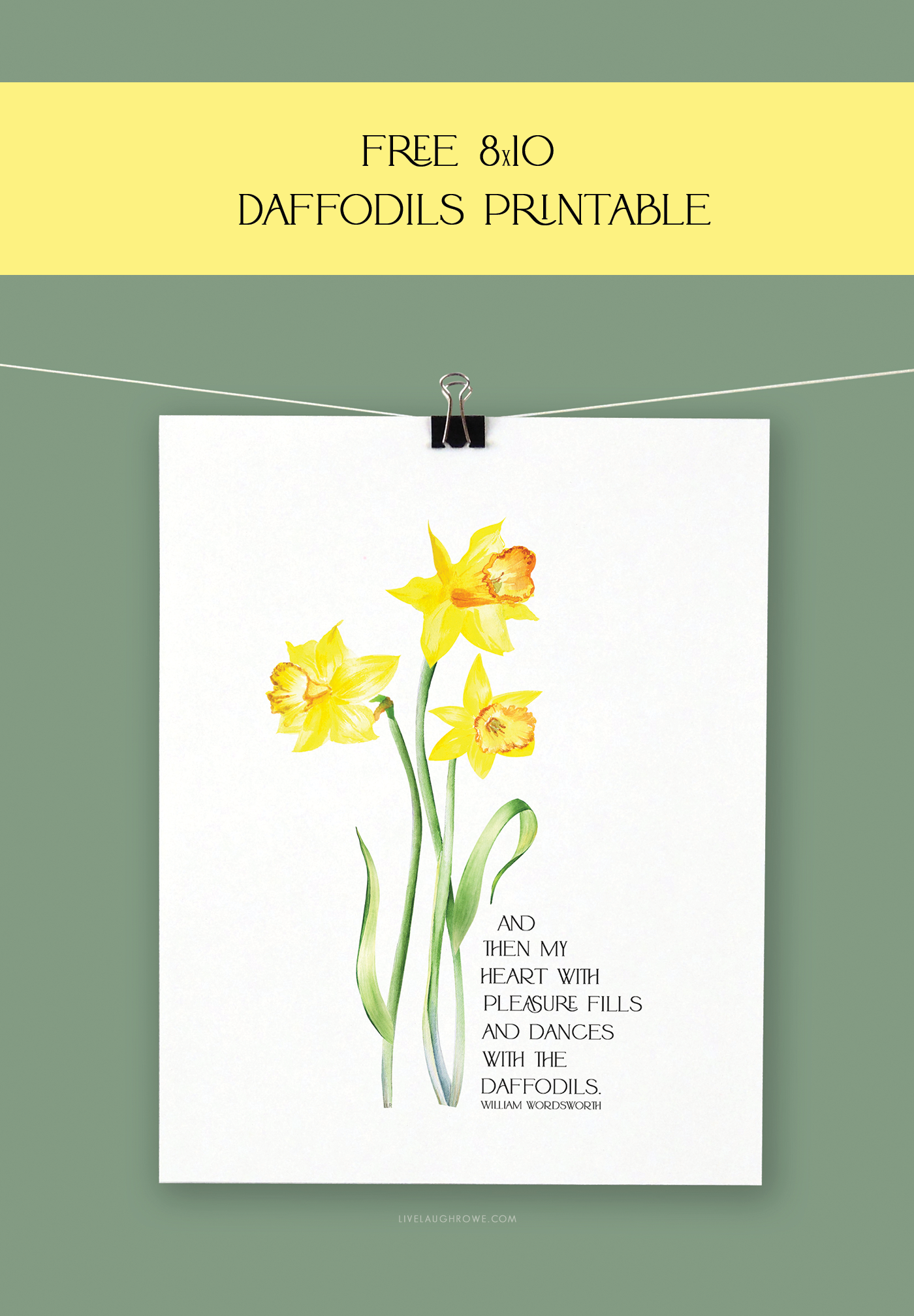 My creative juices have shifted to all things spring — so it's safe to say that I'll be sharing another printable or two in the next couple of weeks. If I do any spring decorating, I'll share that as well.
Nevertheless, who else is ready for spring? 🙋🏼‍♀️🙋🏼‍♀️ I'm ready for spring temps, flowers, holidays, and more.
Ahem… Mother Nature, if you can hear us, we're ready for spring to arrive a little earlier than scheduled this year. Mmmkay? 😂
It may be out of our control, but we can remain hopeful, right? This week we had sixty-degree weather one day, and it was glorious.
What is your favorite thing about spring? For me, it's probably the flowers and Easter. Hence, my printable with a daffodils poem.
Did you know that the daffodil symbolizes rebirth and new beginnings? I love that as we transition from one season into another, these flowers begin to bloom and announce the end of the cold, dreary season and the beginning of a new one — spring.
Daffodils also symbolize creativity, energy, resilience, forgiveness, and vitality.
Other Spring Printables you might enjoy:
Spring Bucket List
Spring Flowers Burst with Joy
Watering Can with Spring Flowers
Botanical Spring Flowers Printable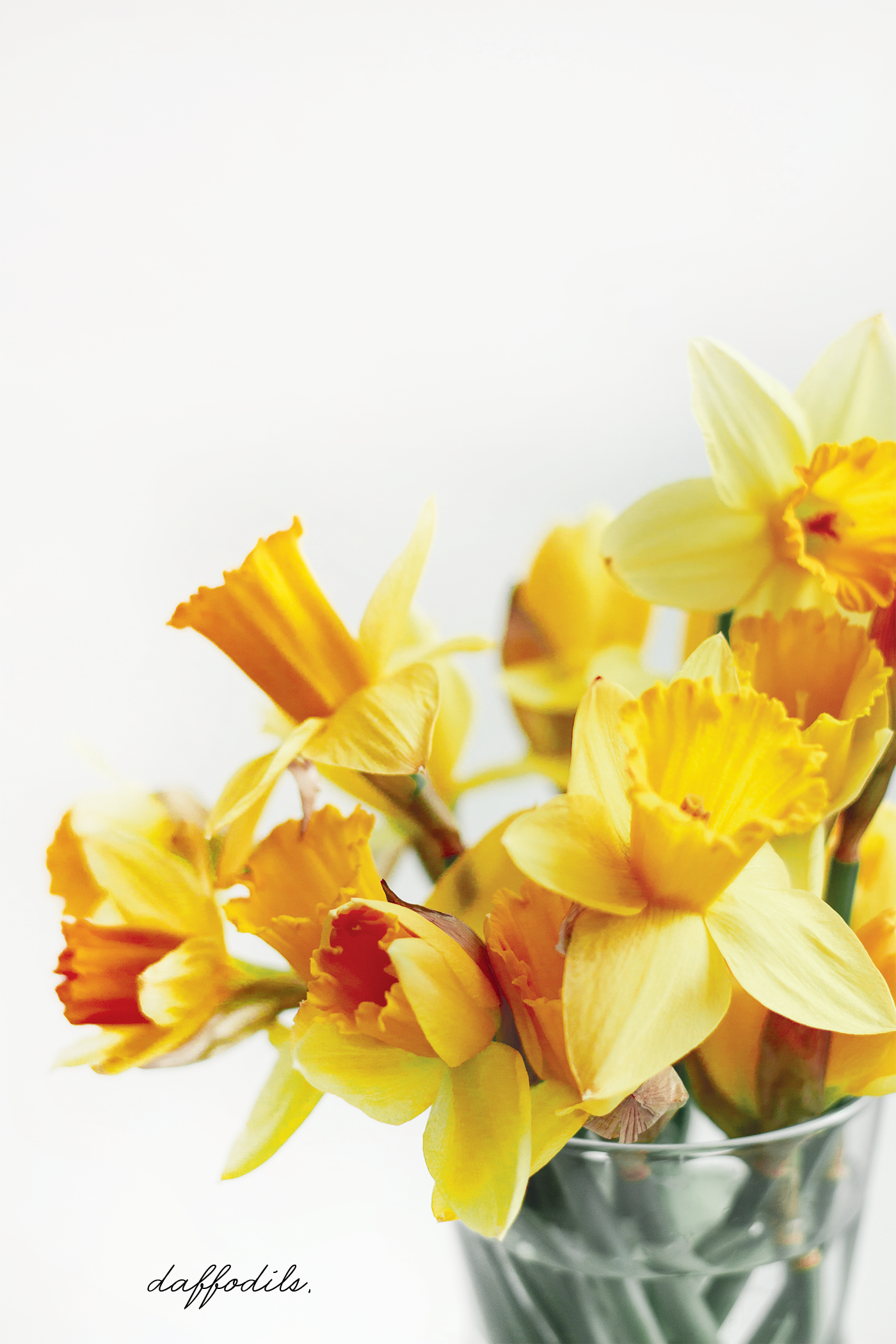 Since the printable includes a short snippet from a William Wordsworth poem, I thought you might enjoy reading the poem in its entirety.
I Wandered Lonely as a Cloud
I wandered lonely as a cloud
That floats on high o'er vales and hills,
When all at once I saw a crowd,
A host, of golden daffodils;
Beside the lake, beneath the trees,
Fluttering and dancing in the breeze.
Continuous as the stars that shine
And twinkle on the milky way,
They stretched in never-ending line
Along the margin of a bay:
Ten thousand saw I at a glance
Tossing their heads in sprightly dance.
The waves beside them danced; but they
Out-did the sparkling waves in glee:
A poet could not but be gay,
In such a jocund company:
I gazed—and gazed—but little thought
What wealth the show to me had brought:
For oft, when on my couch I lie
In vacant or in pensive mood,
They flash upon that inward eye
Which is the bliss of solitude;
And then my heart with pleasure fills,
And dances with the daffodils.
by William Wordsworth
Daffodils Printable
The snippet I used from the poem for the printable is the last two lines.
And then my heart with pleasure fills,
And dances with the daffodils.
Another thing I wanted to mention was that these watercolor daffodils and Adorn Story Serif font were used to create this printable.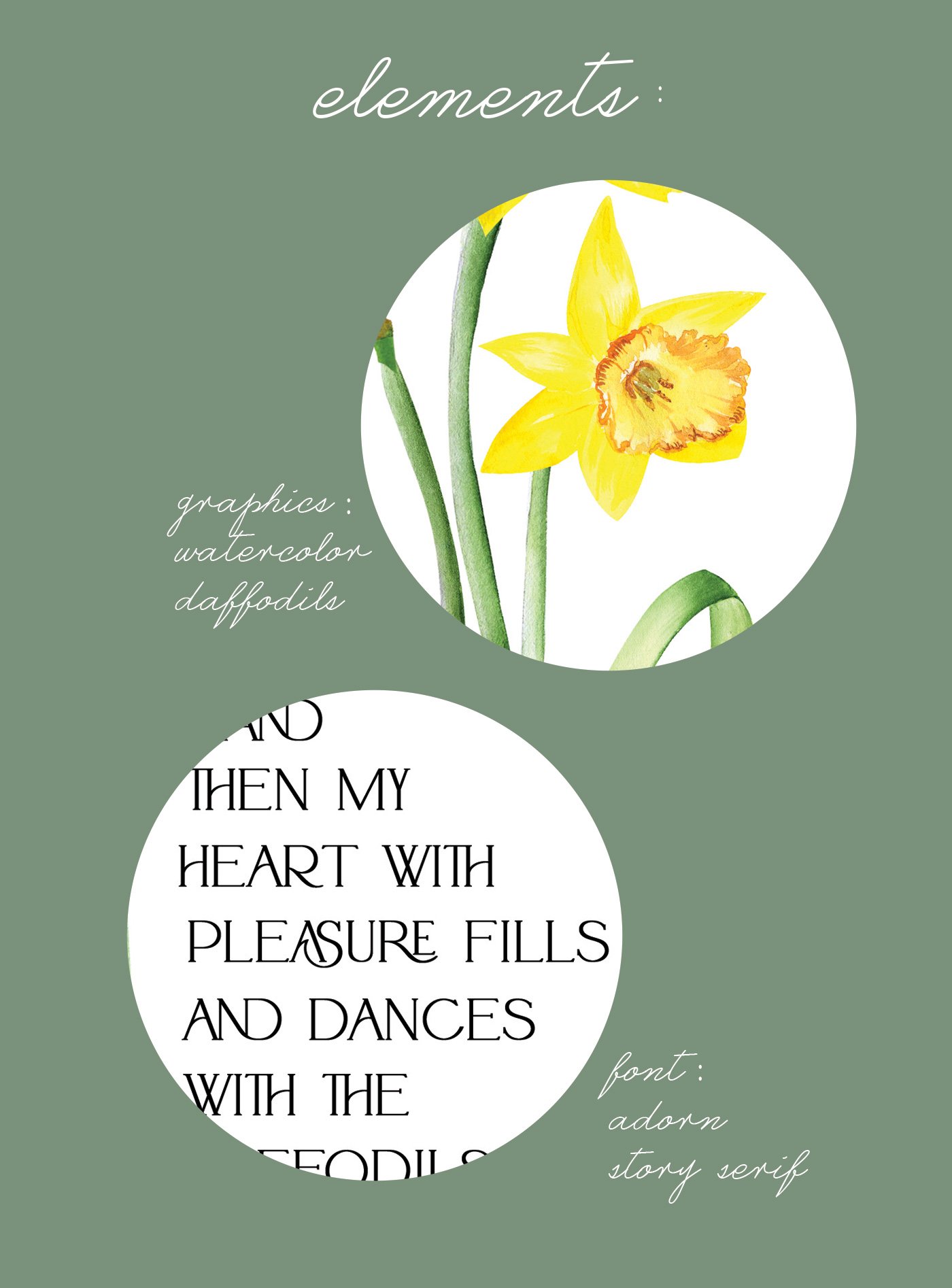 This free daffodils poem printable is sized at an 8×10. So, you'll print and share, hang, or frame. Enjoy, friends.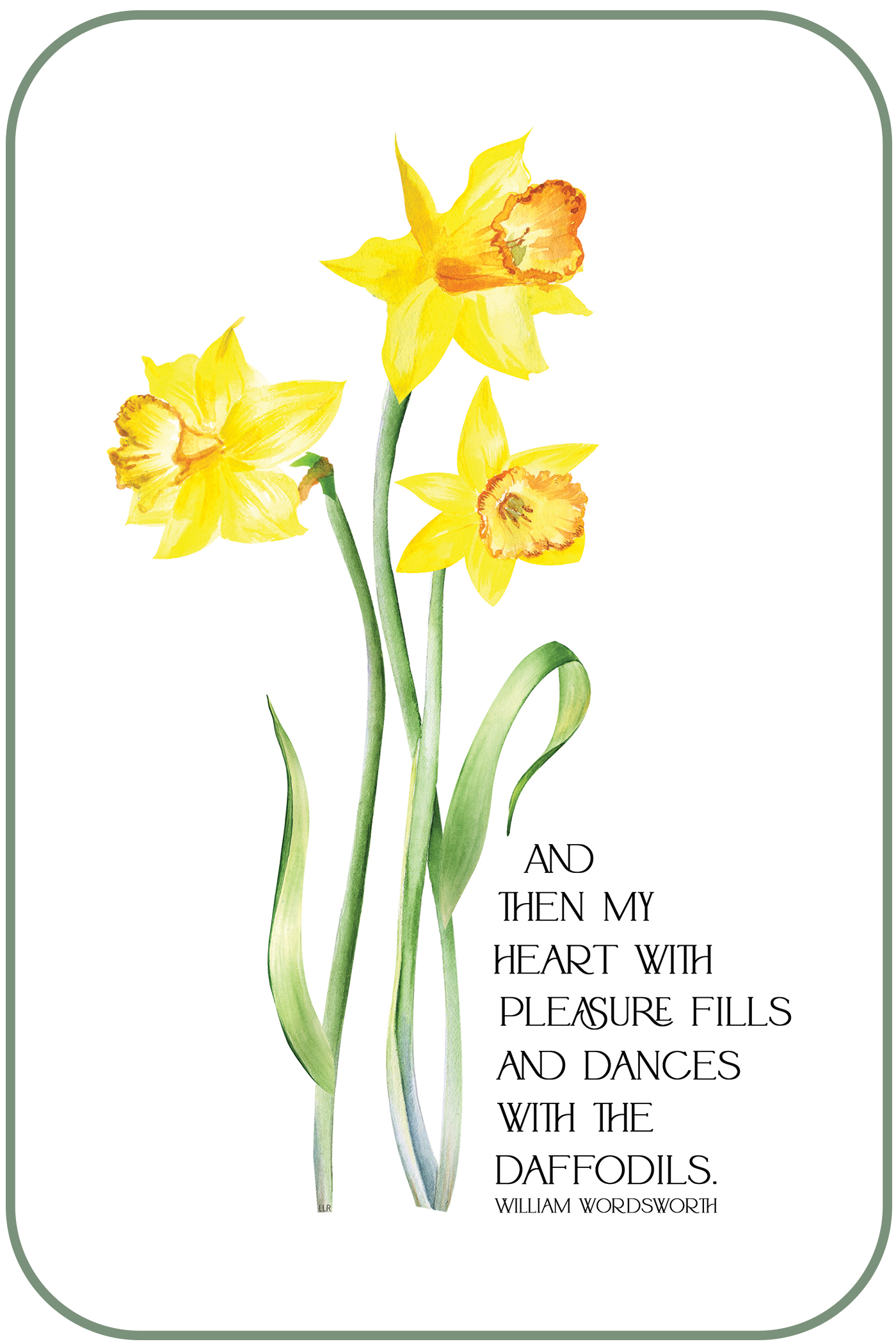 Please Note. Printables and downloads designed by Live Laugh Rowe are for PERSONAL USE ONLY. This file is not intended for resale, nor are the printed versions of this file. Therefore, please do not alter the file or claim it as your own.