Daffodils Printable with Winter's Tale Quote
Any Shakespeare fans out there? In The Winter's Tale, Scene IV, there are references to daffodils. While I've never read or seen The Winter's Tale in its entirety, I do understand the beauty of the daffodil and springtime, one of the sweetest times of the year. Don't you agree?
Well, in my longing for spring to arrive, I thought I would create a printable to share with you and spread some spring-ish vibes around. It's perfect as we will soon say goodbye to winter and welcome spring with open arms.
Be sure to sign up for my email to get new recipes
and creative ideas sent right to your inbox!
Daffodils Printable with Winter Tale's Quote
Spring is only a couple of weeks away (and the crowds go wild). Honestly, it couldn't come sooner. However, I'm hopeful there will be more sunshine than rain showers.
My Winter's Tale (hee-hee).
I've had the winter blues so terrible this year — pumping myself up on Vitamin D to be functional. It's been rather horrible. I'm certain that I could go into hibernation if given the opportunity.
Plus, sickness has hit me pretty hard this year. I got the flu and battled a head cold in December/January. And would you believe I'm fighting another cold? Womp womp womp.
My mom got pneumonia and my dad is currently treating bronchitis. So many "things" are going around, I honestly dread leaving my house. Of course, I'm kidding, sort of kind of. Regardless, I do get extreme anxiety when I have to touch the handle of cart though. Mrs. Meyer's Spray Hand Sanitizer is my go-to when it comes to killing the germs. I love the lavender scent.
So needless to say, I'm ready for all things spring. Bring on the beautiful spring flowers, (a few) spring showers — and let's start to welcome in the warmer weather and rays of sunshine. I think our temperatures were in the 50's today and I was obsessing over all of the robins I kept seeing in our backyard.
Daffodils come before the swallow dares,
and take the winds of March with beauty.
-Shakespeare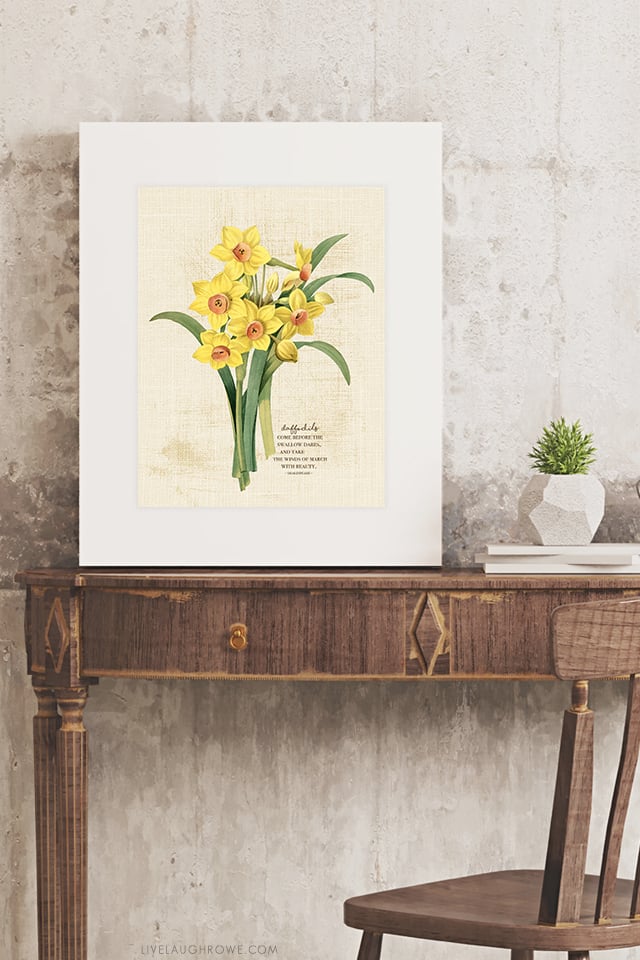 Aren't daffodils a happy flower? I love the color yellow, maybe because it looks so much like sunshine. The botanical name for the daffodil is narcissus. Did you know that? Yeah, me either. Can you tell that I like to do a little research and reading on what I'm sharing? Thank goodness for Google.
Be sure to check out these spring printables too!
Botanical Spring Printable
Spring Flowers in a Watering Can
Watercolor Hydrangeas
Hello Spring Printable
This print is sized at 8.5 x 11, so it will fill most of the paper, leaving a small thin white border (unless you decide to cut it off as I did for my photos). I hope you enjoy it as much as I have. Happy (almost) Spring!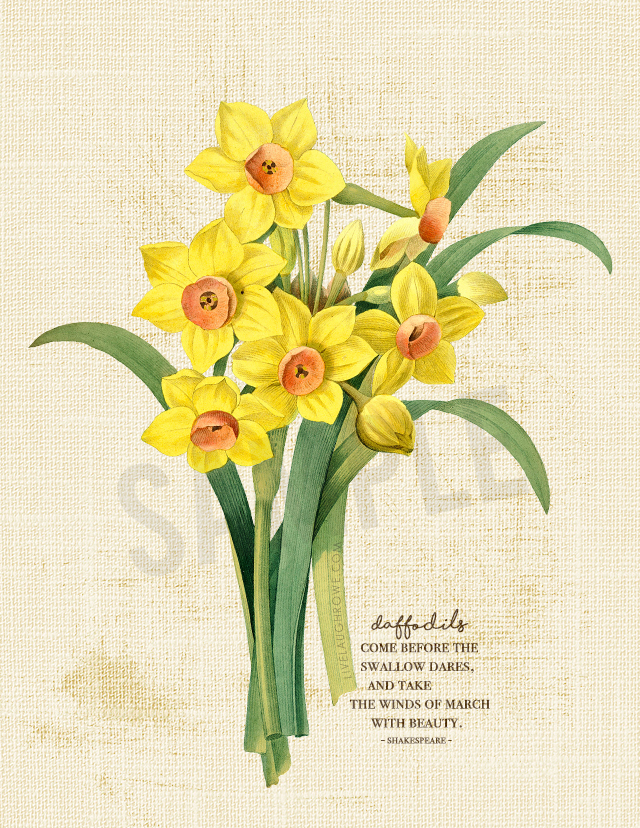 *Please Note: All printables and downloads designed by Live Laugh Rowe are for PERSONAL USE ONLY. Please do not alter the file or claim it as your own. This free word search is not intended for resale, nor are the printed versions of this file.
Connect with Live Laugh Rowe!
Facebook | Instagram | Pinterest | Twitter
Hugs and Blessings!