Happy Spring!! I probably should've posted this yesterday, the first official day of spring, but…. You know how things seem to come up and life tends to get in the way? Yeah, that. So, today we shall welcome spring with printable flowers, bursts of joy and watercolor hydrangeas! Doesn't that sound wonderful?
Beautiful Watercolor Hydrangeas — free printable flowers!


To be honest, I never thought much about flowers bursting forth with joy until I saw this awesome quote….
Let your joy burst forth
like flowers in the spring.
Then I got to thinking…. flowers do burst in their own sort of way. You probably could say they burst slowly… as their buds open up and reveal vibrant colors, fragrances and magnificent details. I don't know about you, but that got me pretty darn excited.
We should have that kind of joy, right? Isaiah 55:12 says, "You will go out in joy and be led forth in peace; the mountains and hills will burst into song before you, and all the trees of the fields will clap their hands."
Seriously, if the mountains, hills and trees can express that kind of joy too, what is our problem? I want to have joy that bursts forth, that's contagious and brightens other people's days. How about you?
So, my hope is that today's printable will get you a little excited and possibly lift your spirits. I've already hung a copy of this in my office on a clipboard to serve as a reminder to be like the spring flowers – joyful!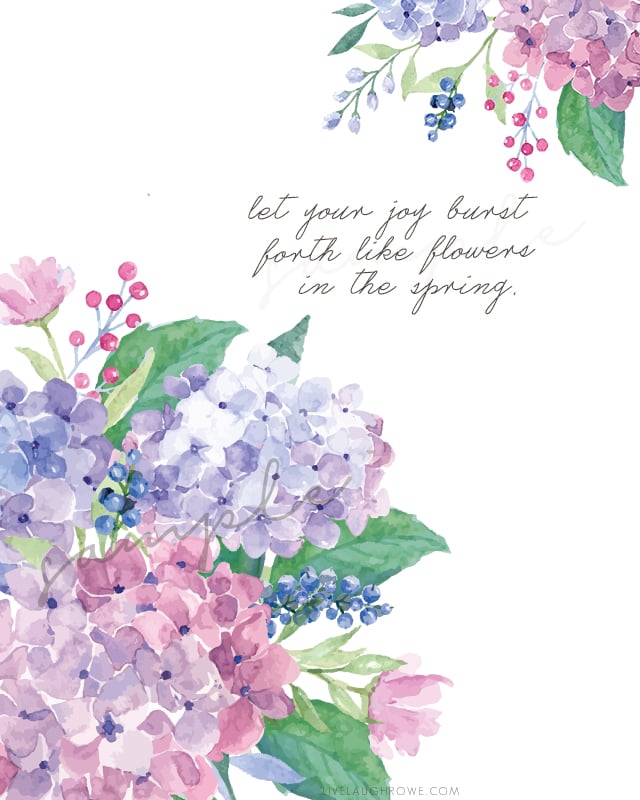 And here's a closer look at some of the beautiful details of these watercolor hydrangeas… I love all of the colors and wish they were scratch-n-sniff (haha).
*Please Note: All printables and downloads designed by Live Laugh Rowe are for PERSONAL USE ONLY. Please do not alter the file or claim it as your own. This file is not intended for resale, nor are the printed versions of this file. Graphics purchased from TheHungryJPEG.
Be sure to snatch a copy of this 8×10 print. Gift one to a friend or teacher, hang on your classroom bulletin board or your refrigerator at home. Oh the possibilities! Enjoy, friends.
Looking for some more Spring Inspiration?
Spring Favor Candy Cups
Spring Botanical Prints
Simple Spring Tablescape
Hello Spring Printable
DIY Paper Spider Mums
Spring Flowers in a Watering Can | Printable Wall Art
Spring Brunch Ideas for Table Decor
Free Spring and Easter Iron-On Transfers

Be sure to visit with me here too:
Facebook | Instagram | Pinterest | Twitter | Google+