Simple Christmas Countdown for Couples
Sometimes when you don't have kids, you feel like you miss out on some of the holiday fun. So today I'm sharing a couple's advent calendar idea with you. I love-love-love the holidays and hate missing out on some traditions that are usually intended for the kiddos. Regardless, this year I decided Steve (my husband) and I were going to have a Christmas Countdown of our own. I mean, why not?
Simple Couple's Advent Calendar
Now, if I told you that my husband and I were going to start incorporating Elf on the Shelf into our holiday traditions — I would say to send in the reinforcements (and chocolate). That would be all kinds of weird (insert facepalm).
Over the years, I've shared a couple of other advent calendars with you — like this Woodland Inspired Advent Calendar using an over-the-door shoe holder and this ever so sweet Matchbox Advent Calendar.
Every now and again I like to peruse through Marketplace on Facebook. It's usually because something has caught my attention (it's also known as a luring distraction).
Anywho, I saw this super cute Countdown Calendar from Target priced at $15 (originally $20). My first thought was that it would make a simply fantastic couples advent calendar. Not too big and not too small — well maybe just a teensy weenie too small.
After asking the seller if she would take $10, we were set for a pick-up the next day. I drove 20 minutes each way for this little slice of heaven. At first, I was pumped… then suddenly I was stressed.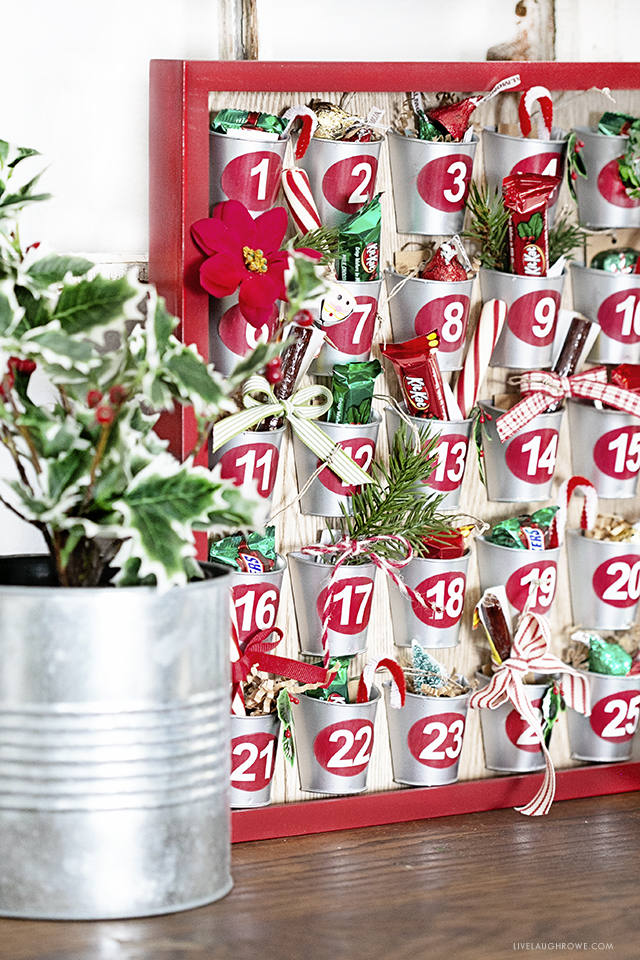 Just what I needed, another thing to add to my to-do list. GULP.
Now to figure out what I'm going to do with it.d
What would fit in these little buckets? Will Steve even want to do this?
Then I had an idea.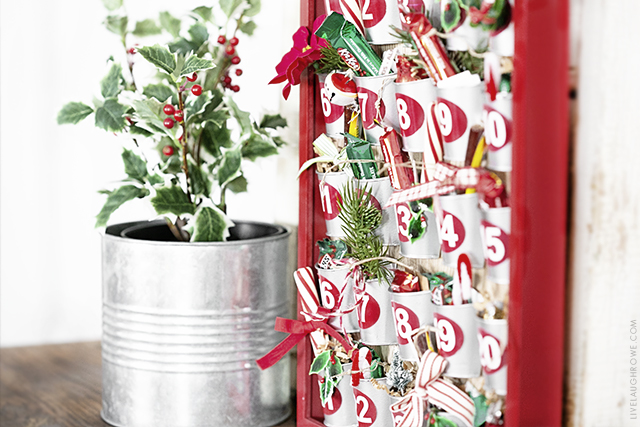 We're grown adults, little trinkets and gifts weren't important. I could add some sweet treats and a savory treat (ahem, a Slim Jim) here and there.
The rest of the fun could be some fun activities and words of affirmation. I designated the even-numbered days for activities and the odd-numbered days for words of affirmation.
Christmas Countdown Activities
Here are some of the activities that we used and a few others for you to choose from.
Call a relative and sing a Christmas carol or two.
Cut out paper snowflakes
Take a picture in front of your tree.
Eat dinner by candlelight.
Decorate a Gingerbread House.
Make marshmallow snowmen.
Take a drive to see some festive lights.
Watch White Christmas together.
Share a kiss or two under the mistletoe.
Make hot chocolate and talk about favorite Christmas memories.
Attend a Christmas Eve service.
Make dinner together.
Watch ELF.
Put a holiday puzzle together.
Wrap gifts.
Bundle up and take a walk.
Write Christmas cards together.
Do a little Christmas shopping (together).
Make Wassail.
Meet for lunch tomorrow.
If you get a larger advent calendar — by all means add some fun to the countdown. Some small, fun and inexpensive ideas include:
-mini candy bars
–chapsticks
-stamps
–Listerine strips
-gum
–Tic Tacs
–slim jims
–chocolate truffles
-gift cards ($5 Starbucks)
–love coupons
-Hershey kisses
–hot sauces (for him)
–teas (for her)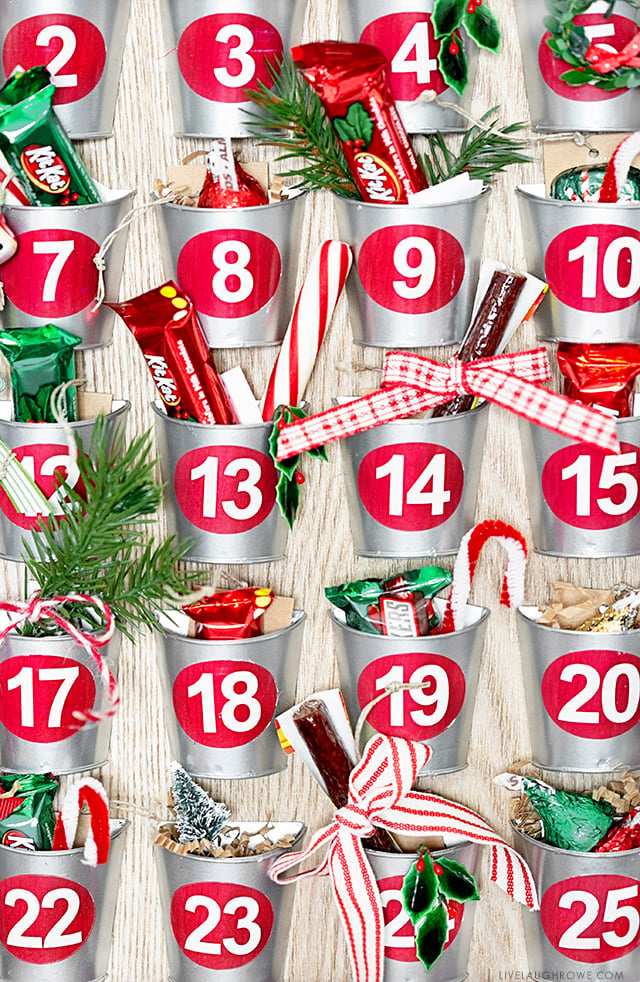 Some "fillers" I used included kraft crinkle, pipe cleaner candy canes, ribbon for bows, faux pine stems, peppermint sticks, (very) small kraft gift tags for the activities and lots of little candies.
Christmas Countdown Affirmation
For the odd-numbered days, Steve and I have each written twelve short notes of affirmation, quotes, etc. I think it's the perfect balance of activities, sweets and we're both contributing to the fun. I gave Steve twelve 2×2″ pieces of paper. Then we both placed them randomly amongst the twelve odd days.
A few ideas for words of affirmation:
You make me a better person.
I love how you make me laugh.
I love the life we've built together.
God couldn't have given me a better husband/wife.
I appreciate how you support me and some of my crazy ideas.
I will always love you.
You're so creative.
I don't know what I'd do if you weren't my best friend.
You could even share some of your favorite scriptures or quotes too. Such a simple, yet sweet gesture.
And do you know what? It just dawned on me that even if you have kids, you could do this with your husband. I think it's a great way to stay connected during a very busy and hectic season.
What do you think? I pulled this together in a day — so while I am sharing this with you a little late in the game, it's doable.
Connect with Live Laugh Rowe!
Facebook | Instagram | Pinterest | Twitter
Hugs and Blessings!