A delicious classic Mexican Chicken Tortilla Soup recipe that is pure comfort food simmered in a dutch oven. Made with a rotisserie chicken, black beans, salsa, and other delicious ingredients — this recipe can come together in about 20 minutes.
As the winter weather has officially rolled in, soup is something I like to have in the rotation. However, I live with a soup party pooper. In other words, my husband doesn't care much for soups. So, I have to make it in small batches or share. Haha.
Be sure to sign up for my email to get new
recipes and creative ideas sent right to your inbox!
Tortilla Soup with Chicken


I remember when I was single I would take the instant packets to work. The soup mixes you'd add water to. It's been a very long time since I've bought one of those. No judgment here if you do buy them, it just shows how far I've come in the kitchen since getting married.
Side note: Complete transparency. I still do buy canned soups. Progresso soups are a great option for lunches and, well, Campbell's Tomato Soup is a staple for winter. A must-have for pairing with grilled cheese sandwiches, right?
Anywho, one of the many things I love about soup is all of the options. From chicken to vegetable to creamy to brothy and many more. So many options and so little time.
One of my favorite soups is Lentil Soup. Despite that, I only seem to make it on New Year's Eve. Silly me (insert facepalm).
Do you like soup? What is your favorite?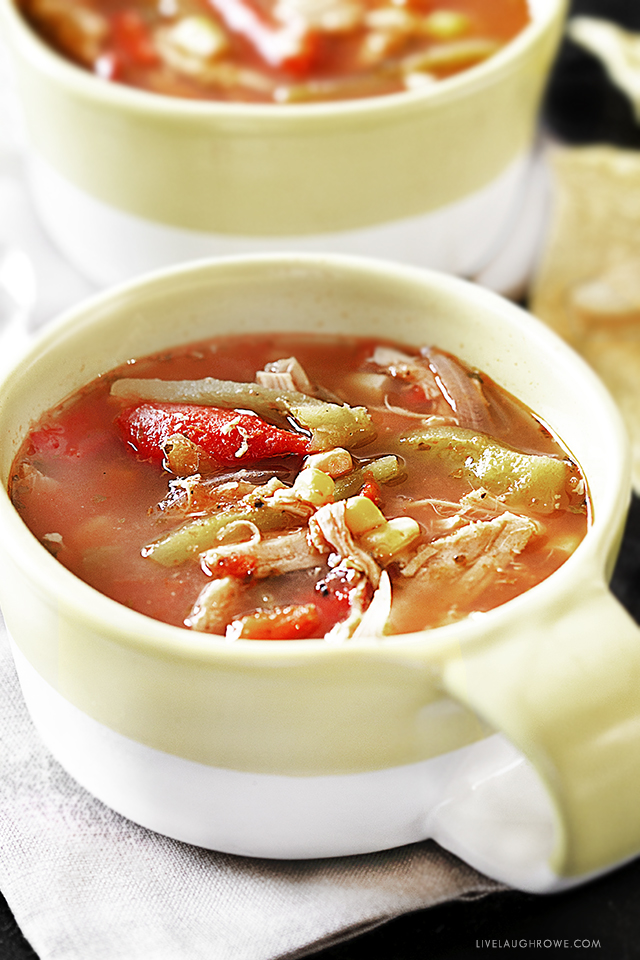 What is chicken tortilla soup made of?
Chicken tortilla soup is typically made with a chicken or tomato base. Additional ingredients include (but are not limited to) salsa, black beans, and peppers. Other ingredients might include oregano, cilantro, jalapenos, etc. After preparation, top with crushed tortilla chips, sour cream and/or whatever you'd like to add.
How can I thicken soup?
To thicken soup (or gravy), I use cornstarch. Go with a one to one ratio of cornstarch (or flour) and water. Stir 1 to 2 tablespoons of cornstarch with 1 to 2 tablespoons of cold water, until smooth and pasty. Whisk the mixture into your soup.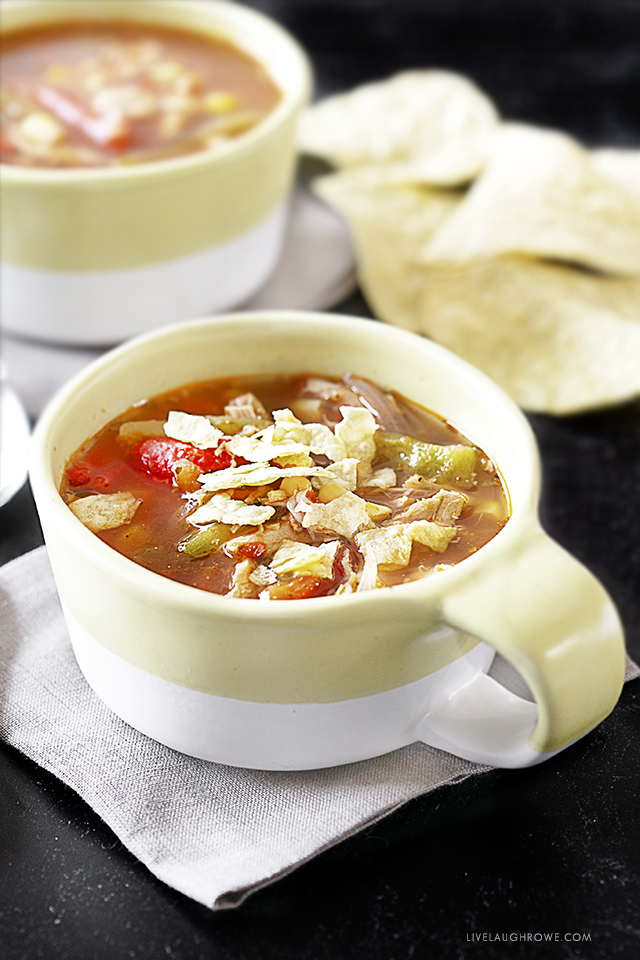 Chicken Tortilla Soup Recipe
Ingredients:
rotisserie chicken
water
salsa
chicken broth
roasted peppers
oregano
In a pan or dutch oven, combine ingredients.
Bring to a boil; reduce heat and simmer for 5 minutes.
Serve.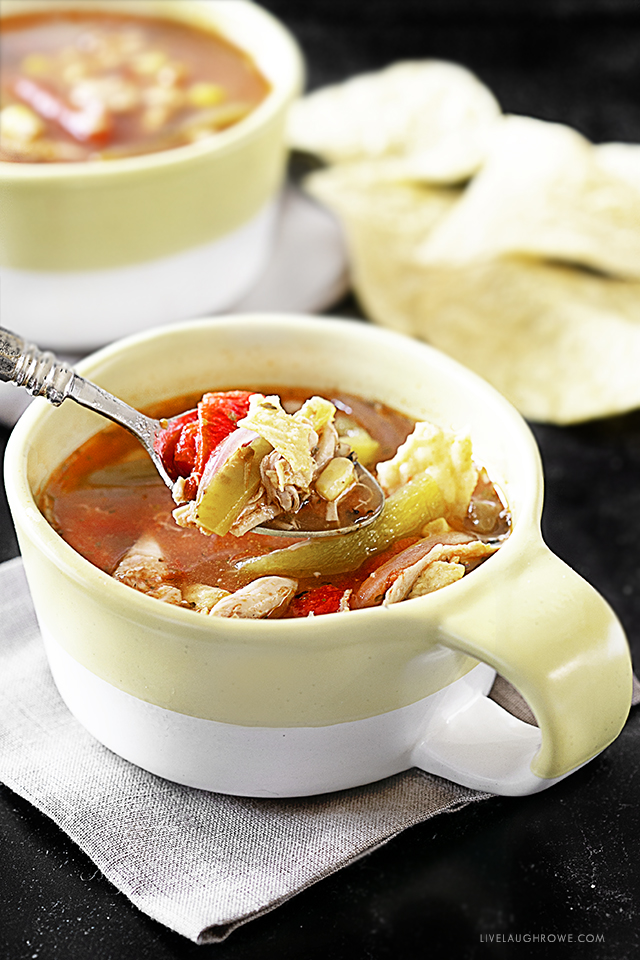 Other soup recipes to consider making:
BlackBean Soup
Taco Soup
Crockpot Chicken Noodle Soup
Easy Homemade Tomato Soup
Chicken Tortilla Soup
A classic Mexican Chicken Tortilla Soup that is pure comfort food simmered in a dutch oven.  Made with a rotisserie chicken, black beans, salsa, and other delicious ingredients -- this recipe can come together in 20 minutes.
Ingredients
2

cups

shredded rotisserie chicken

2

cups

water

1

15.5-16 oz

jar black bean and corn salsa

1

14.5 oz

can reduced-sodium chicken broth

1

12 oz

package frozen fire-roasted tricolor peppers*

2

tsp

dried oregano

tortilla chips, crushed

sour cream, optional
Instructions
In a 4-qt. Dutch oven, combine the first six ingredients (through Oregano).

Bring to a boil and reduce heat. Simmer 5 minutes or until heated through, stirring occasionally

If desired, top each serving with tortilla chips and sour cream.
Notes
*If you can't find frozen fire-roasted peppers, substitute one 14.4 oz package of frozen pepper stir-fry vegetables (green, red, and yellow sweet peppers and onion).  Another option making your own roasted peppers.
Nutrition
Calories:
217
kcal
|
Carbohydrates:
25
g
|
Protein:
17
g
|
Fat:
7
g
|
Saturated Fat:
1
g
|
Cholesterol:
53
mg
|
Sodium:
737
mg
|
Fiber:
6
g
Connect with Live Laugh Rowe!
Facebook | Instagram | Pinterest | Twitter
Hugs and Blessings!