Bite-Sized Cinnamon Buns
WARNING! These mini (bite-sized) cinnamon buns are going to make you hungry — very, very hungry. Made with only 5 ingredients, these sweet treats are ready in minutes and incredibly easy!
Super Easy Bite-Sized Cinnamon Buns


I love cinnamon buns. I keep a roll of Pillsbury Flaky Cinnamon Rolls in my refrigerator on a regular basis. Haha. I mean, sometimes a girl has a craving, right? A bite-sized treat that will melt in your mouth. And they're perfectly sized, making for a guilt free treat (sort of, kind of!?!?)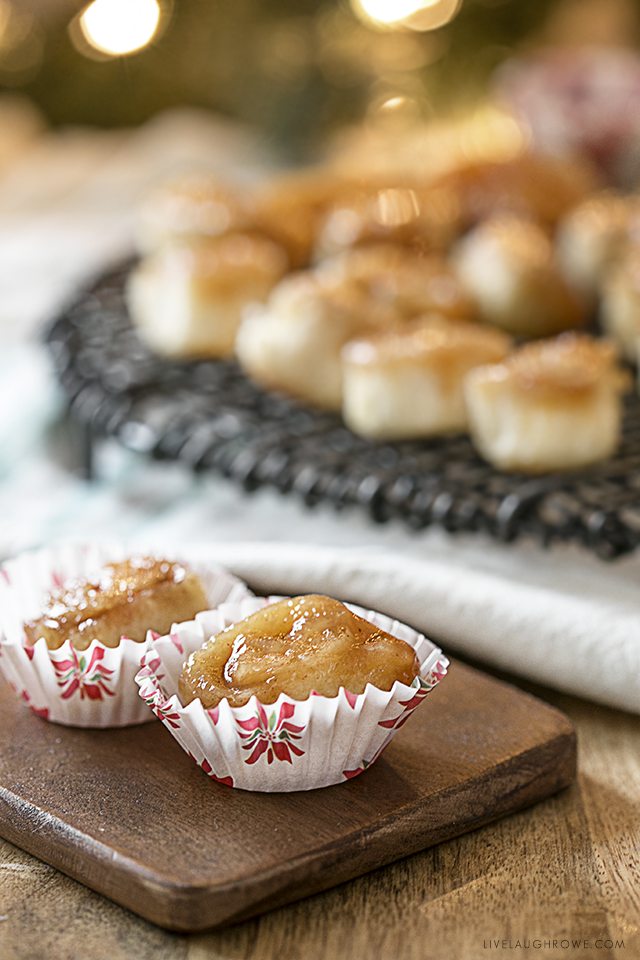 These delicious bits- sized treats are a holiday favorite in the Kuert Family… and now the Rowe family (smile). I don't bake every year, but when I do these are on the menu! As a matter of fact, I just happened to make a couple of batches yesterday.
I'm pretty sure you will win the heart of your cranky co-workers and/or neighbors with these golden nuggets of yummy goodness. And the good news is the kiddos can get their sugar fix from a dessert that is just the right size for them. Oh my goodness, oh my goodness!
Let's get this delicious-ness started! Did I mention they require no yeast or kneading? Yep, using crescent rolls, you'll have these ready to serve in minutes.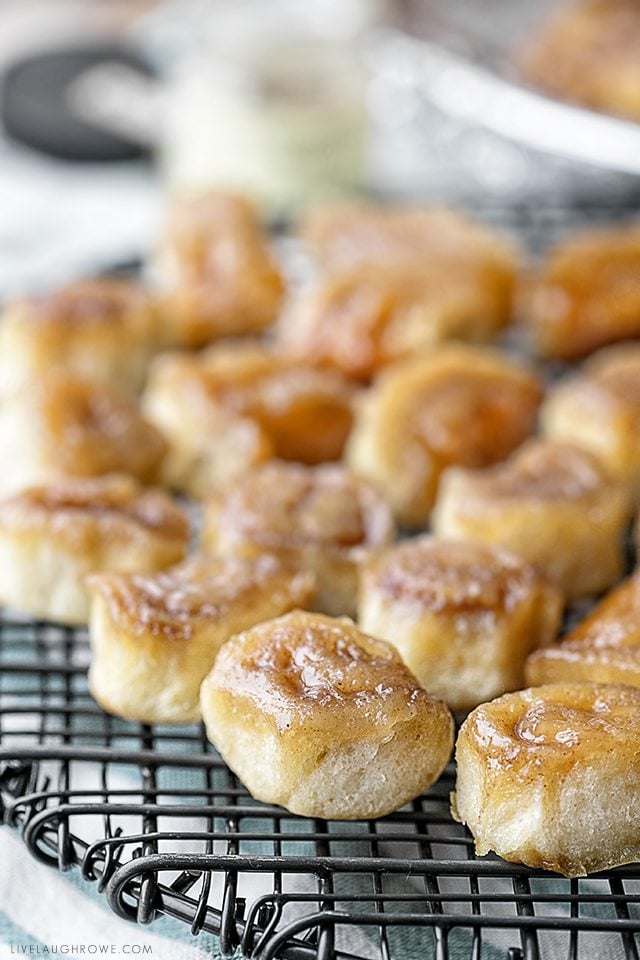 How to Make Mini Cinnamon Buns
Bite-Sized Cinnamon Buns
Mouthwatering Bite-Sized Cinnamon Buns. The perfect holiday treat for friends, family, co-workers and/or neighbors.
Ingredients
1

package of Crescent Rolls

1

stick of butter

1/4

cup

light brown sugar

1/4

cup

white Karo syrup

Cinnamon and Sugar
Instructions
Take the crescent rolls and place flat. Press perforations together (into four squares or all in one). In a round cake pan, melt your butter. Then brush or spoon some of the melted butter onto the dough. Shake or sprinkle cinnamon and sugar to taste.

Roll the dough like a jelly roll. Place roll(s) in freezer for 5-10 minutes for an easier cut. Remove from freezer and cut, getting 9-10 pieces out of four smaller rolls or 36-40 out of one long roll.

Add the brown sugar and Karo syrup to the butter in the cake pan and melt. Place the buns in round cake pan.

Bake at 425 degrees for approximately 12 minutes. Remove from the oven.

Put tin foil on a plate and place the plate over the cake pan and turn upside down quickly, while they are still hot. Cool for a few minutes, then separate and place in small cupcake liners and serve.
Are you getting hungry? Maybe a quick run to the grocery store is in order? You won't regret it… How about surprising the family with a sweet treat tonight or on Christmas morning? Let me know what you think!

Be sure to visit with me here too:
Facebook | Instagram | Pinterest | Twitter | Google+
These Bite-Sized Cinnamon Buns made their first appearance on the blog on November 30, 2012. They were part of my 12 Days of Holiday Fun. Updated photos were added. Enjoy!