Sharing our Farmhouse Inspired Master Bedroom Makeover is incredibly exciting. This room was finished just in time to show our home (when it was on the market). I quickly snapped some pictures before we started packing, so I could show you. You're welcome (wink).

Beautiful Farmhouse Inspired Bedroom Makeover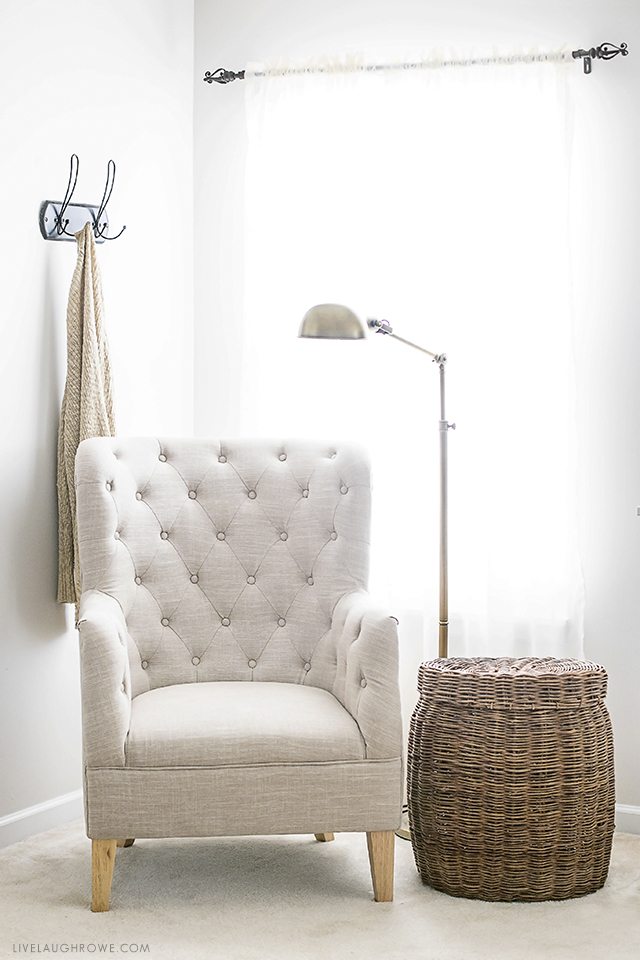 As most of you know — we recently sold our house and moved to Springfield, MO. It all happened so fast that some projects I never shared. I can be a pretty big procrastinator, sooooo you might be seeing some projects from our former home in St. Louis during this transitional time — then I'm going to overwhelm you with pictures of my new home. Hahaha.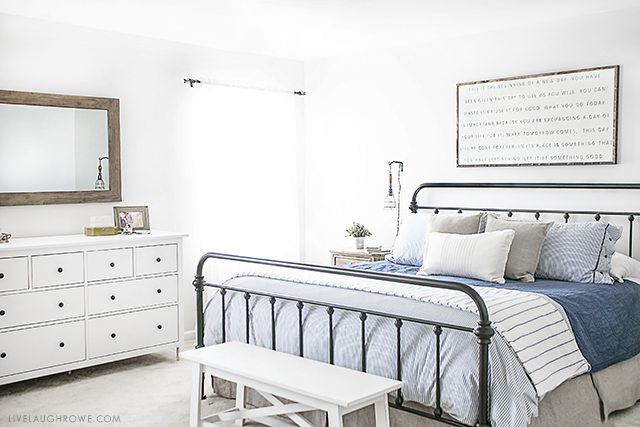 Our room had a lot of BIG, DARK furniture (see the collage image towards the end of the post, or take a look at this post). My decor style really came into focus over the past couple of years. So, we started by selling the furniture and ordering a new bed frame. My mom bought a similar bed frame (queen size) and I loved it so much that I bought one for us in a king size.
The side lamps were ordered from Decor Steals months before the room came to fruition. They were conveniently stored in our basement until the time was right. I crossed my fingers that they would work and did they ever! The metal plant hooks were just the right size and fit the whole aesthetic.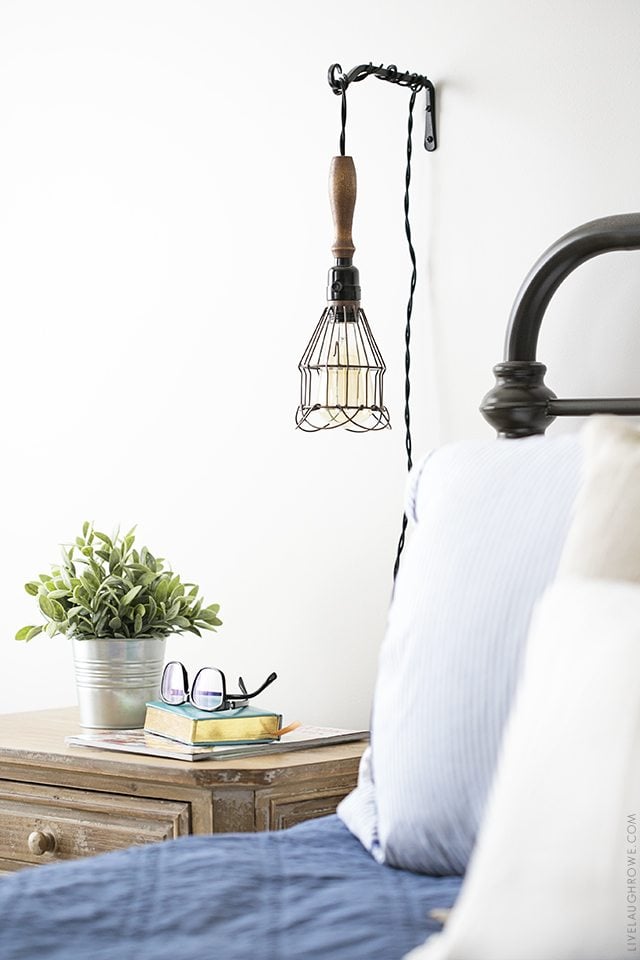 "If you buy stuff you love, regardless of era or price,
your home will be a true reflection of you." -Sarah Norwood
From there came the bedding. I love layering on beds. Making the bed can be a pain in the booty, but it looks so much more put together, right? From blankets to pillows, it really livens the bed up a bit. However, I'll tell you a little secret — I don't make my bed every day. Our master bedroom was on the second floor, so no one saw it. Perfect excuse, right? Hee-hee.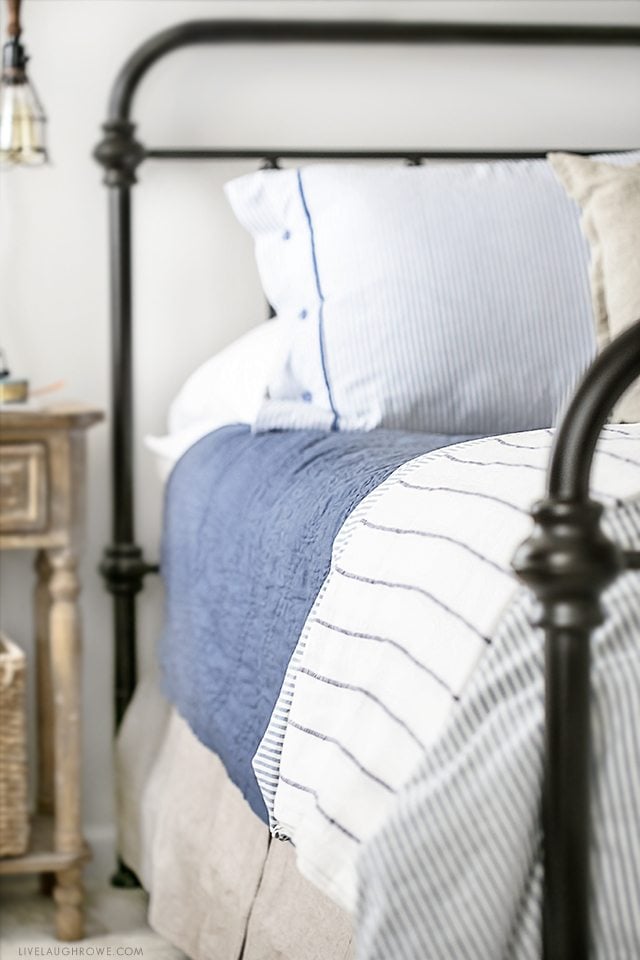 With the house being shown, I was making the bed a whole lot more. And my bed thanked me… Did you happen to hear the speech U.S. Navy Adm. William H. McCraven told the graduates of his alma mater? It was pretty amazing. Here's a snippet…
"If you want to change the world, start off by making your bed. If you make your bed every morning, you will have accomplished the first task of the day," he said. "It will give you a small sense of pride, and it will encourage you to do another task, and another, and another. And by the end of the day that one task completed will have turned into many tasks completed. Making your bed will also reinforce the fact that the little things in life matter. If you can't do the little things right, you'll never be able to do the big things right. And if by chance you have a miserable day, you will come home to a bed that is made — that you made. And a made bed gives you encouragement that tomorrow will be better."
When I heard this, I actually felt guilty and have tried to turn a new leaf… but… no one's perfect. And, if at first you don't succeed, try-try again. Made bed or not, one thing is certain:
Home is my happy place!
I fell in love with these Christina Side Tables from Kirklands. I searched high and low for the right ones and these fit the bill.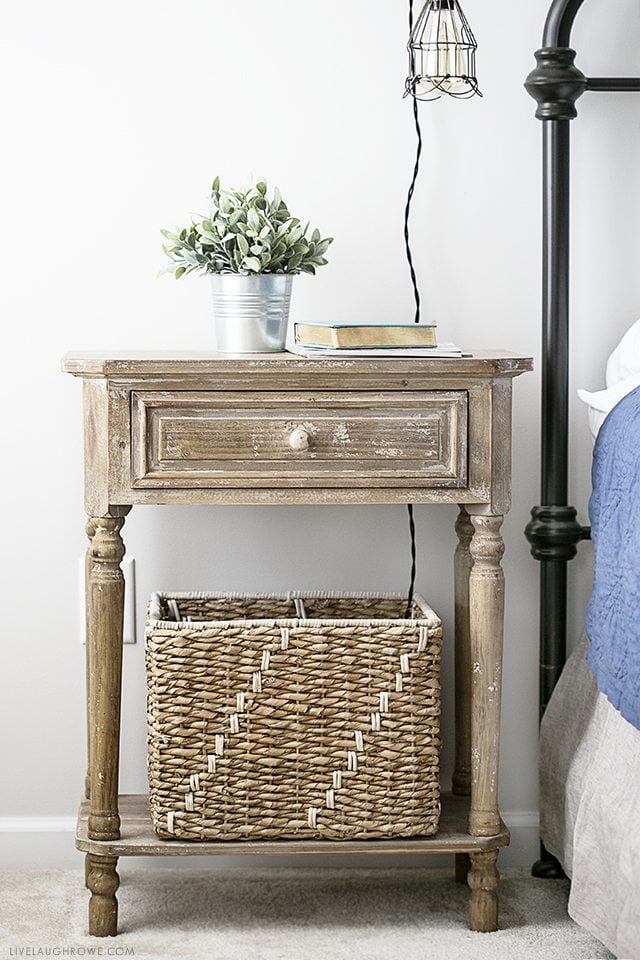 The showstopper piece in the room is the artwork above the bed. This is sized at 25″ x 50″, so it's big — but fabulous! I love quotes and this one is a great reminder that each day is a new day and we can waste it or use it for good. I want every day to be used for good!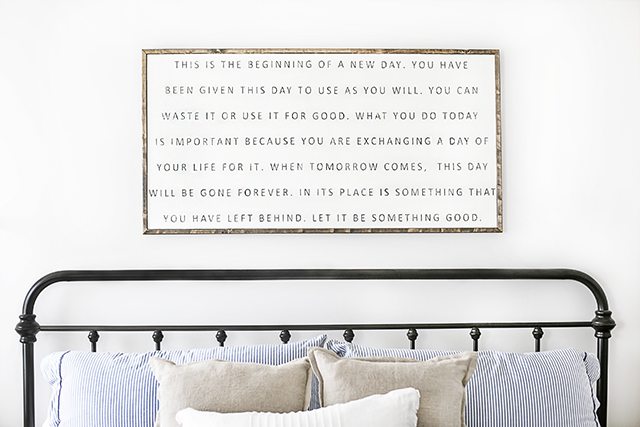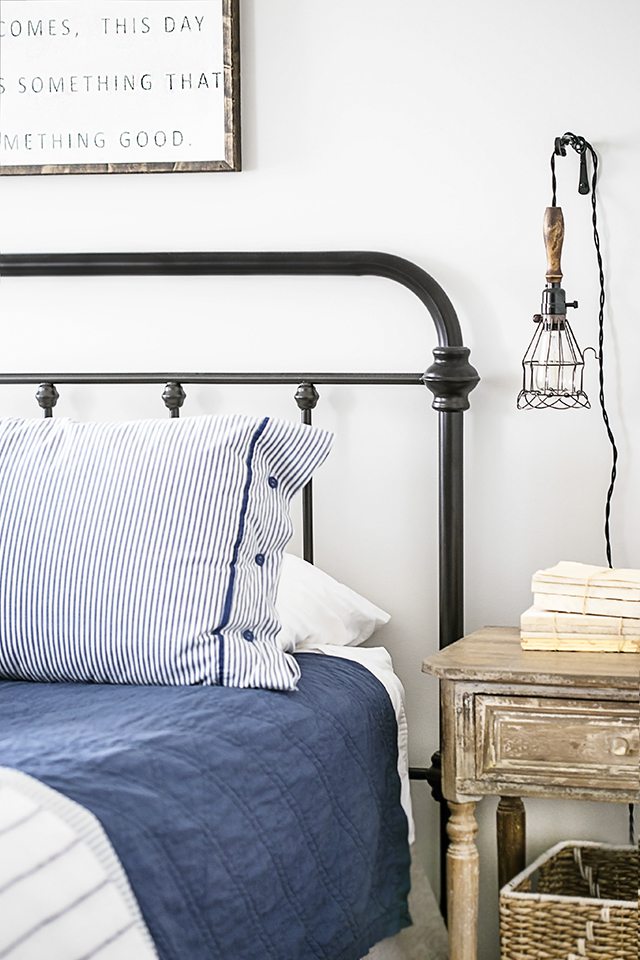 The little seating area tucked away in the corner was another favorite for me. That beautiful upholstered chair, lamp and basket seemed to compliment each other perfectly!
Unfortunately, our new bedroom will be a little smaller, so this little nook probably won't make a second appearance. It was beautiful though, right?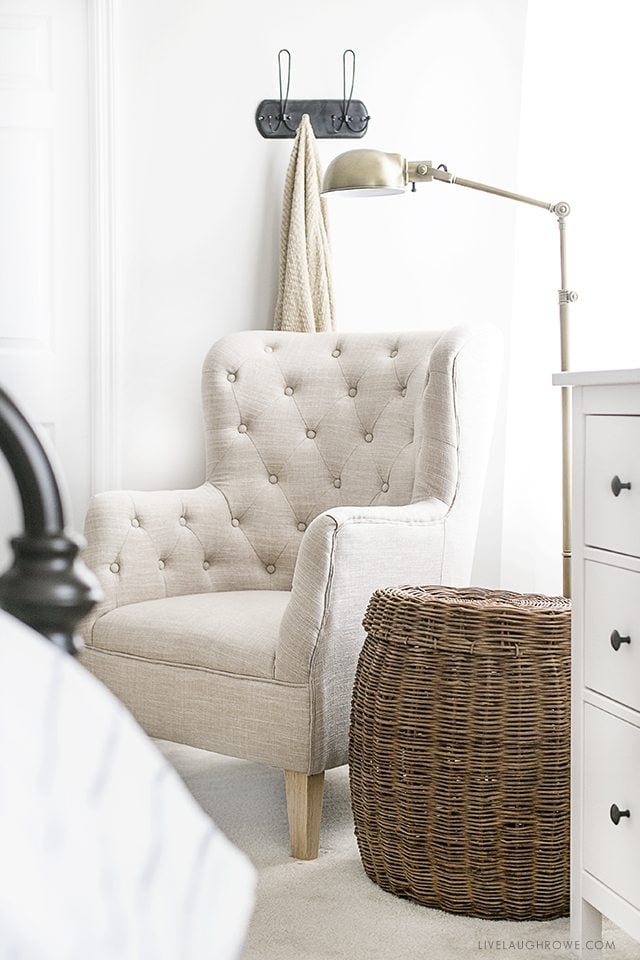 I hope you've enjoyed taking a peek into our space. It was a beautiful transformation, in my humble opinion. This makeover didn't break the bank either, which is always a win-win.
Sources:
Woven Baskets: Target
Side Tables: Kirkland's
Bed Frame (Weatherford): Wayfair (no longer available)
Coverlet: Target (similiar)
Bench: DIY Rustic Wood Bench
Ticking Stripe Duvet Cover and Pillow Cases: Ikea
White Dresser: Ikea
Mirror: DIY
Linen Bed Skirt: Restoration Hardware
Side Lamps: Decor Steals
Hooks for Side Lamps: Lowe's (these are similar)
Tufted Linen Chair: TJ Maxx
Antique Brass Floor Lamp: Ballard Designs
Hooks on Wall: Decor Steals
Basket: Antique Shop in Ozark, MO
25×50 New Day quote Sign: Maebels (similiar, less expensive)
I'll leave you with this wide angle shot, to give you an idea of the space in it's entirety. To the left, is the bathroom door and the closet door — nothing spectacular. If you've stuck with me, you're a real champ. And thanks for letting me share what is now a memory of our once Farmhouse Inspired Master Bedroom.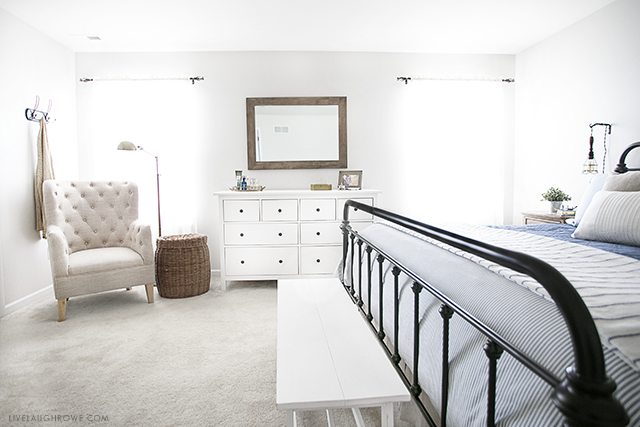 Be sure to pin this for future reference or share with you friends… here's a pinnable before and after.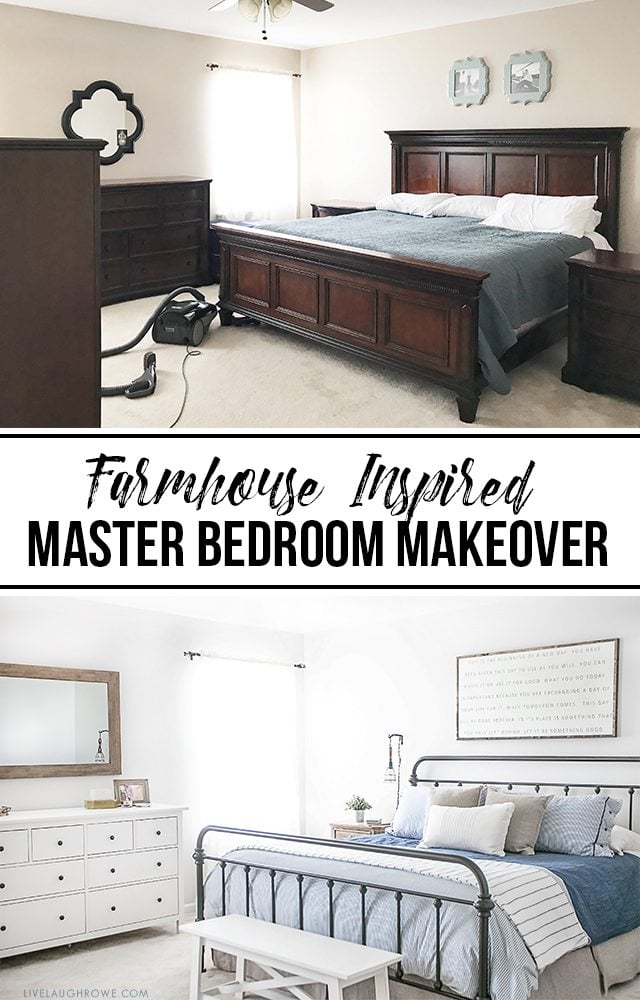 Be sure to visit with me here too:
Facebook | Instagram | Pinterest | Twitter | Google+