HAPPY NEW YEAR!!
Did you print off one of the fabulous
2014 New Year's Printables?
Be sure to grab one — or both!
It's time to share my annual
Top Ten Posts from this past year
based on Google Analytics (of course).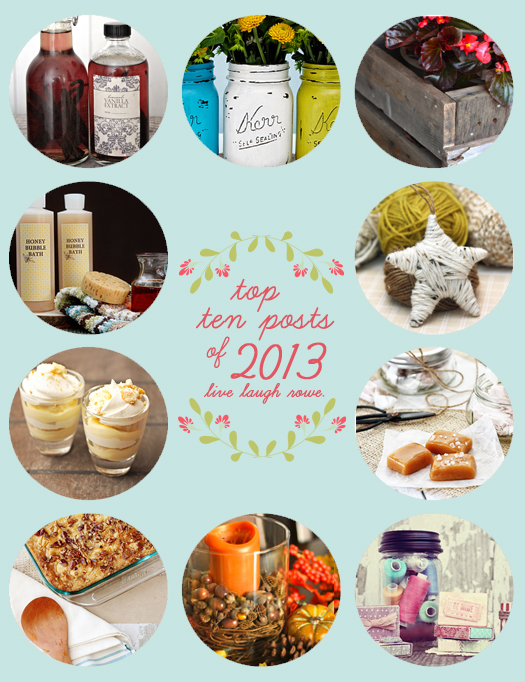 Vanilla Printable Labels
Painted Mason Jars
DIY Pallet Planter Box
Homemade Bubble Bath
Yarn Wrapped Star
Banana Pudding Shots
Homemade Salted Caramels
Pumpkin Dump Cake
Fall Decor Inspired by Pottery Barn
Vintage Inspired Covered Matchboxes
It's always fun to put these posts together and take a stroll down memory lane! Some of these posts are older, so it's interesting to see that they keep popping up and making appearances, and the umber of times they've been pinned, etc. Do you ever wonder what makes a post popular? I sure do! Hee-hee!
2013 was the year that I began (seriously) monetizing my blog, attended two fantastic conferences, and got featured in three print publications (Vintage Inspired Favors and Gift Wrap: Somerset Life (Spring 2013 and That's a Wrap, Painted Drop Cloth: Somerset Life (Winter 2013) and my Upcycled Dish Rack was featured in Good Housekeeping (November 2013). What an honor and privilege it was to be featured in print. I was also honored to be featured over at Oprah.com. What in the world?? Pinch me, please!
I learned a gazillion new things about myself, my blog and blogging in general. I also started a second blog, The Intentional Blogger, and learned that one person can only do so much. I have so many wonderful ideas and topics to share over there, but with a shop and LLR it's hard to balance all of it out. Phew! Just thinking about it kinda stresses me out. Oh well. I will continue to do what I love and let the cards fall where they may… I'm too blessed to be stressed!
Without each of you, LLR wouldn't be what it is today.
Thanks for visiting, pinning, commenting, tweeting,
stumbling, e-mailing or whatever the case may be!
Y'all ROCK! Wishing you all the best! Hugs.
Here's to what was an exciting 2013…
and an even more exciting 2014!!
Thank YOU for being a part of LLR!
I'm truly blessed and thankful for each of you!
Subscribe to Updates | Like on Facebook | Follow on Pinterest