Howdy, friends! It's been a WILD week around the Rowe household. I've been on babysitting duty, keeping a very close eye on Nash alllllllll week. WOW!
I'm always incredibly grateful when he gets sleepy. Monday marks one week since his neuter (more below) — so we have one more week to go!
Send help. Mmmkay? 😂😂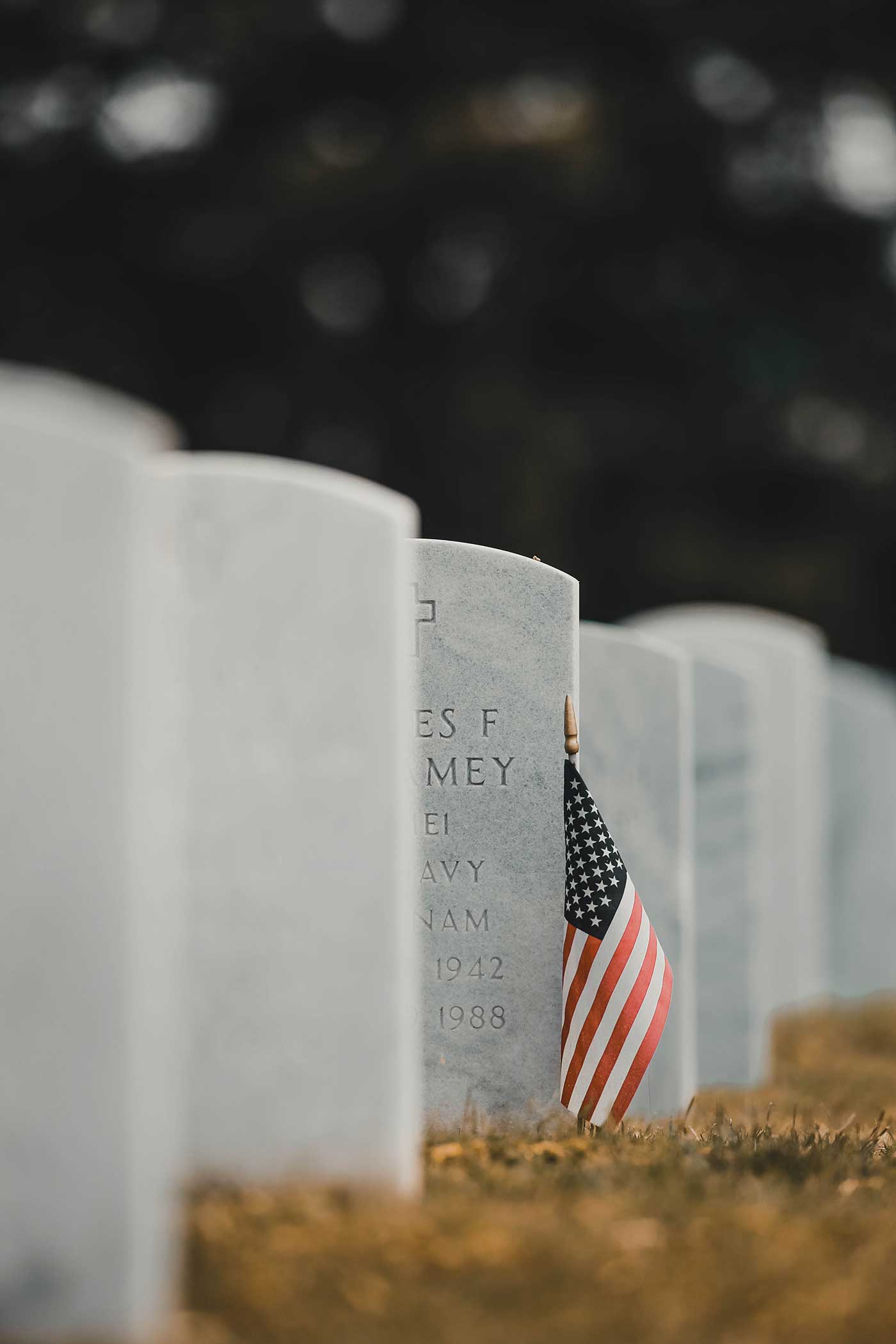 Miscellany:
1. Happy Memorial Day weekend! While I hope you get to enjoy the long weekend, be sure to pause and honor the lives lost while serving our country.
2. I haven't said much about my hormone journey lately. Here's a quick update:
Menopause continues to kick my butt. HA! 🫣
I just had some more labs done this week, and we're going to tweak my progesterone. I hope this gives me the boost I need because I feel like poop. I continue to have hot flashes, and my anxiety is off the charts.
I have to muster up the courage and strength to leave the house these days. Some days I've wondered if a bit of depression is starting to lurk in the shadows. And that is 100% not typical for this extrovert.
Without oversharing, I would ask that you keep me in your prayers.
3. Creative Wanderlust. Have you ever been interested in mixed-media journaling? I have! I recently received a complimentary copy of this book.
It has so many great photos to inspire, information on getting started, tips for getting past perfectionism (ahem, that's me), and so much more!
My goal is to make time to create and practice in this unique journaling technique soon!
p.s. This would also make an excellent gift for the creative peeps in your life!
4. Nash's neuter went well and without incident. PTL! However, with two incisions, they have him on "cone rest." Haha.
The cone of shame… bless his sweet heart.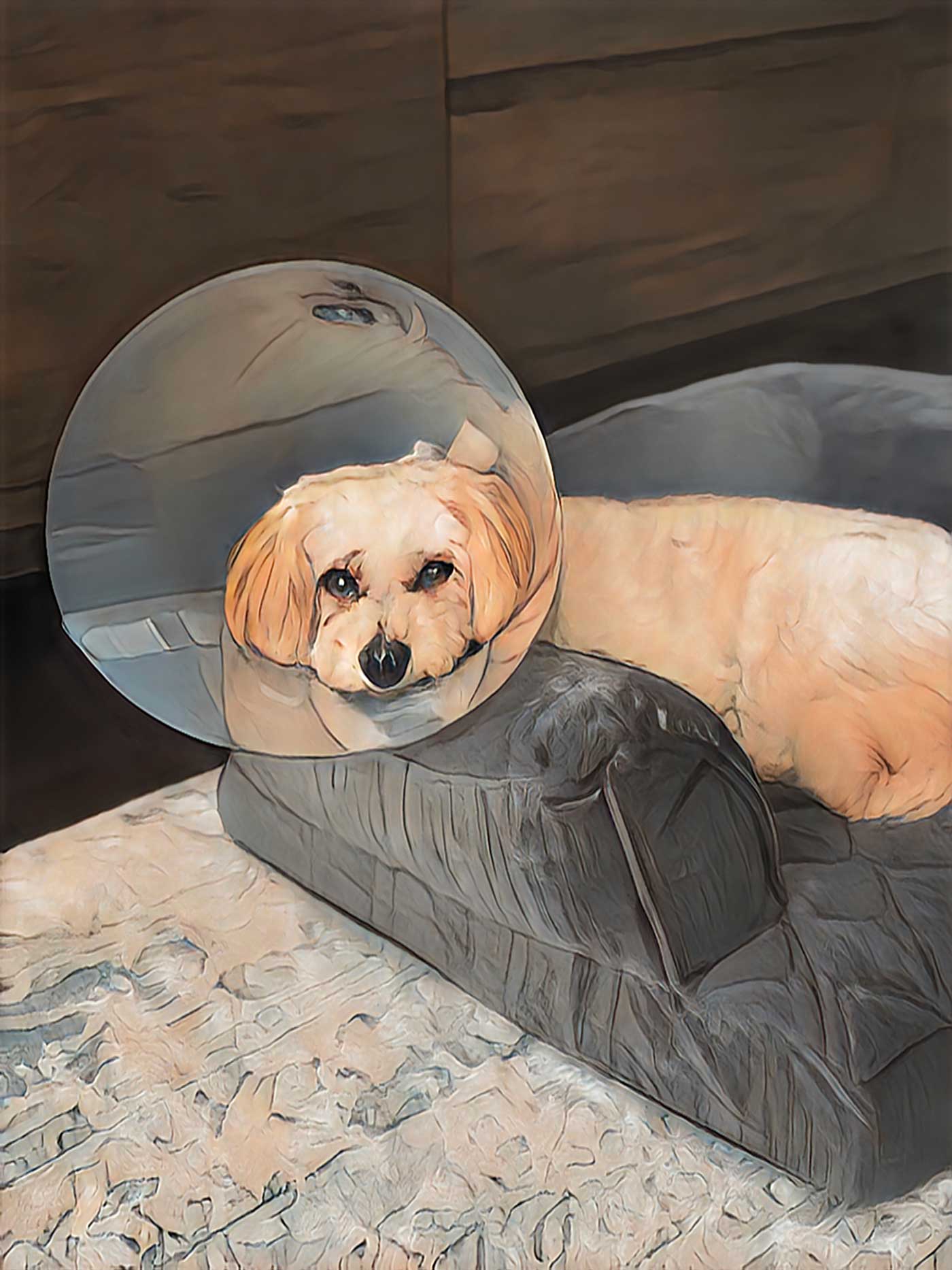 Isn't this picture adorable with a watercolor filter?
So, yes, Nash came home with a plastic cone. It's pretty big, but it keeps him from licking or scratching the incisions.
Here's where I turn into a bit of a loony tune.
Of course, I felt terrible. It seemed too restrictive. He couldn't sleep in his crate with it on, chew on a bone, eat, or drink.
Amazon to the rescue. I found this sweet slice of cuteness.
We put it on for bedtime in the crate — aaaaand, of course, he could reach his incisions. UGH! So, we had him sleep in a pen area outside our bedroom with the plastic cone.
Thankfully there haven't been any sleepless nights. I give all the credit to the sedatives.
Then I ordered him an after-surgery onesie for a break from the cone of shame now and again throughout the day.
Yep, I'm a loon. No denying that.
Anywho, sometimes I put on the soft cone, and other days I put on the onesie to keep things interesting — either way, he has to be watched.
No running. No jumping.
NEWS FLASH: Both have taken place several times. 🤷🏼‍♀️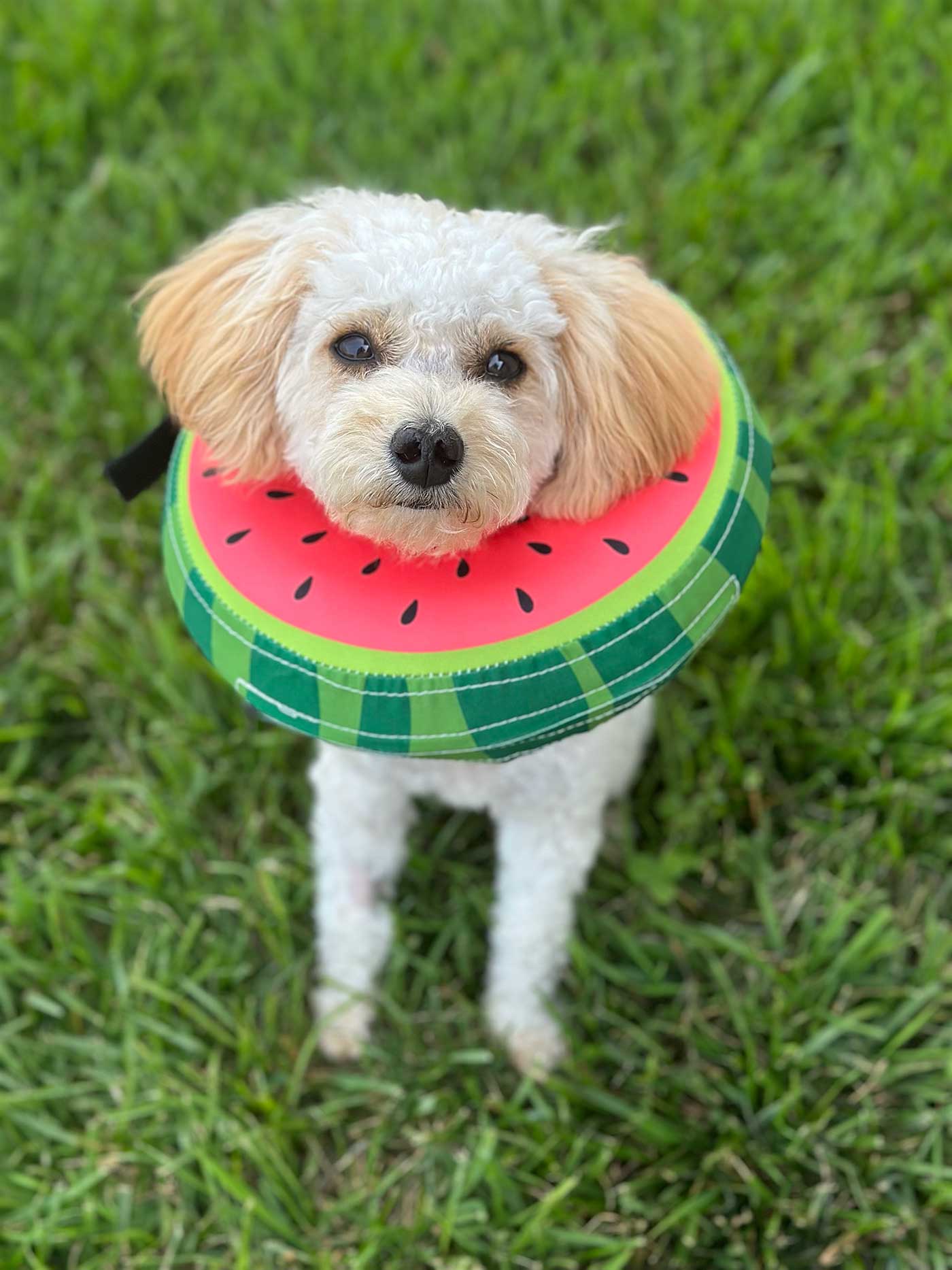 However, I'm confident that Nash appreciates all my craziness. He has not lost his zest for life while wearing any of the above. 😂🤣
5. Do you get the Sunday Scaries? I heard about this on a newscast this past weekIt'st's on the rise among workers feeling a sense of panic and dread for Monday (or a new week). Who knew it had a name?
For those that do get the Sunday Scaries, it was recommended to do the following:
Do something physical and fun on Sunday.
Don't plan any big meetings on a Monday.
6. UPDATE: These towel wristbands I mentioned a few weeks ago are AMAZEBALLS! They fall into the category of something you didn't know you needed.
My arms, pajamas, and bathroom sink counter have thanked me time and time again. Buy a pack (four sets) and share them with a friend or two. BUY THEM! You can thank me later (wink-wink).
Pssst. Enjoying the content? Buying me a coffee or two occasionally is a fabulous way to support all my hard work and the content I provide. Thank YOU!

Around the Web:
These Brioche French Toast Bites.
This BBC Frozen Drink. Is it summer yet?
These Mango Wood Spoons.
This Rechargeable Wall Lamp.
These Boat Shoes — great for gardening too!
This S'mores Basic Fire Pit — for indoor or outdoor use!
These Travel and Adventure Printables.
This Floral Gift Wrap.
These Patriotic Clothes. 🇺🇸
Easy Patriotic Ice Cream Sandwiches.
One Last Hoorah:
For this menopausal hot mess, last year's clothes aren't fitting so great. Therefore, I couldn't help myself with this meme. Can anyone else relate?