Happy Father's Day weekend — and happy hellos from a sunny and hot Missouri. Yesterday we had a heat advisory, as the temps reached into the mid '90s (but they said it felt more like 97ºF). Yowzer.
Today is moving day for my sister. I'm helping a small bit with lighter things in loading up the truck. She is moving to a third-floor studio apartment and the stairs are not my friend, so I'm leaving the unloading to her and some hired help.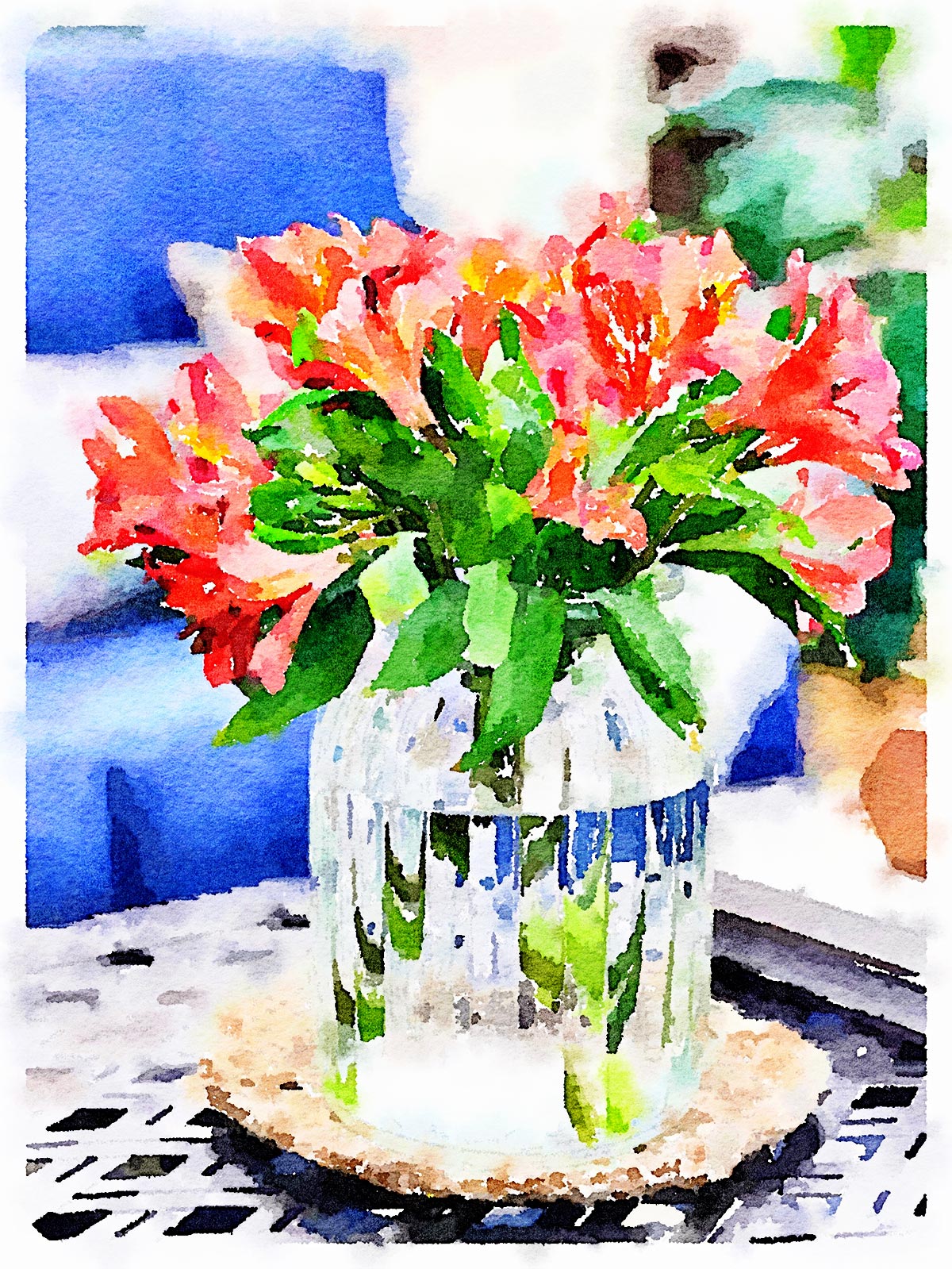 Have you ever heard of the app called Waterlogue? The watercolor picture above was made using it. It's pretty cool (in my humble opinion) and it's been around for a while. It can turn any photo into a watercolor piece.
Sometimes I forget about it but was reminded when I stumbled upon this photo on my phone. This dates back to 2017 when I photographed my deck makeover.
Miscellany:
1. The most exciting news from this past week is that I was released from physical therapy for my knee injury. Glory to God! My knees are in rough shape in general; however, the pain and limping are gone. I'm ready for regular routines again. 🙌🏻
2. Last weekend I mentioned that our Maltese (Parker) was walking in circles. We did visit with the vet on Monday and put him on some medicine for vertigo. He is doing much better; however, Steve and I have been having that very difficult conversation about his quality of life.
He'll be 14 years old in December and while he looooves to eat, with his blindness — he literally sleeps all day and can barely find his way around the house anymore. Its heartbreaking and it's getting very difficult on me. I've been praying for perfect peace about all of it, but it's an incredibly difficult decision to make.
3. It was a great week on the blog, with two new posts. I shared a summer bucket list printable and the final results of my winter project — the refinished hutch (yahoo).
4. I finally ordered this square rattan woven stool this past week. I've been eyeing it for a while and used some of my garage sale money to snatch one up. I'm still not sure if I'll use it as a plant stand or little table next to our chair in the living room. Decisions decisions.
Anywho, I had an extra 5% off at Target as a birthday promo, so I got 10% off and saved $7. I know it's not a huge amount of savings, but I believe all the savings add up, right?
5. Did I ever mention that we have the Ninja Foodi Digital Air Fry Oven? It has 8-in-1 functionality: air fry, air roast, air broil, bake, bagel, toast, dehydrate and keep warm all in one. We also love that it folds up, keeping the counter space free. We've had it for several months now and are really loving it.
6. Bath and Body Works is a weakness. This store gets more of my money than I want to give them every. single. time. I ran in this past week to buy my dad some of his favorite body sprays from the Men's Collection for Fathers Day -and- a couple of single wick candles that were on sale (I love-love-love the Cinnamon Spiced Vanilla scent).
Do you think I walked out with just those products? Nope. I ended up with a few purchases from the aromatherapy line, a new bottle of lotion from their summer line, and more. Can anyone else relate to this? I can chuckle about now, but I was so annoyed with myself then. Haha.
7. Apparently Crochet Clothing is trending over on Pinterest. Other than scarves, shawls, and/or sweaters — I'm 99.9% sure this is a trend that I won't be participating in. Ha.
Around the Web:
These DIY Fruit Kabobs for Summer Entertaining.
This Orange Julius Recipe. (Note to self: MAKE THIS).
This Adorable and Minimalist Hanging Earring Holder.
These DIY Confetti Bookmarks.
This Low-Fat Taco Salad.
This article, Anxiety Tells So Many Lies. ❤️
This Mini Album Flipbook Tutorial (video).
These DIY Half Moon Magnets.
These Instant Pot Pancake Bites.
This DIY Mini Loom. (I need to try this). 🥰
One Last Hoorah:
Can anyone else relate to this? No? Just me? Oh, okay… (haha). 🤣