Doesn't cake make everything better? Well, this Strawberry Lemonade Poke Cake is nothing short of sensational. Therefore don't let the ingredient list or its impressive looks intimidate you.
Yep, it's easy to make and delicious to eat — each bite will burst with flavor. Yum.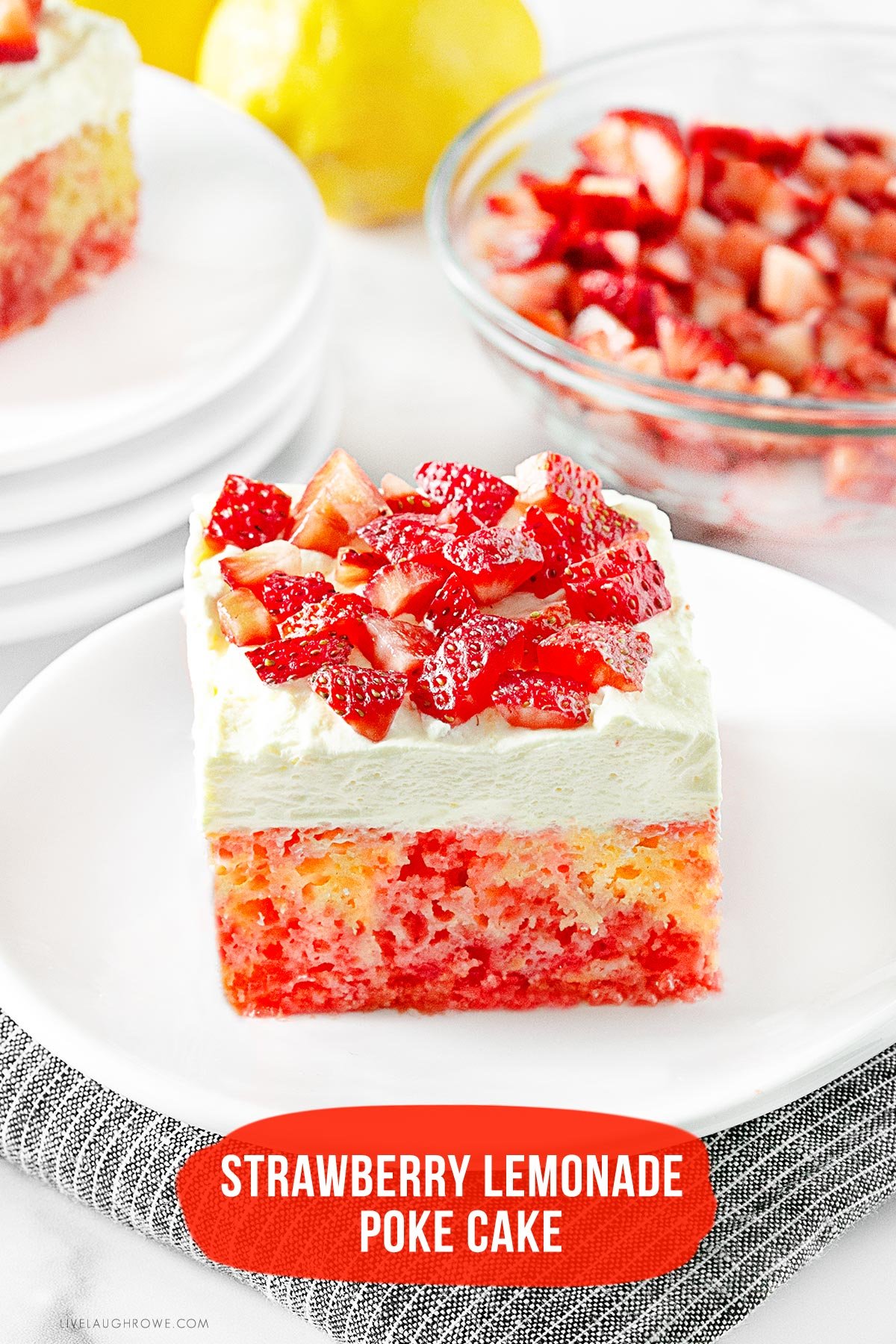 To clarify, poke cakes are nothing new. And, most importantly, they rarely disappoint (unless it's at the baker's fault, haha).
However, this flavor combination is one that will most likely have you coming back for seconds.
Sadly, summer is coming to an end, but this is a great dessert for any last-minute barbecues or pot lucks. You know you need to eat more cake, right? (wink-wink).
So what are you waiting for?
What can I use to poke holes in cake?
To poke holes in the cake, use the handle of a wooden spoon, a skewer, or anything that can create a decent-sized hole. In addition, be sure to space them about an inch apart.
Let's make some cake!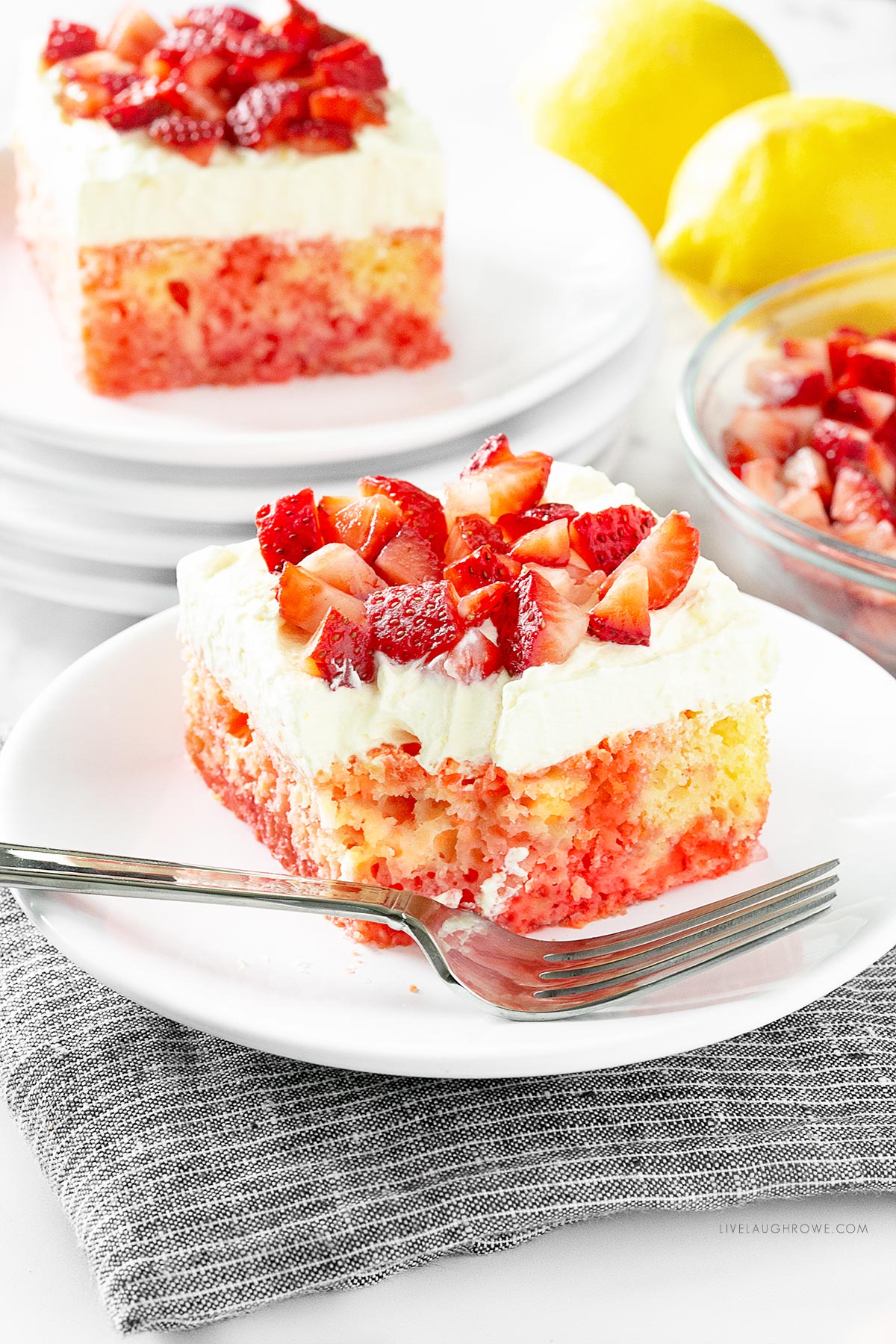 Strawberry Lemonade Poke Cake Recipe
Ingredients for Cake:
Yellow Cake Mix
Water
Lemon Juice
Vegetable Oil
Eggs
Lemon Zest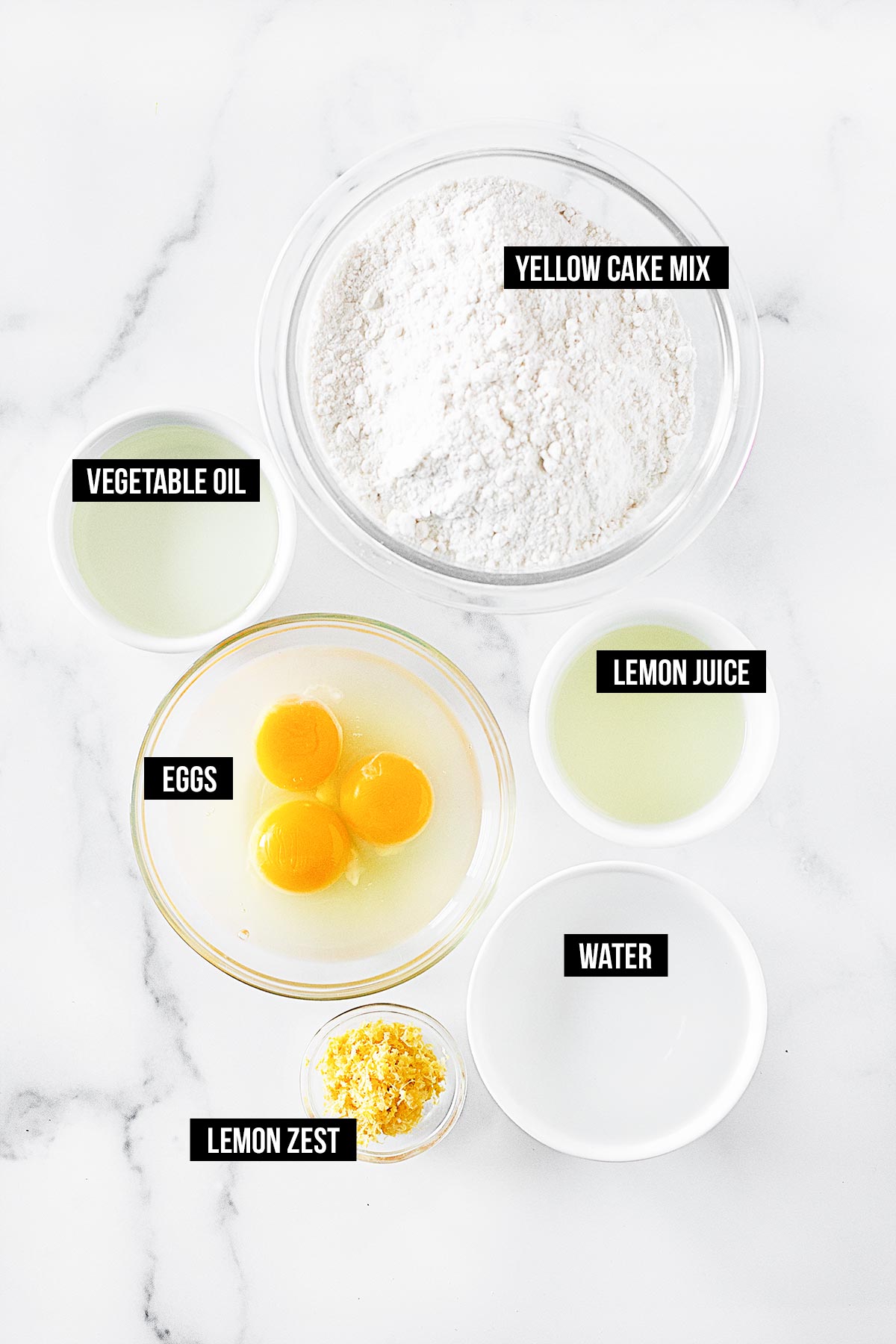 Cake Filling:
Strawberry JELL-O
Water (hot and cold)
Frosting:
Lemon Pudding
Milk
Lemon Zest
Cool Whip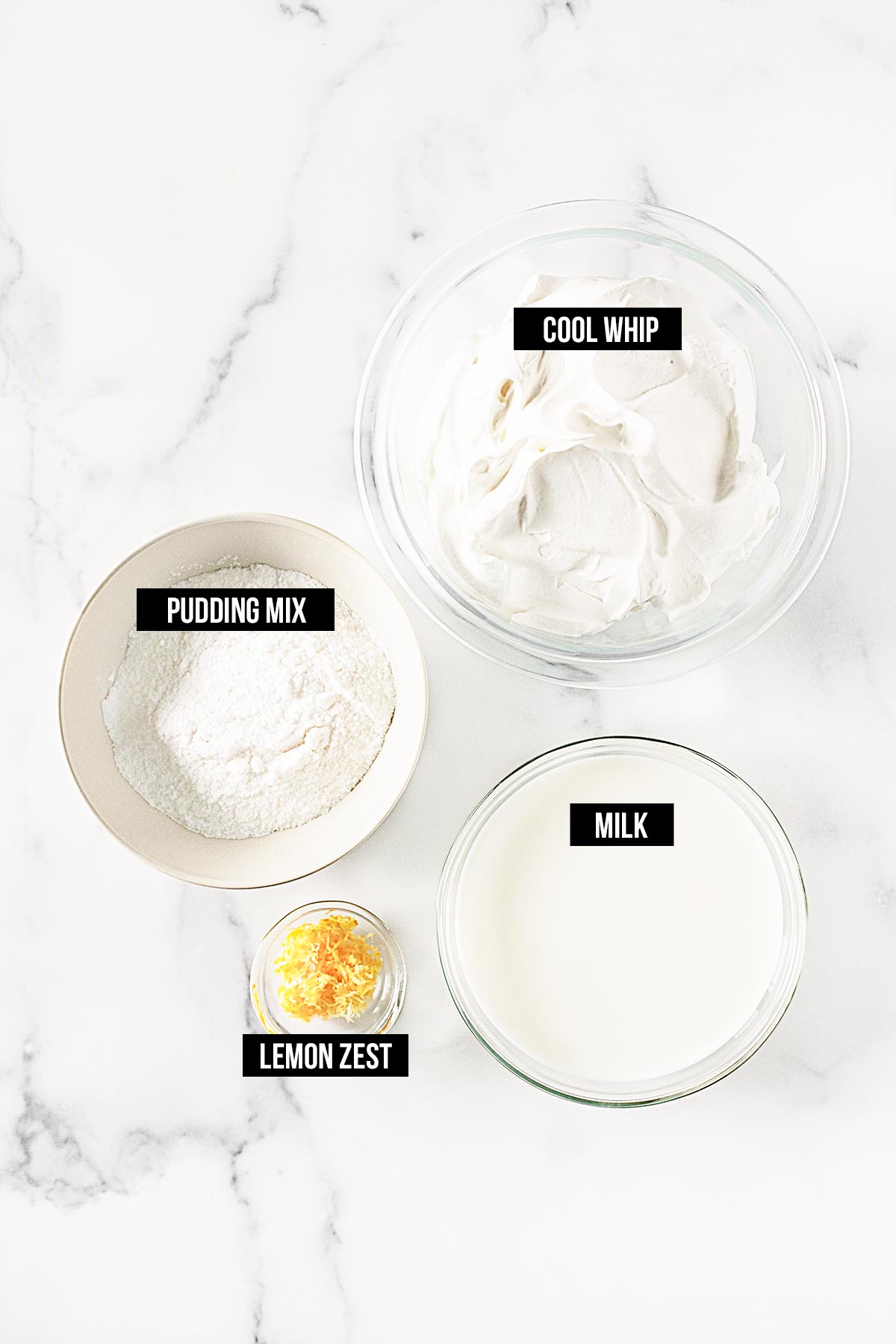 Instructions:
Pre-heat oven to 350ºF.
Beat cake ingredients (cake mix, water, lemon juice, vegetable oil, eggs, and lemon zest) in a mixing bowl for approximately 2 minutes. Pour into greased 13×9 pan.
Bake for 30 minutes or until done (test with toothpick). Cool (in the pan) for 10 minutes.
With utensil of choice, poke holes into the cake approximately 1/2-inch to 1-inch apart.
Prepare JELL-O® according to package instructions. After that, slowly pour the gelatin mixture over the entire cake. Refrigerate for 2-3 hours.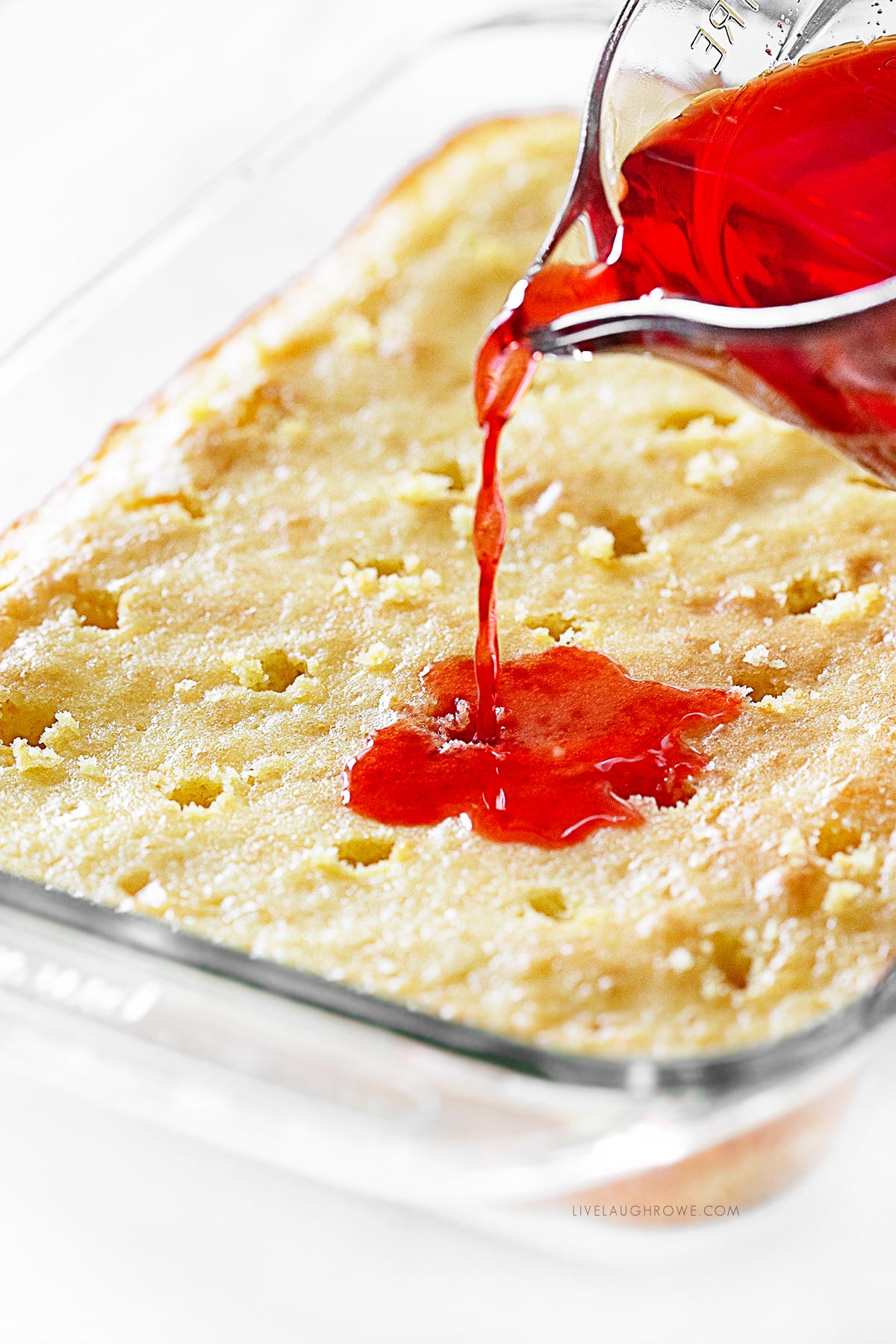 In a large mixing bowl, beat lemon pudding, milk, and lemon zest together. Fold in cool whip and spread onto cake.
Refrigerate the cake for about 30 minutes before serving. Add chopped strawberries for a lovely and finished presentation.
Yum! So good paired with a cup of coffee or tea.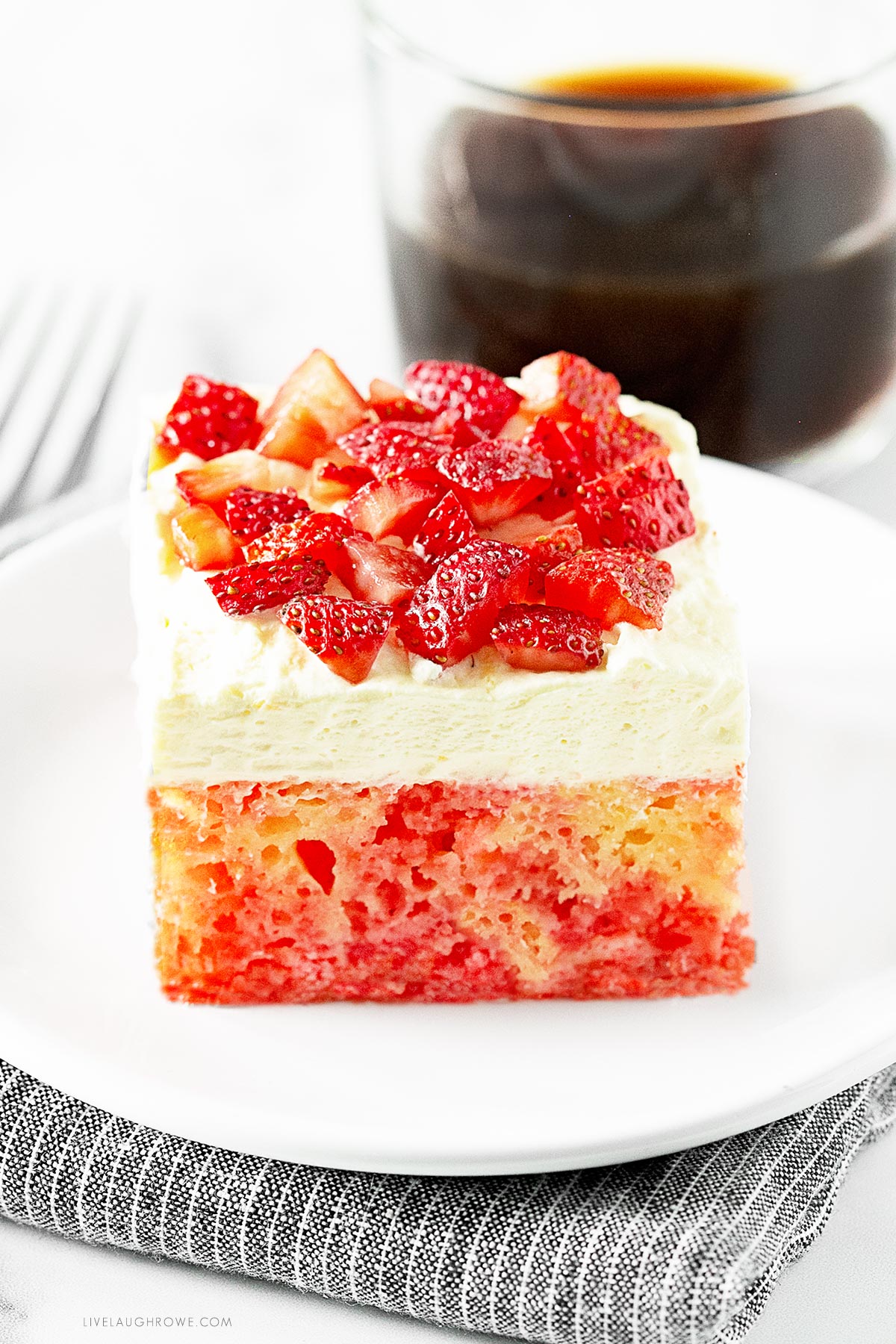 When it comes to a mixer, I certainly love my KitchenAid. However, my favorite hand mixer of all time is the Breville BHM800SIL Handy Mix Scraper Hand Mixer. I've had a few different hand mixers over the years and this one is amazeballs.
Other delicious cake recipes:
Bisquick Coffee Cake
Pineapple Dump Cake
Vanilla Sweet Cream Pound Cake
Vanilla Butter Cake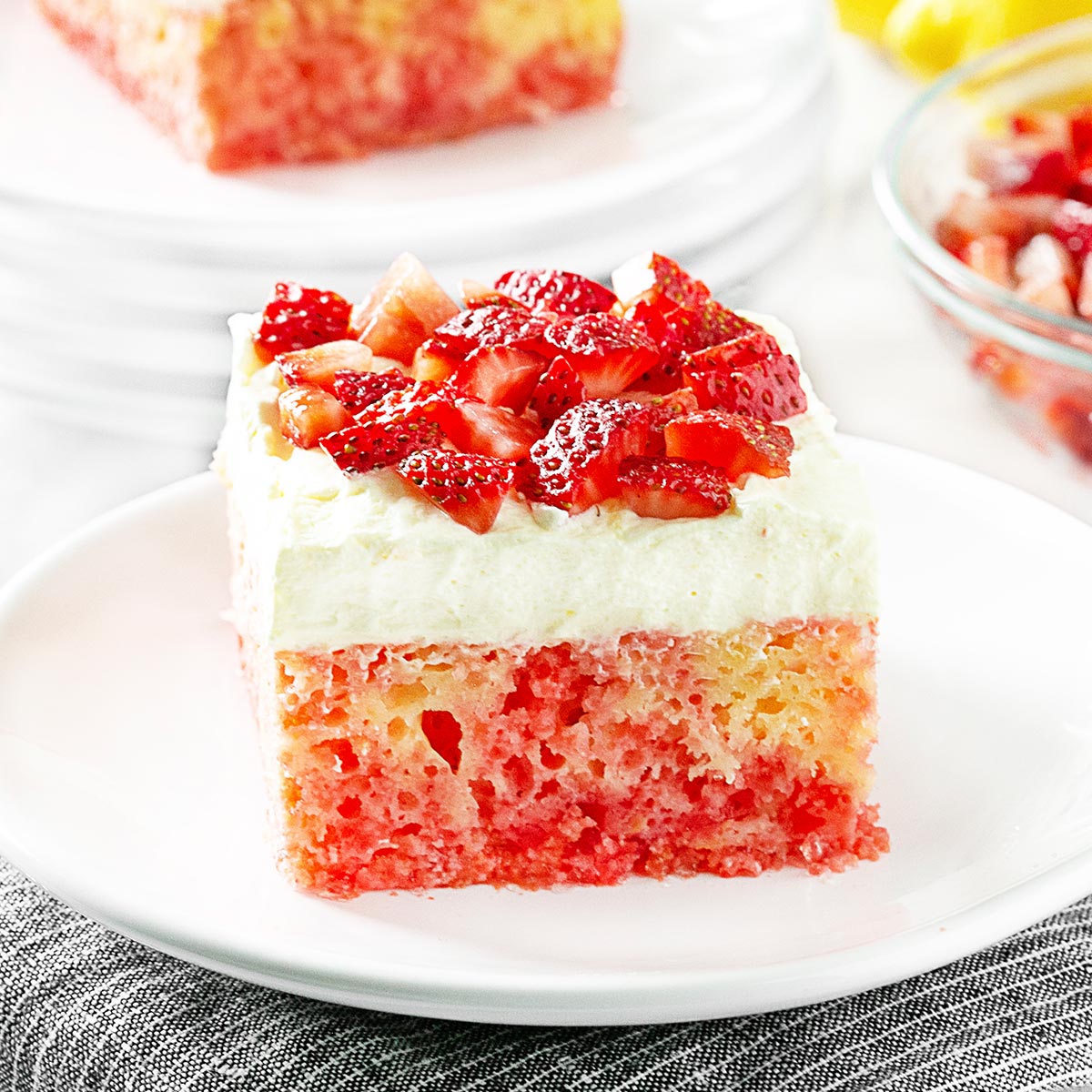 Strawberry Lemonade Poke Cake
Ingredients
For the Cake
1

box

yellow cake mix

3/4

cup

water

1/4

cup

lemon juice

1/2

cup

vegetable oil

3

eggs

2

tbsp

finely grated lemon peel (2 lemons)
For the Filling
1

cup

boiling water

1

cup

cold water
For the Frosting
1

box

(4-serving size) lemon pudding

1

cup

milk

1

tbsp

finely grated lemon peel (1 lemon)

8 oz

tub of Cool Whip, thawed

strawberries, for garnish
Instructions
Cake
Heat oven to 350º F. Spray 13×9-inch pan with cooking spray.

In large mixing bowl, beat cake ingredients with electric mixer on medium approximately 2 minutes, scraping the bowl as necessary. Pour into pan.

Bake 28 to 30 minutes or until toothpick inserted in center of cake comes out clean. Cool cake in pan on cooling rack for 10 minutes.
Filling
With handle of wooden spoon (approximately 1/2" in diameter), poke holes all over cake every 1/2 to 1 inch. Note: Wiping spoon handle with paper towel to reduce sticking may be necessary.

In a medium bowl, pour boiling water over strawberry JELL-O mix; stirring until gelatin is completely dissolved. Stir in cold water. Pour gelatin mixture carefully and slowly over the cake. Refrigerate for 2-3 hours.
Frosting
Beat together lemon pudding mix, milk and lemon zest in a large mixing bowl until blended. Fold in container of cool whip. Spread over cooled cake.

Refrigerate cake for approximately 30 minutes before serving.

Add sliced or chopped strawberries for garnish.