Saint Patrick's Day Free Printable Word Search
Any Saint Patrick's Day celebrators out there? I'm far from Irish, but I do think it's a fun holiday…. and a great excuse to host a little party or add a little fun to the family dinner, right? Maybe you can incorporate this free printable word search into whatever fun you have planned! Or you could justify adding some fun to the mix with this game (wink-wink).
Be sure to sign up for my email to get new
recipes and creative ideas sent right to your inbox!
Saint Patrick's Day Printable Game
I can't believe it's been over a week since I've visited with you… if you don't get my weekly newsletter, then you might not know that I've been sick. I'm not sure that I've been this sick in a very long time. Very sick. The doctor thought it might be pneumonia. Surprisingly the chest x-rays showed that my lungs were fine.
My doctor concluded it was a bacterial infection — but let me tell you that it felt like death had warmed over me. An antibiotic and cough medicine were sent to the pharmacy. The next day the wheezing had increased, so they also prescribed an inhaler.
Unfortunately, we had to postpone our trip to the Gulf Shores (with the travel trailer). Instead of walks on the beach and bonfires, I'm in bed listening to wheezing in my chest and popping medicine like a machine. Womp womp womp.
"Health is not valued
till sickness comes."
(Thomas Fuller)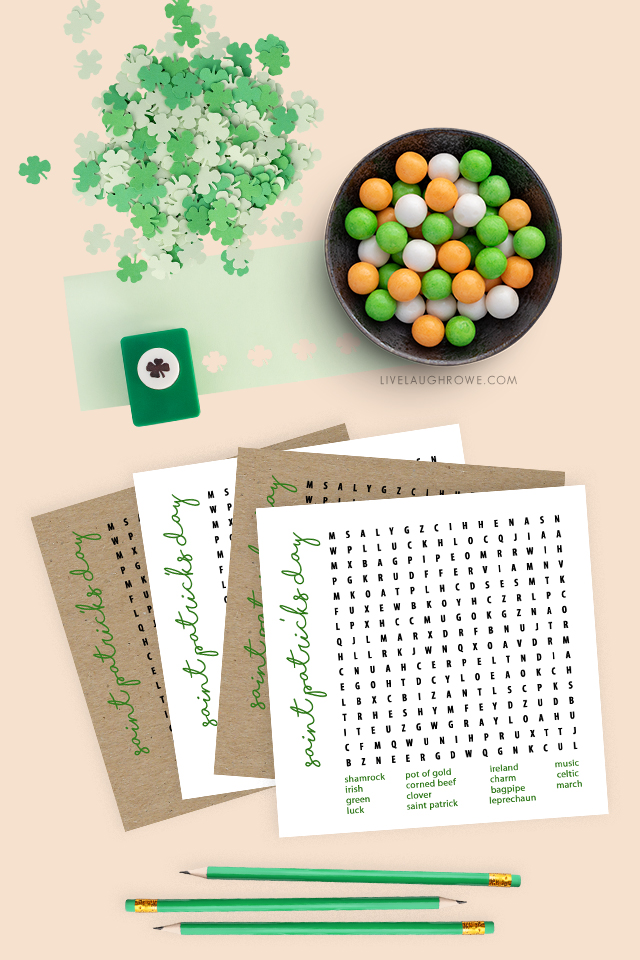 Today marks day five and I'm feeling better than I have been. Praise the Lord.
There are some serious (and awful) bugs going around, friends. Nevertheless, this has been an awful winter for me. I rarely get sick, but I've been sick two or three times this winter. Sigh.
I am so ready for March and all things Spring. And since Saint Patrick's Day is only a couple days from the First Day of Spring, well, that's also something to celebrate. Right?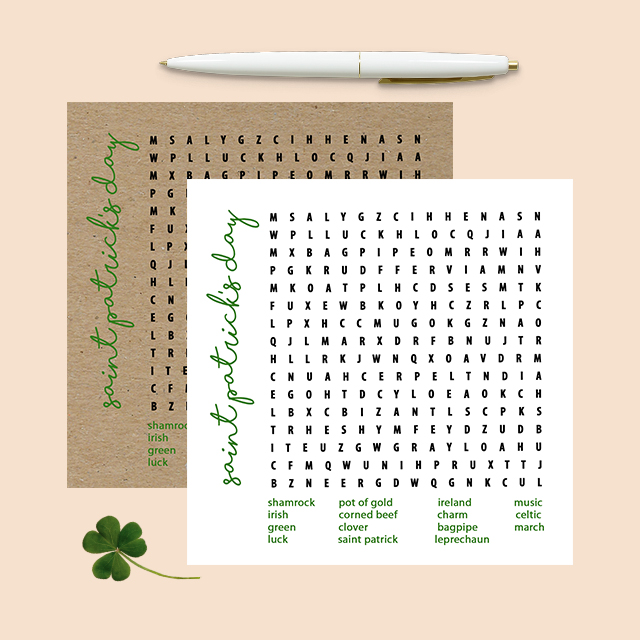 SUPPLIES for Saint Patrick's Day Word Search:
Paper or Cardstock
Printer
Paper Cutter or Scissors
Each sheet contains two separate word searches, sized at approximately 4-1/2″ x 4-1/2″. Use as a fun ice breaker at your local pub, an after school activity or a party favor. Regardless of how you use it, I hope you enjoy it.
p.s. A quick reminder that to get the kraft paper look, you'll need to print that on kraft paper or cardstock.
You might also like these St. Patrick's Day printables:
St. Patrick's Day Gift Box and Rainbow Printable
Irish Blessings Printable
St. Patrick's Day Printable Banner
Good Friends are like Four Leaf Clovers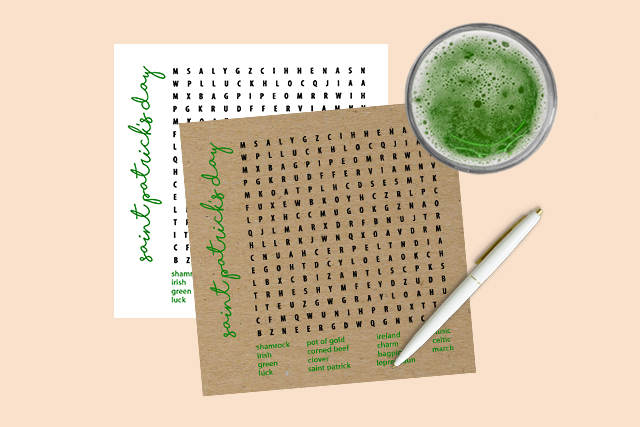 Please Note: All printables and downloads designed by Live Laugh Rowe are for PERSONAL USE ONLY. Please do not alter the file or claim it as your own. This free word search is not intended for resale, nor are the printed versions of this file. Creative Market is an invaluable resource for my business.
*Some readers expressed they were having trouble printing the PDF version. I believe that is browser issue; however, please try this WORD DOCUMENT if you are having difficulties.
Connect with Live Laugh Rowe!
Facebook | Instagram | Pinterest | Twitter
Hugs and Blessings!