A sweet and over the top SIMPLE St. Patrick's Day Gift Idea that includes a rainbow printable for a gift tag. Impress your kids classmates, the neighbors, and co-w
Printable St. Patrick's Day Gift Box and Gift Tag


While walking through the grocery store the other day I realized that St. Patrick's Day is a wee-bit overlooked. Yep! There was no aisle full of green candy, fun green themed toys or cookie decorations. I wonder why… maybe I should've checked the beer aisle (wink-wink).
Oh well. For today's project, I was on the hunt for jelly beans — and they're a dime a dozen. However, I did pick mine up in the Easter aisle. Ha ha ha. I'm genuinely cracking myself up over here (insert face palm).
While I don't always go big or go home for holidays, I do enjoy having options for small, thoughtful gifts. Add a little candy to the mix and who can resist? Like these Green Party Favors.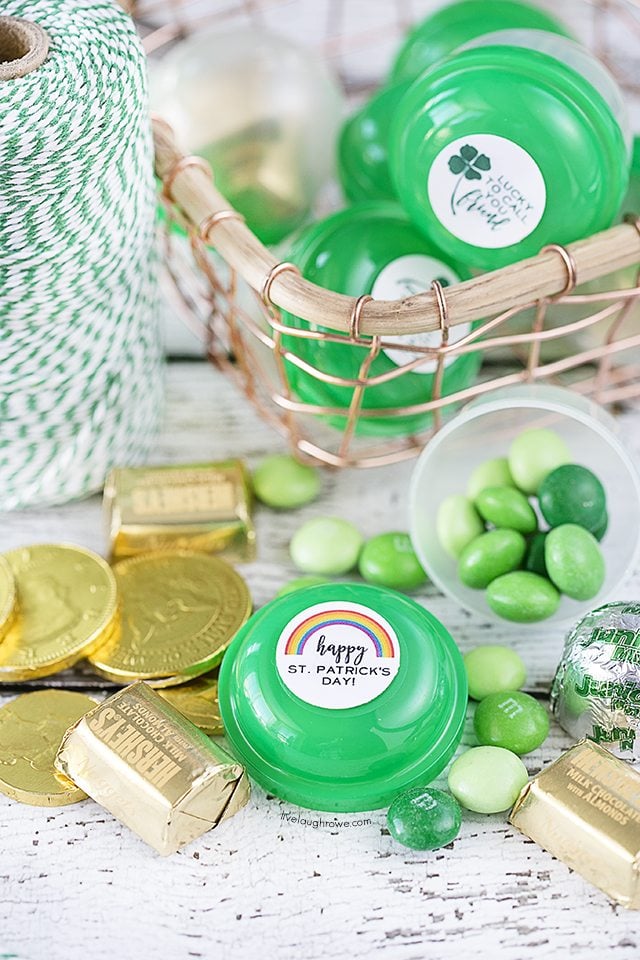 Super cute, right? Well, what I love about today's project is that all you have to really "buy" is the candy. Boom!
I adore the simplicity of gingham and the reference "Rainbow Seeds" makes me smile. It's such a happy thought, growing rainbows. Don't you think?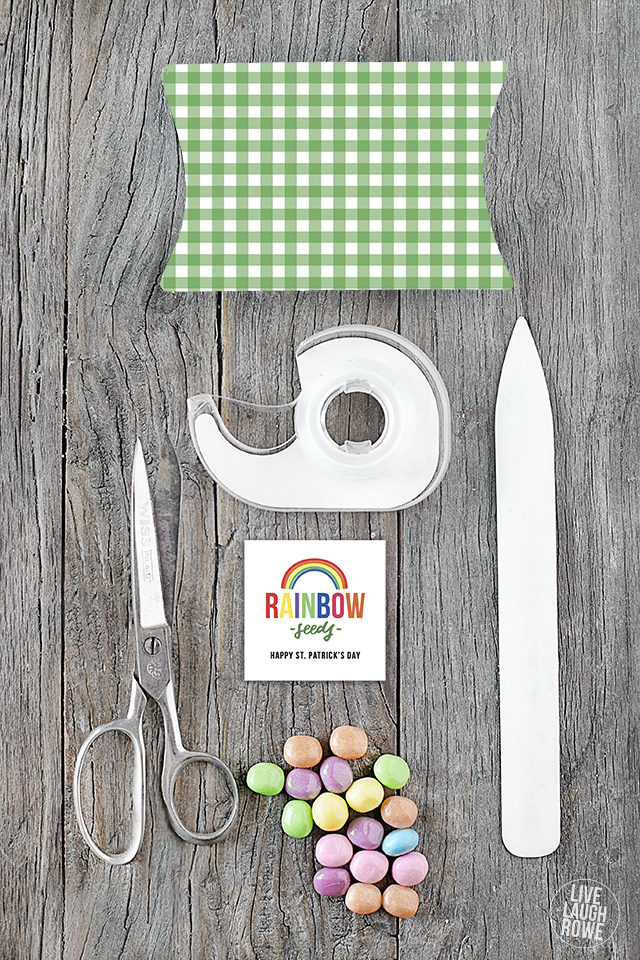 Supplies:
White Cardstock
Printer
Scissors
Bone Folder, optional
Glue Stick or Double Sided Tape
Ribbon, optional
Colorful Jelly Beans (or candy of choice)
Instructions for Assembling Pillow Boxes:
Print your green gingham pillow box on white cardstock (or take the printable to your local office store for printing).
Using scissors, cut out the template along the outline of the box. Try to leave very little to no white border.
Score along the curved lines at the top and bottom, and fold the two long edges. You can use a folding bone or scissors to lightly score. Please Note: If you use something with a sharper edge, be sure you don't cut through the paper.
Glue or tape the tab to the opposite side of the box. I prefer to use the double sided tape, less messy.
Fold down the flaps to make your box a pillow.
Cut out rainbow printable and attach with double sided tape.
Add rainbow seeds and gift!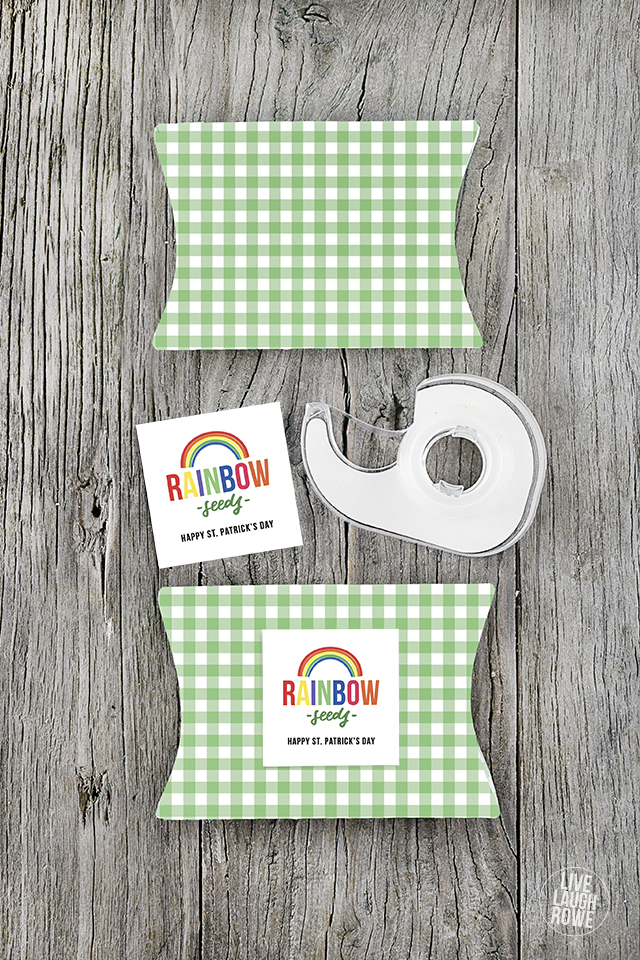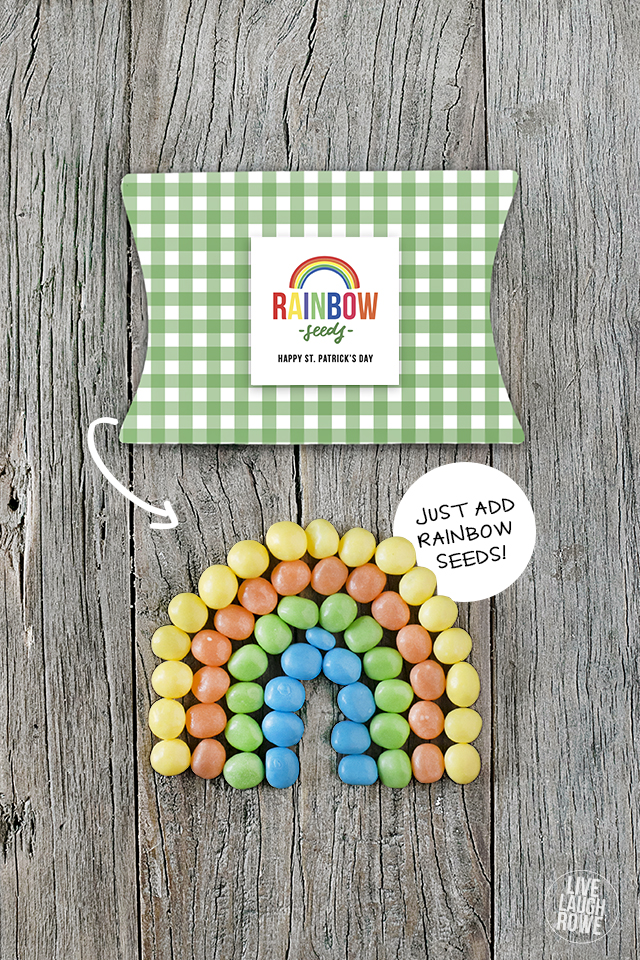 You could avoid the gingham boxes and use kraft pillow boxes too! Kraft color packaging is a favorite of mine, so I always have pillow boxes on hand.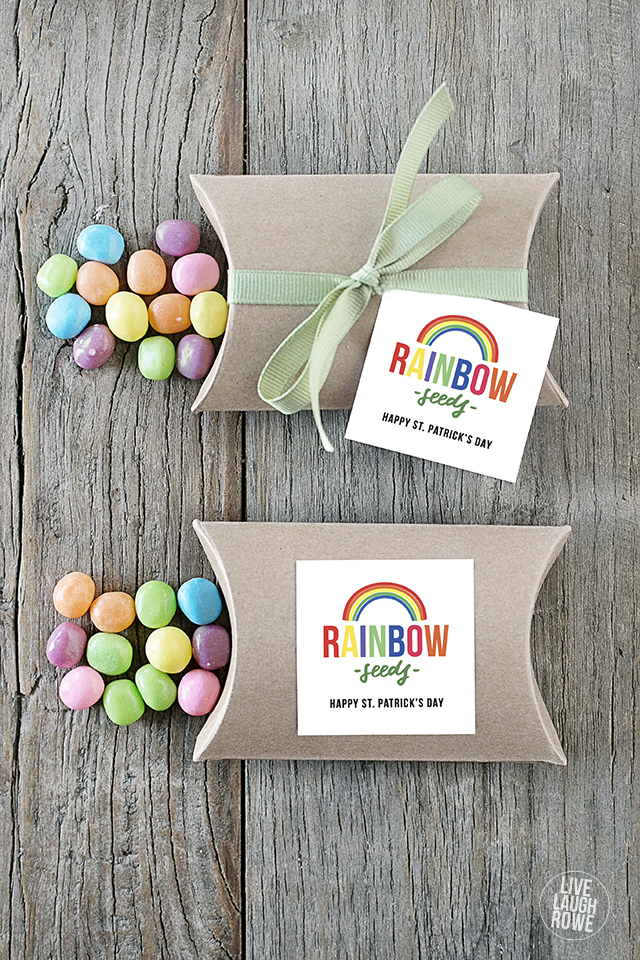 I think they're darling either way? What do you think? Grab your printables below and have fun creating.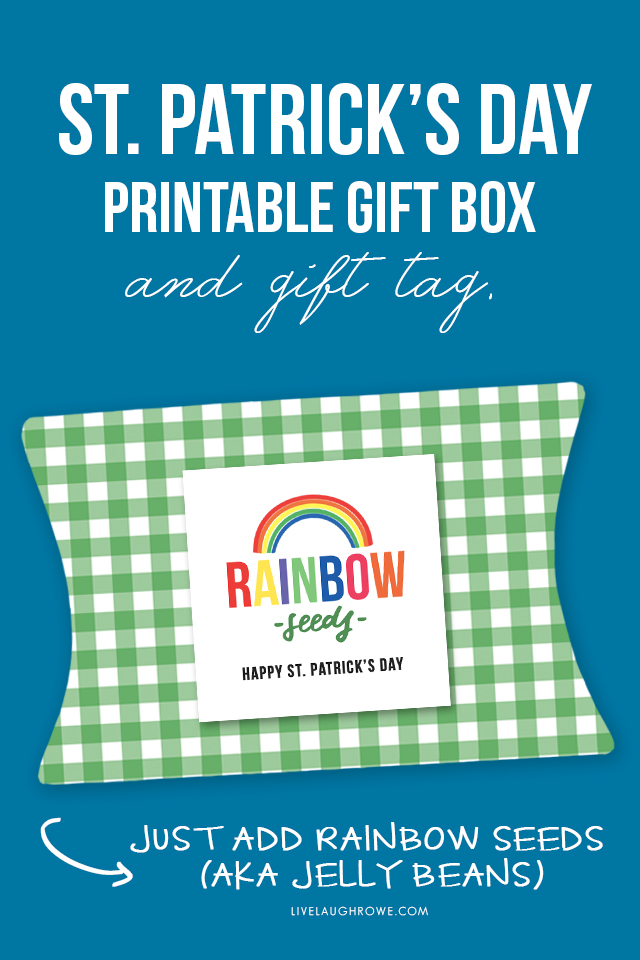 *Please Note: All printables and downloads designed by Live Laugh Rowe are for PERSONAL USE ONLY. Please do not alter the file or claim it as your own. This file is not intended for resale, nor are the printed versions of this file.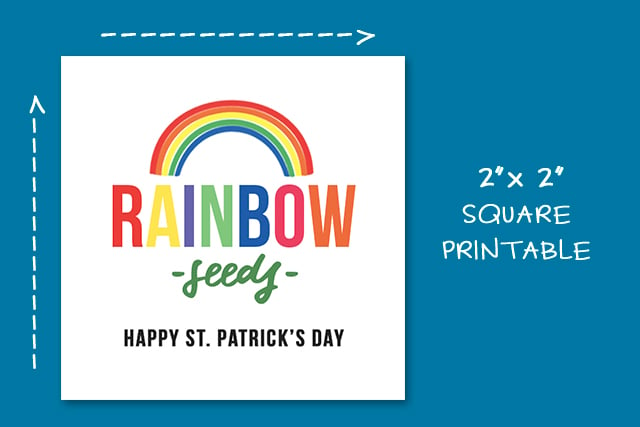 Other printable pillow boxes:
Shabby Chic Pillow Box
Black Gingham Pillow Box

Be sure to visit with me here too:
Facebook | Instagram | Pinterest | Twitter | Google+