Friendships are something that as you get older, you grow to appreciate them in a different light. Recently, while strolling through a vintage market with my sister, I saw this beautiful quotation on friendship. It inspired me to create a couple of printables for you!
Beautiful Quotation on Friendship — Free Printables!


As a creative person, you find inspiration in so many different places. A week or so ago, my sister asked me to meet her a local vintage market. As we strolled down the aisle, this piece really caught our eye.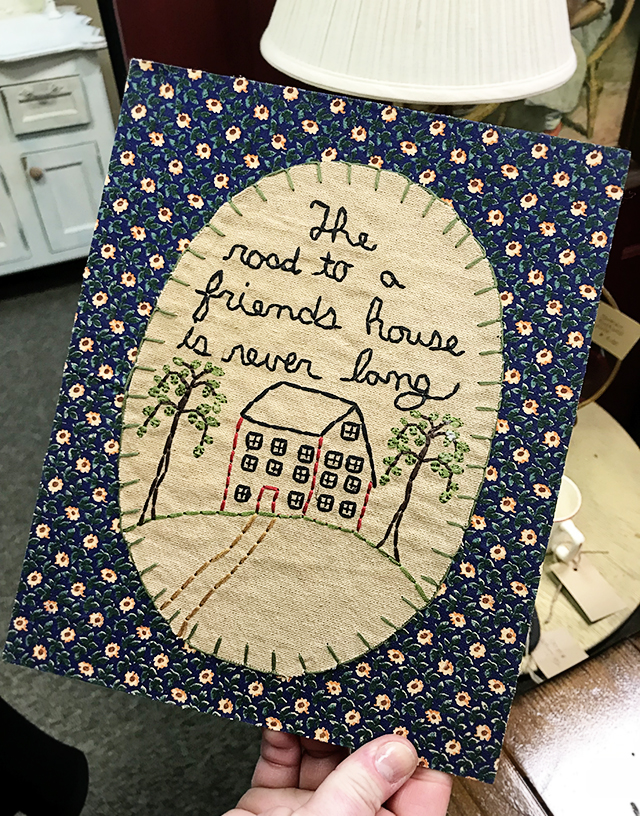 The fact that it was handmade made it even more special, but neither of use could decide on a spot that it would fit in our homes. However, I quickly noted that it was great inspiration for a printable! So we snapped a quick picture and went on our way.
I am not one of those super organized bloggers who has posts scheduled out for weeks or months — I like to share as I'm inspired. Sure, I have a few recipes in my 'to use' folder, but that's about it. So, earlier this week I remembered that sweet embroidery piece and set out to create a printable version of that sweet quotation on friendship.
"The road to a friends
house is never long."
I searched high and low for the right houses and found these gorgeous watercolor houses on Etsy. I had it in my mind that one of them would have a vintage feel. This beauty came to fruition — and I'm a little biased to this one. I love-love-love the texture the background brings to the table.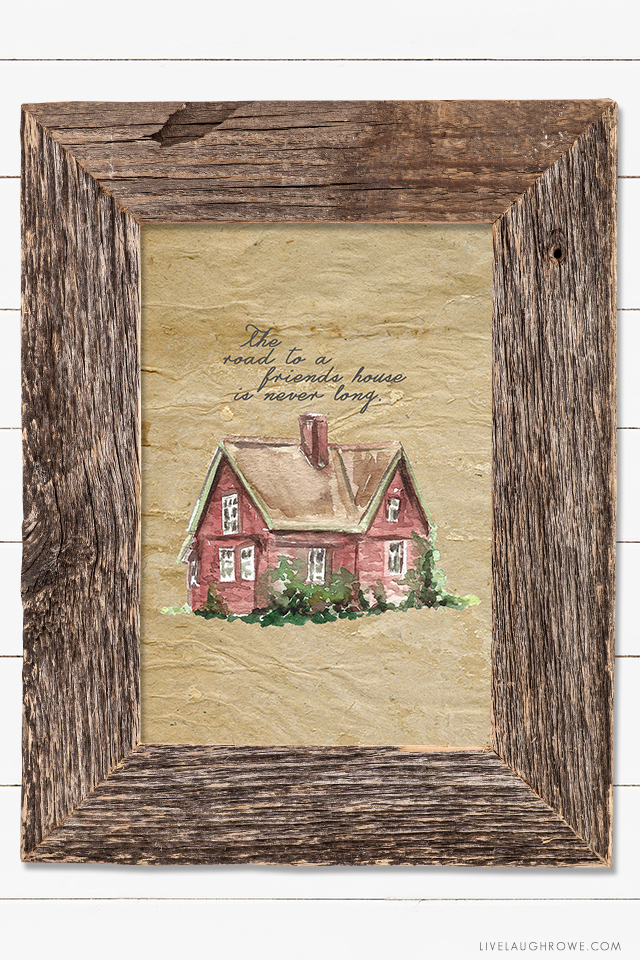 I would imagine this house could be in a rural or suburb area, but I'd like to think it's sitting in the middle of a big field with a matching barn beside it. Can you hear the cows?
Then I thought about the fact that not every body likes the look of old things, wrinkled kraft paper, etc. So, I decided to create a second version, one that would also be a little more ink friendly. My favorite part about this one is that yellow front door — it's perfectly bright and happy. Right?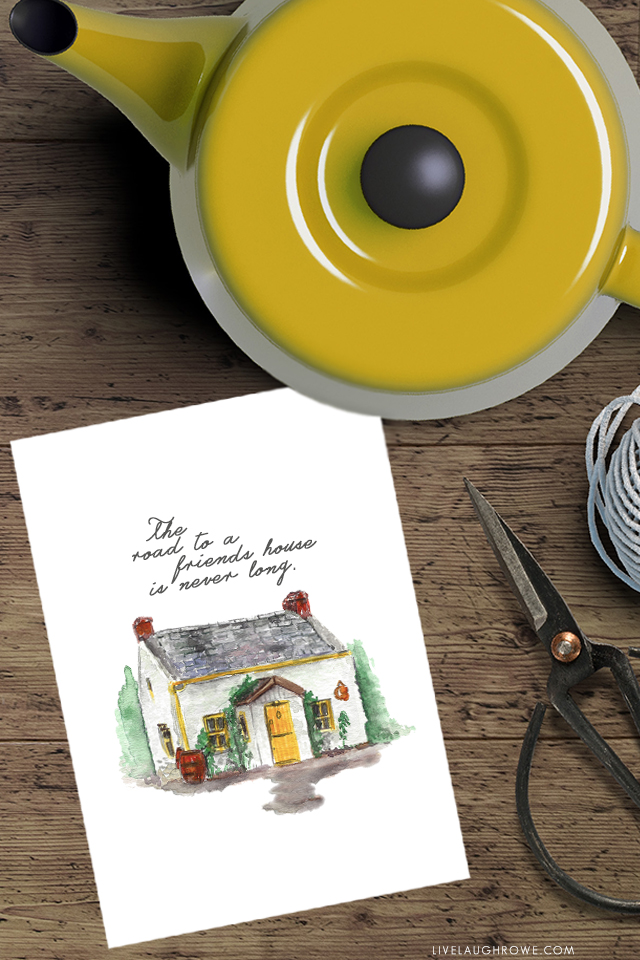 Yellow is such a happy color! I imagine this cottage being tucked away off a long dirt road. Maybe there's a pond in the back yard with a paddle boat and a green house off to the sides.
Isn't it fun to imagine? However, one thing we don't have to imagine is a strong, solid friendship. You know the ones where you can pick up where you left off — even if it's been years? There are many days that I'm thankful for technology. It creates a virtual "road" that keeps us more connected than we might be without it.
These 5×7 printables are free for you to print, hang in your home or gift to a friend. I truly hope you can put them to good use! Interested in an 8×10 version? Visit my Etsy shop!
*Please Note: All printables and downloads designed by Live Laugh Rowe are for PERSONAL USE ONLY. Please do not alter the file or claim it as your own. This file is not intended for resale, nor are the printed versions of this file. Graphics purchased from MariaBPaintsClipart.
DOWNLOAD 5×7 VINTAGE INSPIRED RED HOUSE
DOWNLOAD 5×7 SWEET YELLOW DOOR HOUSE
p.s. Don't forget to visit my shop for 8×10 options! xo
Other fabulous printables that might interest you:
Vintage Botanical Calendar
Minimalistic Printable Greeting Cards
Watercolor Hydrangeas (Spring Flowers Burst with Joy)
Black and White Sailboat Prints

Be sure to visit with me here too:
Facebook | Instagram | Pinterest | Twitter | Google+