Inspirational black and white sailboat printables that are perfect for wall decor or for gifting!
Inspirational Sailboat Printables

Something you might not know about me is that I watch a LOT of the ID (Investigation Discovery) channel. I love crime shows and I'm a faithful 20/20 viewer every friday night. A few weeks ago I watched the episode about Jaycee Dugard. WOW! That young lady is quite an inspiration. Jaycee chooses to be a survivor over being a victim. I admire how she finds joy despite the trauma she experienced in captivity.
At the end of the show, the producers arranged for Jaycee to experience something off of her bucket list: sailing. One of the crew members made a statement similar to 'we can't direct the wind, but we can adjust the sails' and it stuck with me. In life, we often have no control of circumstances — but we do have the ability to choose how we will respond to circumstances. What a wonderful reminder!
"A smooth sea never made a skillful sailor."
-Franklin D. Roosevelt
These sailboat printables were inspired by 20/20 and Jaycee Dugard. As crazy as that may sound, it's true… it's amazing where inspiration can come from. Nonetheless, I hope you're inspired and can put one (or both) of these black and white sailing prints to good use!
"Life is like sailing, you can use
any wind to go any direction." Robert Brault.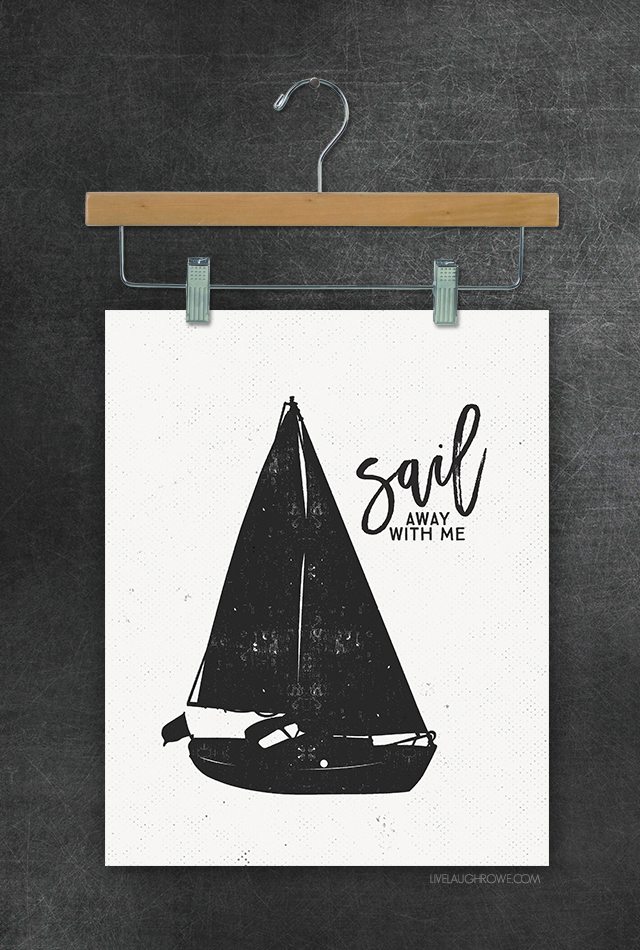 *Please Note: All printables and downloads designed by Live Laugh Rowe are for PERSONAL USE ONLY. Please do not alter the file or claim it as your own. This file is not intended for resale, nor are the printed versions of this file.
Here's to sailing, life's lessons and winds of change!

Be sure to visit with me here too:
Facebook | Instagram | Pinterest | Twitter |Google+